Can You Put Kool Aid in a Hummingbird Feeder: No!
No, you should not put Kool-Aid in a hummingbird feeder.
Kool-Aid is a flavored drink mix that contains artificial colors, flavors, and added sugars. These ingredients can be harmful to hummingbirds and may even cause health issues or death.
Instead, prepare a simple homemade nectar solution using sugar and water to provide a safe and nutritious food source for these tiny birds.
Kool-Aid contains artificial ingredients that can be harmful to hummingbirds.
A homemade nectar solution is a safer and healthier alternative.
The ideal nectar ratio is 4 parts water to 1 part sugar, without added colors or flavors.
Regularly clean and refill your hummingbird feeder to prevent mold and bacterial growth.
Hummingbirds rely on a diet primarily consisting of nectar from flowers and occasional insects for protein. Artificial ingredients found in Kool-Aid can be detrimental to their health and overall well-being.
Stick to a homemade sugar-water solution to ensure you are providing the best possible nutrition and support to these fascinating creatures.
4 Pros & Cons: About Put Kool Aid in a Hummingbird Feeder
| | |
| --- | --- |
| Pros | Cons |
| Attracts hummingbirds with bright colors | Artificial ingredients and dyes can be harmful to hummingbirds |
| Easily accessible and affordable | Does not provide essential nutrients required by hummingbirds |
| Simple to mix and prepare | May lead to malnutrition and health issues for hummingbirds |
| Wide variety of flavors to choose from | Can contaminate feeder and promote mold growth if not properly cleaned |
4 Pros & Cons: About Put Kool Aid in a Hummingbird Feeder
Key Takeaway
Kool-Aid is not safe for hummingbirds to consume
Only a sugar-water solution should be used in a hummingbird feeder
Artificial food coloring and preservatives can harm hummingbirds
Proper maintenance of hummingbird feeders is essential for their wellbeing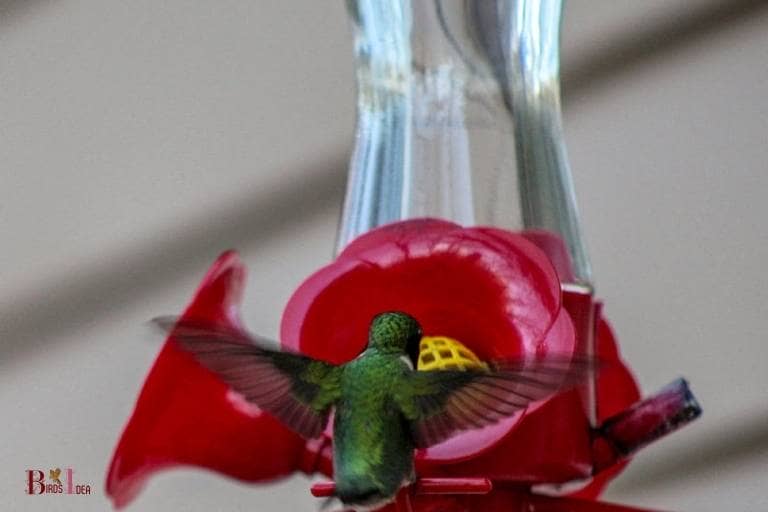 Five Facts About: Put Kool Aid in a Hummingbird Feeder
Hummingbirds require a diet consisting mainly of nectar and insects, with homemade sugar-water mixtures being the closest alternative to natural nectar. (Source: Hummingbird Society)
Kool-Aid contains additives like artificial food coloring and preservatives, which can increase the risk of hummingbirds developing health issues, such as fungal infections and kidney damage. (Source: The Spruce)
A safe sugar-water solution for hummingbird feeders can be made using one part white granulated sugar and four parts hot water, without adding any artificial coloring or preservatives. (Source: World of Hummingbirds)
It's essential to clean and refill hummingbird feeders regularly to prevent the growth of mold and bacteria, which can be detrimental to hummingbirds. Clean feeders every two to three days in hot weather and once a week in cooler weather. (Source: Wild Birds Unlimited)
Hummingbirds can also benefit from having a variety of flowering plants with high nectar content in the garden or backyard, providing them with a more natural food source. Plants that hummingbirds are attracted to include salvia, bee balm, and trumpet vine. (Source: [Bird Watch
Understanding Hummingbird Feeder Essentials
Hummingbirds are one of the most fascinating birds to watch in your backyard, and one of the best ways to attract them is by using a hummingbird feeder.
Hummingbird feeders are an excellent way to supply birds with the nectar they need.
However, it is essential to keep in mind that there is a right way to set up and maintain a bird feeder.
Let's look at some of the hummingbird feeder essentials, including the importance of choosing the right feeder, the ideal nectar mixture for hummingbirds, and tips for maintaining a hummingbird feeder.
The Importance Of Choosing The Right Feeder
Choosing the right hummingbird feeder is essential because it will determine how successful you are in attracting hummingbirds to your backyard.
Some of the things to consider when choosing a feeder include:
Type of feeder: Choose a feeder that is easy to clean and refill.
Material: Glass feeders are better than plastic because they are easier to clean and do not retain odor like plastic.
Capacity: Choose a feeder that holds enough nectar to last for a few days to avoid constant refilling.
Feeder color: Choose a feeder with bright colors, such as red, orange, and pink, as hummingbirds are naturally attracted to these colors.
The Ideal Nectar Mixture For Hummingbirds
The nectar mixture for hummingbirds is straightforward to make using two parts water and one part granulated white sugar. Avoid using honey because it can cause fatal fungal infections.
You may add food coloring but ensure that it is red and only a few drops, not more.
To avoid bacteria, make sure to clean the feeder thoroughly before refilling it with nectar mixture.
Tips For Maintaining A Hummingbird Feeder
Maintaining a hummingbird feeder is crucial as it ensures that the birds have a safe and healthy feeding environment.
Some tips for doing so include:
Refilling the feeder every 2-3 days to avoid spoilage of nectar.
Cleaning the feeder with a mixture of water and vinegar or bleach to remove bacteria build-up.
Keeping the feeder out of direct sunlight to avoid fermentation of the nectar.
Moving the feeder to a new location every week to prevent a build-up of bacteria and fungus.
Setting up and maintaining a hummingbird feeder is an enjoyable and rewarding experience. With these hummingbird feeder essentials in mind, you are sure to attract a wide variety of hummingbirds to your backyard.
Just remember to choose the right feeder, prepare the ideal nectar mixture, and maintain the feeder regularly.
Happy bird-watching!
The Science Behind Hummingbird Nutrition
Hummingbirds are fascinating creatures that can hover in mid-air and can move their wings at such incredible speeds that it's hard to see them move! But have you ever thought about the science behind their nutrition?
Specifically, can you put kool aid in a hummingbird feeder?
Read on to find out!
Nutritional Requirements For Hummingbirds
Hummingbirds require a certain level of nutrition to survive, and it's important to ensure that they receive the right nutrients from their diet.
Here are the key nutritional requirements for hummingbirds:
Sugar: Hummingbirds require sugar as their primary source of energy; they need a lot of it, nearly equivalent to 2-3 times their body weight in nectar.
Protein: Hummingbirds need protein to build and repair tissues and feathers
Vitamins and minerals: They also require vitamins and minerals for metabolic pathways involved in energy production.
Impact Of Kool Aid On Hummingbird Health
Kool aid is a flavored drink that contains sugar and a range of artificial colors and flavors. While it may be a good alternative to human beverages, it's not suitable nor recommended to be used as a nectar substitute for hummingbirds.
Here's why:
Harmful additives: Kool aid contains chemicals such as artificial colors and flavors, as well as preservatives that could potentially harm the birds.
Nutritional imbalance: While kool aid might contain sugar, it lacks other essential nutrients that hummingbirds need such as protein and vitamins.
The Pros And Cons Of Using Kool Aid As A Nectar Substitute
While it's not recommended to use kool aid as a nectar substitute, there are some pros and cons if you're considering it.
Here are some points to consider:
Pros
Kool aid might attract hummingbirds due to its bright color and sweet taste.
Cons
Kool aid lacks essential nutrients that hummingbirds require to stay healthy and survive.
Harmful chemicals and preservatives present in kool aid could cause health problems for the birds.
Kool aid can also attract ants, wasps, and bees to your feeder, who might end up harming and feeding on the hummingbirds.
It's best to stick with the traditional hummingbird nectar recipe of four parts boiling water to one part table sugar, without any additives or preservatives.
It's essential to keep the feeder clean and filled with fresh nectar to ensure the hummingbirds stay healthy and happy!
Alternative Nectar Substitutes
If you're a bird enthusiasist, you may already know how important it is to feed hummingbirds during the colder months.
Typically, hummingbirds feed on nectar to sustain their energy, but what if you don't have access to it or want to switch things up?
Many people wonder if they can put kool-aid in a hummingbird feeder. While kool-aid contains sugar, it's not a suitable substitute for natural nectar.
However, there are alternative nectar substitutes that hummingbirds will love!
Natural Nectar Substitutes
Natural nectar helps provide hummingbirds with essential nutrients, and by using natural substitutes, you can help mimic their nutrition intake.
Here are a few natural nectar substitutes that you can use:
Agave nectar: Agave is a natural sweetener derived from the agave plant. It also contains sucrose, glucose, and fructose, which are essential sugars for hummingbirds.
Honey water: Mixing honey with water creates a natural nectar substitute that hummingbirds love.
Fruit juice: Diluting fruit juice, such as apple or orange juice, with water, can also provide hummingbirds with the necessary sugars. Just make sure the sugar content isn't too high.
Commercial Nectar Substitutes
There are a variety of commercial nectar substitutes that you can purchase from pet stores or online. These products are typically formulated to mimic a hummingbird's natural nectar and contain added vitamins and minerals.
Here are some popular commercial nectar substitutes:
First nature nectar: This product contains a mix of sucrose, fructose, and glucose, mimicking natural nectar.
Perky pet nectar: Perky pet nectar is a clear liquid that resembles natural nectar and contains essential vitamins and minerals.
Kaytee electronectar: Kaytee electronectar is a high-energy food for hummingbirds that provides essential electrolytes.
Diy Nectar Substitutes
If you're looking to save money, making your own nectar substitute is a great option.
Here are some popular diy nectar substitutes:
Sugar water: Mixing white granulated sugar with water is one of the most common ways to make diy nectar. The recipe typically calls for mixing one-part sugar with four parts water.
Brown sugar water: Similar to the above recipe, this recipe calls for mixing one-part brown sugar with four parts water.
Molasses water: Mixing one-part molasses with ten parts water is a great substitute for natural nectar.
It's important to note that while these substitutes are good options, it's still imperative to clean your hummingbird feeder regularly to prevent the growth of harmful bacteria.
Providing a clean feeder with fresh nectar is essential to the health of hummingbirds.
So, experiment with these natural, commercial, or diy nectar substitutes to determine what works best for you!
FAQ On Can You Put Kool Aid In A Hummingbird Feeder
Can Hummingbirds Drink Kool Aid?
Hummingbirds should not drink kool-aid as it may harm them. Kool-aid contains artificial sweeteners and chemicals that can be harmful to hummingbirds.
Is Kool Aid Good For Hummingbirds?
No, kool-aid is not good for hummingbirds. It contains artificial sweeteners and chemicals that are harmful to hummingbirds. Hummingbirds should only drink nectar from flowers or specially made nectar solutions.
What Happens If You Put Kool Aid In A Hummingbird Feeder?
Adding kool-aid to a hummingbird feeder can harm the hummingbirds. The chemicals and artificial sweeteners in kool-aid can disrupt their digestive system and cause dehydration.
What Should I Put In My Hummingbird Feeder?
Hummingbirds should drink nectar from flowers or specially made nectar solutions. You can make nectar at home by mixing four parts of boiled water with one part of white granulated sugar. Avoid using honey, brown sugar, or artificial sweeteners.
Conclusion
After exploring the question of whether or not you can put kool aid in a hummingbird feeder, we've uncovered some interesting insights.
While kool aid doesn't contain harmful ingredients that are toxic to hummingbirds, it lacks essential nutrients that these birds require to survive.
Additionally, the sugar in kool aid can ferment quickly, causing damage to a hummingbird's digestive system. Therefore, while it is feasible to use kool aid in a hummingbird feeder, it's not recommended.
Opting for a commercially available nectar solution or making your own with proper ingredients is a safer and healthier option.
Remember to always prioritize the health and well-being of the hummingbirds visiting your feeder. By providing them with a nutrient-rich and safe food source, you'll be sure to attract these vibrant and beautiful birds to your yard for years to come.