What Color Are Crows: Black!
Crows are primarily known for their black plumage, which exhibits a range of subtle variations from sooty black to iridescent blue and purple tints, depending on the light.
The coloration of crows can also be influenced by factors such as age, subspecies, and environmental elements.
Crows typically possess a striking black color, but this is not a uniform characteristic across all members of the species.
The factors that contribute to the variations in their plumage include:
Melanism: An increased amount of black pigment in feathers.
Iridescence: Light refraction causing shiny blue or purple sheens.
Age: Juvenile crows may have lighter or different coloration.
Subspecies: Different types of crows can exhibit distinct color patterns.
Environmental factors: Diet and habitat can affect feather hue.
For example, the common American Crow is mostly black with an iridescent sheen, while the Fish Crow can show more pronounced purple or blue reflections.
While the iconic image of a crow is often a silhouette against the sky, their feathers can shimmer with iridescent colors, revealing a hidden complexity to these intelligent birds.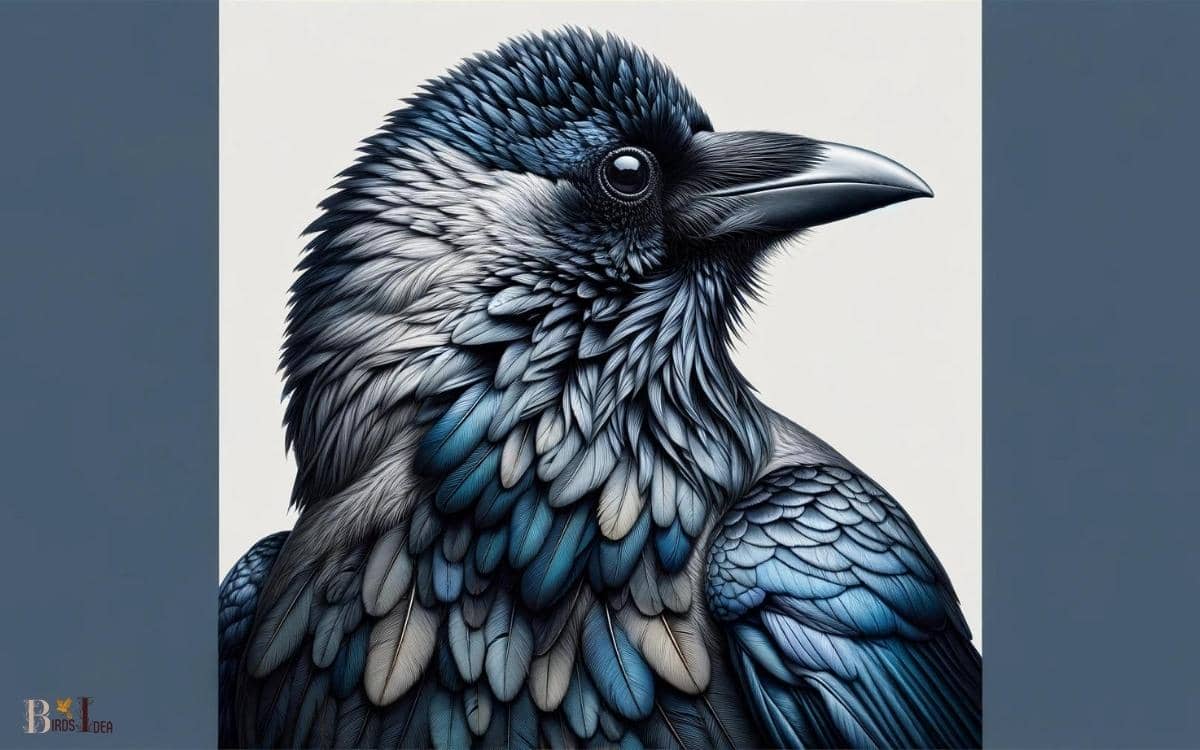 Key Takeaway
Crows exhibit a range of colors including purples, blues, and greens, challenging the misconception that they are uniformly black.
Melanism, the development of dark pigment in feathers, is controlled by multiple genes and influenced by environmental conditions and natural selection.
Plumage variations in crows are influenced by genetic, environmental, and behavioral factors, including differences in pigment intensity and distribution, diet, sunlight exposure, and social interactions.
The perception of crow color can vary based on lighting conditions and viewing angles, and urban and rural settings as well as climate and geographic location can impact crow plumage.
The Myth of All-Black Plumage
Crows are often mistakenly believed to have entirely black plumage, but in reality, their feathers can exhibit a range of subtle colors and iridescence when viewed in the right light.
While from a distance or in low light, crows may appear uniformly black, their feathers actually possess a spectrum of colors including purples, blues, and greens.
This iridescence is the result of light being refracted by the microscopic structure of the crow's feathers, revealing hidden hues that add depth and complexity to their appearance.
This revelation challenges the common misconception of crows as purely black birds and highlights the beauty and diversity present in the natural world.
Understanding the true colors of crows encourages a deeper appreciation for these intelligent and adaptable creatures.
The Reality of Crow Coloration
In recent studies and observations, the true range of colors and iridescence present in crow feathers has been revealed, challenging the common perception of their plumage as uniformly black.
While from a distance crows may appear uniformly black, closer examination and certain lighting conditions expose a spectrum of colors including purples, blues, and greens.
The iridescence of crow feathers is due to the microscopic structure of the feather barbs, which refract light to produce the illusion of different colors.
This revelation underscores the complexity and beauty of crow plumage, dispelling the misconception of their monochromatic appearance.
Understanding the full extent of crow coloration leads to a deeper appreciation for these remarkable birds and prompts further exploration into the intricacies of their appearance, including the phenomenon of melanism.
Understanding Melanism in Crows
The spectrum of colors and iridescence present in crow feathers, as discussed previously, also plays a significant role in understanding the phenomenon of melanism in these birds.
Melanism refers to the development of dark pigment, melanin, in the feathers, skin, or fur of animals, leading to a darker coloration.
In the case of crows, melanism can result in entirely black feathers. This genetic trait is influenced by various factors, including environmental conditions and natural selection pressures.
The table below summarizes key aspects of melanism in crows:
| Aspect | Description |
| --- | --- |
| Genetic Influence | Controlled by multiple genes |
| Environmental Impact | May provide advantages in certain habitats |
| Significance | Offers camouflage and protection from predators |
"Explore melanism in crows: a genetic trait with environmental advantages. Multiple genes control melanin, offering camouflage and protection in diverse habitats."
Understanding melanism in crows provides valuable insights into the genetic and environmental factors shaping the coloration of these intelligent birds.
Uncovering Subtle Plumage Variations
Uncovering subtle plumage variations in crows provides a nuanced understanding of their diverse coloration and the factors influencing it.
These variations can be attributed to a combination of genetic, environmental, and behavioral factors.
Genetic differences can result in variations in the intensity and distribution of pigments, leading to subtle differences in coloration.
Environmental factors such as diet and exposure to sunlight can influence the development of melanin and carotenoid pigments in feathers, further contributing to the range of plumage variations observed in crows.
Furthermore, behavioral factors, including social interactions and mate choice, may also play a role in shaping plumage variations within crow populations.
The Role of Light and Angle
Light and angle play crucial roles in influencing the perceived coloration of crow plumage. The way light interacts with the structure of crow feathers can create iridescence, causing color shifts as the bird moves.
The angle from which an observer views a crow can significantly affect the bird's perceived color.
To illustrate this point, consider the following table, which demonstrates how the color of crow plumage can appear differently based on lighting conditions and viewing angles.
| Lighting Condition | Viewing Angle | Perceived Color |
| --- | --- | --- |
| Direct sunlight | Front | Shiny black |
| Overcast sky | Side | Dull gray |
| Indoor lighting | Above | Bluish tint |
| Sunset | Below | Brownish hue |
"Exploring crow plumage: A table showcasing dynamic color perceptions influenced by lighting and viewing angles, revealing shades from shiny black to bluish tint."
Understanding the impact of light and angle on crow coloration is essential for accurately perceiving and studying these intelligent birds.
Environmental and Geographic Influences
The color variation of crows can be influenced by their environment and geographic location.
Urban and rural settings may impact the coloration of crows due to differences in available food sources and pollution levels.
Additionally, the climate in which crows inhabit can also play a role in the pigmentation of their feathers, leading to further variations in color across different regions.
Crow Color Variation
Crow coloration varies significantly based on environmental and geographic influences. The color of crows can be influenced by factors such as diet, habitat, and exposure to sunlight.
In urban areas, where pollution is prevalent, crows may appear darker in color due to the accumulation of soot on their feathers. Conversely, crows living in rural or coastal areas tend to have lighter plumage.
Crows in colder regions often have more gray or silver hues to help with thermoregulation, while those in warmer climates may have more iridescent or glossy feathers.
Below is a table summarizing the environmental and geographic influences on crow color variation:
| Environmental Factor | Color Variation |
| --- | --- |
| Urban Pollution | Darker plumage |
| Rural/Coastal Areas | Lighter plumage |
| Cold Regions | Gray/Silver hues |
| Warm Climates | Iridescent/Glossy |
"Crow colors adapt: urban pollution yields dark hues, coastal areas favor light tones, cold regions showcase gray, while warm climates boast iridescent shades."
Urban Vs Rural
In urban and rural environments, the environmental and geographic influences on crow color variation continue to shape the plumage of these birds.
Pollution Levels: Urban areas often have higher pollution levels, which can affect the coloration of crow feathers due to exposure to contaminants in the environment.
Diet Variances: Crows in urban areas may have access to different food sources compared to rural crows, leading to potential differences in the pigmentation of their feathers.
Sunlight Exposure: Rural environments may provide crows with more access to natural sunlight, which can impact the development of melanin in their feathers, potentially resulting in variations in coloration.
Climate Impact on Color
Crows' plumage coloration is significantly influenced by the diverse climate conditions and geographical factors they inhabit.
In colder regions, crows tend to have darker plumage, which helps absorb heat and provides better camouflage in snowy environments.
Crows in warmer climates may have lighter plumage to reflect sunlight and regulate their body temperature.
Geographic variations also play a role in crow coloration. For example, American crows have iridescent purple or blue hues in their plumage, while fish crows exhibit more matte, iridescent-free feathers.
These adaptations are crucial for the survival of crows in their respective habitats, highlighting the remarkable ability of these birds to evolve and thrive in a wide range of environmental conditions.
The Intriguing Color Morphs of Crows
Displaying a diverse range of color morphs, crows exhibit a fascinating array of plumage variations across different populations.
These intriguing color morphs include:
Melanistic morphs: Crows with this morph have an excess of melanin, resulting in a strikingly dark, almost entirely black plumage.
Partial albino morphs: These crows display patches of white feathers due to a genetic mutation that affects the production of melanin.
Leucistic morphs: Crows with this morph exhibit a reduction in overall pigmentation, leading to a mix of white and colored feathers.
These color variations not only add to the allure of these intelligent birds but also provide researchers with valuable insights into the genetic diversity and adaptations of crow populations across different environments.
Conclusion
The coloration of crows is a complex and fascinating topic that extends beyond the myth of all-black plumage.
Understanding the role of melanism, subtle plumage variations, and environmental influences sheds light on the intriguing color morphs of crows.
By delving into the reality of crow coloration, we can appreciate the beauty and diversity of these intelligent and adaptable birds, adding another layer of wonder to our natural world.