Do Hummingbirds Nest in Kansas: Yes!
Yes, hummingbirds do nest in Kansas, specifically the Ruby-throated Hummingbird.
Kansas is home to a variety of bird species, including the Ruby-throated Hummingbird, which is the primary species of hummingbird that breeds in eastern North America.
These tiny birds can be found nesting in Kansas during their breeding season, which typically occurs from late spring to early fall.
Ruby-throated Hummingbirds are the primary hummingbird species found in Kansas
Breeding season for these hummingbirds typically occurs from late spring to early fall
Their nests are constructed using plant materials and spider silk
Kansas provides a suitable habitat with food sources, such as nectar and insects, for Ruby-throated Hummingbirds
Ruby-throated Hummingbirds are known for their small size, bright iridescent colors, and incredible aerial skills.
They play a vital role in the ecosystem by pollinating flowers as they feed on nectar.
In Kansas, they are most commonly found in wooded areas, gardens, and forest edges.
These adaptable birds create nests that are meticulously woven with plant materials, spider silk, and lined with soft plant fibers to provide a safe and comfortable environment for their young.
6 Common Names of Hummingbirds in Kansas
| | | | |
| --- | --- | --- | --- |
| Common Name | Scientific Name | Nesting in Kansas | Habitat in Kansas |
| Ruby-throated Hummingbird | Archilochus colubris | Yes | Forest edges, gardens, meadows, and open wooded areas |
| Black-chinned Hummingbird | Archilochus alexandri | No | Not found in Kansas |
| Anna's Hummingbird | Calypte anna | No | Not found in Kansas |
| Costa's Hummingbird | Calypte costae | No | Not found in Kansas |
| Calliope Hummingbird | Selasphorus calliope | No | Not found in Kansas |
| Rufous Hummingbird | Selasphorus rufus | No | Not found in Kansas |
6 Common Names of Hummingbirds in Kansas
Key Takeaway
Hummingbirds are migratory birds that live in a variety of environments, including Kansas.
They typically nest from late spring to early summer, choosing safe and higher locations for their nests.
Ruby-throated Hummingbirds are the most common species found in Kansas.
Conservation efforts, such as providing nectar-rich plants and hummingbird feeders, can help support the hummingbird population in Kansas.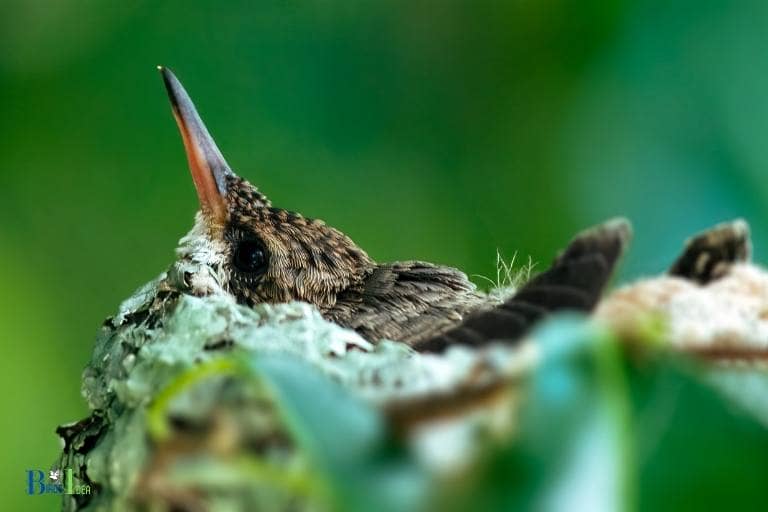 Five Facts About: Hummingbirds in Kansas
Hummingbirds are the smallest bird species in the world and are known for their rapid wing movement, which allows them to hover in the air. (National Geographic)
The only species of hummingbird that breeds in eastern North America, including the state of Kansas, is the Ruby-throated Hummingbird. (Kansas Department of Wildlife, Parks and Tourism)
These birds can often be found in gardens, woodlands, and meadows where they feed on nectar, insects, and spiders to meet their high-energy requirements. (Kansas Department of Wildlife, Parks and Tourism)
Nests are typically built at heights of 10-40 feet, often on tree branches, and are made from a combination of plant down, tree bark, leaf fibers, and spiderwebs. (Birdwatching Buzz)
Hummingbird species, like other avian species, are facing challenges due to climate change and habitat loss, making conservation efforts crucial for their survival. (Smithsonian Migratory Bird Center)
Understanding Hummingbirds
Hummingbirds are fascinating creatures that can capture the attention of bird enthusiasts, nature lovers, and even those with no particular interest in birds.
We will explore the unique characteristics of hummingbirds, their behavior, nesting habits, and migratory patterns in kansas.
Hummingbirds are among the smallest birds in the world, with the bee hummingbird, living in cuba, being the smallest.
There exist around 300 different species of hummingbirds, and they are only found in the americas – from alaska to tierra del fuego.
They are known for their unique characteristics, such as their ability to fly backward, sideways, and hover mid-air.
Their wings can flap at a speed of 80 beats per second, which is a unique aspect that sets them apart from other birds.
How Hummingbirds Differ From Other Birds In Terms Of Behavior And Nesting Habits:
Hummingbirds behave differently from other birds in many ways. Their unique flying abilities grant them access to flower nectar and insects, which make up most of their diet. In contrast, other birds primarily feed on seeds and grains.
Female hummingbirds lay eggs only twice a year, with each brood consisting of two eggs.
They build their nests using plant fibers, spider webs, and lichens, and the size of the nest is about the size of a walnut shell.
Mention Of Hummingbird Migratory Patterns:
Hummingbirds have a significant migratory pattern that is based on the seasons and food availability.
Some of the species migrate thousands of miles each year, from their breeding grounds in north america to their overwintering areas in central and south america.
Several hummingbird species can be commonly found in kansas during the summer as they breed and raise their young; these include the ruby-throated, calliope, broad-tailed, and rufous hummingbirds.
Hummingbirds are unique birds in their behavior, nesting habits, and migratory patterns. Understanding these aspects will help bird enthusiasts to appreciate these fascinating creatures better.
Whether you are in kansas or elsewhere in the americas, you may be lucky to spot these tiny birds and appreciate their beauty up-close.
Do Hummingbirds Nest In Kansas?
Kansas, centrally located in the united states, is not an obvious destination for birdwatchers. Surprisingly, it has a diverse bird population, including hummingbirds.
The question is, do hummingbirds nest in kansas? Let's explore.
Detailed Discussion Of Hummingbirds' Nesting Habits
Hummingbirds are known for their tiny size and swift movements, making them an interesting subject of study for researchers.
Here are some key points about their nesting habits:
Hummingbirds build their nests in trees and shrubs, usually in a location that provides shelter and concealment from predators.
Nests are small, consisting of soft materials such as plant fibers, moss, and spider webs and measuring only 1-2 inches in diameter.
They lay eggs that are roughly the size of a small jellybean and incubate them for approximately 2 weeks.
The chicks hatch naked and vulnerable, requiring constant care from their mother.
Once the chicks are old enough to fly, they leave the nest and start their independent journey
Analysis Of The Factors That Affect Hummingbirds' Choice Of Nesting Sites
Hummingbirds are territorial creatures who will fiercely defend their nests.
The following are the factors that help them decide the ideal nesting spot:
Food availability: The availability of nectar sources determines the hummingbird's nest site selection.
Tree species: Hummingbirds prefer to build nests in trees and shrubs that provide shelter and support for their delicate nests.
Predation: The hummingbirds' nests are vulnerable to predators such as squirrels, snakes, and birds of prey. For this reason, they build their homes in areas that offer protection.
Climate: Hummingbirds prefer to nest in sheltered spots, protected from harsh weather conditions such as strong winds and rain.
Exploration Of Any Scientific Research On Hummingbirds And Nesting In Kansas
Several studies have been conducted to investigate the nesting habits of hummingbirds in kansas. One such study suggested that the state's climate is conducive to the successful breeding of ruby-throated hummingbirds.
Additionally, kansas serves as a crucial stopover for migrating hummingbirds passing through the central flyway.
Despite the several studies, there is still much to be discovered about hummingbirds' nesting habits in the state.
Explanation Of The Types Of Hummingbirds Found In Kansas
There are three species of hummingbirds found in kansas, namely:
Ruby-throated hummingbird: The only species that breeds in the eastern united states. They are known to visit kansas during their migration from the gulf of mexico to canada.
Black-chinned hummingbird: Most commonly found in the western united states, but have occasionally been spotted in kansas.
Rufous hummingbird: The most widely distributed hummingbird and known for its agility. They pass through kansas during their migration from alaska to mexico.
Kansas is a fascinating destination for birdwatchers, and hummingbirds are a great attraction.
While the state's hummingbird population is relatively small, the birds' agile and speedy movements make them worth the effort to watch and study.
The Habitat Of Hummingbirds In Kansas
Overview Of The Habitat Requirements For Hummingbirds
Hummingbirds are tiny charming creatures that require specific habitat conditions to survive. In kansas, hummingbirds are found mostly in the eastern and central parts of the state.
The ideal habitat requirements for hummingbirds include:
Access to nectar: Hummingbirds need to feed on nectar regularly to maintain their high metabolic rates.
Adequate shelter: They require trees and shrubs to nest and rest safely.
Comfortable temperature: Hummingbirds cannot tolerate extreme temperatures and need a suitable environment to thrive.
Explanation Of The Types Of Plants That Are Attracting To Hummingbirds
Hummingbirds are attracted to vibrant colors, particularly red, pink, and orange.
Some of the plants that are attractive to hummingbirds in kansas include:
Bee balm
Cardinal flower
Columbine
Coral honeysuckle
Red hot poker
Trumpet vine
These plants provide the primary source of nectar, which hummingbirds feed on regularly. You can also provide hummingbirds with protein sources like fruit flies and other insects.
Discussion Of Ways To Attract Hummingbirds To Your Yard In Kansas
If you would like to attract hummingbirds to your yard, here are some tips:
Plant the right vegetation: As mentioned earlier, hummingbirds are attracted to red, pink, and orange flowers. Ensure that you have plenty of these plants in your yard to attract hummingbirds.
Provide water: Hummingbirds enjoy bathing, and placing a shallow bird bath or fountain in your yard will attract them.
Offer food: Another excellent way to attract hummingbirds is by providing them with food. You can use a hummingbird feeder and fill it with a mixture of four parts water to one part white granulated sugar.
Hummingbirds need the right habitat conditions to thrive. Understanding their habitat requirements, types of plants that attract them, and ways to attract them can help create a friendly environment that is conducive to hummingbirds.
With these tips, you can enjoy the delightful presence of hummingbirds in your yard in kansas.
FAQ On Do Hummingbirds Nest In Kansas
What Types Of Hummingbirds Can Be Found In Kansas?
In kansas, you can find fourteen types of hummingbirds, including the ruby-throated and rufous.
When Is The Best Time To Look For Hummingbird Nests In Kansas?
The best time to look for hummingbird nests in kansas is between late may and early august.
Where Is The Best Place To Find Hummingbird Nests In Kansas?
Hummingbird nests in kansas can generally be found in wooded areas, gardens, and parks.
How Can I Attract Hummingbirds To My Backyard In Kansas?
You can attract hummingbirds to your kansas backyard by providing fresh nectar, planting hummingbird-friendly flowers, and avoiding pesticide use.
What Should I Do If I Find A Hummingbird Nest In Kansas?
If you find a hummingbird nest in kansas, it's best to observe from a distance and avoid touching or disturbing it, as this could cause harm to the chicks.
Conclusion
After researching extensively, it is safe to say that yes, hummingbirds do nest in kansas. Despite their small size, these birds can travel vast distances, and their range continues to expand.
It's important to note that these tiny creatures require specialized nesting habitats, and it's crucial to protect their breeding grounds and the habitats they rely upon.
By planting native plants and reducing pesticide use, we can create a safe haven for hummingbirds and other pollinators.
Watching hummingbirds at work is a true delight, and by taking small steps to protect these charming birds, we can ensure that future generations can witness their beauty and grace for years to come.
Let's do our part in preserving these tiny wonders and let nature do the rest.