How Do Hummingbirds Find Feeders: Step-by-Step!
Hummingbirds find feeders primarily by their excellent memory and keen vision. They remember where they found food in the past and return to the same spots.
The bright colors, especially red, on the feeders attract hummingbirds due to their association of these colors with food.
Once a hummingbird has located a feeder, it will remember the location and frequently return to it for sustenance.
They are also known to communicate with other hummingbirds about the locations of food sources.
Thus, providing a consistent and reliable supply of nectar in your feeder will encourage hummingbirds to visit regularly.
To help hummingbirds find your feeder, you can:
Use a brightly colored feeder, preferably red or orange
Place the feeder in a visible location near flowers, trees, or bushes
Keep the feeder clean and filled with fresh nectar
Add a few drops of red food coloring to the nectar (optional)
The ability of hummingbirds to find feeders is a fascinating aspect of their behavior. These tiny birds have a combination of sharp memory and keen vision that helps them locate their food sources.
They remember where they found food and return to the same spots, guided by the bright colors of the feeders, especially red, which they associate with nectar-rich flowers.
6 Factors Through Hummingbirds Find Feeders
| Factor | Description |
| --- | --- |
| Color | Hummingbirds are attracted to bright colors, especially red and orange. Feeders with these colors will be more easily found by hummingbirds. |
| Shape | Feeders that mimic the shape of flowers or have flower-like attachments will be more attractive to hummingbirds. |
| Nectar | The sweet nectar in feeders is a major attractant for hummingbirds. The sugar concentration should be around 4:1 (water to sugar) to best mimic natural flower nectar. |
| Location | Placing feeders near flowers, trees, and shrubs will increase the likelihood of hummingbirds finding them. Feeders should be hung at a height of 5 to 10 feet off the ground. |
| Movement | Hummingbirds are attracted to moving objects. Adding a water feature like a fountain or a mister near the feeder can help attract them. |
| Social Learning | Hummingbirds can learn the location of feeders from observing other hummingbirds. A feeder that already has frequent visitors will be more likely to attract new hummingbirds. |
6 Factors Through Hummingbirds Find Feeders
Key Takeaway
Hummingbirds use their keen sense of vision to locate feeders.
These tiny birds are attracted to bright colors, especially red, which is often incorporated into feeder design.
Placement of the feeder plays a significant role, as hummingbirds prefer areas that offer safety from predators, are quiet, and have nearby perching spaces for rest.
Hummingbirds' memory also aids them in finding feeders, as once they locate a food source, they remember its location and return to it.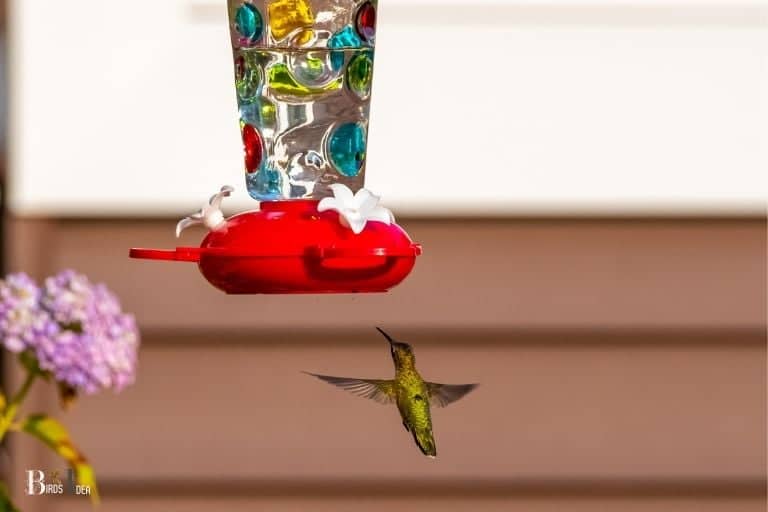 Five Facts About: Hummingbirds Find Feeders
Hummingbirds primarily use their exceptional vision rather than their sense of smell to find feeders. They can see colors that are beyond the human range of vision.
Often hummingbird feeders are designed with bright red parts, as hummingbirds are especially attracted to red. This color resembles the flowers from which they usually drink nectar. (Source: Smithsonian's National Zoo and Conservation Biology Institute)
The location of the feeder is also important. Hummingbirds prefer to feed in safe, quiet areas with perching space available nearby. Keeping feeders in the shade also helps to keep the nectar cooler and fresher. (Source: Hummingbird Guide)
Once hummingbirds locate a feeder, they remember its location and often return to it, even if it has been moved slightly. Their return can sometimes be observed in migration patterns. (Source: Bird Watchers Digest)
Alongside feeders, maintaining a garden with native, nectar-rich flowers can also attract hummingbirds and provide them with a natural food source. (Source: Audubon Society)
Hummingbirds Feeders: The Benefits of Providing Nectar Sources
Hummingbirds find feeders by using their keen vision and extraordinary memory to locate nectar-rich sources of food.
They are attracted to bright colors, especially red and orange, which they associate with nectar-producing flowers.
By providing feeders with these colors and offering them sugar solution that mimics natural nectar, you can attract and support a healthy hummingbird population.
This benefits the birds by providing a consistent and easy-to-access food source, and it can also help to ensure the survival of their species by supplementing their natural diet.
Additionally, hummingbirds can benefit your garden by pollinating flowers and controlling insect pests.
Attract hummingbirds with bright-colored feeders
Offer sugar solution to mimic natural nectar
Providing feeders helps support hummingbird populations
Hummingbirds benefit the ecosystem through pollination and pest control
"Hummingbirds have the ability to see colors that are invisible to humans and they rely on their memories and landmarks to locate food sources."

– National Audubon Society
Tips for Locating Hummingbird Feeders Near You
Hummingbirds are attracted to brightly colored flowers, and they have excellent memories for the locations of their favorite food sources.
To help hummingbirds easily find feeders in your yard, it's essential to place them in strategic locations and ensure that the feeders are visually appealing.
Below are some tips to help you effectively locate hummingbird feeders in your yard or garden:
Bright colors: Choose feeders with bright colors, especially red and orange, as these colors are most appealing to hummingbirds.
Placement: Hang the feeders near flowering plants or in areas with trees and shrubs, providing a natural habitat and shelter for the birds.
Visibility: Make sure the feeders are visible and not obstructed by other objects or plants. They should be easy for the birds to spot while flying around your yard.
Multiple feeders: Having multiple feeders in different locations can help attract more hummingbirds and also minimize competition among them.
Cleanliness: Keep your feeders clean and filled with fresh nectar to ensure the hummingbirds keep coming back.
How to Attract Hummingbirds to Your Feeder with Color?
Hummingbirds possess excellent color vision, which leads them to feel naturally attracted to certain hues that are reminiscent of their preferred meals, as they typically gravitate towards brightly colored flowers to feed on nectar.
One way to entice hummingbirds to your feeder is to incorporate vivid colors into its design, with red and orange being the most effective options.
By using feeders with these colors and incorporating colorful accents in the surrounding garden, you increase the likelihood of attracting these delightful birds to visit your outdoor space.
Use bright red or orange feeders
Add colorful flowers, such as trumpet vine, bee balm, or coral bells, near the feeder
Consider using feeder designs with brightly colored petals or patterns
Hang red or orange ribbons from nearby branches to catch the hummingbird's attention
The Importance of Cleaning and Maintaining Your Feeder
Cleaning and maintaining your hummingbird feeder is essential to attract more hummingbirds and to keep them healthy.
Dirty and contaminated feeders can develop mold, which is harmful for these delicate birds.
Regular cleaning and refilling of the feeder ensure that the hummingbirds receive fresh nectar, ultimately helping them stay nourished and energized.
Regularly clean your feeder with warm water and soap or vinegar solution
Inspect for mold or other contaminants
Replace the nectar every few days or when it becomes cloudy
Provide a clean and fresh water source for hummingbirds
By keeping these guidelines in mind, you will not only make it easier for hummingbirds to find your feeder, but also ensure a safe environment for them to thrive.
Strategies for Keeping Your Feeder Visible and Accessible to Hummingbirds
Hummingbirds rely on their excellent memory and keen sense of vision to locate food sources, such as nectar-rich flowers and feeders.
Therefore, to ensure that your hummingbird feeder is visible and easily accessible to these tiny birds, you must follow specific strategies.
By incorporating these techniques, you will not only help hummingbirds locate your feeder more easily, but you will also create a welcoming environment for them to return to time and time again.
Choose a bright-colored feeder, preferably red, as it attracts hummingbirds.
Position the feeder in an open area, away from potential predators and obstructions.
Hang your feeder at an appropriate height, typically around 5 feet off the ground.
Add nectar-rich plants nearby to create an inviting habitat.
Consider placing multiple feeders around your yard to accommodate more birds.
Keep the feeder clean and filled with fresh nectar to encourage repeat visits.
Create a perching spot near the feeder for hummingbirds to rest.
How to Feed Hummingbirds in Your Backyard Safely and Responsibly?
Hummingbirds find their feeders primarily through sight, so it's important to place your feeders in spots that are easily visible and attractive to these tiny fliers.
Feeding hummingbirds safely and responsibly in your backyard involves selecting the right feeder, providing a proper nectar mixture, ensuring cleanliness, and offering additional resources to support their well-being.
Choose the right feeder: Opt for a bright red feeder, as hummingbirds are attracted to this color. Ensure that the feeder has a built-in ant moat or add one to prevent ants from accessing the nectar.
Make nectar at home: Prepare a mixture of white granulated sugar and water at a ratio of 1:4 (1 part sugar to 4 parts water).
Cleanliness is essential: Clean and refill the feeder every two to three days to prevent fermentation and mold growth. Use hot water and a brush to thoroughly clean the feeder before refilling it.
Offer additional resources: In addition to nectar, provide a shallow water source for bathing and perching spots for the birds to rest.
What You Need to Know About Hummingbird Feeders and Nectar Nutrition?
Hummingbird feeders and nectar nutrition play a vital role in attracting and sustaining hummingbirds in your garden.
These tiny birds require a lot of energy as they have the highest metabolism of any bird species.
Providing them with the appropriate feeder filled with nutritious nectar will help them to maintain their energy levels and contribute to their overall health.
Choose the right feeder: Select a feeder that has bright colors (especially red), is easy to clean and maintain, and has multiple feeding ports. This will attract more hummingbirds to the feeder.
Nectar recipe: Prepare a homemade nectar solution by mixing four parts water with one part white granulated sugar.
Cleaning and maintenance: Clean the feeder regularly (at least once a week) with hot water and a mild detergent to prevent mold and bacteria. Rinse thoroughly before refilling.
Location: Place feeders in a safe, sheltered area near flowers and trees to provide natural cover. This will help the birds feel more comfortable and attract more hummingbirds to the area.
DID YOU KNOW
According to a study published in the journal Science, hummingbirds can remember the location of individual feeders and revisit them days or even weeks later.

birdsidea
How Hummingbirds Use Scent to Locate Nectar Sources?
Hummingbirds are known for their remarkable ability to locate nectar sources, such as flowers and feeders, with incredible precision.
Contrary to popular belief, these tiny creatures rely not only on their keen vision but also on their sense of smell to locate their food.
Research has shown that hummingbirds can detect and remember the scent of specific flowers or feeders which indicates that scent plays a significant role in their foraging behavior.
Through the combination of visual and olfactory cues, hummingbirds effectively locate nectar sources to meet their high-energy needs.
Key points to note:
Hummingbirds possess a sense of smell
They can detect and remember specific scents associated with nectar sources
They use both visual and olfactory cues to find flowers and feeders
The Pros and Cons of Hummingbird Feeders
Hummingbird feeders can be a delightful addition to your garden or patio, as they attract these fast-flying and vibrant birds to your space.
There are numerous benefits and drawbacks to having a hummingbird feeder, with considerations ranging from birds' health to feeder maintenance.
By understanding these factors, you can make an informed decision on whether a hummingbird feeder is the right fit for your outdoor environment.
Pros:
Attracts hummingbirds to your garden, providing enjoyment and bird-watching opportunities.
Contributes to the conservation of hummingbirds by providing an additional food source.
Encourages pollination in your garden, as hummingbirds are effective pollinators.
A wide variety of feeder designs available, allowing you to match your outdoor decor and preferences.
Cons:
Requires regular cleaning and maintenance to prevent harmful mold and bacteria.
May attract insects, such as ants and bees, which can displace hummingbirds.
Possibility of promoting dependency on artificial food sources as opposed to natural nectar sources.
In some cases, territorial disputes may arise between hummingbirds visiting the feeder.
To ensure that hummingbirds can easily locate your feeder, place it near brightly colored flowers, as these birds are naturally drawn to vibrant hues.
Additionally, be sure to regularly refresh the sugar water mixture to maintain its attractiveness to hummingbirds.
Video About: How Do Hummingbirds Find Feeders?
FAQ of How Do Hummingbirds Find Feeders
How do hummingbirds find feeders?
Hummingbirds have an amazing sense of sight and are able to detect the shapes and colors of feeders from a distance. They are also very territorial and once they find a feeder, are likely to continue visiting the area.
Additionally, they are very social and other hummingbirds may hear of a successful feeder and then fly to the same area.
How often should I refill the feeder?
It is recommended to refill your hummingbird feeder every 2-3 days in the summer months and every 5-7 days in winter.
Additionally, it is best to empty the old mixture and clean the feeder before refilling with each new batch as this will help ensure there are no harmful bacteria in the feeder.
Can I put other food in the feeder?
It is recommended to only offer hummingbirds a sugar water mixture as a food source. Adding other foods such as honey, fruit juice, or nectar can be dangerous for their health and should be avoided.
Does putting a feeder in my yard attract other hummingbirds?
Yes, putting a feeder in your yard may attract other hummingbirds. Hummingbirds are very social and may hear about the successful feeder from other birds and may then fly to the same area. Additionally, if there is only one feeder in the area hummingbirds.
Conclusion
In conclusion, hummingbirds are attracted to feeders through a combination of visual cues, such as color, and scent. It is important to keep your feeder clean and accessible to maximize its effectiveness.
When positioning your feeder, make sure to keep it visible and in a location that is easily accessible to the hummingbirds. Furthermore, it is important to choose the right size and shape of feeder to attract the maximum number of hummingbirds.
Additionally, be sure to use proper nectar nutrition and feed your hummingbirds safely and responsibly. With these tips and strategies in mind, you can easily attract and enjoy the beauty of hummingbirds in your backyard.