How to Clean Hummingbird Poop: Step-by-Step!
To clean hummingbird poop, you'll need to regularly maintain their feeders, nearby perches, and surrounding areas, using mild soap, warm water, and a soft brush.
Hummingbirds are delightful creatures to have in your garden, but they can also leave behind messy droppings.
Cleaning hummingbird poop is essential for maintaining a hygienic environment for both the birds and your outdoor space.
Regular cleaning can also help prevent diseases from spreading among the local hummingbird population.
Regular feeder maintenance: Clean hummingbird feeders at least once a week, more often in hot weather.
Use mild soap and warm water: Avoid using harsh chemicals that could harm the birds or contaminate their food.
Soft brushes work best: Use a soft brush to scrub away stubborn droppings without damaging surfaces.
Don't forget perches and surrounding areas: Hummingbirds often perch near feeders, so keep these spots clean as well.
To make the cleaning process easier, designate a specific day each week to maintain your hummingbird feeder and surrounding areas.
Ensuring a routine schedule will help you stay on top of the cleaning and reduce any chances of mold or bacteria growth, ultimately keeping your feathered friends healthy and your garden looking its best.
Remember that patience and consistency are key when it comes to maintaining a clean and safe environment for hummingbirds.
8 Steps to Clean Hummingbird Poop
| | | |
| --- | --- | --- |
| Steps | Materials Needed | Instructions |
| 1. | Warm, soapy water | Fill a container with warm water and add a small amount of mild dish soap. |
| 2. | Soft cloth | Dip the soft cloth into the soapy water, making sure to wring out any excess liquid. |
| 3. | Access the affected area | Identify the area where the hummingbird poop is located. Make sure it is easily accessible for cleaning. |
| 4. | Gently scrub the area | Using the damp, soapy cloth, gently scrub the hummingbird poop from the surface. Avoid using too much pressure or scrubbing too aggressively, as this may damage the surface. |
| 5. | Rinse the area | After scrubbing away the hummingbird poop, rinse the area with clean water to remove any soap residue. It's best to use a separate, clean cloth that's been dipped in fresh water and wrung out. |
| 6. | Dry the surface | Use a clean, dry cloth or paper towel to gently dry the area. Avoid rubbing too hard to prevent damage to the surface. |
| 7. | Optional: Disinfect the area | If desired, use a disinfectant spray or wipes to further sanitize the cleaned area. Follow the product instructions for application and dwell time. |
| 8. | Dispose of cleaning materials | Properly dispose of used cleaning materials, such as soiled cloths and paper towels, to prevent further contamination of the cleaned area. |
8 Steps to Clean Hummingbird Poop
Key Takeaway
Importance of maintaining a clean environment for hummingbirds
Identifying hummingbird poop and proper removal techniques
The role of cleaning in preventing diseases in hummingbirds
Regular maintenance of hummingbird feeders and surrounding areas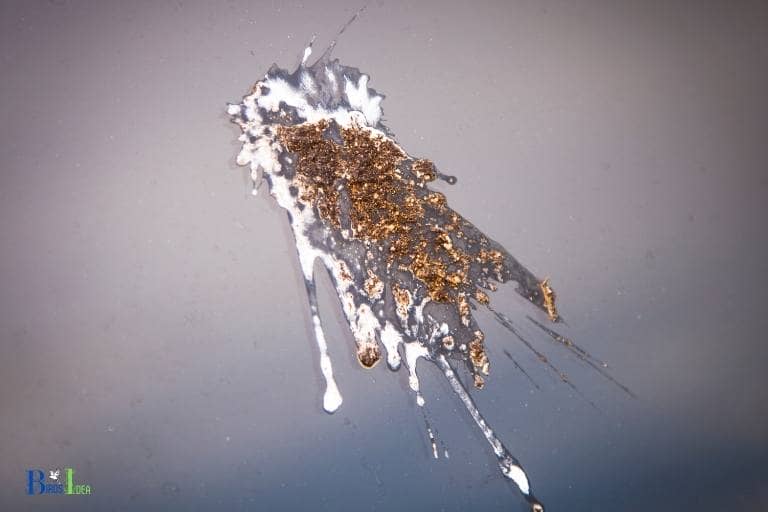 Five Facts About: Hummingbirds and their Poop
Hummingbird poop is usually small, white, and well-formed, making it relatively easy to identify from other birds' droppings. (Source: The Spruce)
To clean hummingbird poop off various surfaces, a mixture of warm water and mild dish soap can be used, along with a scrub brush or old toothbrush to gently remove the droppings. (Source: Birds and Blooms)
Regular cleaning of hummingbird feeders is essential to prevent the growth of mold, bacteria, and fermentation, which can cause diseases like fungal infection and avian malaria in hummingbirds. (Source: The Cornell Lab)
It is recommended to clean hummingbird feeders at least once a week, or even more frequently during hot weather, to ensure a healthy feeding environment for the birds. (Source: World of Hummingbirds)
In addition to cleaning feeders, it is also important to maintain cleanliness in the surrounding area, including birdbaths and perches, to prevent the spread of diseases among hummingbirds. (Source: Wild Birds Unlimited)
Understanding Hummingbirds And Their Poop Patterns
Hummingbirds are fascinating creatures known for their agility, speed, and size. They are famous among bird watchers and nature enthusiasts alike, with their iridescent plumage and incredible hovering ability.
Although hummingbirds are small in size, they have a huge appetite and can consume twice their weight in nectar each day.
Due to their high metabolic rate, hummingbirds also produce a lot of poop, which can be harmful if not cleaned up promptly.
Introduction To Hummingbirds
Hummingbirds belong to the family trochilidae, which includes over 300 species. They are found in the americas, from alaska to chile, and prefer warm, tropical environments.
Hummingbirds are known for their rapid wing beats, which create a humming sound and allow them to hover in mid-air.
They also have a long, slender, and curved bill that is perfectly adapted for reaching deep into flowers and extracting nectar.
Why Hummingbird Poop Is Harmful
Hummingbird poop may seem harmless, but it can cause damage to your plants, deck, and outdoor furniture if not cleaned up promptly. The acidity of their poop can burn and discolor surfaces, leaving unsightly stains that are difficult to remove.
Additionally, the leftover residue can attract ants and other insects, leading to a pest problem in your outdoor space.
Identifying Hummingbird Poop
Identifying hummingbird poop is easy, as it is usually a liquidy mixture of black and white droplets.
Here are some key things to look for:
Size: Hummingbird poop is small in size, around the size of a pea.
Shape: It is usually round or oval-shaped, with a flat bottom and a slightly raised top.
Color: The poop is usually black with a white, chalky deposit in the center.
Location: Hummingbirds usually poop while in flight, making it easy to spot on the ground, as well as on leaves and branches.
Cleaning Up Hummingbird Poop
To clean up hummingbird poop, it's best to act quickly before the acidic residue has a chance to set in.
Here are some steps to follow:
Use a hose or bucket of water to wet down the area affected by the poop.
Use a scrub brush or other cleaning tool to remove the residue. Be sure to wear gloves and protective clothing to avoid getting any of the acidic residue on your skin.
Rinse the area thoroughly with water to remove any remaining residue.
If the stain persists, use a cleaning solution specifically designed for outdoor surfaces. Be sure to follow the manufacturer's instructions and wear protective clothing.
Understanding hummingbirds and their poop patterns is essential if you want to maintain a healthy, pest-free outdoor space.
By knowing how to identify and clean up hummingbird poop, you can ensure that your plants and outdoor furniture stay in good condition.
Remember to act quickly and wear protective clothing when cleaning up hummingbird poop to avoid any potential harm.
Basic Cleaning Techniques For Hummingbird Poop
Hummingbirds are adorable creatures, and watching them hover around your garden or balcony can be quite delightful. However, cleaning up their poop can be a daunting task.
It's essential to clean hummingbird droppings on a regular basis, as these tiny birds are frequent visitors and can leave quite the mess.
We'll walk you through some basic cleaning techniques for hummingbird poop.
Materials Required For Cleaning Hummingbird Poop
Before we get into the cleaning process, let's gather the necessary materials.
Here is a list of items you'll require:
Soft-bristled brush
Mild detergent
Warm water
Rubber gloves
Sponge
Paper towels
Step-By-Step Cleaning Instructions
Now that we have our materials, let's get to cleaning.
Here's a step-by-step guide to cleaning hummingbird poop:
Put on rubber gloves to protect your hands from germs and bacteria present in the poop.
Wipe off any excess droppings with a paper towel or a soft-bristled brush.
Soak the affected area with warm water to loosen the remaining poop.
Apply a small amount of mild detergent to the area and gently scrub with a soft-bristled brush. Be careful not to scrub too hard as it may damage the surface.
Rinse the area with warm water and wipe with a sponge to remove any remaining soap suds.
Finally, dry the area by patting it with a paper towel.
Tips For Effective Cleaning Of Hummingbird Poop
Here are a few tips to ensure effective cleaning of hummingbird poop:
Clean up the droppings as soon as possible to prevent them from hardening and becoming more challenging to clean.
Use mild detergent, such as dish soap, to clean the affected area. Avoid using harsh chemicals or bleach as they may damage the surface.
Always wear rubber gloves to avoid germs and bacteria present in the poop.
For hard-to-reach areas, use a soft-bristled toothbrush to scrub off the poop gently.
Never use a pressure washer to clean hummingbird poop, as it may cause more harm than good.
Cleaning hummingbird poop may seem like a tedious task, but with the right materials and techniques, you can have your surfaces looking as good as new in no time.
Remember to be gentle while cleaning and take all necessary precautions to avoid any harm or damage.
Happy hummingbird watching!
Advanced Techniques For Cleaning Hummingbird Poop
Hummingbirds are some of the most beautiful birds on the planet. They're tiny, yet powerful creatures that can flap their wings up to 80 times per second. However, with all their beauty comes a bit of mess.
Hummingbird poop can be hard to clean, but with the right techniques, you can easily get rid of it.
Deep Cleaning Your Feeder
If you have a hummingbird feeder, you'll need to clean it regularly.
Here are the steps to deep clean your feeder:
Disassemble your feeder: Start by taking apart your feeder. Remove all the parts, including the base, reservoir, and flowers.
Soak the parts in hot soapy water: Fill a bucket with hot soapy water, and soak the parts of your feeder for at least an hour.
Scrub the parts with a brush: After soaking, use a bottle brush to clean each part of your feeder. Make sure to clean every nook and cranny.
Rinse the parts with clean water: Once you've scrubbed everything, rinse each part with clean water.
Dry the parts: Finally, let all the parts dry completely before reassembling your feeder.
What To Do When Hummingbird Poop Is Stuck
Sometimes hummingbird poop can be stubborn and won't come off with regular cleaning.
Here are some additional techniques you can use:
Soak the area with vinegar: Vinegar is a great natural cleaner. Soak the area with a mixture of water and vinegar, and let it sit for a few minutes before scrubbing it clean.
Use a toothbrush: For harder to reach areas, use an old toothbrush to scrub away the poop.
Try a commercial cleaner: There are several commercial bird dropping cleaners available that can be effective at removing stubborn poop. Make sure to follow the instructions carefully.
How To Clean Hummingbird Poop From Different Surfaces
Hummingbird poop can end up on a variety of different surfaces.
Here's how to clean it from a few common ones:
Glass windows: Use a scraper or razor blade to remove any large pieces of poop, then wipe the area down with a mixture of water and vinegar.
Outdoor furniture: Use a scrub brush and soapy water to clean plastic or metal outdoor furniture. For wood furniture, use a mild wood cleaner and a soft cloth.
Clothing: Rinse the area with cold water as soon as possible, then apply stain remover and wash as usual.
Cleaning hummingbird poop doesn't have to be a difficult task. By following these advanced techniques, you can easily get rid of any messes and keep your feeder and surroundings clean.
Preventing Hummingbird Poop On Feeders And Surfaces
Proactive Measures To Prevent Hummingbird Poop Buildup
Hummingbirds are tiny, beautiful creatures that are fascinating to watch. However, their poop can be a nuisance to clean up. The best way to tackle this issue is by preventing poop buildup in the first place.
Follow these proactive measures to keep your feeder and surfaces free of hummingbird poop.
Trim nearby trees and bushes: Keep branches away from the feeder area to discourage birds from perching and pooping on it.
Install a weather guard: A weather guard can protect your feeder from rain and direct sunlight, keeping it dry and clean.
Clean the feeder regularly: Keeping your feeder clean is essential to prevent poop buildup. Change the nectar every few days and clean the feeder with hot water and mild soap to remove any residue.
Use an ant moat: Ants can be attracted to the nectar, and their presence can cause birds to avoid using the feeder. An ant moat can prevent ants from accessing the feeder.
Do'S And Don'Ts For Feeder Placement
Feeder placement is critical to prevent hummingbird poop on your surfaces. Here are some do's and don'ts to follow when choosing a spot for your feeder.
Do:
Hang the feeder in a shaded area: Direct sunlight can cause nectar to spoil faster and attract bees and wasps.
Choose a quiet spot: Hummingbirds prefer a peaceful location to feed.
Hang the feeder in an open area: Clear away bushes and obstacles to make it easier for the birds to spot the feeder.
Don't:
Hang the feeder near a window: A bird may accidentally hit the window and injure itself.
Hang the feeder near a door or walkway: You may disturb the birds and cause them to leave the area.
Choosing The Right Feeder To Prevent Hummingbird Poop
Choosing the right feeder can prevent poop buildup and make upkeep more manageable.
Here are some features to consider when selecting a feeder.
Easy to clean: A feeder that's easy to disassemble and clean will make upkeep less of a hassle.
Covered feeding ports: A feeder with covered feeding ports can prevent rainwater from entering the nectar, keeping it fresh and clean.
Dripless design: A feeder with a dripless design can prevent nectar from dripping and attracting insects.
Follow these tips to prevent hummingbird poop buildup on your surfaces and feeder. A clean and well-maintained feeder will attract more hummingbirds, providing you with endless entertainment.
FAQ Of How To Clean Hummingbird Poop
How Do You Clean Hummingbird Poop Off Surfaces?
Use a solution of vinegar and water and a soft cloth to gently clean the area.
Can Hummingbird Poop Be Harmful?
Hummingbird poop is not harmful, but it is acidic and can damage surfaces.
How Often Should You Clean Hummingbird Feeders?
Clean hummingbird feeders every three to five days or more frequently in hot weather.
What Should You Use To Clean Hummingbird Feeders?
Clean hummingbird feeders with a solution of hot water and white vinegar.
How Can You Prevent Hummingbird Poop?
Position hummingbird feeders away from sitting areas, decks, or anything that can become soiled.
Conclusion
Cleaning hummingbird poop is never an enjoyable experience, but it is essential for maintaining a healthy and welcoming environment for these beautiful creatures.
With the tips provided in this article, you can effectively remove hummingbird droppings from a variety of surfaces without using harsh chemicals or damaging your property.
Remember to wear gloves and protective clothing when handling droppings, as they may contain harmful bacteria. Additionally, it is crucial to disinfect the area thoroughly once the droppings have been removed to prevent the spread of disease.
By following these guidelines, you can keep your garden or patio clean and safe for both humans and hummingbirds.
Share these tips with your friends, and help promote a healthier environment for everyone.