How to Keep Woodpeckers Off Hummingbird Feeders?
To keep woodpeckers off hummingbird feeders, you can try deterrents such as feeder guards, reflective surfaces, or wind chimes.
You can also provide a separate feeding station for woodpeckers, move your hummingbird feeder or adjust the feeder design to discourage woodpeckers.
Woodpeckers are attracted to hummingbird feeders because they also feed on nectar. However, their larger size and aggressive feeding habits can deter hummingbirds from visiting.
Therefore, it's necessary to use some strategies to deter them without causing harm.
Cover the feeder with hardware cloth – Hardware cloth is fine metal mesh that blocks woodpeckers from accessing the feeder.

Use pieces of wood to form a pouch for the feeder that can be easily covered with the hardware cloth.
Hang the feeder – Hang the feeder in a spot that is inaccessible to woodpeckers, such as a window or a covered porch.

The placement should ensure that the feeder remains out of the reach of woodpeckers but is still in reach of hummingbirds.
Provide alternative food – Create an area full of tasty snacks for woodpeckers to feed on instead of the hummingbird feeders.

Ranging from nuts and suet to millet, woodpeckers are attracted to food options other than hummingbird feed.
Make the feeder uncomfortable – If a woodpecker has already taken up residence in the feeder, then it's time to make the surrounding area unpleasant.

This can be done by hanging shiny objects, spraying with taste deterrents, or attaching decoys to the feeder.
These four steps will help create an environment that discourages woodpeckers while also retaining a safe space for hummingbirds to feed.
With a little bit of effort, the goal of keeping hummingbirds safe and well-fed is achievable.
8 Strategies to Keep Woodpeckers Away from Hummingbird Feeders
| | |
| --- | --- |
| Strategies | Description |
| Use Decoys | Placing decoys like an owl or hawk nearby can deter woodpeckers as they are natural enemies. |
| Repellent Sprays | Certain repellent sprays, especially those that imitate predators, can frighten off woodpeckers. |
| Reflective Objects | Hanging shiny or reflective objects around the feeder can scare away woodpeckers as they don't like glaring light. |
| Bird Netting | A bird net can prevent access of woodpeckers to the feeder while allowing smaller birds like hummingbirds pass through. |
| Sound Machines | Using sound machines that produce predator noises can scare off woodpeckers. |
| Different Feeders | Woodpeckers prefer suet feeders; providing them separately might keep them away from hummingbird feeders. |
| Reposition Feeder | Moving the feeder regularly can confuse woodpeckers and deter them from coming back. |
| Feed At Different Times | Hummingbirds and woodpeckers feed at different times of the day; refill the feeder during the time when woodpeckers are not active. |
8 Strategies to Keep Woodpeckers Away from Hummingbird Feeders
Key Takeaway
Woodpeckers often interfere with hummingbird feeders, drinking the nectar and keeping hummingbirds away.
A couple of methods, such as using visual deterrents, bird nets and bird-safe tape, can help to repel woodpeckers.
Another effective way is to provide the woodpeckers with their own food source, such as a suet feeder.
Ensuring the cleanliness of the hummingbird feeder can also deter unwanted birds, including woodpeckers.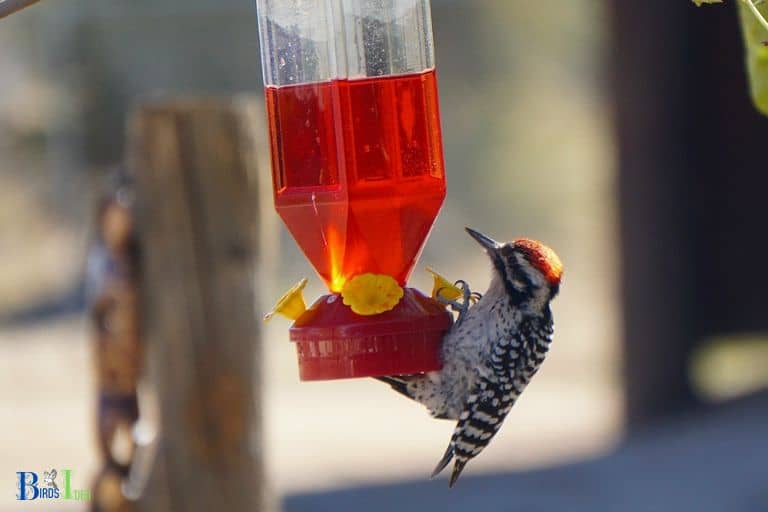 Five Facts About: Woodpeckers and Hummingbird Feeders
Woodpeckers are attracted to hummingbird feeders because they contain nectar, which they enjoy. (source: Audubon Society)
Woodpeckers can become a problem because they can scare away hummingbirds, ruining your chance to observe these smaller birds. (source: Bird Watchers Digest)
Using bird-safe tape or other shiny materials as deterrents can be effective because woodpeckers are generally scared of shiny, reflective objects. (source: American Bird Conservancy)
Providing suet feeders, which contain high-fat food like insects, can divert the woodpeckers' attention away from the hummingbird feeders. (source: National Wildlife Federation)
Maintaining a clean and healthy environment around your bird feeders is essential to keep not only woodpeckers but also other larger, unwelcome birds or pests away. (source: International Hummingbird Society)
DID YOU KNOW
In the U.S., there are over 360 species of hummingbirds in 45 different genera. Of these species, only 18 species are commonly found in North America.
Keeping Woodpeckers Away from Hummingbird Feeders
Woodpeckers can deter hummingbirds from visiting your feeders and can cause damage to them.
Here are some tips to keep woodpeckers away from your hummingbird feeders:
Set up two or more feeders in different areas to spread out the birds.
Hang the feeders on a thin wire or cable away from trees, buildings, or posts.
Place feeders in the shade and away from windows or other reflective surfaces.
Hang a CD or a shiny, reflective object near the feeders to confuse any woodpeckers.
Make sure to keep the feeders clean, and refill them regularly as needed.
By following these tips, you can help keep your hummingbird feeders safe and free from woodpecker interference.
Using Hardware Cloth to Protect Against Woodpeckers
Hardware cloth is a great way to protect your trees and other outdoor structures from woodpeckers.
It is a metal mesh that is typically made of galvanized steel or stainless steel, and is available in various sizes, shapes and gauges.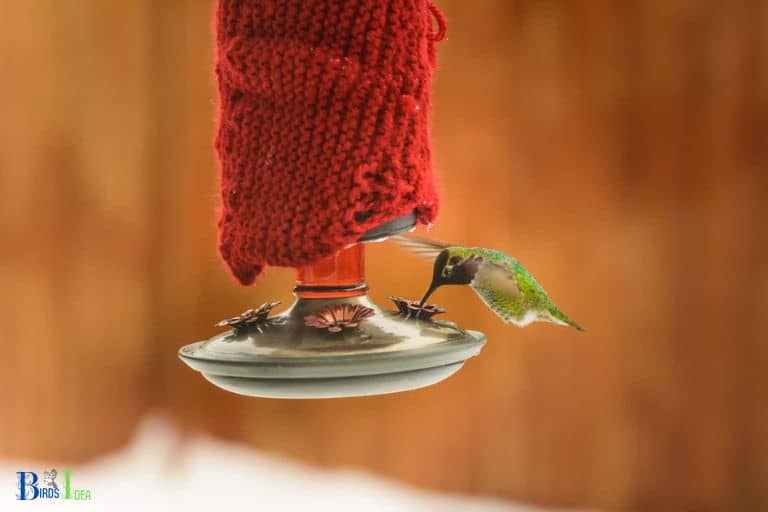 When installing hardware cloth to protect against woodpeckers, there are a few considerations:
Place the cloth around the tree or structure at least 6 inches from the surface to prevent injury to the woodpecker if it attempts to peck at the tree.
Make sure the cloth is securely attached at the top, sides, and bottom.
Make sure the cloth is taut and free of any gaps or areas that may be accessible to the woodpecker.
Choose a mesh size that is small enough to prevent the woodpecker from getting through.
Using hardware cloth is an effective way to protect your trees and other structures from woodpecker damage. With proper installation and maintenance, it can provide long-term protection.
Placing the Feeder for Maximum Protection
Placing the feeder for maximum protection is an important part of providing a safe and secure environment for wild birds.
Here are some key points to remember when putting up a feeder: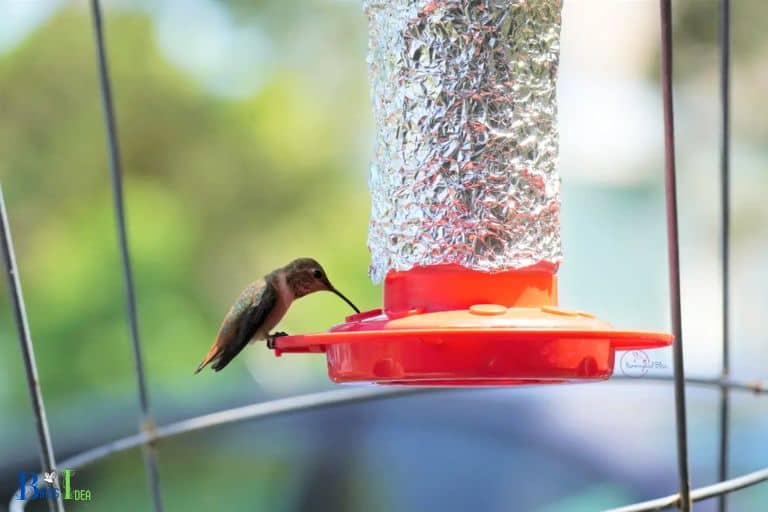 Choose an open spot away from vegetation or trees, and make sure the feeder is in a safe, visible area.
Place the feeder at least 5 feet off the ground to keep it out of reach of predators.
Hang the feeder in an area that is sheltered from wind and rain.
Avoid placing the feeder near areas of human activity, such as roads or sidewalks, as this increases the chances of predators finding the feeder.
When placing the feeder, make sure to use the right hardware and secure it properly. Check the feeder regularly for any damage or signs of pests or predators, and clean the feeder periodically to ensure the birds stay healthy.
With a few simple steps, you can ensure your feeder is placed safely and securely for maximum protection.
Providing Alternative Food for Woodpeckers
Woodpeckers are an essential part of the ecosystem, providing food for many other species. To ensure that woodpeckers remain a viable population, it is important to provide them with alternative food sources.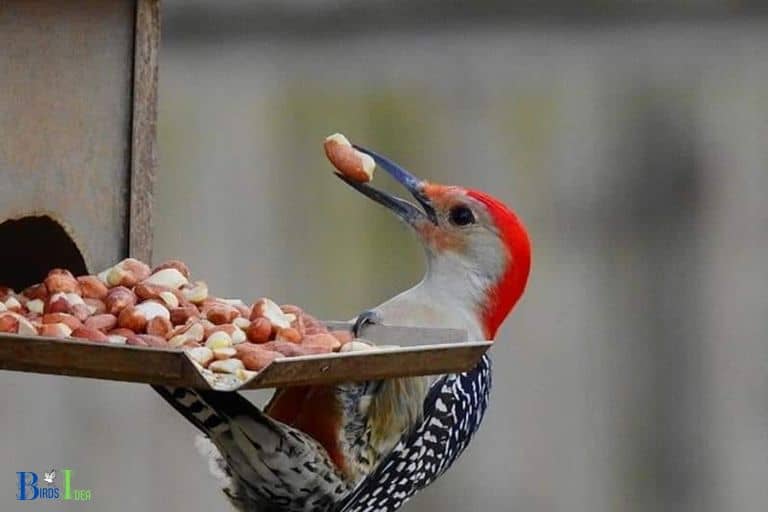 Here are a few ways to provide alternative food for woodpeckers:
Put up bird feeders:
Bird feeders are an excellent way to provide woodpeckers with a consistent food source. Choose a bird feeder specifically designed for woodpeckers and fill it with nuts, seeds, and suet.
Plant trees:
Planting trees is a great way to give woodpeckers a natural food source. Choose trees that produce nuts and berries, such as oaks and hickories.
Create a log pile:
Log piles provide woodpeckers with the insects they need to survive. Create a pile of logs and stumps in a safe area and allow the woodpeckers to come and feed.
By providing alternative food sources for woodpeckers, we can help ensure their continued survival.
Making the Feeder Uncomfortable to Discourage Woodpeckers
To discourage woodpeckers from visiting bird feeders, there are a few measures that can be taken, such as:
Covering the feeder with a material that woodpeckers don't like, such as burlap, which is a coarse fabric.
Wrapping the feeder in bird netting or hardware cloth.
Applying a sticky substance to the feeder like Tanglefoot.
Placing a spinning pinwheel near the feeder to startle the woodpeckers.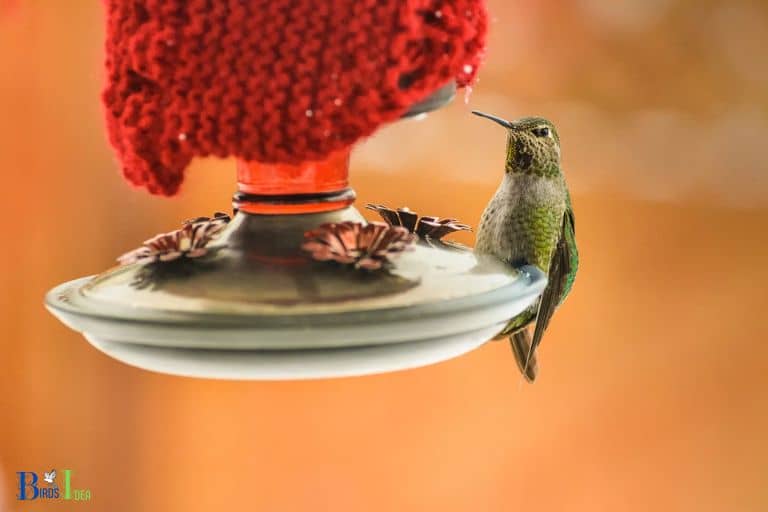 These methods make the feeder uncomfortable and difficult to access, reducing the likelihood of a woodpecker returning in the future. Additionally, keeping the feeder clean and removing leftover food can help deter woodpeckers.
Using Shiny Objects to Prevent Woodpecker Visits
Woodpeckers can cause significant damage to both homes and other structures, making it important to learn the best ways to prevent them from visiting. One of the most effective methods is to use shiny objects to deter them.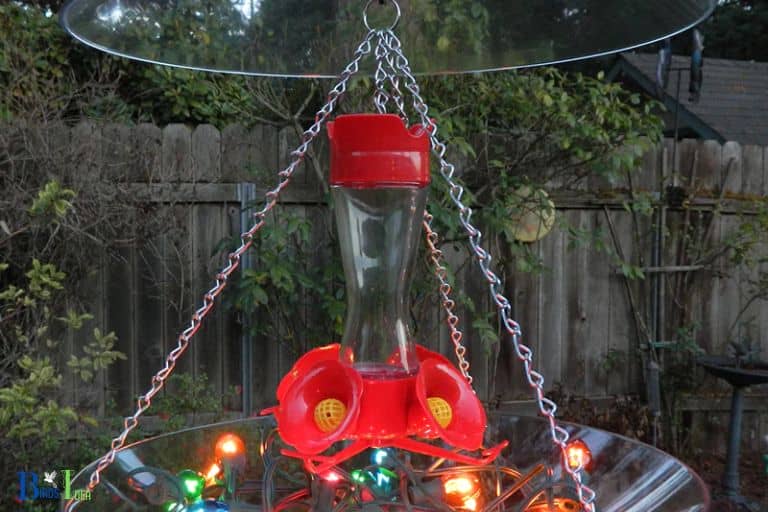 Hang shiny objects from trees or other structures around your property. This could include old CDs, aluminum foil strips, or other reflective items.
Place bird netting around the trunk of trees to make it difficult for woodpeckers to reach it.
Place fake owls in various locations around your property. This will act as a visual deterrent to the woodpeckers.
Trim tree branches so that they are not close to your home or other structures.
If possible, install a woodpecker repellent in your yard. This will emit a signal that will keep woodpeckers from coming near your home.
These are just a few of the ways you can use shiny objects to prevent woodpecker visits. By using a combination of these methods, you can keep woodpeckers away from your property and prevent them from causing damage.
Utilizing Taste Deterrents and Decoys to Repel Woodpeckers
Woodpeckers can be pesky birds that can cause damage to structures, trees and other wood materials.
Fortunately, there are several ways to discourage woodpeckers from causing damage. Utilizing taste deterrents and decoys are two effective ways to repel woodpeckers.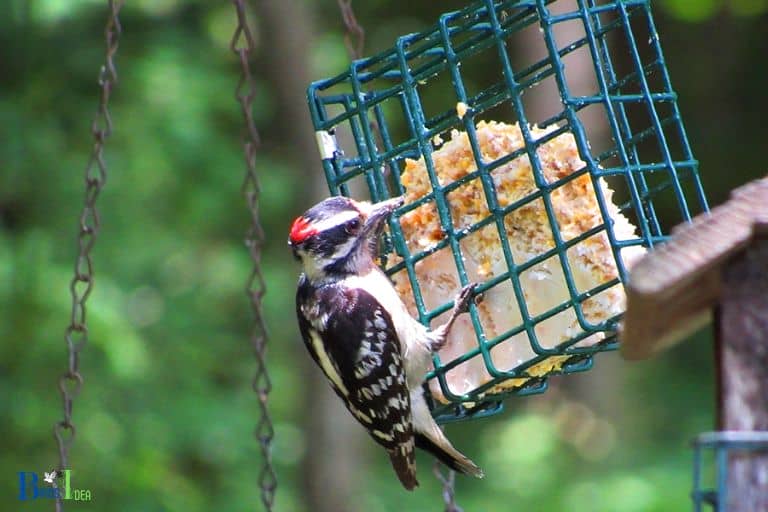 Taste Deterrents
Spicy and sour taste deterrents can be used to reduce the attractiveness of wood surfaces.
These products can be sprayed directly onto the wood surface and are safe for both humans and wildlife.
Taste deterrents contain natural ingredients that are harmless to the environment and are non-toxic to birds.
Decoys
Decoys, like owl, hawk and snake replicas, can be used to scare away woodpeckers.
These decoys should be placed near the woodpecker's activity areas and should be moved around to prevent the woodpecker from getting used to the decoy.
Decoys can be quite effective at deterring woodpeckers.
Using taste deterrents and decoys are two simple, yet effective, ways to repel woodpeckers.
In addition to using these methods, it is important to identify and address any potential sources of food or shelter that may be attracting woodpeckers in the first place. By utilizing these deterrents, damage caused by woodpeckers can be significantly reduced.
FAQ of How To Keep Woodpeckers Off Hummingbird Feeders
How can I prevent woodpeckers from accessing my hummingbird feeder?
You can prevent woodpeckers from accessing your hummingbird feeder by placing it in an area that is difficult for them to reach, such as a covered porch or patio.
What type of feeder is best to keep woodpeckers away?
Feeders with smaller openings, such as sipper tubes or bee-proof feeders, are less likely to attract woodpeckers.
Can I use a squirrel baffle to keep woodpeckers away from my feeder?
Yes, a squirrel baffle can also help keep woodpeckers away from your feeder.
Is it safe to use a deterrent spray on my feeder to keep woodpeckers away?
No, it is not recommended to use deterrent sprays on your feeder as they can be harmful to both the woodpeckers and the hummingbirds.
Can I hang my hummingbird feeder in a tree to keep it out of reach of woodpeckers?
Hanging your hummingbird feeder in a tree may not be effective in keeping it out of reach of woodpeckers, as they are skilled climbers and may still be able to access it.
It is recommended to place the feeder in an area that is difficult for woodpeckers to reach.
Conclusion
By taking steps such as covering the feeder with hardware cloth, hanging the feeder in a spot that's out of reach, providing alternative food sources, and making the feeder uncomfortable.
Woodpeckers can be kept away from hummingbird feeders while still allowing the hummingbirds to feed. With a little bit of effort, humans can keep hummingbirds safe and well-fed.