How To Tell If A Hummingbird Is Dying? With Facts!
Hummingbirds show multiple signs when they are dying, including lethargy, loss of appetite, puffing up their feathers, difficulty flying or staying perched, or having a lack of reflexes or responsiveness.
Some might also exhibit unusual behavior or noticeable weight loss.
Hummingbirds, like any other creature, exhibit specific behaviors and physical symptoms when they are sick or dying.
Being able to identify these signs can aid in the potential rescue and treatment of these delicate birds.
Lack of movement or signs of life – A hummingbird that appears to be lying on its side and is unresponsive may be in the process of dying.
Poor balance and coordination – If a hummingbird appears to be having difficulty flying and seems to be unbalanced, it may be a sign that it is in distress or is dying.
Visible wounds – If a hummingbird has any visible wounds, such as broken wings or a bloody beak, that may indicate that it is in the process of dying.
Weakness – A hummingbird that appears to be weak or unresponsive and droops its wings may be dying.
If a hummingbird shows one or more of these signs, immediate action should be taken. Contact a local wildlife rehabilitation center or a veterinarian who specializes in birds.
They can offer advice and possibly provide treatment, helping to increase the bird's chance of survival.
It's vital to remember that, despite good intentions, attempting to care for a sick or dying hummingbird without professional guidance can often do more harm than good.
8 Signs of a Dying Hummingbird
| | |
| --- | --- |
| Signs | Description |
| Lack of Appetite | The hummingbird might refuse to eat or show diminished interest in food. |
| Weight Loss | Not eating will lead to weight loss. The hummingbird will look thin and frail. |
| Weakness | A sick hummingbird may have difficulty flying or be unable to fly. This is due to a lack of energy from not eating. |
| Changes in Feathers | A dying hummingbird's feathers may lose their iridescence and become dull. Also, feathers might appear ruffled due to the lack of preening. |
| Inactivity | The bird may show lack of interest in flying around or exploring. |
| Shivering | A hummingbird that is constantly shivering may be sick. This isn't the regular rapid wing movement but an unusual body quiver. |
| Difficulty Breathing | If a hummingbird is gasping for breath, it could be a sign of illness or injury. |
| Changes in Droppings | Changes in the color, consistency, or frequency of droppings can be a sign of illness. This could be caused by a change in diet or an internal issue. |
8 Signs of a Dying Hummingbird
Key Takeaway
Hummingbirds display a variety of signs suggesting they are dying, such as an inability to maintain flight, refusal to feed, or displaying unnatural body positions.
If a hummingbird grows unusually friendly or lack of fear of humans may be due to its ill health as they are solitary creatures.
Hummingbirds are notorious for their high metabolism, if they stop feeding might be at risk.
If you observe a hummingbird under signs of distress contact local wildlife rescue for professional help.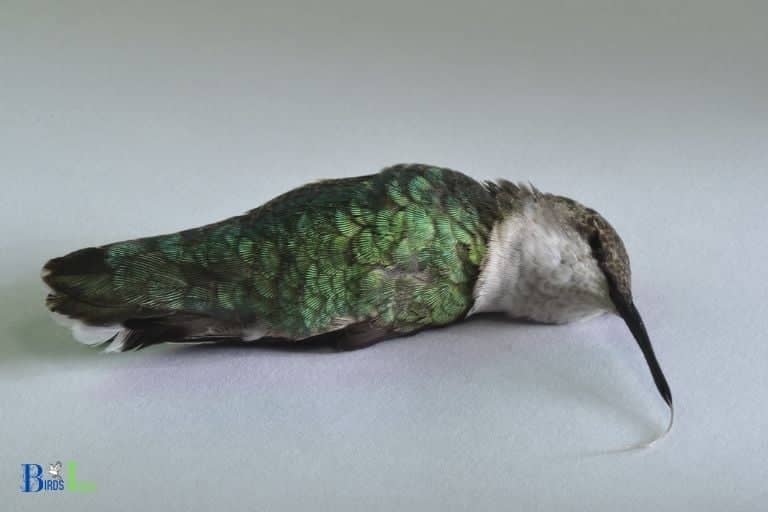 Five Facts About: Identifying a Dying Hummingbird
Hummingbirds are the smallest birds, with the smallest species measuring about 2 inches long and weighing less than a dime. (source: National Geographic)
A hummingbird's wings flap about 70 times per second and their heart rate can reach over 1,200 beats per minute. (source: Defenders of Wildlife)
Hummingbirds consume half of their weight in sugar daily, normally from flower nectar and feeders. If they stop feeding, they could risk death within hours due to their high metabolism. (source: Smithsonian's National Zoo & Conservation Biology Institute)
Hummingbirds do not migrate in flocks. Instead, they travel alone across hundreds or thousands in search of warm climates with ample nectar supplies (source: American Bird Conservatory)
Hummingbirds have a remarkable memory, remembering every flower and feeder they have been to, and can identify humans. This is especially noticeable when a hummingbird is sick or dying, it may become unusually friendly, losing its fear of humans. (source: Journal of Experimental Biology)
If you encounter a hummingbird that shows any signs of distress, it should be seen by a veterinarian as soon as possible.
It is possible to save a hummingbird that is in distress and with proper care, it can recover and be released back into the wild.
If the situation is serious, the proper course of action may be to euthanize the hummingbird in a humane way.
DID YOU KNOW
According to the National Audubon Society, there are 338 species of hummingbirds in the world, with 16 species located along the West Coast of the United States.
Causes of Death in Hummingbirds
Hummingbirds are small birds that are capable of hovering in the air and are known for their fast wing beats.
Despite their vibrant appearance, hummingbirds are unfortunately susceptible to a variety of causes of death.
Some of the most common causes of death in hummingbirds include:
Predation: Hummingbirds are a favorite prey of bats, cats, snakes, and other predators.
Starvation: Hummingbirds need to constantly feed on flower nectar and insects to maintain their energy reserves. If they are unable to find enough food, they can starve to death.
Disease: Disease is a common cause of death in hummingbirds. Common diseases that can affect hummingbirds include fungal infections and parasites.
Climate: Hummingbirds are sensitive to extreme temperatures, and if the temperature gets too hot or too cold, they can die.
Human Interference: Hummingbirds can be killed by outdoor cats, window collisions, and other types of human interference.
In conclusion, hummingbirds are vulnerable to a variety of causes of death, including predation, starvation, disease, climate, and human interference.
It is important to take steps to protect these beautiful and fragile birds to help ensure their survival.
Watch Video: How To Tell If A Hummingbird Is Dying?
Signs That a Hummingbird is Dying
Hummingbirds are beautiful birds that are known for their bright coloring and fast, buzzing wings. Unfortunately, sometimes these delightful birds can suffer from illnesses or injuries that can lead to death.
Recognizing the signs that a hummingbird is dying can help you to intervene if necessary and potentially save the bird's life.
There are several signs that you should look out for that may indicate that a hummingbird is dying.
These include:
Difficulty breathing or gasping.
A drooping head or wings.
Lethargy or lack of movement.
Loss of appetite or difficulty eating.
Discoloration or changes in appearance.
Increased loss of feathers.
Limping or an inability to fly.
If you suspect that a hummingbird is dying, it is important to take action immediately. If possible, you should try to get the hummingbird to a rehabilitation center or veterinary office as quickly as possible.
If the bird is unable to fly, you can use a small box or carrier to transport it safely and gently.
For example, if you find a hummingbird that is unable to move due to injury, you should try to provide it with shelter and warmth until you can get it to a qualified professional.
Additionally, you can give the bird a few drops of sugar water or honey water to help it stay hydrated.
By recognizing the signs that a hummingbird is dying and taking the appropriate steps to help the bird, you can potentially save its life.
However, it is important to seek professional help as soon as possible to give the hummingbird the best chance of recovery.
How to Help a Hummingbird in Distress
Helping a hummingbird in distress can be a difficult task, but it is a worthwhile effort to ensure the safety of the bird.
To help a hummingbird in distress, there are a few steps you can take:
Move the bird to a safe place, such as a quiet room or shaded area.
Provide the hummingbird with a perch and a shallow bowl of water.
Give the hummingbird time to rest for a few hours until it can fly away on its own.
Contact a local wildlife rehabilitator to take custody of the bird.
If the hummingbird is injured, it is important to keep it away from other animals and provide it with a comfortable environment.
It is also important to keep the bird warm and hydrated. If the hummingbird is too weak to move, place it in a box or covered container with a towel.
By following these steps, you can help a hummingbird in distress and ensure they are able to make a full recovery.
By providing a safe environment, providing food and water, and ultimately contacting a local wildlife rehabilitator, you can help a hummingbird in need and give them a chance to thrive.
Treating a Dying Hummingbird
It is heartbreaking to witness a dying hummingbird, however, there are steps that we can take to try and help them.
If you come across a hummingbird that appears to be weak, sick, or injured, first you should isolate them in a small, quiet, and safe space. This will limit their stress and provide a safe environment for them to rest.
Next, if possible, offer a shallow dish of water and some sugar water. This will provide them with the energy and hydration they need to recover.
It is important to make sure that the sugar water is a 4:1 ratio (4 parts water and 1 part sugar) and that it is kept at 70-80 degrees Fahrenheit.
Finally, if you're able to, contact a wildlife rehabilitation center for help. A rehabilitation center will be able to provide the best possible care for a wild hummingbird.
They may even be able to release the bird back into their natural habitat once they have fully recovered.
In summary, if you come across a dying hummingbird, take the steps of isolating them in a safe space, providing water and sugar water, and contacting a wildlife rehabilitation center.
With a bit of luck, the hummingbird may be able to return to its natural habitat.
Humane Ways to Euthanize a Hummingbird
Hummingbirds are naturally delicate creatures that require special care when it comes to euthanization.
While the exact process of euthanizing a hummingbird varies depending on the situation and the species, there are some humane ways to do so if absolutely necessary.
The following are some humane ways to euthanize a hummingbird:
Inhalant Euthanasia:
This is done by placing the hummingbird in a container and exposing them to a gas such as carbon dioxide. This method is often considered the most humane form of euthanizing animals.
Injection Euthanasia:
This involves injecting an animal with a solution such as pentobarbital to induce death. This method is considered relatively humane and is often used in veterinary practices.
Physical Method:
This involves either breaking the neck of the hummingbird or crushing the skull. This method is not typically recommended as it is not considered humane and can cause the animal unnecessary pain and suffering.
No matter which method is used, it is important to remember that euthanizing a hummingbird should be done with great care and caution.
It is also important to consider the species of hummingbird and its individual needs when determining the most humane way to euthanize the bird.
Preventing Premature Death in Hummingbirds
Hummingbirds are an important natural resource to both the environment and to humans. Unfortunately, they face many threats that can prematurely end their lives.
To prevent premature death in hummingbirds, there are a few steps that can be taken.
First, providing hummingbird-friendly habitat is essential. This would include planting native flowers and shrubs to provide nectar, food, and cover. Providing birdbaths and birdhouses would also provide necessary water and shelter.
Second, avoiding the use of pesticides and other chemicals that can harm hummingbirds is important. Whenever possible, avoiding the use of these products will help keep hummingbirds safe.
Third, minimizing human-induced mortality is key. This would include avoiding using and disposing of fishing lines and netting, keeping cats indoors, and reducing the use of glass windows in areas with high hummingbird populations.
Finally, providing additional resources for hummingbirds is essential. Providing feeders filled with sugar water and nesting materials can help them survive in their environment.
By taking these steps, people can help reduce the number of premature deaths in hummingbirds and ensure that these beautiful creatures will continue to grace the world for years to come.
Long-Term Care and Rehabilitation of Dying Hummingbirds
Hummingbirds are a species of birds that are highly vulnerable to injury and death, making them a species in need of special care.
Long-term care and rehabilitation of dying hummingbirds is an important part of conserving their population and health.
There are several steps that need to be taken when caring for a dying hummingbird, including:
Providing a safe environment – Make sure the bird is in a safe, calm place away from predators, other animals, and other forms of disturbance.
Proper nutrition – Offer the bird high-energy foods such as nectar, fruits, and insects.
Proper hydration – Provide the bird with clean water and mist it periodically to keep it hydrated.
Physical care – Do not handle the bird, but make sure that its feathers are free from dirt and debris.
Monitoring – Regularly monitor the bird for signs of improvement or decline.
When providing long-term care and rehabilitation for a dying hummingbird, it is important to be patient, as the process can take months and even years.
Additionally, it is important to provide the bird with emotional and physical support and to make sure it is comfortable and comfortable enough to thrive.
For example, providing the bird with a comfortable perch and access to food and water can help encourage the bird to heal and recover.
FAQ of How To Tell If A Hummingbird Is Dying
What are some signs of a dying hummingbird?
Signs of a dying hummingbird include the bird being very lethargic, having labored breathing, displaying disorientation, having discolored feathers, or having drooping wings.
How quickly can a hummingbird die?
A hummingbird can die quickly depending on the severity of the illness or injury. The average lifespan of a hummingbird is around 5 years but can be shortened by severe illness or injury.
How can I tell if my hummingbird is sick?
Indicators of a sick hummingbird include being lethargic, having labored breathing, displaying disorientation, having discolored feathers, or having drooping wings.
How can I help a dying hummingbird?
You can help a dying hummingbird by providing a safe and quiet environment, supporting the bird with a rolled-up cloth, putting the bird in a covered box, and calling a wildlife rehabilitator.
Is it normal for a hummingbird to lay at the bottom of its cage?
No, it is not normal for a hummingbird to lay at the bottom of its cage. This could indicate illness or injury, and the bird should be observed closely and brought to a wildlife rehabilitator if necessary.
Conclusion
Hummingbirds are delicate creatures and signs of distress or poor health should never be ignored.
Keeping an eye out for signs of a dying hummingbird, such as lack of movement, poor balance, visible wounds, or weakness can help to provide the right care and assistance.
Proper care can help to save a hummingbird and with the right attention, it can be released back into the wild.