How to Use Hummingbird Feeder? 7 Steps!
Using a hummingbird feeder involves selecting a suitable feeder, preparing the nectar solution, hanging it in an optimal location, and maintaining it regularly.
Hummingbird feeders provide a convenient food source for these birds, attracting them to your garden while ensuring they receive the necessary nutrients.
The feeder should be hung in a location that is safe from predators, and where the hummingbirds feel secure enough to feed.
Regular maintenance of the feeder is crucial to ensure it remains an attractive and safe source of food for the birds.
Selecting a feeder: Choose a feeder with a bright red color, easy-to-clean design, and an ant and bee guard system.
Preparing the nectar solution: Mix 1 part sugar with 4 parts water, boiling and cooling the solution before filling the feeder.
Hanging the feeder: Place the feeder in a shaded, quiet area, near flowers that attract hummingbirds, and at least 4-5 feet above the ground.
Maintaining the feeder: Clean the feeder with hot water and vinegar every 3-5 days, and replenish the nectar solution as needed.
By utilizing a hummingbird feeder, you can create a welcoming environment for these fascinating birds, while also contributing to their wellbeing.
Regular maintenance and proper feeder placement are crucial for a successful outcome.
7 Steps to Use Hummingbird Feeder
| Step | Instructions | Tips & Tricks |
| --- | --- | --- |
| 1 | Choose a feeder | Select a feeder with an easy-to-clean design and built-in perches for the birds. |
| 2 | Prepare nectar | Mix 4 parts water with 1 part white granulated sugar to make the nectar. Avoid using honey, artificial sweeteners, or red dye. |
| 3 | Clean the feeder | Before filling, clean the feeder thoroughly with hot water and a mild soap to remove any residue or dirt. Rinse well. |
| 4 | Fill the feeder | Fill the feeder with the prepared nectar, ensuring no leaks or spills. |
| 5 | Hang the feeder | Choose a location that is safe from predators, near natural nectar sources (flowers), and easily visible for you to enjoy watching the hummingbirds. |
| 6 | Maintenance | Clean the feeder and replace the nectar every 3-5 days, or more often in hot weather, to prevent mold growth and spoilage. |
| 7 | Attract hummingbirds | Plant hummingbird-friendly flowers and provide a water source nearby to increase the chances of hummingbirds visiting your feeder. |
7 Steps to Use Hummingbird Feeder
Key Takeaway
Hummingbird feeders are perfect for people who don't have a garden filled with nectar-rich flowers to attract them.
Placement of the hummingbird feeder plays a crucial role in attracting hummingbirds. It should be placed in a quiet location with some shade.
When filling the feeder, it is recommended to use a solution of 1 part sugar to 4 parts water to mimic nectar. It's essential to avoid using honey, artificial sweeteners, or food coloring.
Regular cleaning of the hummingbird feeder is critical to prevent the growth of harmful bacteria and molds.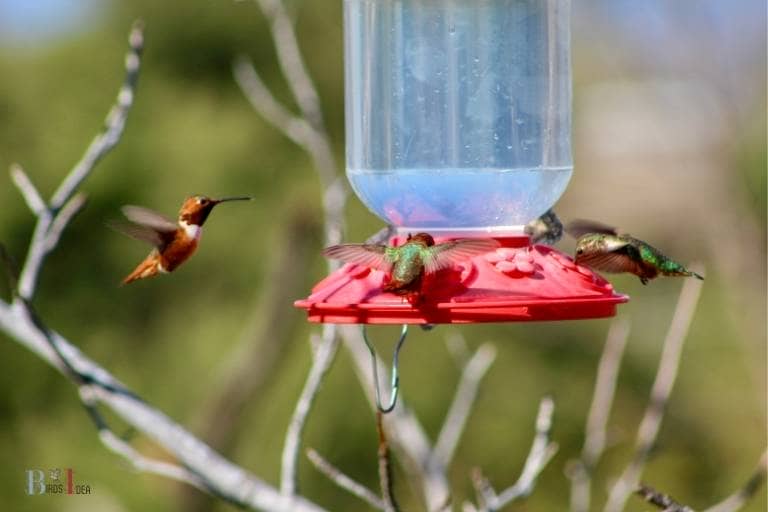 Five Facts About: Use Hummingbird Feeder
Hummingbird feeders are designed with red parts to attract hummingbirds, as these birds are attracted to the color red.
The sugar water solution should be changed every two to three days, or sooner in hot weather, to prevent fermentation and mold growth.
It's best to avoid placing the feeder too close to windows to prevent collisions and potential harm to the hummingbirds.
During winter or migration season, it's suggested to keep feeders out, as they can provide an essential food source for hummingbirds who stay behind or arrive early.
Most hummingbird species are fiercely territorial around food sources including feeders. Therefore, it's recommended to place multiple feeders out of sight from each other if there is a desire to attract more hummingbirds.
What Kind of Hummingbird Feeder Should You Use?
When selecting a hummingbird feeder, it's essential to choose one that is easy to clean, durable, and visually appealing to the birds.
Hummingbirds are attracted to bright colors, especially red, so a feeder with these features will increase your chances of attracting these beautiful creatures to your garden.
Here are some key factors to consider when purchasing a hummingbird feeder:
Feeder Material: Opt for a feeder made from sturdy materials like glass, plastic, or ceramic that can withstand varying weather conditions.
Size and Capacity: Choose a feeder with a suitable capacity depending on the number of hummingbirds in your area and your refilling frequency preferences.
Feeder Design: Select a feeder with an attractive, functional design that includes multiple feeding ports, a built-in ant moat, and does not leak nectar.
Ease of Cleaning: The feeder should be easy to take apart and clean to maintain a healthy environment for the birds.
Consider a few recommended hummingbird feeders:
Tube Feeders: These narrow, vertical feeders have a basic design and are easy to clean and refill.
Saucer Feeders: They have a shallow saucer-like design that allows for multiple hummingbirds to feed simultaneously.
Window Feeders: These feeders attach to your windows using suction cups, allowing you to enjoy the sight of hummingbirds up close
Remember to clean the feeder regularly and refill it with fresh, homemade nectar to keep your hummingbirds happy and healthy.
"Watching hummingbirds feed is one of the most rewarding experiences you can have in your backyard. You just need to know how to properly set up and maintain your feeder."

– Bird Watcher's Digest
What Are the Benefits of Using a Hummingbird Feeder?
Using a hummingbird feeder in your garden or backyard comes with several benefits that will not only enrich your outdoor experience but also contribute positively to the ecosystem.
By providing a consistent source of food for these tiny creatures, you not only get to enjoy their mesmerizing presence, but you also help support their well-being and enhance the natural pollination process.
Attractiveness: Inviting hummingbirds into your garden adds a touch of natural beauty, with their vibrant colors and rapid wing movements that are a delight to watch.
Pollination: As hummingbirds feed on nectar, they also play a vital role in pollinating plants, ensuring that your garden continues to flourish.
Pest control: Hummingbirds consume insects like mosquitoes and gnats, which can help reduce the bug population in your outdoor space.
Environmental support: By providing a hummingbird feeder, you're assisting these birds in their natural habitat, ensuring that they have a steady source of sustenance during migration and breeding seasons.
Educational benefits: Observing hummingbirds up close can be a valuable learning opportunity for both children and adults, who can better understand and appreciate the intricacies of nature.
To make the most of your hummingbird feeder, consider the following tips:
Use a sugar-water mixture (1 part sugar to 4 parts water) as the nectar to refill the feeder, as this closely mimics natural flower nectar.
Clean the feeder regularly to prevent the growth of mold and bacteria, which can harm the birds.
Place the feeder close to natural sources of nectar, such as flowering plants, to provide additional food options and shelter for the hummingbirds.
Opt for a feeder with a red design, as this color is known to be particularly attractive to hummingbirds.
How to Make Homemade Hummingbird Nectar?
Making homemade hummingbird nectar is a quick and simple process that will help attract hummingbirds to your feeder and provide them with the essential energy they need.
By preparing the nectar and maintaining a clean feeder, you can create a welcoming environment for these beautiful birds.
To make homemade hummingbird nectar, follow these easy steps:
Gather your ingredients: You will need sugar and water. It is important to use white granulated sugar as other types can be harmful to hummingbirds.
Measure the ingredients: Use a 1:4 ratio of sugar to water. For example, for every cup of water, use a 1/4 cup of sugar.
Heat the water: In a saucepan, bring the water to a boil. This will help dissolve the sugar and eliminate any potential contaminants.
Dissolve the sugar: When the water is boiling, add the measured sugar. Stir gently until the sugar has fully dissolved.
Cool the mixture: Remove the saucepan from heat and let the nectar cool to room temperature.
Once the nectar has cooled, you can fill your hummingbird feeder and hang it outdoors. Be sure to clean and refill your feeder every few days, as nectar can spoil quickly, especially in hot weather.
Pro Tip: Adding red coloring to the nectar is not necessary, as many feeders already have red features that will naturally attract hummingbirds. Artificial coloring can be harmful to the birds.

birdsidea
How to Clean and Maintain a Hummingbird Feeder?
Cleaning and maintaining a hummingbird feeder is essential for the health and safety of the hummingbirds that frequent your feeder.
Regular cleaning helps prevent the formation of dangerous mold and bacteria that can be harmful to hummingbirds.
Here is a concise guide to effectively clean and maintain your hummingbird feeder:
Empty the feeder: Begin by emptying any remaining nectar from the feeder, as old or cloudy nectar should be replaced.
Disassemble the feeder: Take apart your hummingbird feeder, separating each piece for thorough cleaning.
Soak in warm soapy water: Fill a basin with warm water and a few drops of mild dish soap. Soak the feeder parts for about 10 minutes.
Scrub gently: Use a small brush or toothbrush to gently scrub each part of the feeder, including the feeding ports, ensuring all debris and mold are removed.
Rinse well: Rinse each part of the feeder with clean, warm water to remove any soap residue.
Air dry: Allow all feeder parts to air dry completely before reassembling the hummingbird feeder.
Refill with fresh nectar: Fill your feeder with fresh, homemade nectar made of four parts water and one part white sugar.
Inspect regularly: Ensure proper maintenance by inspecting your hummingbird feeder every few days for any signs of mold or contamination.
What Are the Best Locations to Place a Hummingbird Feeder?
The ideal locations for placing a hummingbird feeder are areas where these tiny birds can easily access the nectar and feel safe while feeding.
By choosing the right spot, you can maximize your chances of attracting these fascinating creatures to your yard.
Here are the best locations to place a hummingbird feeder:
Near flowering plants: Hummingbirds are naturally attracted to colorful flowers, especially red, orange, and pink hues. Positioning your feeder near a garden or flower bed will increase the likelihood of visits.
In the shade: Placing the feeder in a shaded area keeps the nectar fresh for longer and prevents it from becoming too hot, which could cause fermentation or spoilage.
Safe distance from windows: Position your feeder about 10-15 feet away from windows to prevent birds from accidentally colliding with the glass.
Near a water source: Hummingbirds enjoy bathing and drinking water, so placing a feeder near a birdbath or fountain can encourage visits.
Out of reach of predators: Keep your feeder away from low branches or areas where cats and other predators can easily attack the birds.
Visible from your home: To enjoy the beauty of these birds, place the feeder where you can easily view it from your favorite sitting spot.
In summary, choose a location that is near flowering plants, in the shade, away from windows, near a water source, safe from predators, and visible from your home. Enjoy observing these beautiful creatures as they come to your yard for a sweet treat.
Tips for Attracting Hummingbirds to Your Feeder
Attracting hummingbirds to your feeder can be an incredibly rewarding experience, as these tiny, fast-flying birds bring life and excitement to your outdoor space.
Here are some tips for ensuring that your hummingbird feeder is a popular destination for these beautiful creatures:
Choose the right feeder: Select a feeder with bright red accents, as hummingbirds are naturally drawn to the color red. Opt for one that is easy to clean and fill, with multiple feeding ports to accommodate several visitors.
Prepare the perfect nectar: Mix one part plain white sugar with four parts water to create a simple yet effective nectar solution. Boil the water first to dissolve the sugar, and let it cool before filling your feeder, as hot nectar can crack the feeder.
Maintain cleanliness: Regularly clean your feeder, ideally every few days or at least once a week. This prevents mold and bacteria growth that could be harmful to hummingbirds. Empty any remaining nectar, clean the feeder with hot water and soap, rinse well, and refill with fresh nectar.
Find the ideal location: Place your feeder in a shaded area, as direct sunlight can cause the nectar to spoil more quickly. Ensure the feeder is visible, easy to access, and near natural perching spots such as trees or shrubs.
Provide extra attractions: Besides nectar, hummingbirds also need water and insects for their diet. Provide a shallow water source like a bird bath, and plant native flowers to attract insects and add an extra visual appeal for the hummingbirds.
Be patient: It may take some time for the hummingbirds to discover your feeder, especially if you're in a new or unfamiliar location. Keep the feeder clean and well-stocked, and eventually, these delightful visitors will find their way to your yard.
Following these tips will not only make your hummingbird feeder attractive to these fascinating birds, but also create a haven for them in your garden, ensuring they return time and time again.
How to Protect Your Hummingbird Feeder from Predators?
Keeping your hummingbird feeder safe from predators is essential to maintain a peaceful environment for these colorful visitors.
Predators such as ants, wasps, bees, squirrels, and larger birds might disrupt the hummingbirds' feeding sessions, making them feel unsafe.
To protect your hummingbird feeder from these unwelcome guests, consider implementing the following strategies:
Use a moat: Install an ant moat above the hummingbird feeder to prevent ants from reaching the feeder. Fill the moat with water to create a barrier ants can't cross.
Choose a bee-resistant feeder: Opt for a hummingbird feeder designed to repel bees and wasps, which often have bee guards or are bee-proof.
Keep the area clean: Regularly clean up any spilled sugar water and maintain the feeder's overall cleanliness to lower the chances of attracting unwanted insects.
Place the feeder in a safe location: Hang the hummingbird feeder at least 5 feet above the ground and away from trees, fences, or other structures that squirrels or larger birds could use to access the feeder.
By taking these precautions, you can protect your hummingbird feeder from various predators, ensuring a safe and enjoyable feeding experience for these delicate birds.
How to Set Up Your Hummingbird Feeder – Ace Hardware
How to make a bird feeder?
If you love birds and want to attract them to your garden or backyard, making a bird feeder is a simple and enjoyable project.
By providing a source of food, you can help birds thrive and appreciate their beauty up close.
Here's how to make a bird feeder in a few easy steps:
Choose your materials: You'll need a container to hold the birdseed, such as a plastic bottle or a wooden box. Make sure it's clean and sturdy.
Create feeding holes: Use scissors or a knife to cut or drill holes in the container, large enough for the birds to access the seed. You can also add perches for the birds to land on.
Fill with birdseed: Pour your chosen birdseed into the container, making sure it's not too full.
Hang the feeder: Choose a spot that's visible to birds but also safe from predators and sheltered from wind and rain. Tie a string or wire around the feeder and hang it from a branch or hook.
Enjoy watching the birds come to your homemade feeder and keep it filled with fresh seed regularly.
How do you clean a hummingbird feeder?
If you own a hummingbird feeder, you'll know that keeping it clean is vital to ensure the health and happiness of your feathered friends.
Here are some useful tips:
Remove any leftover nectar from the feeder before cleaning it.
Disassemble the feeder and clean each part individually using hot, soapy water.
Use a cleaning brush or a pipe cleaner to get into any small crevices.
Rinse each part thoroughly with hot water and allow to air dry before reassembling.
Make sure to clean your feeder every time you refill it and at least once a week, especially during warm weather.
Taking good care of your hummingbird feeder will ensure that your feathered friends keep coming back for more!
Is it OK to give a bird a bath?
If you're a bird owner, you might be wondering if it's okay to give your pet a bath. The answer is yes! In fact, birds require regular bathing to maintain healthy feathers and skin.
But before you dunk your feathered friend into a tub of water, there are some things you need to consider.
Here are some tips on how to help your pet bird take a bath:
Offer a shallow dish of fresh water for your bird to splash around in. You can also place a few drops of bird-safe bath solution for added benefits.
Make sure the water is at room temperature and not too cold.
Allow your bird to choose when and how to bathe, as some birds prefer to spray themselves with a mist bottle while others prefer to dip their bodies in the water.
If your bird is hesitant to take a bath, you can encourage them by demonstrating or bathing with them.
Additional Tips:
Birds that have access to bathing opportunities tend to have fewer feather problems.
Bathing also helps to prevent mites and lice from infesting your bird's feathers.
Birds are playful and curious, and providing them with a bathing opportunity can help keep them stimulated and entertained.
Remember that different bird species have various bathing preferences and requirements. It's essential to do proper research before giving your bird a bath and consult with an avian veterinarian if needed.
Can I use a bowl as a bird bath?
If you're a bird enthusiast but don't have the budget or space to install a bird bath, you might wonder if you can use bowls as a simple alternative.
The good news is, bird baths don't have to be expensive or fancy to serve their intended purpose, which is to provide birds with a source of clean water for drinking and bathing.
However, before you start using any bowls lying around in your household, there are a few things you need to consider to ensure that you are not putting the birds in danger or causing harm to the environment.
Here are some guidelines to follow when using a bowl as a bird bath:
Choose the right size and material: The bowl should be shallow enough for birds to feel comfortable in, and made of a safe material that doesn't leach chemicals or toxins into the water.
Keep it clean: Just like regular bird baths, you need to clean the bowl regularly to prevent bacteria and algae growth. Replace the water every day or every other day, and scrub the bowl with a non-toxic cleaner once a week.
Monitor the location: Place the bowl in a spot where birds can see it easily and have cover nearby if they feel threatened. Also, avoid placing the bowl in direct sunlight or near reflective materials that can confuse birds.
Overall, using a bowl as a bird bath can be a simple and effective way to attract birds to your backyard.
However, it's important to be mindful of quality and safety concerns to ensure that you are providing a safe and healthy environment for your feathered friends.
FAQ for How to Use Hummingbird Feeder
What is the best way to hang a hummingbird feeder?
The best way to hang a hummingbird feeder is to hang it from a hook or hanger that is securely fixed onto a wall, tree branch, or shepherd's hook. Avoid hanging them from strings or wires, as they are more likely to sway and will not provide a secure platform for the hummingbirds.
How often should I refill my hummingbird feeder?
It is recommended to refill your hummingbird feeder every 3-4 days, or when the feeder is empty. Hummingbirds need a fresh, clean sugar solution to feed on early in the morning so make sure to check the level of the nectar every few days.
Should I put a hummingbird feeder in my garden?
Yes, hummingbird feeders can be placed in a garden or yard as long as the feeder is placed within easy reach of the birds and is sheltered from direct sunlight and rain.
What other ways can I attract hummingbirds to my feeder?
In addition to providing a hummingbird feeder, you can attract more hummingbirds to your feeder by planting native flowers in your garden, keeping birdbaths clean, and avoiding the use of pesticides.
Conclusion
In conclusion, using a hummingbird feeder is an effective way to attract these beautiful creatures to your yard.
By using the right type of feeder, making homemade nectar, and placing the feeder in the optimal location, you can create a desirable environment for hummingbirds.
It is important to clean and maintain the feeder regularly to ensure the health of the birds, and to take precautions to protect the feeder from predators.
With these tips, you can successfully attract and enjoy the company of hummingbirds in your own backyard.