Hummingbird When To Start Feeding: A Guide
The ideal time to start feeding hummingbirds is during their migratory season, which varies based on your location.
Offering nectar feeders can help provide a steady food source for these small birds as they travel and search for natural resources.
Early Spring: Begin feeding hummingbirds when flowers start to bloom and insects become more abundant.
Migratory Season: Monitor local migration patterns to provide nectar feeders for hummingbirds passing through your area.
Year-Round Residents: In some regions, hummingbirds are present all year, and feeding can continue throughout the seasons.
Monitor Natural Resources: Keep an eye on flower blooms and insect populations to determine the need for supplemental feeding.
It's also crucial to maintain clean and well-stocked feeders to ensure optimal food sources for the hummingbird population in your area.
4 Time Period: Hummingbird To Start Feeding
| Time Period | Feeding Frequency | Nectar Formula | Additional Notes |
| --- | --- | --- | --- |
| Early Spring | 2-3 times a day | 1 part sugar to 4 parts water | Gradually increase frequency as flowers bloom |
| Late Spring/Summer | 4-5 times a day | 1 part sugar to 4 parts water | Peak feeding season, more frequent visits |
| Fall | 1-2 times a day | 1 part sugar to 4 parts water | Decrease frequency as flowers fade |
| Winter | As needed | 1 part sugar to 4 parts water | Only in regions with year-round hummingbirds |
4 Time Period: Hummingbird To Start Feeding
Key Takeaway
Ideal time to start feeding hummingbirds
Importance of providing nectar to hummingbirds
Proper preparation and maintenance of feeders
Role of early feeding in encouraging hummingbirds to return regularly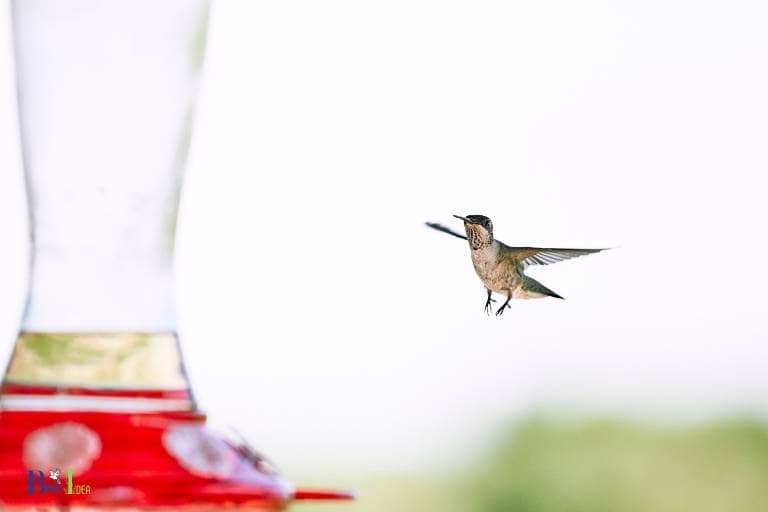 Five Facts About:
Early spring, typically around March or April depending on your region, is the ideal time to start feeding hummingbirds as they begin migrating back to their breeding territories (source: Audubon)
Providing nectar in feeders attracts hummingbirds and offers an easy and accessible food source for these energetic birds that require large amounts of energy to sustain their rapid metabolism (source: The Spruce)
Homemade nectar can be made using a ratio of 4 parts water to 1 part sugar by boiling the water, dissolving the sugar, and then allowing it to cool before filling the feeder (source: HummingbirdCentral)
Regular cleaning and maintenance of hummingbird feeders is essential to prevent mold, bacteria growth, and the spread of diseases among the birds; nectar should be changed every 3-5 days, depending on the outside temperature (source: Perky-Pet)
What Do Hummingbirds Feed On?
Hummingbirds primarily feed on nectar from flowers, which provides them with the energy they need for their high metabolism.
They also consume insects and spiders for protein, essential for growth and reproduction.
When starting to feed hummingbirds, it is important to know the timing of their migration patterns and ensure a proper balance of nutrients for their health.
Main food sources: flower nectar, insects, and spiders
Nectar for energy: high in sugar content, fuels their metabolism
Insects and spiders for protein: crucial for growth and reproduction
Migration patterns: be aware of seasonal changes, place feeders out when hummingbirds are expected in your area
To provide a balanced diet for hummingbirds, consider planting a variety of nectar-rich flowers in your garden and offering a sugar water solution (4 parts water to 1 part sugar) in a feeder, ensuring regular cleaning to prevent bacterial growth.
"Hummingbirds are fascinating creatures and bringing them into your backyard can be a rewarding experience for any bird lover."

birdsidea
What Are the Best Feeding Practices for Hummingbirds?
The best feeding practices for hummingbirds involve providing a clean and safe environment, using the right nectar solution, and placing multiple feeders in suitable locations.
Start feeding hummingbirds during their migration period, which varies depending on the region. In general, start in early spring and continue until the late fall.
Use a 4:1 water-to-sugar ratio solution, avoiding artificial sweeteners and coloring agents.
Clean and refill feeders regularly, preventing bacteria and mold growth.
Place feeders in shade to maintain nectar freshness and avoid direct sunlight.
Provide multiple feeders at different heights and areas to minimize territorial disputes.
Install feeders near flowering plants to attract more hummingbirds and support their natural feeding habits.
Monitor activity and adjust the number of feeders as per the demand.
By following these feeding practices, you'll help maintain a healthy hummingbird population and enjoy the mesmerizing presence of these tiny birds in your backyard.
How to Attract Hummingbirds to Your Garden?
To attract hummingbirds to your garden, consider the season and region you live in to provide the appropriate food sources and shelter.
Start by planting native flowers that are rich in nectar, particularly those with bright colors like red, orange, and purple. Some popular options include trumpet vine, bee balm, and red columbine.
In addition, create a welcoming environment by providing shelter from the wind and a source of clean water for the birds to bathe in.
Setting up hummingbird feeders filled with sugar water can also supplement their diet and encourage them to visit your garden more frequently.
Remember to maintain cleanliness in feeders to prevent disease and try to place them near the flowers to make it easier for the hummingbirds to find the food source.
Plant nectar-rich, brightly-colored flowers
Provide shelter and wind protection
Offer clean water sources
Set up hummingbird feeders with sugar water solution
Maintain cleanliness in feeders
Place feeders near flowers for easy access
What Are the Benefits of Feeding Hummingbirds?
Feeding hummingbirds offers numerous benefits, particularly if you start early in their migratory season.
Providing them with adequate food sources, such as sugar water or nectar from flowers, can help improve their survival rates, support their breeding success, and allow them to continue migrating.
You can also enjoy watching these beautiful creatures in your backyard and contribute to their conservation.
Enhance survival rates during migration period
Support breeding success
Contribute to hummingbird conservation
Attract hummingbirds to your backyard for observation and enjoyment
Pro tip: Begin feeding hummingbirds early in the season, around late winter or early spring, to ensure they have adequate food sources upon their arrival. Monitor the feeding stations regularly and maintain cleanliness to prevent the spread of disease.

birdsidea
What Are the Risks of Feeding Hummingbirds?
Feeding hummingbirds can be a rewarding experience, but there are some risks involved if not managed properly.
One of the primary concerns is inadvertently contributing to the spread of disease among hummingbirds, as dirty feeders can become breeding grounds for bacteria and mold.
Another potential risk is creating an unhealthy dependency on artificial sources of food, which may deter hummingbirds from finding natural food sources.
Furthermore, inappropriate feeding practices can lead to injury or harm caused by predators and window strikes.
Risks of feeding hummingbirds:
Spreading disease through dirty feeders
Encouraging unhealthy dependency on artificial food sources
Increased risk of predation and window strikes
To minimize these risks, ensure you clean and refill feeders regularly, use appropriate sugar water ratios, and place feeders in safe locations away from windows and potential predators.
Conclusion
In conclusion, hummingbirds can start feeding as early as February or March, depending on their migration patterns and the climate.
The best feeding practices for hummingbirds include using a mixture of sugar and water in a feeder that is cleaned regularly to prevent mold growth.
Hummingbirds feed on nectar, insects, and spiders, but the primary source of their diet is nectar.
To attract hummingbirds to your garden, you can plant flowers such as trumpet vine, bee balm, and salvia, which are rich in nectar.
Feeding hummingbirds can provide numerous benefits, such as helping them conserve energy during migration, and it can be a rewarding experience for bird watchers.
Feeding Hummingbirds – Tips For Attracting Them, What They Like To Eat, And How To Feed Them
FAQ for Hummingbird When To Start Feeding
At what time should I start feeding hummingbirds?
The best time to start feeding hummingbirds is in early spring, when they arrive in your area and when natural sources of food are in short supply.
What type of food should I use to feed hummingbirds?
Hummingbirds prefer nectar made with four parts water and one part sugar. You can also offer them soft fruits such as apples, oranges, and bananas.
How often should I feed hummingbirds?
Hummingbirds do not need to be fed every day; however, they will appreciate a continuous food supply. You should check your feeders every few days to make sure they are clean and filled with nectar.
Should I stop feeding hummingbirds in the winter?
No, you should not stop feeding hummingbirds in the winter. Hummingbirds can migrate to warmer climates or stay in your area, depending on the species, so they will still need food and water to survive.
What time is best for hummingbirds to eat?
Hummingbirds are active during the daylight hours and are known to eat frequently throughout the day.
However, there are certain times when feeding the hummingbirds can be more beneficial and attract more of them to your yard. The best time for hummingbirds to eat is early in the morning or late in the afternoon.
During these times, they tend to be more active and hungry, increasing the chance of them visiting your feeder.
It's also important to note that hummingbirds require a consistent source of food, so it's best to keep your feeder filled with fresh nectar every day.
By providing a reliable food source at the right time of day, you can attract more hummingbirds to your garden and enjoy their beautiful presence throughout the day.
Why is brown sugar bad for hummingbirds?
Feeding hummingbirds is a popular activity for bird-watchers. However, it is important to understand what to feed these tiny creatures. Brown sugar should be avoided when making homemade nectar for hummingbirds.
Here are some reasons why:
Brown sugar contains molasses that is harmful to hummingbirds.
It can cause fermentation when mixed with water, leading to the growth of harmful bacteria and fungus.
Brown sugar lacks essential nutrients that hummingbirds need to fuel their high metabolism.
Feeding hummingbirds with brown sugar can lead to malnourishment and health problems.
To provide safe and healthy food for hummingbirds, mix one part white granulated sugar with four parts water.
This sugar-to-water ratio closely mimics the nectar produced by flowers and provides the necessary nutrients for hummingbirds. It's important to keep the feeding stations and nectar clean to prevent any health issues for the birds.
Which hummingbird feeder is best?
Hummingbird feeding season starts as early as February and lasts until late September, making it essential to have a durable and reliable hummingbird feeder.
Choosing the right one can be challenging with the vast selection available in the market. So, which hummingbird feeder is best?
Here are some options to consider:
Perky-Pet 209B: A budget-friendly option with an eight-ounce nectar capacity and four feeding ports.
First Nature 3051: An affordable option with ten feeding ports and a 16-ounce nectar capacity.
Aspects 367: A bit pricier but is durable and has a lifetime guarantee. It holds eight ounces of nectar and has four feeding ports.
Make sure to choose a feeder that is easy to clean and refill, has enough capacity to handle your hummingbird visitors, and is constructed from safe materials for both birds and humans.
Lastly, remember to change the nectar every few days to prevent fermentation and bacterial growth.
How do you make a hummingbird feeder?
To enjoy the presence of hummingbirds, one can make their own feeder with these easy steps:
Choose a container a jar, bottle, or plastic container with a cap would do.
Make feeding holes with a hot nail, make two small holes in the center of the cap.
Prepare the mixture mix 1 cup of water with ¼ cup of white sugar until dissolved.
Fill the container pour the mixture into the container.
Hang it tie a string around the container, making sure it's secure.
Wait hummingbirds may take a day or two to find the feeder.
Clean and refill the feeder with fresh sugar and water every 2-3 days. Avoid using food coloring, honey, or artificial sweeteners.
Where is the best place to put a hummingbird feeder?
If you want to attract hummingbirds to your yard, you need to position your hummingbird feeder correctly.
When deciding where to place your feeder, keep in mind these important factors:
Visibility: Choose a spot where you can easily see the feeder from inside your home or while relaxing outside. This will allow you to monitor feeding activity and enjoy the birds as they come and go.
Accessibility: Hummingbirds prefer to feed in areas that are easily accessible. Make sure your feeder is positioned in an open area, away from dense foliage or other obstructions that may block the birds' access.
Safety: To avoid injury or death to hummingbirds, it's important to place your feeder away from windows, mirrors, or other reflective surfaces that may confuse the birds and cause injury.
Height: Hang your feeder in a location that is between 4-6 feet off the ground. This height makes it easy for hummingbirds to access the feeder while also keeping it out of reach of predators.
By following these guidelines, you can maximize the chances of attracting hummingbirds to your yard and provide a safe and enjoyable feeding experience for these beautiful birds.
How long does sugar water last in fridge?
If you want to keep your sugar water fresh, you have to store it properly.
Follow these tips below to keep your sugar water fresh in the fridge:
Always use clean containers to store your sugar water
Keep the lid tightly closed
Make sure the container is airtight
Store it in the back of the fridge rather than on the door
Use it within four to five days
In general, it can be challenging to keep sugar water fresh for a long time because bacteria can quickly grow and make it go bad. However, by following these guidelines, you can extend the shelf life of your sugar water by a few more days.