What Do Hummingbird Wings Look Like? Elongated Oval Shape!
Hummingbird wings are small and highly specialized, resembling a narrow, elongated oval shape.
They are known for their incredible speed and agility, allowing hummingbirds to hover and maneuver with precision.
The wings exhibit vibrant colors due to iridescence, a phenomenon where microscopic platelets in the feathers create the perception of changing hues as the bird moves.
This distinctive wing structure is essential for their rapid and dynamic flight.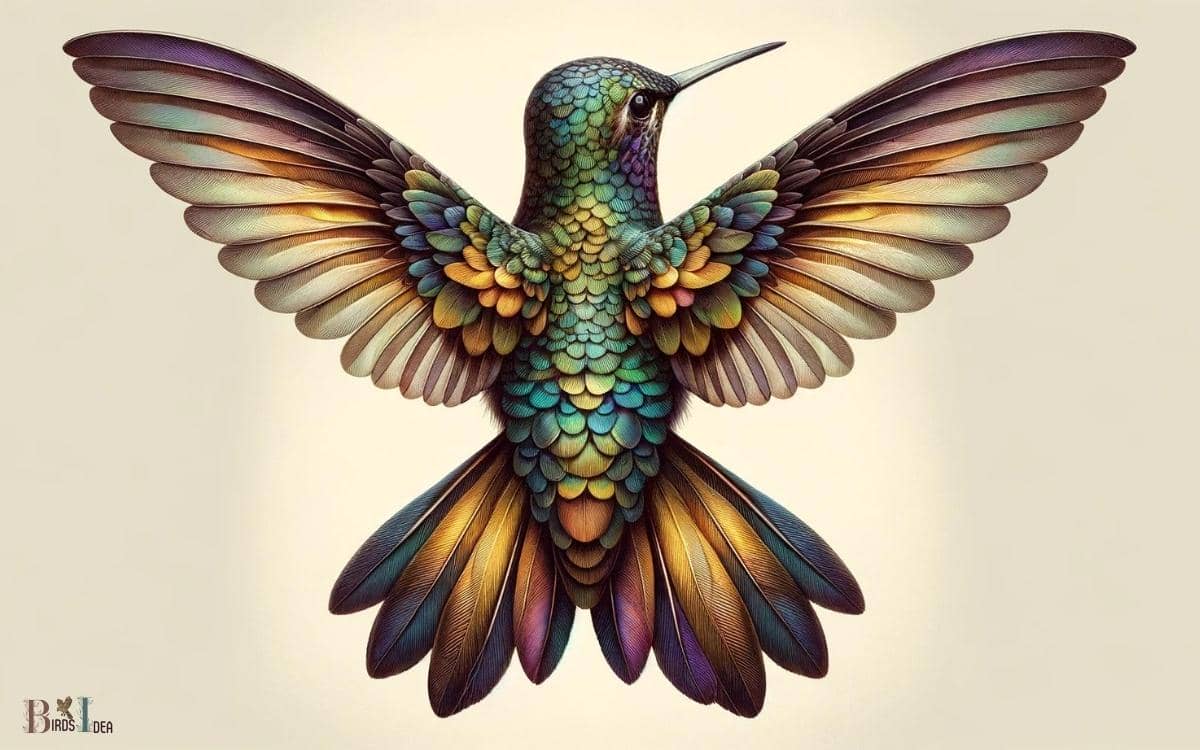 Key Takeaway
Hummingbird wings have a distinctive shape, resembling a slender, elongated ellipse.
The wings move in a figure-eight pattern during wingbeats.
The wings are covered in tiny feathers that provide lift and stability.
The size and shape of hummingbird wings contribute to their speed and agility.
The Anatomy of Hummingbird Wings
Structure and Shape:
Hummingbird wings have a distinct elongated oval shape, resembling a narrow figure-eight.
The length of their wings correlates with their high-speed flight and hovering abilities.
The unique shape allows them to generate lift on both the upstroke and downstroke, enabling sustained hovering.
Feather Composition:
Hummingbird feathers are exceptionally lightweight, aiding in efficient flight.
Iridescence, a result of microscopic platelets in the feathers, contributes to the vibrant and changing colors of the wings.
The feathers are arranged in a way that minimizes air resistance, facilitating rapid and precise movements.
Muscular Mechanism:
Hummingbirds possess powerful flight muscles, particularly the pectoralis major, which makes up a significant portion of their body mass.
Their wing muscles allow for rapid and strong wing beats, crucial for hovering and agile flight.
Hummingbirds have a unique ball-and-socket joint at the shoulder, providing a wide range of motion for their wings during complex maneuvers.
The Unique Wing Shape of Hummingbirds
Aerodynamic Elegance:
The elongated, narrow figure-eight shape of hummingbird wings is finely tuned for optimal aerodynamic efficiency.
This design enables hummingbirds to generate lift not only during the downstroke but also during the upstroke, a crucial adaptation for sustained hovering.
The aerodynamic elegance of their wings allows these birds to navigate through intricate environments with remarkable precision.
Hovering Mastery:
The specialized wing structure plays a pivotal role in hummingbirds' ability to hover, a feat unique among birds.
Their rapid and controlled wing beats, coupled with the figure-eight pattern, create a stable platform for stationary flight while feeding on nectar.
This mastery of hovering is a testament to the adaptability and evolutionary success of the hummingbird's wing design.
Maneuverability and Speed:
The distinct wing shape contributes to the incredible maneuverability of hummingbirds in flight.
With the ability to rotate their wings in a full circle at the shoulder joint, hummingbirds showcase unmatched agility during complex aerial maneuvers.
This wing design, coupled with their powerful flight muscles, allows hummingbirds to attain impressive speeds and outmaneuver other avian counterparts.
The Brilliant Colors of Hummingbird Wings
Have you ever marveled at the brilliant colors of a hummingbird's wings? These vibrant hues serve more than just an aesthetic purpose.
The coloration of hummingbird wings is intricately linked to their function, playing a vital role in both camouflage and attraction.
Through millions of years of evolution, these dazzling colors have provided the hummingbird with numerous advantages in its survival and reproductive strategies.
Wing Coloration and Function
The brilliant colors of hummingbird wings attract attention and serve important functions. These vibrant hues aren't just for show; they play a crucial role in the survival and behavior of these fascinating creatures.
Here are four ways in which the coloration of hummingbird wings serves a purpose:
Camouflage: Some hummingbird species have wings that blend seamlessly with their natural surroundings, allowing them to hide from predators and ambush their prey.
Species recognition: Each species of hummingbird has its own unique wing coloration pattern, which helps them identify and differentiate one another during courtship and territorial disputes.
Mating displays: Male hummingbirds use their colorful wings to attract females during elaborate aerial displays, showcasing their strength and genetic fitness.
Communication: Hummingbirds communicate with one another through visual displays, and the bright colors of their wings are an important component of this visual language.
Evolutionary Advantages of Colors
Now, let's explore the advantages that the brilliant colors of hummingbird wings offer in terms of their evolution.
The vibrant hues of their feathers serve several important purposes:
Attracting mates: The dazzling colors of hummingbird wings play a crucial role in attracting potential mates. Males often display vibrant plumage to catch the attention of females during courtship displays.
Establishing dominance: The bright colors on their wings help male hummingbirds establish dominance over rivals. By displaying their vibrant feathers, they assert their superiority and deter competitors.
Defending territories: Hummingbirds fiercely defend their feeding territories. The brilliant colors on their wings act as warning signals to other birds, indicating that the territory is already claimed and shouldn't be approached.
Flower pollination: The vivid colors of hummingbird wings help them blend in with the brightly colored flowers they feed on. This allows them to efficiently pollinate the flowers as they move from one bloom to another.
The evolutionary advantages of the brilliant colors of hummingbird wings are clear. These vibrant hues serve as powerful tools for courtship, dominance, territory defense, and efficient flower pollination.
The Adaptations of Hummingbird Wing Structure
Aerodynamic Marvels: Wing Shape and Flight Efficiency
Elongated and tapered wing structure: A masterpiece of evolution for exceptional aerodynamic performance.
Dynamic control of airflow: Minimizes drag and maximizes lift.
Facilitates swift forward flight and agile maneuvers: Rapid changes in direction and hovering.
Key factor in exploiting air currents with unparalleled efficiency.
Muscle Power and Precision: Adaptations in Wing Motion
Specialized muscles and joints: Enable astonishing precision in wing movements.
Rapid wing beats powered by strong pectoral muscles: Sometimes exceeding 80 flaps per second.
Facilitates effortless hovering and darting from flower to flower.
Flexibility of wing joints: Enables intricate adjustments and rare feats like flying backward.
Energy Efficiency: Metabolic Adaptations for Sustained Flight
Remarkable metabolic adaptations within wings.
Highly efficient metabolic pathways: Support the immense energy demands of rapid wing beats.
Ability to enter torpor: A slowed metabolic rate during periods of rest.
Conservation of energy crucial for surviving the night or scarce nectar sources.
Intricate balance between energy expenditure and efficiency showcases evolutionary brilliance.
Conclusion
As you marvel at the intricate beauty of the hummingbird's wings, it becomes clear that nature's design is a masterpiece.
The delicate structure, adorned with vibrant hues, enables these remarkable creatures to soar with unmatched speed and agility.
Their wings, meticulously adapted for flight and feeding, serve as a testament to the wonders of evolution.
In this symphony of nature, the hummingbird's wings stand out, captivating our senses and reminding us of the awe-inspiring complexity that exists in the world around us.