Ideas for Hanging Hummingbird Feeders: Accessibility!
To create an inviting environment for hummingbirds, hang your hummingbird feeders in strategic locations that provide safety, accessibility, and optimal viewing opportunities for you and the birds.
Hanging hummingbird feeders in your garden or yard can attract various species of hummingbirds and provide them with a valuable food source.
Correct placement and a few creative ideas not only give the birds easy access to the feeders but also create a visually appealing space for you to enjoy watching these beautiful creatures.
Choose locations near natural perches
Hang multiple feeders at different heights
Use hooks or poles for easy installation
Incorporate colorful flowers and plants
You can use sturdy hooks or poles to hang the feeders, making them easy to refill and clean.
To further enhance the appeal of your hummingbird haven, plant colorful flowers and other nectar-producing plants that will not only provide additional food sources but also add to the visual beauty of your space.
10 Ideas for Hanging Hummingbird Feeders:
| | |
| --- | --- |
| Ideas for Hanging Hummingbird Feeders | Description |
| Tree Branches | Hang hummingbird feeders from sturdy tree branches to provide a natural setup for the birds to feed. |
| Shepherd's Hooks | These tall, curved hooks are easy to install in the ground, and are perfect for hanging hummingbird feeders. |
| Window Feeders | Attach suction cup feeders directly on the window glass. Allows for close-up viewing of the hummingbirds. |
| Deck or Porch Railings | Hang feeders from the railings of a balcony, deck, or porch for easy viewing and accessibility. |
| Pergolas and Gazebos | Attach feeders to the beams or rafters of a pergola or gazebo for a visually appealing presentation and to provide shade for the birds. |
| Hanging Plant Hooks | Use decorative hanging plant hooks, usually found near pots and planters, to hang multiple feeders in a garden or patio area. |
| Garden Poles | Install garden poles to provide a dedicated space for hanging hummingbird feeders. |
| Wire Hangers with Tree Guards | Hang feeders from tree limbs using wire hangers with tree guards to keep squirrels and other critters away. |
| Swivel Hooks | Attach swivel hooks to eaves, overhangs, or other structures to hang feeders and allow for easy refilling and cleaning. |
| Bird Feeding Stations | These multi-functional stands can hold several feeders, offering a variety of food options for hummingbirds and other birds. |
10 Ideas for Hanging Hummingbird Feeders:
Key Takeaway
Selecting the right location for hanging hummingbird feeders is crucial for attracting these tiny birds.
Various hanging methods and accessories can enhance the feeder's appeal and effectiveness.
Regular cleaning and maintenance of the feeder are essential to keep hummingbirds coming back.
Considering the safety of hummingbirds around the feeder is important to prevent injury and create a more inviting environment.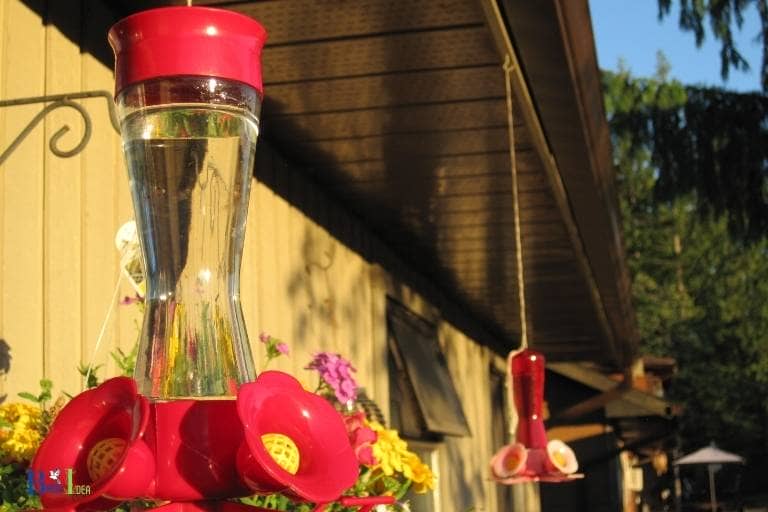 Five Facts About: Ideas for Hanging Hummingbird Feeders
Hummingbird feeders should be hung in a shaded area of a garden or porch near a reliable source of nectar-producing flowers to attract the birds easily. (Source: Bird Watcher's Digest)
Ant guards or ant moats can be used to prevent ants and other pests from reaching the nectar, keeping the feeder clean and attractive for hummingbirds. (Source: The Spruce)
Attaching red ribbons or decals around the feeder can help to catch hummingbirds' attention, as they are drawn to the color red. (Source: Wild Birds Unlimited)
A feeder with a perch is an excellent choice for hanging, as it provides a resting spot for hummingbirds, and they can conserve energy while feeding. (Source: The Spruce)
Window feeders can be hung on windows with suction cups, offering a close-up view of the hummingbirds and providing them with some protection from predators. (Source: [Birds & Blooms
Hanging Options For Hummingbird Feeders
Attracting hummingbirds to your garden can be a delightful accomplishment. One of the best ways to catch their attention is by hanging a hummingbird feeder. Let's take a look at the different options you can utilize to hang your hummingbird feeders.
Hanging From Trees
Hanging hummingbird feeders from trees is a popular option, but you must remember a few things. Hummingbirds require sun to stay warm and adequate overhead foliage for good visibility, which is crucial when looking out for predators.
Here are some key points:
Select small to medium trees with moderate-to-dense foliage cover, which provides cover for the birds against predators and helps to keep them out of the wind.
Keep feeders away from strong wind conditions.
Keep feeders within a 15-foot radius of the bird-park-fed habitat for best results.
Hanging From Shepherd Hooks Or Stands
Shepherd hooks or stands are probably the most popular way of hanging hummingbird feeders, and for a good reason.
Here are a few important points you should know:
Get a stand or hook that is sturdy enough to withstand the weight of the feeder, and make sure it's tall enough that other animals can't reach it.
Hang the feeder in an area with some sun, but also with sufficient shade from trees.
Keep feeders away from strong wind conditions or the risk of the feeder falling.
Hanging From Windows
Hanging a hummingbird feeder from your windowsills is an option if you have the right feeder.
Here are some key points:
Buy a feeder made for hanging it on windows, and make sure it's installed securely.
Check that there is enough clearance between the feeder and the window to allow the birds to perch comfortably.
Make sure any suction cups used to attach the feeder to the window are strong enough to support the weight of the feeder and won't fall off.
Hanging From Pergolas Or Arbors
Hanging hummingbird feeders from arbors or pergolas in your garden can bring a unique touch.
Here are some important points you should know:
Make sure the feeder is a safe distance away from the plants, vines or any decoration attached to the structure where birds can collide and injure themselves.
Keep feeders away from strong wind conditions or the risk of other animals jeopardizing the feeder.
In areas with high wind, check that the pergola or arbor can withstand the hummingbird feeder's weight and the swaying that comes with it.
Hanging hummingbird feeders requires some thought and consideration on your part, but using the right techniques can bring the birds flocking to your garden.
With these tips in mind, you can keep the hummingbirds well fed and happy in an area that is comfortable for them.
Diy Hummingbird Feeder Hangers
Ideas For Hanging Hummingbird Feeders: Diy Hummingbird Feeder Hangers
Hummingbirds are unique birds that are a joy to watch. They are beautiful, colorful, and fast, and the best way to attract these lovely creatures is by using hummingbird feeders.
There is no specific rule about how to hang hummingbird feeders, but it is recommended that you place them in a spot that is easy to watch while being safe for the birds.
Diy Options For Hanging Your Feeder
If you're feeling creative and want to personalize your hummingbird feeder hanger, or if you prefer not to spend too much money on a store-bought hanger, creating one yourself might be the perfect solution.
Here are some of the diy options that you can consider:
S-hooks: They can be found at any hardware store. You can get creative and bend them into fascinating shapes.
Clothes hanger: Repurpose an old clothes hanger by twisting the middle section and then forming two hooks at the ends to hang your feeder.
Fishing wire: You can use fishing wire to suspend your hummingbird feeder from a tree branch or any sturdy fixture above the feeder.
Copper or pvc pipes: These pipes will make sturdy and waterproof hummingbird feeder hangers.
Bike rim: You could use a bike rim by suspending it with cables from overhead. You can also spray paint it to add color.
Upcycling bottles: Repurpose your old soda or wine bottles to create a hanging hummingbird feeder that you can suspend anywhere in your garden.
Safety Precautions And Common Pitfalls To Avoid When Making Your Own Hangers
While making your hummingbird feeder hangers, it is essential that you take safety precautions and avoid common pitfalls.
Here are some things to keep in mind:
Check stability: Ensure that your hanger is stable and strong enough to hold the weight of a full feeder.
Avoid using toxic materials: Do not use toxic materials that can be harmful to both the birds and the environment.
Choose the right height: Hang the feeder at a height that is safe for the birds but easy for you to clean and refill.
Avoid painting or coating the feeder tube: Avoid painting or coating the inside of your feeder tube, as toxins from the paint or coating can harm the birds.
Securely attach the feeder to the hanger: Make sure you securely attach the feeder to the hanger to prevent it from falling or swaying in the wind.
With a little bit of creativity and a few handy tools, creating diy hummingbird feeder hangers can be a fun and budget-friendly way to attract these beautiful birds to your garden. Just remember to always keep their safety in mind!
Additional Tips For Attracting Hummingbirds
Choosing The Right Feeder Design
The design of a hummingbird feeder is crucial in attracting these tiny birds to your garden.
Consider the following when selecting a feeder:
Opt for red or brightly colored feeders since hummingbirds are attracted to these colors.
Select a feeder with multiple ports, which will allow multiple birds to feed at the same time.
It is best to choose a feeder that can be taken apart easily for cleaning.
Nectar Recipes
Hummingbirds mainly feed on nectar, so it is vital to prepare the right recipe for your feeder. The nectar should have a ratio of 1:4 sugar to water for standard feeders.
Here are some essential points to consider:
Avoid using artificial sweeteners, honey, or fruit juice to sweeten the nectar. These ingredients can be harmful to the hummingbirds.
Boil the mixture of sugar and water for a few minutes to dissolve the sugar completely.
Cool the nectar mixture before filling into the feeder.
Change the nectar every 2 to 3 days, even if the feeder isn't empty.
Maintaining A Clean Feeder
A clean hummingbird feeder is essential to prevent the growth of mold or harmful bacteria, which can be detrimental to the hummingbirds.
Here are some tips to help keep your feeder clean:
Before refilling the feeder, always wash it thoroughly with hot soapy water.
Clean your feeder with a bottlebrush to reach difficult areas.
Rinse the feeder entirely before refilling it with nectar.
The feeder must be cleaned every time you refill it or at least once a week.
Planting The Right Flowers For Hummingbirds
Planting the right flowers in your garden can attract hummingbirds, making them want to stay for long periods.
Here are some of the favorite flowers for hummingbirds:
Hollyhocks
Lupines
Columbines
Lobelias
Petunias
Salvias
Other Ways To Attract Hummingbirds To Your Garden
Apart from using hummingbird feeders, planting the right flowers, and making nectar, there are other ways to attract these tiny birds to your garden.
Here are some additional tips:
Place small mirrors around your garden to reflect the sunlight and attract hummingbirds.
Add water features such as a birdbath or a fountain to your garden.
Use brightly colored wind chimes or hanging ornaments in your garden.
Finally, keep your garden free of insects since they're a primary food source for hummingbirds.
Remember, it requires effort and patience to attract hummingbirds to your garden, but the reward is worth it. With these tips and ideas in mind, you are one step closer to enjoying the company of these beautiful creatures!
FAQ For Ideas For Hanging Hummingbird Feeders
How High Should I Hang My Hummingbird Feeder?
Hummingbird feeders should be hung 5-6 feet high to discourage predators but still be easily accessible to hummingbirds.
Where Can I Hang A Hummingbird Feeder?
Hang hummingbird feeders in a shady area, near flowers or trees, away from windows to avoid bird collisions.
What's The Best Way To Clean A Hummingbird Feeder?
Clean hummingbird feeders every 3-5 days with soap and hot water, or a vinegar solution to prevent mold and bacteria growth.
How Often Should I Refill My Hummingbird Feeder?
Refill hummingbird feeders every 2-3 days, or more frequently during hot weather to prevent the sugar water from spoiling.
Conclusion
Hanging hummingbird feeders is a great way to attract these beautiful creatures to your garden or backyard. With a variety of options available, you can choose the perfect style and location to encourage visits from these tiny birds.
Hanging feeders can be placed on trees, hooks, or poles, and you can even use suction cups to attach them to windows.
Remember to keep the feeders clean and full of fresh nectar to keep the hummingbirds coming back. Also, try to avoid placing the feeders too close to each other, as hummingbirds can be territorial and may fight over the food.
By following these tips, you can create a welcoming environment for hummingbirds and enjoy the beauty they bring to your outdoor space. Happy hanging!