How To Keep Other Birds Away From Hummingbird Feeders?
To keep other birds away from hummingbird feeders, it's essential to use hummingbird-specific feeders, place feeders strategically, use decoys, and employ visual distractions.
Hummingbirds are attracted to nectar, which can be provided through specific feeders that cater to their feeding habits. However, these feeders can also attract other birds.
Keeping these unwanted birds away requires a methodical approach that includes using feeders designed only for hummingbirds, strategic feeder placement, use of decoys, and visual distractions.
Hanging feeders at varying heights can also make it more difficult for other birds to reach them, and providing alternative food sources in another area of your yard will encourage unwanted birds to stay away from hummingbird feeders.
In this way, you can ensure a peaceful feeding environment for hummingbirds while also catering to the needs of other backyard birds.
Exploring How To Keep Other Birds Away From Hummingbird Feeders
Choose hummingbird-specific feeders
Use bird netting or cages around feeders
Hang feeders at different heights
Offer alternative food sources for unwanted birds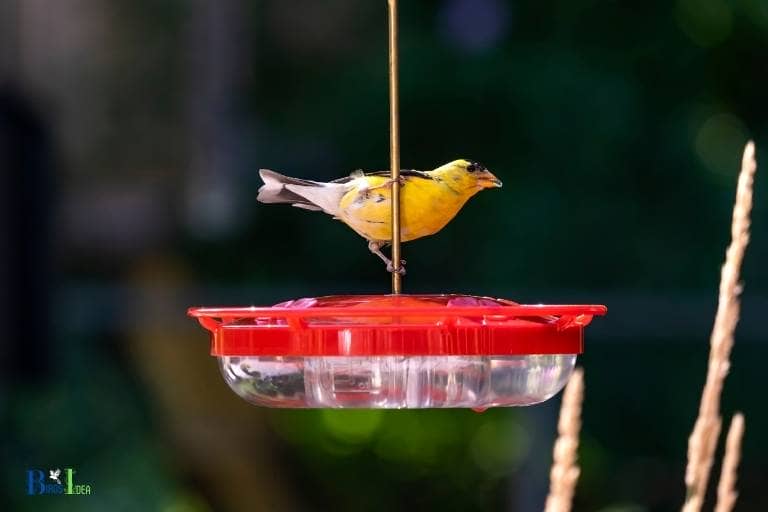 What Kind of Feeder Does Not Attract Other Birds?
It is essential to choose a hummingbird feeder that does not attract other birds, as they can deplete the nectar supply and spread diseases.
To keep other birds away from your hummingbird feeders, opt for feeders that cater specifically to hummingbirds' unique needs and characteristics.
Choose a feeder with small feeding ports: Hummingbirds have long beaks and tongues, so they can reach nectar in feeders with small feeding ports. Other birds will have a harder time accessing the nectar.
Select a feeder with no perching spots: Hummingbirds can hover while feeding, so they do not need perches. Other birds require a place to land before feeding, so eliminating perches will deter them.
Pick bright red or orange feeders: Hummingbirds are attracted to brightly colored flowers, especially red and orange. Other birds may not have the same color preference, making it less likely for them to approach the feeder.
"While some other bird species are harmless toward hummingbirds, others can become extremely aggressive and territorial around their food sources."

birdsidea
Benefits of Using a Hummingbird Feeder Guard
Using a hummingbird feeder guard is essential to protect the feeder from unwanted birds and pests while ensuring that the hummingbirds enjoy their nectar without any interruption.
Here are five benefits of using a hummingbird feeder guard:
Prevent access to larger birds and pests: Feeder guards keep larger birds like sparrows or starlings, as well as squirrels and raccoons, away from the hummingbird feeder, ensuring that only hummers have access to the nectar.
Maintain the nectar's freshness: By deterring other birds and pests, a feeder guard helps maintain the quality and freshness of the nectar.
Avoid contamination and disease: A hummingbird feeder guard reduces the risk of contamination and disease transmission among hummingbirds and other bird species, ensuring a safe dining experience.
Reduce waste and save money: A hummingbird feeder guard helps conserve nectar by preventing other birds from consuming it. This reduces waste and saves money on refilling the feeder frequently.
Avoid territorial behavior and fighting: Smaller birds, like hummingbirds, might avoid the feeder if larger birds are frequent visitors.
Tip: To maximize the effectiveness of your hummingbird feeder guard, consider combining it with proper feeder placement, such as hanging it away from trees or bushes where pests can easily access it.

birdsidea
How do I protect my hummingbird feeder?
If you're an avid hummingbird watcher, you may have already encountered some challenges when it comes to protecting your hummingbird feeder from other birds.
However, protecting the feeder from damages requires a few strategies. Some of the tactics include choosing a good location, using ant moats, and considering feeder design.
Clean the feeder once or twice per week to prevent mold or bacteria build-up.
Use a feeder with bee guards to prevent bees from accessing the nectar.
Consider adding birdhouses or other bird feeders nearby to give competitors other food options.
Hummingbirds beat their wings an average of 80 times per second.
Can you put hummingbird feeders close to other bird feeders?
Yes, you can put hummingbird feeders close to other bird feeders. As long as you properly clean your feeders and maintain good hygiene practices, there's no harm in having multiple feeders close together.
In fact, it can create a wonderful opportunity to observe different species of birds interacting with one another and sharing resources.
When setting up multiple feeders, it's essential to make sure that the birds have enough space to fly around without colliding into one another.
You'll also want to keep a close eye on your feeders to ensure that one type of bird isn't monopolizing all of the resources.
Providing a diversity of food options and spreading your feeders out across your yard can help to prevent this from happening.
It's important to use different types of feeders depending on the species of bird you want to attract.
Hummingbirds prefer nectar-based solutions while other birds may enjoy seeds or suet.
Different birds have distinct personalities and territorial behaviors that can influence their feeding patterns.
Taking notes and tracking the birds that visit your feeders can be a fun and educational activity for the whole family.
How do you feed only small birds?
Feeding small birds has its own set of challenges, especially when larger birds tend to take over their feeders.
If you're wondering how to attract and feed only small birds, here are some tips:
Choose the right feeder: Use a feeder that only small birds can access, like a tube or mesh feeder with small feeding ports that are difficult for larger birds to access.
Offer small seeds: Small birds feed on tiny seeds like millet, nyjer, and thistle. Make sure you provide these in your feeder to attract small birds.
Place the feeder in the right location: Keep the feeder away from shrubs or trees where bigger birds may perch. A hanging feeder placed in an open area is likely to attract only small birds.
Time the feeding: Larger birds are more active during the day, while smaller birds are active in the early morning and late evening. Schedule feeding times accordingly for the best results.
By following these tips, you can provide the right kind of food and feeder for small birds while keeping larger birds away.
Additional tips to attract small birds:
Plant native shrubs and flowers that provide food and shelter for small birds.
Clean the feeder regularly to avoid mold and bacteria buildup that can harm birds.
Place a birdbath nearby to attract a variety of small birds.
Conclusion
keeping other birds away from hummingbird feeders can be achieved through a variety of methods.
By using an anti-squirrel baffle, placing the feeder in a location that is difficult for other birds to access, or providing a separate feeder for larger birds, hummingbirds have a better chance of accessing their food without interruptions.
Additionally, using a nectar guard or choosing a feeder with built-in bee guards can deter unwanted pests and ensure that hummingbirds are the only ones able to enjoy the sweet nectar.
By utilizing these techniques, bird enthusiasts can create a more welcoming environment for hummingbirds to thrive.