What Color Are Crow Eggs: Pale Bluish-green!
Crow eggs typically exhibit a pale bluish-green color, often adorned with brown or gray speckles or markings. These distinctive features can vary slightly between different crow species.
The coloration of crow eggs is influenced by various factors such as genetics, environmental conditions, and the presence of pigments during eggshell formation.
The primary pigments responsible for the color and patterns on crow eggs are:
Biliverdin: Provides the bluish-green background color.
Protoporphyrin: Creates the brown or gray speckles and markings.
While most crow eggs share this general color scheme, the intensity and pattern of the speckles can differ, offering a unique identity to each egg.
The unique coloration of crow eggs not only camouflages them from predators but also reflects the health and habitat of the crow species, making them an interesting subject for ornithological studies.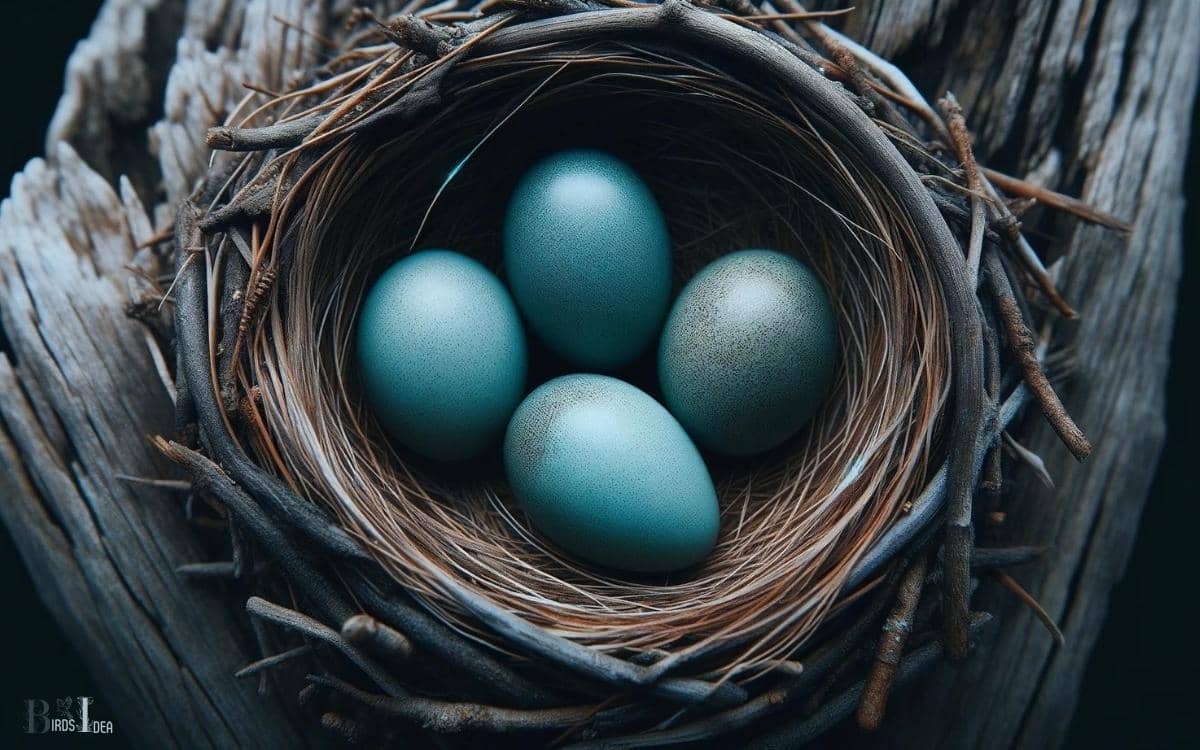 Key Takeaway
Crow eggs exhibit a pale bluish-green color with brown or gray speckles or markings.
Genetic factors and environmental conditions influence the coloration of crow eggs.
Camouflage is crucial for protecting crow eggs from predators.
The unique patterns and markings on crow eggs contribute to their camouflage and protection.
The Variety of Crow Egg Colors
Discussing the variety of crow egg colors, it is essential to consider the genetic and environmental factors influencing their pigmentation.
The color of crow eggs can vary widely, ranging from pale blue to olive-green or even spotted with brown or gray markings.
These variations are primarily attributed to genetic factors, with different species of crows exhibiting distinct egg coloration patterns.
Environmental factors such as diet and habitat can also influence the pigmentation of crow eggs.
For example, crows that inhabit urban areas may produce eggs with different colors compared to those in rural settings due to variations in their diets.
Understanding the interplay between genetic predispositions and environmental influences is crucial in comprehending the diverse array of colors observed in crow eggs.
Factors Influencing Crow Egg Coloration
The pigmentation of crow eggs is influenced by a combination of genetic and environmental factors.
Genetic Factors:
Inheritance of egg color genes from the parent crows plays a significant role in determining the color of crow eggs.
Genetic variations within crow populations can lead to different egg colorations, ranging from pale blue to olive green or brown.
Environmental Factors:
Diet and nutrition of the crow during egg formation can impact the deposition of pigments in the eggs, influencing their final coloration.
Environmental stressors, such as exposure to pollutants or changes in habitat, can also affect the color of crow eggs by altering the metabolism and physiology of the laying female crow.
These factors interact in complex ways, contributing to the diverse range of crow egg colors observed in nature.
The Role of Camouflage in Crow Egg Color
Camouflage plays a crucial role in determining the coloration of crow eggs, aiding in the protection of the eggs from potential predators.
The color of crow eggs is often adapted to match the environment in which they are laid, making them less conspicuous to predators.
Research suggests that the speckled and mottled appearance of crow eggs helps them blend into their surroundings.
This adaptation allows the eggs to remain hidden from predators that rely on visual cues to locate them.
The effectiveness of this camouflage is crucial for the survival of the eggs and the future generation of crows.
Understanding the role of camouflage in the coloration of crow eggs provides valuable insights into the evolutionary strategies developed by these birds to ensure the survival of their offspring.
This camouflage adaptation sets the stage for the subsequent section about the unique patterns and markings on crow eggs.
Unique Patterns and Markings on Crow Eggs
Adorning the shells of crow eggs, unique patterns and markings serve as distinctive identifiers for individual eggs within the nest.
These patterns and markings vary widely, adding to the intrigue of crow egg aesthetics. Some crow eggs display intricate speckling, with tiny dots and specks covering the entire surface, creating a mesmerizing visual effect.
The speckling ranges in color from pale gray to dark brown, providing a spectrum of diversity among crow egg patterns.
In contrast, other crow eggs exhibit bold, irregular splotches that resemble abstract artwork, with patterns ranging from asymmetrical swirls to concentrated clusters.
The splotches can be a mix of various shades, including off-white, beige, and light blue, resulting in a captivating mosaic on the eggshell.
These unique patterns and markings not only make each crow egg visually distinct but also contribute to the camouflage and protection of the eggs within their natural environment.
Conservation Implications of Crow Egg Color
In examining the unique patterns and markings on crow eggs, it is essential to consider the conservation implications of their color, particularly in relation to their role in protecting the eggs within their natural environment.
The color of crow eggs plays a crucial role in camouflaging them from potential predators, thereby increasing the likelihood of successful reproduction and population sustainability.
Understanding the specific hues and markings that enable crow eggs to blend into their surroundings can inform conservation efforts aimed at preserving crow populations.
Monitoring changes in egg coloration over time can provide valuable insights into environmental shifts and potential threats to crow populations.
Therefore, recognizing the significance of crow egg color in conservation efforts is paramount for ensuring the continued flourishing of these avian species.
Conclusion
The coloration of crow eggs varies widely, influenced by factors such as genetics, habitat, and predation pressure.
The intricate patterns and markings on these eggs serve as a form of camouflage, aiding in the survival of the species.
Understanding the diversity of crow egg coloration has important implications for conservation efforts, as it provides insight into the evolutionary adaptations of these intelligent birds.
Crow eggs are like a canvas, each one uniquely painted to blend seamlessly into its surroundings, a testament to their remarkable ability to adapt and thrive.