What Do Crows Mean in Witchcraft? Magic, Mystery!
Crows are considered powerful symbols in witchcraft, often associated with magic, mystery, and the unknown.
They are believed to be messengers from the spirit realm, harbingers of change, and guardians of sacred laws.
With their keen intelligence and adaptability, crows embody various aspects of the craft, including transformation, divination, and connection to the afterlife.
In witchcraft, crows hold a multifaceted symbolism:
Messengers: Crows are thought to carry messages from the spirit world to the living, facilitating communication between realms.
Omens: Their presence is often interpreted as an omen, signaling upcoming change or revealing hidden truths.
Transformation: The crow's ability to adapt to different environments symbolizes the transformative nature of magic and the practitioner's journey.
Guardianship: As protectors of the sacred, crows are believed to watch over magical practices and maintain the balance between worlds.
The crow's presence in witchcraft is a testament to its enduring legacy as a creature of profound mystical significance, embodying the deep interconnection between the natural and the supernatural.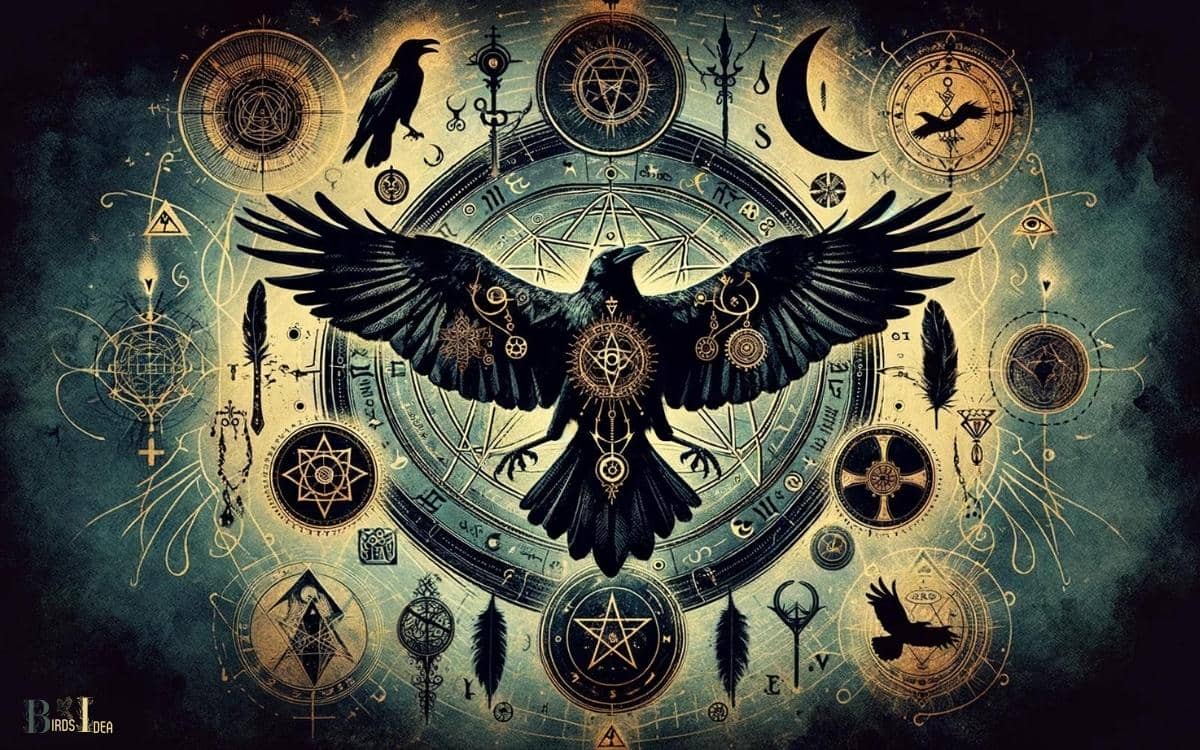 Key Takeaway
Crows have a long history of being associated with wisdom, intelligence, and magical abilities in witchcraft.
They are seen as messengers and omens, conveying messages and forewarnings from the spirit world.
Crows symbolize transformation, rebirth, and the cyclical nature of life.
They form deep spiritual connections with witches as familiars and serve as guardians and protectors in magical practices.
Historical Significance of Crows in Witchcraft
One of the significant historical aspects of crows in witchcraft is their association with mystery and magic.
Throughout history, crows have been revered as symbols of wisdom and intelligence, often depicted as familiars of witches and wizards.
In various cultures, crows are believed to possess supernatural abilities and are associated with the spirit world.
Their dark plumage and haunting caws have contributed to their enigmatic persona, making them an integral part of magical lore and practices.
Crows have been intertwined with the mystical arts, playing a prominent role in rituals and divination.
Their presence in witchcraft signifies a deep connection to the unknown and the ability to traverse the realms of the supernatural.
This historical significance has solidified crows as enduring symbols of magic and mystique in witchcraft.
This historical significance seamlessly leads us to explore the role of crows as messengers and omens.
Crows as Messengers and Omens
Crows in witchcraft are often regarded as messengers and omens, playing a significant role in conveying messages and signaling impending events.
They are believed to carry messages between the spirit world and the physical world, making them powerful symbols in witchcraft practices.
The behavior and calls of crows are thought to provide insights into the future and serve as omens of both good and bad fortune.
| Aspect of Crows as Messengers and Omens | Description |
| --- | --- |
| Communication with Spirit World | Crows are seen as intermediaries between the earthly realm and the spirit world, conveying messages and guidance. |
| Signaling Impending Events | Their presence or behavior is often interpreted as a forewarning of events, serving as omens of what is to come. |
| Symbolism of Calls and Behaviors | The specific calls and actions of crows are closely observed and interpreted as signs of potential outcomes or messages from the spiritual realm. |
Unlock the mystical world of crows – messengers and omens bridging the earthly and spiritual. Explore their symbolic calls and behaviors revealing glimpses of fate.
Transformation and Rebirth Symbolism
The symbolism of transformation and rebirth in witchcraft is exemplified through the crows' representation of renewal and change.
In various cultures, crows have been associated with death and the afterlife, but in witchcraft, they hold a deeper significance as symbols of transformation and rebirth.
Crows are often seen as guides through the process of change, signaling an impending shift in consciousness or a need for personal growth.
In this context, they represent the cyclical nature of life and the opportunity for new beginnings. Their black feathers are a reminder of the darkness that precedes the dawn of a new day.
In witchcraft, crows are revered for their ability to traverse between realms, embodying the transformative journey of the soul.
Their presence signifies the potential for profound inner change and the promise of renewal.
Crows as Familiars and Guardians
In witchcraft, crows hold significance as familiars and guardians, embodying ancient wisdom and offering protection to practitioners.
As familiars, crows are believed to form deep spiritual connections with witches, providing guidance and assistance in magical workings.
Their intelligence and ability to communicate complex concepts symbolize the depth of knowledge and understanding that they bring to the practitioner.
Crows are also revered as guardians, watching over sacred spaces and serving as protectors against negative energies or malevolent forces.
Witches often seek the presence of crows as a sign of divine protection and as a source of inspiration for their craft.
The association of crows with freedom and independence further enhances their appeal as familiars and guardians to those who desire autonomy in their spiritual pursuits.
Rituals and Practices Involving Crows
Rituals and practices involving crows often center around the invocation of spiritual guidance and protection.
In witchcraft, these intelligent and mysterious birds are revered for their connection to the spirit world and their perceived ability to convey messages from the divine.
Some common rituals and practices involving crows include:
Divination: Crows are believed to possess deep insight and are often called upon to provide clarity and guidance in divination practices.
Protection Spells: Crows are associated with protection, and their feathers, bones, or images are used in protective spells and rituals.
Offerings: Some practitioners leave offerings of food or shiny objects for crows as a way to honor and seek favor from these creatures.
Spiritual Communication: Crows are considered messengers between the physical and spiritual realms, and rituals involving crows may be aimed at establishing communication with the spirit world.
Conclusion
The historical significance of crows in witchcraft has shown their role as messengers, omens, symbols of transformation and rebirth, and as familiars and guardians.
Rituals and practices involving crows reflect their deep connection to witchcraft and its traditions.
Like dark messengers of the night, crows have long been intertwined with the mystical and magical aspects of witchcraft, serving as guides through the shadows of the unknown.