What Does a Crow Feather Look Like? Sleek & Glossy Black!
A crow feather typically features a sleek and glossy black appearance, with a robust and slightly curved structure.
It is designed for efficient flight, with a smooth texture that reduces air resistance. Each feather has a sturdy central shaft, or rachis, with barbs that interlock to form a flat, aerodynamic surface.
Crow feathers are known for their:
Predominantly black color, which can show iridescent blue or purple hues in sunlight.
Stiff and strong shaft that provides the necessary support for flight.
Interlocking barbs that create a unified structure for wind resistance.
Varying lengths, with wing feathers being elongated and tail feathers being wide and rounded.
The crow feather, often reflective with hints of iridescence, is not only a feat of avian engineering but also an object of intrigue and mystique in various cultures.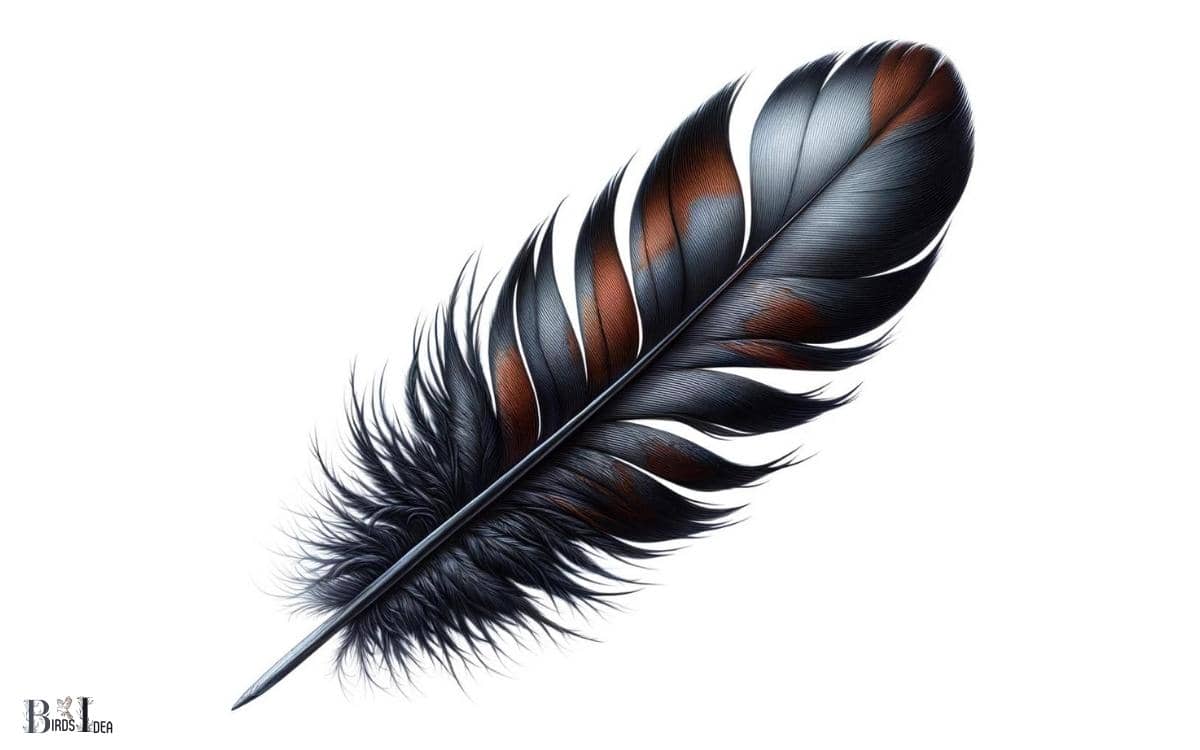 Key Takeaway
Crow feathers have a sleek and glossy black appearance.
They have a robust and slightly curved structure with varying lengths, including elongated wing feathers and wide, rounded tail feathers.
Crow feathers display an iridescent sheen reflecting a spectrum of colors, with a base color typically black but can appear as blue or purple.
The feathers have interlocking barbs and hooks that provide strength and flexibility, enabling crows to soar with agility and grace.
Anatomy of a Crow Feather
The anatomy of a crow feather comprises intricate structures that serve various functions in the bird's flight and insulation.
Each feather consists of a central shaft, or rachis, from which barbs extend on either side like branches from a tree.
These barbs further divide into smaller structures called barbules, which have microscopic hook-like projections, creating a velcro-like system that holds the barbs together, forming a smooth and continuous surface.
This intricate arrangement not only aids in the bird's ability to fly efficiently but also provides insulation by trapping air to regulate body temperature.
Crow feathers have a unique arrangement that allows for minimal air resistance, contributing to the bird's swift and agile flight.
Understanding the intricate anatomy of crow feathers provides insight into their remarkable functionality and adaptability.
Transitioning into the subsequent section about 'coloration and patterns', the intricate structures also play a significant role in the visual appearance of crow feathers.
Coloration and Patterns
Examining the coloration and patterns of crow feathers reveals a mesmerizing array of hues and designs, providing insight into the bird's captivating appearance.
Crows exhibit a remarkable diversity of colors and patterns in their feathers, showcasing nature's artistry.
Here are some notable features:
Iridescent Sheen: Crow feathers often display an iridescent sheen, reflecting a spectrum of colors when viewed from different angles.
Black Base Color: The base color of crow feathers is typically black, but it may also appear as deep shades of blue or purple under certain lighting conditions.
Subtle Striations: Upon close inspection, subtle striations and intricate patterns become apparent, adding depth and complexity to the feathers' appearance.
The intricate coloration and patterns of crow feathers contribute to the bird's enigmatic allure, making it a subject of fascination for bird enthusiasts and researchers alike.
Structure and Texture
An examination of a crow feather reveals its intricate structure and unique texture, providing insights into the physical characteristics of this remarkable avian adornment.
The central shaft, or rachis, forms the backbone of the feather, from which extend barbs that branch off to form the vane.
These barbs are equipped with tiny hook-like structures called barbules, which interlock to create the flat, smooth surface that aids in flight and insulation.
The texture of a crow feather is smooth to the touch, owing to the presence of an oily coating that helps repel water and maintain the feather's integrity.
Under a microscope, the arrangement of microscopic structures becomes evident, showcasing the complexity of nature's design.
This combination of structural intricacy and sleek texture contributes to the crow feather's remarkable functionality and beauty.
Adaptations for Flight
Upon closer examination of a crow feather's structure and texture, it becomes evident that its adaptations for flight are a testament to the remarkable engineering of nature.
The intricate design of crow feathers enables these birds to soar through the skies with agility and grace.
Lightweight Construction: Crow feathers are lightweight, allowing for easy maneuverability during flight.
Interlocking Barbs and Hooks: The interlocking barbs and hooks along the feather's shaft create a strong and flexible surface, essential for withstanding the forces of flight.
Aerodynamic Shape: The shape of crow feathers is aerodynamic, reducing air resistance and enabling efficient flight.
These adaptations, finely tuned by evolution, empower crows to navigate the open skies with the freedom and precision that defines their majestic flight.
Maintenance and Care
To ensure the longevity and functionality of crow feathers, it is essential to implement a regular maintenance routine that includes grooming and protecting them from environmental stressors.
Feathers play a crucial role in a crow's ability to fly, stay warm, and repel water. Maintenance involves preening to remove dirt, dust, and parasites.
Protecting the feathers from environmental stressors such as pollution and harsh weather conditions is vital.
Here's a simple guide to crow feather maintenance:
| Maintenance Task | Description |
| --- | --- |
| Preening | Using the beak to remove dirt and parasites |
| Protection | Avoiding pollution and harsh weather conditions |
"A concise guide to crow feather maintenance, emphasizing the essential tasks of preening for cleanliness and employing protective measures against environmental stressors."
Regular maintenance and care of crow feathers not only ensures the bird's ability to fly efficiently but also contributes to its overall health and well-being.
Symbolism and Cultural Significance
The significance of crow feathers in various cultures and belief systems is rooted in their association with wisdom, mystery, and spirituality.
In Native American cultures, crow feathers are often seen as symbols of transformation and change, as crows are believed to be messengers and are associated with the spirit world.
In Celtic traditions, crows are considered to be a symbol of magic and are associated with the goddess Morrigan, who is linked to fate and prophecy.
In Hinduism, crows are thought to be the messengers of the god Shani, the lord of the planet Saturn, and are believed to bring both good and bad omens.
Crow feathers hold deep cultural and symbolic significance, representing a connection to the spiritual realm and the mysteries of the universe.
Conclusion
The crow feather is like a finely crafted work of art, with its intricate structure and striking coloration. Its adaptability for flight and the cultural significance it holds make it a fascinating subject of study.
The anatomy, coloration, and texture of the crow feather provide valuable insight into the adaptations of these intelligent and resourceful birds, and their importance in various cultures and traditions.