What Does It Mean When Crows Fly in Circles? Observation!
When crows fly in circles, it generally signifies their keen sense of observation and communication as they scout for food or attempt to warn other crows of potential danger.
Crows are highly intelligent birds, and their behavior of flying in circles can be attributed to a multitude of reasons, such as searching for food, communicating with other crows, or sensing potential threats in their environment.
They may also engage in this behavior as part of their playful nature or during courtship rituals.
The behavior of crows flying in circles can be a fascinating insight into their complex social structure and intelligence.
Whether they are scouting for food, communicating with their flock, or engaging in playful activities, it is essential to remember that crows are highly adaptable and resourceful creatures.
6 Common Interpretations: Meaning of Crows Flying in Circles
| | |
| --- | --- |
| Interpretation | Meaning |
| Navigation | Crows may fly in circles to get a better understanding of their surroundings and find their way. |
| Communication | Circling behavior can be used by crows to communicate with other crows, signaling a nearby food source or danger. |
| Mating Ritual | Crows may perform circular flights as part of their courtship and mating behavior. |
| Playful Behavior | Crows are intelligent birds, and they may fly in circles to entertain themselves or engage in social play with other crows. |
| Thermals | Crows may take advantage of rising columns of warm air, known as thermals, to gain altitude and save energy during flight. Circling can help them stay within a thermal. |
| Predators | Crows may fly in circles to confuse or avoid predators, such as hawks or eagles. |
6 Common Interpretations: Meaning of Crows Flying in Circles
Understanding Meaning Of Crows Fly in Circles
Crows flying in circles can signify various behaviors and meanings.
This aerial display might represent foraging, communication, defense, or play among crows.
Understanding these actions can provide valuable insights into crow behavior and intelligence.
Observing crows flying in circles can also offer a unique opportunity to connect with nature.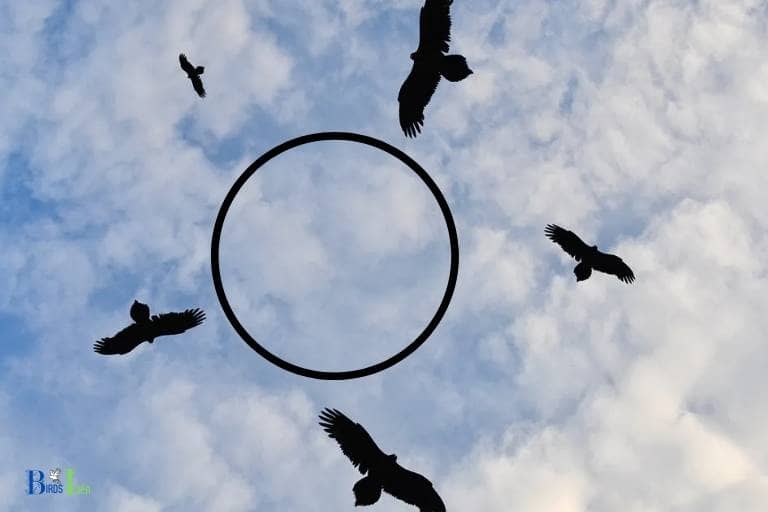 What Does It Mean When Crows Fly In Circles
What Does It Mean When Crows Fly In Circles?
Crows are fascinating birds that can often be seen flying in circles above. Many people wonder what it means when crows fly in circles. An Introduction To Crow Flight Patterns And Habits.
Here are some key points to consider:
Crows are social creatures that often fly in large groups, known as murders.
They have a distinct flying style, characterized by flapping their wings and gliding through the air.
Crows are also known for their aerial acrobatics, which include flying upside down and performing barrel rolls.
Interpretation Of Circular Flight Patterns
Circular flight patterns are commonly seen in crows, and many people have tried to interpret their meaning.
Here are some key points to consider:
Circular flight patterns can be a way for crows to communicate with each other. They may be using this pattern to signal that there is food nearby, warn of danger or mark their territory.
Crows are very intelligent and adaptable birds and may adjust their flight patterns depending on their location and environment.
Some of the commonly observed circular flight patterns in crows are:
They may fly in circles all around a tree or a landmark, commonly known as 'circle flights' or the 'dance of the crow'.
They can be seen hovering in the air, also known as 'helicoptering.'
They may also be seen swooping down in circles, commonly known as 'spirals.'
Tales Of Superstition And The Belief Of Omen Related To Crow Circular Flight
Crows have been associated with superstition and beliefs of omen for a long time.
Here are some key points to consider:
In many cultures, crows were believed to be messengers of death, and their presence was seen as a bad omen.
According to some superstitions, the number of crows seen together could indicate different outcomes. For instance, two crows signify joy, three crows equal marriage, and four crows indicate wealth.
In some mythologies, crows were seen as a symbol of transformation and were revered as sacred birds.
For the observer, it can be an awe-inspiring sight to watch crows fly in circles, perform aerial acrobatics, and communicate with each other.
Exploring The Scientific Explanation Of Crow Behavior
The Evolutionary History And Adaptation Of Crows
Crows are part of the corvus genus, which includes ravens, jackdaws, and rooks. These birds evolved about 25 million years ago in australia and later spread to other parts of the world.
Over millions of years, they underwent various adaptations to survive in diverse habitats, and their intelligence and social behavior evolved alongside these adaptations.
Here are some key points to consider:
Crows are highly adaptable and can thrive in a variety of habitats, from urban areas to forests and wetlands.
They have keen problem-solving abilities and can remember human faces and behavior, which makes them an excellent subject for research.
Crows are also excellent tool-users and can even modify objects to create more effective tools.
Their social behavior is highly developed, as they live in large groups and are highly communicative with each other.
The Study Of Bird Navigation And Orientation
Birds, including crows, have a remarkable ability to navigate over long distances. Their orientation is based on different environmental cues, including the position of the sun, the magnetic field of the earth, and landmarks.
The following are key points to consider:
Crows have excellent memory and can remember landmarks and the positions of food sources.
They also rely on the magnetic field of the earth to orient themselves and can detect changes in magnetic fields, allowing them to correct their course when necessary.
They also use celestial cues, such as the position of the sun during the day or the stars at night, to navigate.
The Link Between Crow Intelligence And Behavior
Crows are intelligent birds with many fascinating behaviors that are a testament to their cognitive abilities.
Researchers have found many different examples of how their intelligence relates to their behavior.
Here are some key points to consider:
Crows have excellent problem-solving skills and can use tools, solve puzzles, and even create tools from different objects.
They have an impressive memory and can remember human faces and behavior for several years.
Crows also exhibit a form of play that is similar to that of humans. They engage in activities such as sled-riding or using discs to play on ice or snow.
Their social lives are highly organized, and they have complex communication systems that allow them to share information and work together.
Understanding the scientific explanation behind this complex behavior offers insight into these fascinating creatures' evolutionary history, navigational abilities, and cognitive abilities.
Why Crows Are Considered Mysterious Creatures?
Crows are fascinating creatures that have fascinated humans for centuries. These birds are often considered mysterious, due to their peculiar behavior, which can be difficult to interpret.
In this section, we will explore some of the key reasons why crows are considered mysterious creatures.
Mythology And Crows
Crows have played an important role in many mythologies around the world. In some cultures, they are revered as sacred animals, while in others they are seen as harbingers of doom.
Here are some fascinating facts about crows in mythology:
In Norse mythology, crows were the messengers of odin, the god of wisdom, war, and death. They would fly around the world and bring news to odin, who would then use this information to make important decisions.
In Hindu mythology, crows are sometimes associated with the god shani, who is the lord of bad luck and misfortune. According to legend, a crow once told shani about a person's good fortune, which enraged him, so he cursed the crow to be black.
In Native american mythology, crows are often depicted as crafty and intelligent animals. They are sometimes seen as shapeshifters who can take human form and act as messengers between humans and the spirit world.
The Role Of Crows In Folklore And Popular Culture
Crows have also featured prominently in folklore and popular culture, appearing in everything from literature to music.
Here are some examples:
In Edgar Allan Poe's famous poem "The Raven," a man is visited by a raven, who is a harbinger of his impending doom. The poem's haunting imagery and melancholy tone have made it a classic of American literature.
In the harry potter series, crows (or rather, their larger cousins, the ravens) are often portrayed as the familiars of the dark wizard lord Voldemort and his followers.
In the movie "the crow," the titular character is brought back to life by a crow in order to seek revenge on those who murdered him and his girlfriend.
The Significance Of Crows In Different Cultures
Mythology and pop culture, crows also hold significance in many different cultures around the world.
Here are some examples:
In japan, crows are sometimes seen as protectors of the rice fields, as they eat insects that can damage the crops.
In china, crows were once associated with the sun, as their black feathers were thought to resemble the color of the sun when it was obscured by clouds.
In some native american cultures, crows are seen as tricksters who can teach humans valuable lessons about life and the natural world.
Crows are fascinating creatures that have captured our imaginations for centuries. Whether they are flying in circles or simply perched on a fence, crows continue to intrigue and mystify us in equal measure.
Understanding The Behavior Of Crows
Crows are intelligent and curious birds that have fascinated humans for centuries. Their behavior is often misunderstood, and people may misinterpret their actions.
Understanding their habits, communication and socialization, and their ecology in the ecosystem can provide insight into their behavior.
Habits And Characteristics Of Crows
Crows are highly adaptable birds found in diverse environments from forests to cities. They are known for their intelligence, problem-solving skills, and social behavior.
Here are some of the key characteristics and habits of crows:
Crow's wingspan ranges between 33-40 inches, and they weigh around 17-21 ounces.
They have shiny black feathers, sharp beaks, and sharp talons that they use for hunting.
Crows are omnivores and feed on everything from insects, nuts, fruits, to small mammals and carrion.
They are territorial birds that live in groups and communicate with one another through a variety of vocalizations and body language.
Communication And Socialization Of Crows
Crows are among the most social birds in the world. They form tight-knit family groups and maintain complex relationships, including tool-sharing and cooperative feeding.
Below are some of the communication and socialization habits of crows:
They have a sophisticated system of communication that involves over 30 different vocalizations used to signify different threats or situations.
They are known to use tools such as twig hooks, barbed wires, and even cars to catch food or solve problems.
Crows use their social skills to form alliances with other birds or animals, including humans, to gain food or protection.
The Ecology Of Crows And Their Place In The Ecosystem
Crows play a critical role in maintaining ecological balance. They control insect and rodent populations by feeding on them, and alert other animals of danger through their vocalizations.
Here are some of the ecological aspects associated with crows:
Crows are often seen scavenging on roadsides, where they feed on carrion, a diet that helps to keep the environment clean.
They have a significant impact on seed germination and forest regeneration by eating fruits and distributing seeds across the landscape.
By playing a key role in the food web, crows are an essential part of the ecosystem.
Understanding the behavior of crows can help us appreciate and coexist with these fascinating birds.
By taking the time to learn about their habits, communication, and ecology, we can deepen our understanding of the natural world and make it a better place for all species.
Conclusion
After researching and exploring the common beliefs surrounding crows flying in circles, it seems there is no one definitive answer.
While some cultures believe they represent change, others see them as harbingers of bad news.
However, one thing is certain – crows are intelligent creatures who have been observed exhibiting complex behaviors, such as using tools and even teaching those skills to others.
It is possible that crows may simply be playing or communing with one another during these circular flights.
Whatever their reason may be, it is clear that crows hold an important place in many cultures and have captured the imaginations of people for centuries.
Whether you view crows as omens or simply fascinating creatures, their presence in our world is a reminder of the interconnectedness and mystery of nature.