What Does It Mean When You See Crows Everywhere? Discover
Observing crows ubiquitously can denote a myriad of meanings, ranging from omens and spiritual messages to simply a reflection of the bird's adaptation to various environments.
In different cultures, crows are often associated with mystery, intelligence, transformation, and life's cyclic nature.
It's important to consider both the traditional symbolism and the natural behavior of crows to understand why they appear in large numbers.
Crows are highly adaptable and intelligent birds, which means they can thrive in a variety of habitats, including urban areas. Their presence is often noticed due to their distinct calls and communal behavior.
Here are some interpretations of seeing crows everywhere:
Cultural Symbolism: In some cultures, crows symbolize wisdom and are considered ancestral spirits. In others, they may be seen as bad omens.
Spiritual Meaning: Spiritually, crows can signify transformation, change, or adaptability. They may appear as guides or messengers from the spirit world.
Practical Reasons: Crows may gather in large numbers due to abundant food sources, roosting habits, or during migration periods.
When crows converge in your vicinity, it's an invitation to observe the natural world's adaptability and intelligence.
Whether they're seen as mystical guides or simply birds exhibiting natural behaviors, crows compel us to ponder upon the larger questions of existence and our place within it.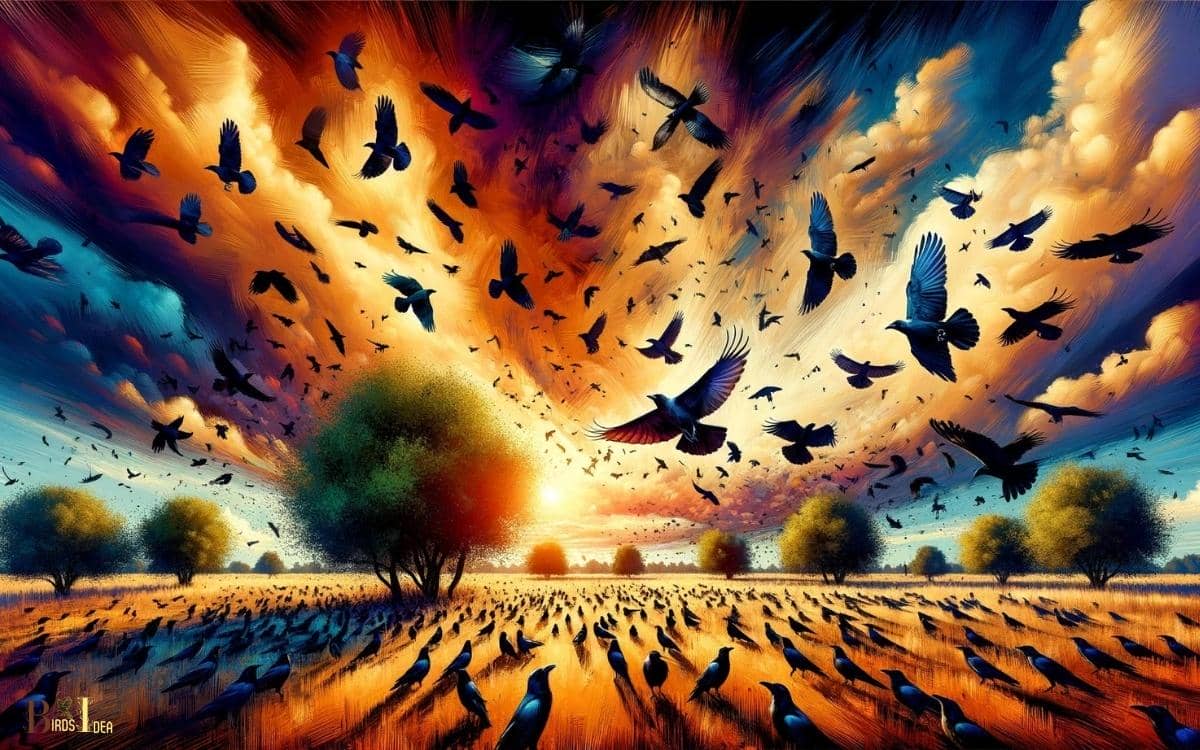 Key Takeaway
Crows are often seen as symbols of wisdom, intelligence, adaptability, and mystery in various cultures.
They hold spiritual and metaphysical significance, representing transformation, guidance from the spirit world, and periods of transition or change in one's life.
Crows are considered messengers and omens, associated with prophecy, divine communication, and the conveyance of sacred laws.
The presence of crows can also be attributed to their adaptability, intelligence, and ability to find abundant food sources, as well as their communal behavior and migration patterns.
Cultural and Historical Significance
Seeing crows everywhere holds cultural and historical significance across various societies. In many cultures, crows are often considered symbols of intelligence, mystery, and transformation.
The ancient Greeks associated crows with Apollo, the god of prophecy, while in Norse mythology, these birds were linked to Odin, the god of wisdom.
Native American cultures also attribute spiritual significance to crows, viewing them as messengers or symbols of change.
Historically, crows have appeared in literature and folklore as omens, often representing both positive and negative forces.
Their presence in various mythologies and stories underscores their enduring role in shaping human beliefs.
In some Asian cultures, crows are believed to be intermediaries between the earthly and spiritual realms.
In more recent times, the association of crows with death and the supernatural has permeated popular culture, further contributing to their mystique.
Thus, seeing crows everywhere may evoke a sense of connection to ancient beliefs, a reminder of the delicate balance between life and death, or a symbolic nod to personal transformation and wisdom.
Crows in Mythology and Folklore
Crows have held significant symbolism in mythology and folklore across various cultures. These myths often depict crows as messengers of the divine or as symbols of wisdom and intelligence.
Crows are frequently portrayed as supernatural beings with the ability to bridge the mortal and spiritual realms.
Symbolism in Crow Myths
In mythology and folklore, crows have been regarded as symbols of wisdom, trickery, and transformation.
They have appeared in stories and legends across various cultures, often representing different aspects and qualities.
Here are some examples of the symbolism of crows in myths:
Wisdom: In many myths, crows are seen as wise creatures, often serving as messengers for deities or possessing knowledge of the spirit world.
Trickery: Crows are also portrayed as cunning and sly, using their intelligence to outwit other animals or even humans in certain tales.
Transformation: In some cultures, crows are associated with transformation and change, symbolizing the ability to adapt and evolve in different situations.
Crows in mythology and folklore thus embody a complex blend of traits, making them enigmatic and captivating symbols in storytelling.
Symbolism in Different Cultures
The symbolism of crows varies greatly across different cultures, reflecting diverse interpretations and significance.
Understanding the cultural perspectives on the symbolism of crows can provide valuable insights into the beliefs and values of various societies.
Exploring the cultural interpretations of crows will shed light on the multifaceted meanings attributed to these birds in different parts of the world.
Cultural Interpretations of Crows
As crows are observed in various cultures around the world, their symbolism and interpretations vary significantly.
The cultural interpretations of crows include:
In Native American cultures, crows are often seen as symbols of transformation, magic, and the mysteries of creation. They are associated with the spiritual world and are considered to be messengers from the spirit realm.
In Japanese culture, the crow is considered a symbol of good luck and is associated with the Shinto goddess of the sun, Amaterasu.
In Celtic folklore, crows are associated with warfare, destiny, and protection. They are also seen as messengers between the living and the spirit world.
These diverse interpretations of crows reflect the deep cultural significance and symbolism attached to these birds across different societies. Moving forward, let's explore the significance of crows in various societies.
Significance in Various Societies
When considering the significance of crows in various societies, it becomes evident that their symbolism holds diverse meanings across different cultures.
In some societies, crows are seen as bearers of good luck and are revered for their intelligence and adaptability, while in others they are associated with bad omens and death.
The table below provides a brief overview of the symbolism of crows in different cultures.
| Culture | Symbolism |
| --- | --- |
| Native American | Spirit guides, wisdom |
| Japanese | Messengers of the gods, good luck |
| Celtic | Death, transformation |
Crows soar as multifaceted symbols across cultures—Native American guides, Japanese divine messengers, Celtic agents of death. In diverse mythologies, they embody wisdom, transformation, and fortune.
Understanding the varied interpretations of crows in different societies allows for a richer appreciation of the complex symbolism attached to these enigmatic birds.
This diversity in symbolism paves the way for exploring the spiritual and metaphysical interpretations in the subsequent section.
Spiritual and Metaphysical Interpretations
From a spiritual and metaphysical perspective, seeing crows everywhere may indicate a message from the universe or a sign from the spiritual realm.
In many belief systems, crows are considered to be powerful symbols with deep spiritual significance.
Here are three interpretations that may shed light on the spiritual and metaphysical implications of encountering crows:
Messengers from the Spirit World: Crows are often seen as messengers that bring guidance and wisdom from the spiritual realm.
Transition and Transformation: Their presence may symbolize a period of transition or transformation in one's life, urging individuals to embrace change and growth.
Protection and Divine Guidance: Some view crows as protectors, offering divine guidance and safeguarding individuals on their spiritual journey.
Understanding these spiritual and metaphysical interpretations can provide insight into the potential significance of encountering crows.
This leads to the subsequent section about 'crows as messengers and omens'.
Modern Interpretations and Superstitions
In contemporary society, the historical and cultural significance of crows as messengers and omens continues to influence modern interpretations and superstitions surrounding these intelligent birds.
Modern interpretations and superstitions regarding crows include:
Symbolism in popular culture: Crows are often depicted in movies, literature, and art as symbols of mystery, intelligence, and even death, perpetuating their enigmatic reputation.
Folklore and urban legends: Many urban legends and superstitions associate crows with foretelling future events, leading to beliefs in their supernatural abilities.
Environmental significance: In modern times, crows are also seen as indicators of environmental changes and urban development, influencing interpretations of their presence in different locales.
As these contemporary perspectives shape our understanding of crows, it is important to consider the practical implications and takeaways associated with these beliefs.
Conclusion
The presence of crows holds great cultural, historical, and spiritual significance across various cultures and belief systems.
Whether seen as messengers, omens, or symbols of wisdom, crows have been deeply ingrained in human consciousness for centuries.
Their widespread presence in folklore, mythology, and modern interpretations reflects the enduring impact of these intelligent and enigmatic birds on human society.
Like the black crow that brings news of change, their ubiquitous presence serves as a reminder of the interconnectedness of all living beings.