What is the Crow About? Adaptability!
The crow is a common black bird belonging to the Corvidae family, known for its intelligence, adaptability, and distinctive vocalizations.
They are omnivorous and are known to eat a wide variety of food, including seeds, fruits, insects, and even small mammals.
Crows are highly intelligent creatures, capable of solving complex problems, using tools, and having a remarkable memory.
They are also social animals that live in family groups and are known to form complex relationships with each other.
Crows are highly intelligent and capable of problem-solving.
They are omnivorous and consume a wide variety of food sources.
Crows have a long-term memory and can recognize humans.
They have complex social structures and family groups.
Crows are fascinating creatures that exhibit high levels of intelligence, making them an intriguing subject for scientific research and observation.
They have been observed using tools, such as sticks, to extract insects from tree bark or crevices.
9 Aspects About Meaning of Crows
| | |
| --- | --- |
| Aspect | Description |
| Species | Corvus, a widely distributed genus of birds in the family Corvidae |
| Common Names | Crow, Raven, Rook, and Jackdaw |
| Size | Varies by species, ranging from 16 inches (40 cm) to 28 inches (70 cm) in length |
| Habitat | Found across the world, including North America, Europe, Asia, and Australia; habitats range from forests and woodlands to grasslands and deserts |
| Diet | Omnivorous, consuming seeds, fruits, insects, small mammals, and carrion |
| Intelligence | Known for their problem-solving skills, memory, and use of tools; considered one of the most intelligent bird species |
| Social Behavior | Highly social animals, often forming complex social structures with other crows; engage in cooperative breeding and communal roosting |
| Communication | Wide range of vocalizations, including calls for feeding, alarm, territorial defense, and social interactions |
| Lifespan | Varies by species, but can live up to 20 years or more in the wild and even longer in captivity |
9 Aspects About Meaning of Crows
Key Takeaway
The crow is a highly intelligent and adaptable bird species.
They are known for their problem-solving skills and use of tools.
Crows are social animals and have complex communication systems.
They play a significant role in mythology, literature, and culture across various societies.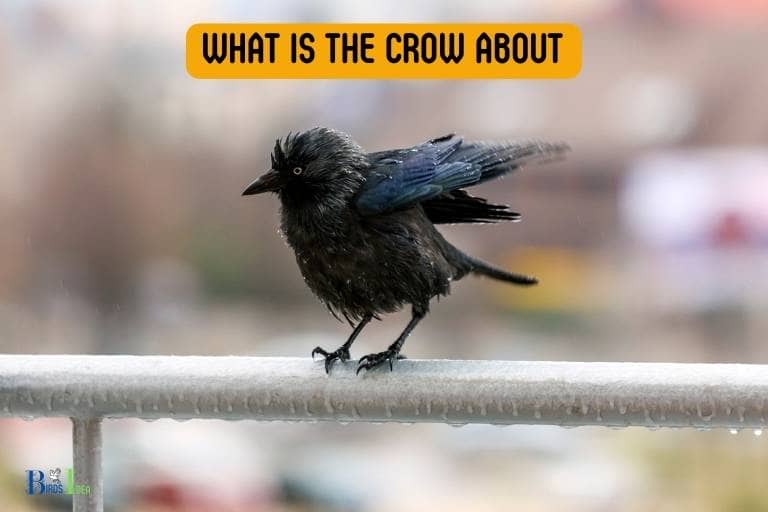 Five Facts About: Meaning of Crows
Crows are known to be opportunistic feeders, meaning they eat a wide variety of food like insects, fruits, seeds, and even garbage. This adaptability allows them to thrive in changing environments. (source: All About Birds)
There are over 40 different species of crows, which can be found in various habitats, including forests, grasslands, and urban areas. (source: National Geographic)
Studies have shown that crows have exceptional memories and can even recognize specific human faces and react differently to individuals they perceive as threatening. (source: Nature)
Crows have been observed using tools to access food in various experiments, showcasing their intelligence and problem-solving abilities. (source: Scientific American)
In many cultures, crows are associated with mythology and symbolism, often representing transformation, adaptability, and wisdom. (source: World Birds)
What Is The Crow About?
Crows are a type of bird that belongs to the corvidae family. These birds are highly intelligent and adaptable, making them one of the most successful bird species on earth.
Crows are often associated with mystery and darkness, leading people to think that they are symbolic of death.
We'll explore the definition of the crow, its characteristics, and its historical and cultural significance in various civilizations.
Definition Of The Crow And Its Characteristics
Crows are medium to large-sized birds with black feathers and a wingspan of up to three feet.
These birds are known for their distinctive "caw-caw" sound, which is how they communicate with each other. Crows are intelligent, social birds that live in large groups called murders.
Here are some key points about the characteristics of crows:
Crows are highly intelligent birds that can use tools and solve problems.
They are omnivores and will eat almost anything, including insects, eggs, small mammals, and carrion.
Crows are known for their ability to recognize individual humans and even hold grudges against those they perceive as a threat.
They have been observed using cars to crack open nuts, dropping hard-shelled prey from heights to break it apart, and even using sticks as tools to extract food from crevices.
Historical And Cultural Significance Of The Crow In Various Civilizations
Crows have been a part of human culture for centuries and have been mentioned in folklore, mythology, and literature throughout history.
Here are some examples of the historical and cultural significance of crows in various civilizations:
In norse mythology, crows were associated with the god odin, who was often depicted with two crows on his shoulders who served as his eyes and ears.
In hindu mythology, crows are associated with ancestors and are believed to bring messages from the spirit world.
In some native american cultures, crows were considered to be wise and prophetic birds that could guide people on spiritual journeys.
In japanese culture, crows are considered to be sacred messengers of the gods and are associated with good fortune.
Crows are fascinating birds with a rich history and cultural significance. They are intelligent, social animals that have adapted well to environments all over the world.
While they may be associated with mystery and darkness, crows have much more to offer than just spooky symbolism.
Whether you appreciate them for their intelligence, their role in mythology, or their sheer adaptability, there's no denying that crows are some of the most interesting birds around.
The Biology Of Crows
Crows are one of the most fascinating birds that exist in the world today. They are often considered mysterious and elusive creatures by many people.
However, the biology of crows can help us understand them better and appreciate their unique behaviors and vocalizations.
Let's explore the physical appearance, behavioral traits, and unique vocalizations and communication patterns of crows in more detail.
Physical Appearance Of Crows
Crows are large, entirely black birds with a wingspan of up to one meter, long legs, and sharp beaks.
Their feathers are shiny and iridescent, reflecting a beautiful blue, green, or purple in the sunlight.
They have exceptionally keen eyesight and can easily recognize human faces.
Behavioral Traits Of Crows
Crows are highly intelligent and adaptable creatures, capable of using tools, solving puzzles, and performing complex tasks.
They are social birds that form tight-knit family groups and even mate for life.
They have a remarkable ability to recognize and remember individual humans who have interacted with them in the past, either positively or negatively.
Unique Vocalizations And Communication Patterns Of Crows
Crows have a varied repertoire of calls, ranging from harsh caws to soft clicks and rattles.
They use different calls for different situations, including alarm calls, territorial calls, and mating calls.
Crows also have a unique form of communication called "anting," in which they use insects to preen their feathers and remove any parasites, which may assist with social bonding.
Crows are incredible creatures with a wide range of physical, behavioral, and verbal abilities that make them one of the most intelligent birds in the world.
By understanding their biology, we can appreciate their unique characteristics and admire their beauty and intelligence.
Adaptability Of Crows
Explanation Of How Crows Have Adapted To Their Environments
Crows are known for their remarkable ability to adapt to different environments.
Here are some key points that shed light on their adaptability:
Crows are found in various regions, ranging from snow-capped mountains to deserts and tropical forests.
They are highly adaptable to living in urban areas and can be found in cities worldwide.
Crows are primarily scavengers, which enables them to survive in almost any environment.
They have a keen sense of sight and can spot potential predators from afar.
Crows have a unique vocalization system that they use to communicate with each other, which helps them adapt to changing environmental conditions.
The Reasons Behind Crows' Avian Intelligence And Apparent Problem-Solving Abilities
Crows have been observed exhibiting intelligence levels previously thought to exist only in primates.
Here are some reasons behind their avian intelligence:
Crows have larger brains in proportion to their body size when compared to other birds.
They exhibit tool-using capabilities, such as using sticks to extract insects from crevices or cracking nuts using rocks.
Crows can recognize individual human faces and respond to them differently depending on the relationship they have with the individuals.
They are highly social and exhibit complex social behavior, such as teaching their offspring survival skills.
Crows are known to use mimicry to communicate with other birds and attract them to a food source.
Crows have evolved to become one of the most adaptable and intelligent bird species on the planet. Their ability to adapt to different environments and exhibit problem-solving capabilities is truly remarkable.
With their distinctive characteristics and behaviors, crows are a fascinating subject for researchers, bird watchers, and nature enthusiasts alike.
Human Interactions With Crows
An Overview Of The Interactions Humans Have With Crows
Crows are fascinating birds, and they have captured human interest and attention for centuries. They are extremely intelligent, social, and adaptable.
Here are a few key points on human interactions with crows:
Crows have been associated with humans throughout history. They are often depicted in mythology, folklore, and literature.
Humans have studied crows' behavior and intelligence for scientific research, leading to remarkable breakthroughs.
Many people feed crows, either intentionally or unintentionally, which has influenced crows' behavior and ecology.
Some people hunt crows for sport, leading to controversies surrounding animal rights.
Mythology And Folklore Related To Crows
Crows have been a part of human mythology and folklore for centuries. They have often been depicted as mysterious, intelligent, and even magical creatures.
Some key points related to crows' cultural significance include:
Many cultures believe that crows can predict the future or communicate with the dead.
In norse mythology, odin was accompanied by two crows, huginn and muninn, who represented thought and memory.
In many native american cultures, crows are seen as tricksters who have both a positive and negative influence on human life.
Crows have been featured in many works of art, literature, and music, serving as symbols of everything from wisdom to death.
The relationship between humans and crows has deep roots in culture, mythology, and science.
As humans continue to interact with these fascinating birds, our understanding of their intelligence and behavior will continue to grow.
Positive Interactions With Crows
Crows are fascinating creatures with unique habits and behaviors. While they have a reputation for being nuisances, their positive interactions with humans and other animals often go unnoticed.
Benefits Of Crows In Nature And Their Impact On Ecosystems
Crows are an important part of the ecosystem and play a vital role in maintaining the balance of nature.
Here are some key points to consider:
Crows are scavengers and consume dead animals, which helps to prevent the spread of diseases.
Crows also prey on insects and other small animals, which can help to control their populations and prevent overgrazing.
Their nests provide shelter for other animals, such as squirrels and owls.
Crows also act as seed dispersers, moving seeds from one location to another in their beaks or digestive tracts, which helps to ensure the survival of plant species.
The Role Of Crows In Agriculture
While crows are often viewed as a nuisance to farmers, they can actually play a beneficial role in agriculture.
Here are some examples:
Crows feed on insects and rodents that can damage crops, which can help to reduce the need for pesticides.
They also eat weed seeds, which can help to keep weed populations under control.
Crows can scare away other birds that can pose a threat to crops, such as starlings.
Crows are fascinating creatures that have a valuable role to play in nature and agriculture. By understanding these benefits, we can learn to appreciate and coexist.
Negative Interactions With Crows
How Crows Can Be Seen As Pests?
Crows are known for their intelligence, adaptability, and social behavior, but they can also be seen as pests due to the following reasons:
Damage to agriculture: Crows can cause significant damage to crops, fruits, and vegetables. They have strong beaks, which can peck at seeds and ripening fruit, causing considerable damage to farmers' harvests.
Disturbance to other wildlife: Crows have a reputation for being territorial and aggressive. They may chase other birds away from their nests and feeding areas, causing a disturbance to other wildlife.
Noise pollution: Crows are known for their loud cawing, which can be a nuisance to people living or working nearby. Crows can be especially noisy in the early morning and late afternoon, which can disturb people's sleep.
Property damage: Crows may roost on or near buildings, causing damage to roofs, gutters, and chimneys. Their droppings can also damage buildings and cars.
Conflicts With Crows In Urban Areas
Crows have adapted well to urban environments, and conflicts with humans and other animals are common.
Some of the conflicts they cause are:
Trash can raids: Crows are notorious for raiding trash cans looking for food. They can easily open lids and cause a mess in public areas, parks, and residential areas.
Aggressive behavior: Crows can be aggressive towards people, pets, and other wildlife. They can swoop down on humans, especially if they feel their nest or young ones are threatened.
Power outages: Crows have been known to cause power outages by disrupting transformers and power lines. Roosting crows can cause electrical shorts, starting fires or destroying electrical equipment.
Health risks: Crows can carry diseases, and their droppings can cause health risks such as respiratory infections in humans. It can also lead to bacterial and fungal growth on buildings and other infrastructure.
While crows may be fascinating animals with unique behaviors, negative interactions with crows are not uncommon.
They can be seen as pests due to their damage to agriculture, disturbance to other wildlife, noise pollution, and property damage.
Conflicts with crows in urban areas can lead to trash can raids, aggressive behavior, power outages, and health risks.
It's essential to manage these conflicts appropriately to maintain a balance between human activities and wildlife conservation.
FAQ On What Is The Crow About
What Is A Crow Known For?
Crows are known for their intelligence, adaptability, communication skills, and fondness for shiny objects.
What Is The Symbolism Behind The Crow?
Crows are often associated with magic, mystery, transformation, and death in different cultures and mythologies.
How Do Crows Communicate With Each Other?
Crows communicate with a wide range of sounds and body language to convey information about food, danger, and social relationships.
What Is The Role Of Crows In The Ecosystem?
Crows play a crucial role in maintaining the ecological balance by scavenging carrion, controlling pest populations, and dispersing seeds.
How Can I Attract Crows To My Garden?
You can attract crows to your garden by offering them food (such as peanuts, suet, and corn), providing water sources, and creating nesting sites.
Conclusion
After taking a deep dive and analyzing the different aspects and perspectives of the meaning behind the phrase, "what is the crow about? "
We can come to the conclusion that what really makes the crow stand out is its symbolism and significance in different cultures and contexts.
It is a bird that has been admired, feared, respected, and even worshiped by different cultures throughout history.
From being associated with death and the afterlife, to being a messenger of the gods in different mythologies, the crow has managed to capture the human imagination and curiosity.
In modern times, the crow has also become a symbol of intelligence and adaptability, and its mysterious and intriguing personality has been explored in pop culture as well.
All in all, the crow is definitely not just another bird, it is a creature that has proven to be much more than meets the eye.