What is the Superstition About Crows? Omens Of Death!
The superstition about crows revolves around the belief that they are omens of death, change, or messages from the spirit world.
Crows have been a subject of superstition for centuries, across various cultures and religions. These black-feathered birds are often linked to death, transformation, or spiritual connections.
People believe that encountering crows or observing their behavior may provide insight into one's life or the future. Different cultures have their own interpretations of crow-related folklore and superstitions.
Crows are often seen as a symbol of death or bad luck due to their black feathers and connection to carrion.
In Celtic mythology, crows are associated with the goddess Morrigan, who symbolizes war, fate, and death.
Native American cultures view crows as messengers from the spirit world and harbingers of change.
Crows are also believed to possess strong intelligence and problem-solving skills, leading to admiration and respect in some cultures.
Throughout history, crows have carried a strong presence in folklore, mythology, and superstition.
While they may signify ominous happenings in some cultures, they also represent transformation, wisdom, and spiritual connections in others.
As with any superstition, it is essential to remember that individual experiences and beliefs will influence one's interpretation of the symbolism and meaning behind these fascinating birds.
7 Popular Superstitions About Crows
| | | |
| --- | --- | --- |
| Superstition | Origin | Belief |
| Counting Crows | United Kingdom | Different numbers of crows seen together predict different outcomes, such as one for sorrow, two for joy, etc. |
| Crows and Death | Worldwide | Crows are often associated with death, partly due to their black color and their presence in graveyards, feeding on carrion. |
| Crows and Bad Luck | Various Cultures | Seeing a single crow is considered bad luck; however, seeing a group of crows may reverse the bad luck. |
| Crows in Dreams | Various Cultures | Dreaming of crows may represent a negative omen, foretelling misfortune or death. |
| Three Crows | Ireland and Scotland | Seeing three crows together is said to represent health, wealth, and happiness. |
| Crows and Witches | European Folklore | Crows have been associated with witches, who were believed to shape-shift into these birds. |
| Crows and Lost Souls | Native American | Some Native American tribes believe that crows carry the souls of the deceased to the afterlife. |
7 Popular Superstitions About Crows
Key Takeaway
Crows are often associated with superstitions and omens in various cultures.
The number of crows seen is thought to hold different meanings and predictions.
Crows are believed to be messengers from the spirit world, offering guidance or warnings.
In some cultures, crows are seen as symbols of wisdom and intelligence.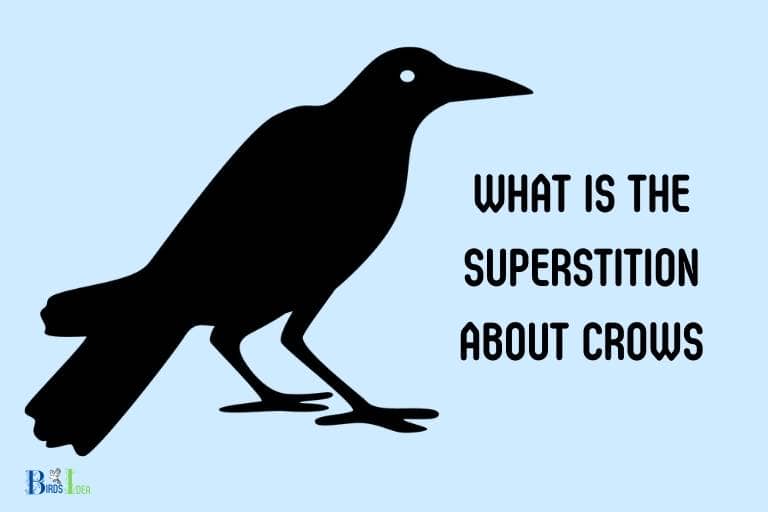 Five Facts About: Superstitions About Crows
In many Western cultures, a single crow is considered an omen of bad luck, as it's often said that "one crow means sorrow" (source: Live Science).
The ancient Celts believed that crows were the embodiment of the goddess of war and death, Morrigan, who would often take the shape of a crow to deliver messages (source: Learn Religions).
In Native American folklore, crow is seen as a trickster and a symbol of transformation, helping people adapt and change during difficult times (source: Spirit Animal Totems).
In Japanese culture, a crow is seen as a symbol of love and devotion, as they mate for life and look after their families, but they can also be a symbol of bad luck or misfortune (source: Folk Lived).
In some Hindu beliefs, crows are considered sacred and are associated with ancestors. Food offerings are made to crows during ceremonies called "Shradh" as a way of reaching out to the departed souls (source: Speaking Tree).
The Historical Significance Of Crows In Mythology And Religion
Crows have traditionally been significant in many mythologies and religious texts. Their symbolism has influenced our beliefs and views about crows and their connection to death, omens, and dark forces.
Here are some examples from different cultures and religions:
Hinduism: In hindu mythology, crows are believed to be ancestors who return to visit their descendants or to guide people to safety. They are also associated with the god shani, who is believed to protect them.
Norse mythology: In norse mythology, two crows named huginn and muninn ("thought" and "memory" in old norse) are said to sit on the shoulders of the god odin and bring him news from the mortal world.
Christianity: In christian tradition, crows are often associated with negative symbols such as cruelty, violence, and betrayal. This is due to the story of how saint benedict was saved by a crow from being poisoned by monks who opposed him.
These narratives have influenced modern beliefs about crows and their significance in our lives.
Here are some examples:
Death: Crows are often associated with death due to their scavenging nature and their appearance in funeral scenes in literature and art. This has led some cultures to view them as bad omens or harbingers of doom.
Omens: Crows are also associated with observing and predicting events in some cultures. For example, a crow cawing three times is believed to signify a pending storm or incoming visitors.
Dark forces: Crows are sometimes depicted as being connected to witches and other manipulative or malicious characters in literature and film. This has reinforced a negative perception of them in some societies.
The historical significance of crows in mythology and religion has shaped our modern beliefs and views about them.
They are often associated with death, omens, and dark forces, although their symbolism and interpretations vary across different cultures and contexts.
Understanding The Link Between Crows And Magic
The association between crows and magic has been prevalent in different cultures for centuries.
It is fascinating to learn how these superstitions have formulated our beliefs. Let's delve deeper into this intriguing relationship.
Explanation Of How Crows Have Been Associated With Witches And Magic Across Different Cultures Over The Centuries.
Crows have been associated with witches and magic since ancient times.
Across the globe, people believe that:
In greece and rome, these birds were considered messengers of the gods and goddesses.
In norse mythology, two crows named huginn and muninn were believed to be the messengers of odin.
In hinduism, crows are believed to be the souls of the ancestors.
In native american culture, crows were thought to be the messengers of the spirit world.
Highlighting How These Superstitions Have Been Formulated And How They Have Influenced Modern Beliefs.
Beliefs about crows and magic are deeply rooted in ancient cultures and have influenced modern-day beliefs.
The superstitions around crows and witches played a significant role in the infamous salem witch trials.
Even today, people believe that:
Seeing a crow is a bad omen.
Hearing a crow cawing signals bad news.
If a crow lands on your roof, it means death is near.
Examples Of The Different Interpretations Of Crow Folklore In Different Regions Of The World.
Crows feature prominently in folklore across the world, and their symbolism varies depending on the region.
Here are some examples:
In japanese mythology, crows are believed to bring good luck.
In celtic cultures, crows were symbolized as the goddess morrigan, associated with prophecy and fate.
In egyptian mythology, a crow was said to have laid an egg that hatched the sun god ra.
In chinese culture, crows are regarded as protectors of the dead.
The superstitions around crows and magic have existed for centuries and have influenced beliefs across cultures.
Despite varying interpretations, crows have always been associated with mysticism and magic.
The Positive Superstitions About Crows
Crows have amassed a range of superstitions in different cultures across the world. In some of these beliefs, they are seen as harbingers of bad luck, messengers of death, or agents of witchcraft.
However, crows can also be associated with positive meanings, especially in mythology and modern beliefs.
Let's explore some of these myths and legends in this section, focusing on the positive superstitions related to crows.
Brief Explanation Of How Crows Can Also Take On A Positive Role In Mythology And Modern Beliefs
Although crows have been depicted as ominous creatures in many stories, they are also revered in some cultures.
For instance, in norse mythology, odin, the god of wisdom and warfare, had two crows as his trusted companions.
Similarly, in hindu mythology, the divine sage durvasa had a crow as his vehicle, which symbolized the bird's intelligence and spiritual nature.
Moreover, in modern times, crows have been recognized as fascinating and intelligent creatures.
Researchers have found that these birds have an exceptional problem-solving ability, tool-making skills, and an impressive memory.
Crows can even recognize individual human faces and have been known to form lifelong partnerships with their mates.
Highlighting The More Positive Superstitions That Are Associated With Crows
Crows have been viewed positively in several superstitions, as well.
Here are some examples:
Crows are believed to bring good luck: According to some traditions, finding a crow's feather is a sign of good fortune.
Crows are seen as messengers of hope: In native american folklore, crows are thought to bring messages of rebirth, renewal, and transformation.
Crows are considered symbols of loyalty: As social animals, crows form strong bonds with their family and mates. Thus, some cultures associate these birds with loyalty, commitment, and friendship.
Crows are thought to provide protection: In some cultures, crows are believed to ward off evil spirits, protect crops, and guard households.
Overall, while some might see crows as ominous or negative creatures, it is worth noting that they are also revered and respected in many traditions.
By focusing on their intelligence, problem-solving skills, and loyalty, we can appreciate these birds for their positive traits and the many ways they contribute to their ecosystems.
The Role Of Crows In Modern Society
Explanation Of How Modern Society Treats Crows Differently From The Past
Crows have always been a part of human culture, but their role in modern society has drastically changed. The way modern society treats crows is polar opposite to what it was before.
Here are some points that explain how modern society's treatment of crows differs from the past:
In the past, crows were considered pests that needed to be exterminated, but now they are valued for their intelligence and role in nature.
Crows used to be hunted and killed for fun, but now people appreciate them and even feed them.
Modern society has recognized that crows play a crucial role in maintaining ecosystems by helping to clean up and dispose of dead animals, which prevents the spread of disease.
Highlighting Real-World Examples Of How Modern Society Interacts With And Values Crows
Crows are a common sight in modern society, and people have started to appreciate their significance.
Here are some real-world examples of how modern society interacts with and values crows:
Many cities have started feeding programs for crows to ensure they have access to food all year round.
Some people have even installed birdbaths and feeders in their yards to attract crows.
In japan, crows are considered to be messengers of the gods and are treated with great respect and honor.
Discussion Of The Implication Of These Changing Views For The Continuation Of Crow Superstitions
With modern society's changing views towards crows, the continuation of crow superstitions has become a debatable topic.
Some believe that crows being seen as good omens or bad omens is purely superstition, while others believe that these superstitions hold some truth.
Here are some implications of these changing views for the continuation of crow superstitions:
As people start to value crows for their intelligence and role in nature, the superstitions around them could start to fade away.
However, some people might hold onto these superstitions because of a lack of knowledge or cultural tradition.
The fact that people are becoming more aware of crows' importance in nature might lead to a more balanced relationship between humans and crows and, in turn, to less superstition.
The way modern society treats crows has changed drastically, shifting from considering them as pests to valuing them for their intelligence and role in nature.
The changing views have resulted in real-world examples of how people interact with crows and the implications for the continuation of crow superstitions.
FAQ For What Is The Superstition About Crows
What Does It Mean If You See A Crow?
Seeing a single crow usually represents good luck or a change in life.
Why Are Crows Associated With Death?
It's believed that crows can predict death because they scavenge for deceased animals.
Are Crows A Symbol Of Bad Luck?
Not necessarily. In some cultures, crows are seen as a symbol of luck and protection.
What Does It Mean If A Crow Follows You?
It's said that if a crow follows you, it could be a sign of protection and guidance.
What Is The Significance Of A Murder Of Crows?
A group of crows is called a murder and it's often associated with mystery and darkness.
Conclusion
Superstitions about crows have existed for centuries, and their reputation has been associated with both good and bad luck.
Despite the negative connotations, crows are intelligent creatures that are essential to maintaining a healthy ecosystem.
They are highly social and have complex communication skills, making them fascinating birds to observe.
As we have seen, many cultures have their unique beliefs and myths about crows, but the truth is that they are just another living being that deserves respect and admiration.
So, the next time you encounter a crow, do not be afraid but take a moment to appreciate its beauty and significance.
Let us remember that nature has many mysteries and that we are privileged to be able to witness them.