When to Feed Hummingbirds in Alabama: Mar-Oct
The best time to feed hummingbirds in Alabama is from early March to late October, when these migratory birds are active in the region.
Hummingbirds are migratory creatures, and they travel to Alabama during the warmer months in search of food and nesting locations.
Feeding these tiny birds during their active season helps support their nutritional needs as they expend a significant amount of energy flying, hovering, and searching for nectar-rich flowers.
Start feeding hummingbirds in Alabama around early March.
Continue feeding them until late October when they begin to migrate south.
During peak seasons, ensure feeders are regularly cleaned and filled with fresh nectar.
Supplement natural food sources by planting native, nectar-producing plants in your garden.
Feeding hummingbirds during their active months in Alabama not only provides an essential food source but also creates an opportunity for bird enthusiasts to observe these fascinating creatures up close.
To make the most out of the experience, maintain clean and well-stocked feeders, and consider planting native flowers that provide additional natural sources of nectar.
By doing so, you can create a welcoming environment for hummingbirds in your backyard, and contribute to the conservation of these amazing little birds.
12 Month Schedule for Feeding Hummingbirds in Alabama
| | |
| --- | --- |
| Month | Feeding Recommendation |
| January | Unlikely needed |
| February | Unlikely needed |
| March | Start feeding |
| April | Continue feeding |
| May | Continue feeding |
| June | Continue feeding |
| July | Continue feeding |
| August | Continue feeding |
| September | Continue feeding |
| October | Stop feeding |
| November | Unlikely needed |
| December | Unlikely needed |
12 Month Schedule for Feeding Hummingbirds in Alabama
Key Takeaway
Timing of feeding hummingbirds in Alabama is essential to provide them with adequate food sources.
Using the proper nectar mixture ensures that hummingbirds receive the necessary nutrients for survival.
Providing clean feeders and maintaining good hygiene practices help protect hummingbirds from diseases.
Planting native flowering species around your backyard can encourage more hummingbirds to visit and feed.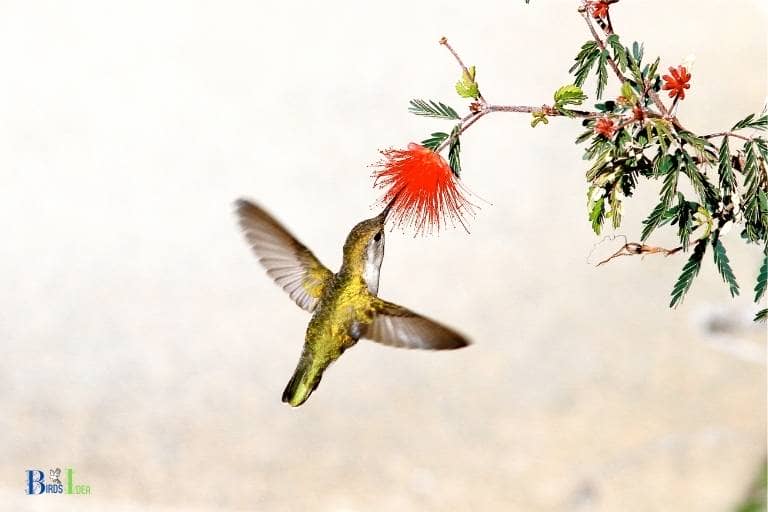 Five Facts About: Feeding Hummingbirds in Alabama
In Alabama, the best time to start feeding hummingbirds is in mid-March as they begin to migrate northward from Central America. You can continue feeding them until early November when they start their southward migration. (Source: Alabama Wildlife & Freshwater Fisheries)
A recommended nectar mixture to provide for hummingbirds is a 1:4 ratio of one part granulated sugar to four parts boiling water. This mixture closely resembles the sugar concentration found in natural floral nectar. (Source: The Spruce)
Cleaning and refilling hummingbird feeders every three to five days can help prevent the growth of harmful bacteria and mold. This practice ensures that the nectar remains fresh and safe for the birds to consume. (Source: The Spruce)
Rotating the placement of multiple feeders around your yard can help reduce competition among hummingbirds, ensure equal access to food, and attract more hummingbirds to your area. (Source: BirdWatching HQ)
Planting regional native plants such as trumpet honeysuckle and native azaleas can provide a more natural feeding source for hummingbirds and encourage them to visit your yard.
The Best Time Of Year To Feed Hummingbirds In Alabama
Understanding The Migration Patterns Of Hummingbirds In Alabama
Hummingbirds are migratory birds that follow specific routes to reach their destinations. The migration patterns vary based on the species of the hummingbird and their breeding ground.
Understanding the migration patterns of hummingbirds in alabama is crucial to know when to feed them.
In alabama, the ruby-throated hummingbird is the most common species. These birds spend their summers in the northern parts of the country and migrate south during the winter season.
They generally begin to migrate towards the south around mid-august.
These birds fly across the gulf of mexico and reach central america, where they spend their winters before returning to alabama in spring.
Choosing The Right Time To Start Feeding Hummingbirds In Alabama
The right time to start feeding hummingbirds in alabama is crucial for their health and survival. The birds need to consume a lot of nectar to prepare for the long migration journey.
The ideal time to start feeding hummingbirds in alabama is around mid-march, as this is when the birds start to arrive back in the state.
However, avoid putting out feeders during the early spring season, as it may attract the birds too early, before the blooming of flowers.
Stop feeding hummingbirds in mid-october when the birds start to migrate towards the south.
Factors That Can Affect The Feeding Patterns Of Hummingbirds In Alabama
Several factors can affect the feeding patterns of hummingbirds in alabama. These factors include climate, weather conditions, human activity, and the availability of natural food sources.
Climate change can affect the timing of migration and the blooming of flowers that provide nectar.
Extreme weather conditions such as drought and heavy rainfall can cause a shortage of nectar sources, forcing hummingbirds to search for alternative food.
Human activity such as habitat destruction, pesticide use, and light pollution can also affect the feeding patterns of hummingbirds.
The availability of natural food sources such as flowers, insects, and spiders can also influence the feeding patterns of hummingbirds.
Overall, maintaining a consistent and reliable food source for hummingbirds in alabama is vital for their health and survival. It is essential to choose the right time and be mindful of various factors that can affect their feeding patterns.
The Right Feeding Schedule For Hummingbirds In Alabama
When it comes to attracting hummingbirds, feeding them nectar is an excellent way to invite these enchanting creatures into your garden. But, what is the right feeding schedule for hummingbirds in alabama?
In this blog post, we will discuss the frequency, quantity and tips that you need to know when feeding these beautiful birds.
How Often Should You Refill Your Hummingbird Feeder?
When it comes to refilling your hummingbird feeder, the most crucial factor to keep in mind is consistency. Maintaining a regular feeding schedule is key and ensures that hummers know when to visit and feed.
As for how often you should refill your feeder, this can depend on several factors, including:
Weather conditions: On warmer summer days, you may need to refill your feeder more often as the nectar evaporates more quickly in the heat.
Hummingbird activity: If you have a lot of hummingbirds visiting your garden, you may need to refill your feeder more often to ensure there is always plenty of fresh nectar available.
Size of the feeder: The size of your hummingbird feeder will determine how often you need to refill it. A larger feeder can hold more nectar, meaning you won't need to refill it as frequently.
As a general rule, aim to refill your hummingbird feeder every 2-3 days, but be prepared to do so more often if necessary.
How Much Nectar Should You Serve And When?
When preparing nectar for your hummingbirds, it is essential to get the ratio right. The ideal ratio for hummingbird nectar is four parts water to one part sugar. Do not use any other substitute for sugar as they can do harm to the hummingbirds.
Here's how to make the best hummingbird food:
Boil the water first to remove any impurities present in the water.
In a clean jar mix one cup of sugar with four cups of boiling water.
Stir until all sugar dissolves.
Let it cool off and serve.
As for when you should serve the nectar, the best time is typically in the early morning, before hummingbirds start their active day. You can also refill the feeder just before the sun sets so they will have something to eat early in the morning.
Tips For Maintaining A Consistent Feeding Schedule
To maintain a consistent feeding schedule when feeding hummingbirds in alabama, consider the following tips:
Place your feeder in an easily accessible location.
Keep track of when you last filled your feeder by marking it on your calendar.
Keep an eye on the nectar level in your feeder and refill it regularly.
Clean your feeder regularly to prevent the growth of mold and bacteria. Once every few days wash your feeder thoroughly with a mixture of vinegar and hot water.
By following these simple tips, you can attract and feed hummingbirds regularly and never miss a chance to appreciate their beauty.
The Right Location For Your Hummingbird Feeder
Selecting A Location That'S Both Safe And Attractive To Hummingbirds
Hummingbirds are known for their agility and can fly at incredibly high speeds. However, they are also relatively small birds that can be vulnerable to predators.
Here are some things to keep in mind when selecting a location for your hummingbird feeder:
Choose a spot that's easily visible to hummingbirds but out of reach of predators, such as cats.
Place your feeder near flowering plants or bushes, which will naturally attract hummingbirds.
Make sure the feeder is sheltered from the wind and rain, so the food stays dry and fresh.
Avoid placing your feeder near windows, as hummingbirds can fly into them accidentally.
Tips For Ensuring Your Feeder Is Out Of The Reach Of Predators
Predators can be a significant threat to hummingbirds, especially domesticated cats and birds of prey.
Here are some tips to keep your feeder safe from predators:
Hang your feeder from a high, sturdy branch or a hook that's out of reach of cats.
Use a baffle or a cage around your feeder to deter squirrels and other animals from accessing it.
Place your feeder near plants or bushes that provide protective cover for hummingbirds to perch and hide.
Consider using a moat or ant guard to prevent ants from crawling up the feeder and scaring away hummingbirds.
Ideas For Creating A Hummingbird-Friendly Environment Near Your Feeder
Hummingbirds need a specific environment to thrive, and by creating the right conditions near your feeder, you can attract more of them.
Here are some ideas to consider:
Plant flowers that flower at different times of the year to provide a continuous source of nectar for hummingbirds.
Place perches near the feeder so the hummingbirds can rest while feeding and socialize.
Create a water feature such as a small fountain or bird bath to provide drinking water for hummingbirds.
Use natural landscaping techniques to create a diverse and attractive environment that will attract a wide range of birds and insects.
By selecting the right location, keeping your feeder out of reach of predators, and creating an attractive environment, you can ensure that your hummingbird feeder is a welcoming and safe spot for these tiny birds to feed and thrive.
Nectar Recipe And Tips For Hummingbirds In Alabama
When it comes to feeding hummingbirds in alabama, timing is everything. But, that's not all. Preparing the right nectar recipe and avoiding common mistakes can ensure our tiny feathered friends stay healthy and return to our gardens year after year.
Here are some tips to help you attract and care for your local hummingbirds:
Preparing The Perfect Nectar For Hummingbirds In Alabama
Hummingbirds are energy-intensive machines and require constant refueling to sustain their high metabolism. That's why preparing the perfect nectar recipe is essential to attract them to your garden.
Here are some tips:
Mix 1 part white granulated sugar with 4 parts boiling water until the sugar is dissolved.
Let the nectar cool before pouring it into the feeder.
Never use honey, brown sugar or artificial sweeteners as they can harm the birds.
Avoid buying pre-mixed nectars as they often contain dyes and preservatives that can harm hummingbirds.
Substitutes For Traditional Nectar And Their Benefits
Hummingbirds are adapted to sipping nectar from flowers, but some people like to offer alternatives.
Here are some substitutes and their benefits:
Fruit juice: Diluted fruit juices can offer a variety of flavors and nutrients. Just make sure to dilute them with water at a 1:3 ratio.
Homemade nectar recipes: Some people add essential oils, vitamins, or probiotics to their nectar. While there's no research that proves these additives improve hummingbird health, they won't cause any harm either, as long as they're not harmful to the birds.
Flower nectar: If you have wildflowers or native plants, you can attract hummingbirds naturally. Also, make sure to remove any pesticides from your lawn or your surroundings.
Common Mistakes To Avoid When Making Nectar
While homemade nectar is easy to make, some common mistakes could harm hummingbirds.
Here are some to avoid:
Using tap water or unfiltered well water can contain minerals and chemicals that are harmful to hummingbirds.
Leaving the nectar in the feeder for too long, as it can ferment or develop harmful fungus that could harm your tiny friends.
Red dye: It's not necessary to add red coloring to your nectar as the red color of the feeder will attract them just as well. Some studies even suggest that red dye- especially food coloring- can cause tumors in hummingbirds.
Placing the feeder in the wrong spot can make it challenging for hummingbirds to find, or expose it to cats or predators. Make sure to hang it at least four feet from the ground, and keep it in the shade if possible.
With the right nectar, you can attract hummingbirds to your garden in alabama and watch them thrive. Consider the tips above for preparing the perfect nectar recipe, exploring substitutes, and knowing common mistakes to avoid.
With the right care and attention, you can create a paradise for these beautiful creatures.
FAQ For When To Feed Hummingbirds In Alabama
When Is The Best Time To Feed Hummingbirds In Alabama?
The best time to feed hummingbirds in alabama is from march to september, during their breeding season.
How Can I Attract Hummingbirds To My Yard In Alabama?
You can attract hummingbirds to your yard in alabama by planting bright flowers and hanging nectar feeders.
What Is The Difference Between Homemade Nectar And Store-Bought Nectar?
The main difference between homemade and store-bought nectar is that homemade nectar is cheaper and has no additives.
What Should I Do If A Hummingbird Is Not Visiting My Feeder?
If a hummingbird is not visiting your feeder, try moving it to a different location or changing the nectar recipe.
Conclusion
Hummingbirds are fascinating creatures that bring joy to any backyard garden. Feeding them in alabama can be a rewarding experience, as long as you follow the right timing and practices. From late spring to early autumn, you can attract hummingbirds by offering them a sweet nectar blend.
Remember not to use additives, dyes, or honey in the mix, and to keep the feeders clean and free from mold and bacteria. Additionally, ensure that you place the feeders in shaded areas and at a proper height.
Overall, feeding hummingbirds can be a fun and educational activity that allows you to connect with nature and observe these magical birds up close.
So, next time you spot a hummingbird flying around, don't hesitate to offer them a sweet treat and enjoy the beauty of nature in your backyard.