Why Do Hummingbirds Prefer One Feeder Over Another: Factors
Hummingbirds prefer one feeder over another based on factors like color, location, cleanliness, and nectar quality.
Hummingbirds are attracted to feeders for various reasons, and their choices are influenced by the design and maintenance of the feeder, as well as its accessibility.
As these birds have unique preferences and habits, it is helpful to understand the factors that draw them to a particular feeder over others.
Color: Hummingbirds are primarily attracted to bright colors, especially red and orange. Feeders with these colors are more likely to catch their attention.
Location: Feeders placed in an open, easily visible area will attract more hummingbirds. They prefer spots near flowers or trees that provide a natural source of nectar and protection from predators.
Cleanliness: Keeping the feeder clean and free of mold or bacteria is crucial. Dirty feeders can make hummingbirds sick and deter them from returning.
Nectar Quality: Using a nectar solution with the proper sugar-to-water ratio (4:1) mimics the natural nectar found in flowers, which the birds prefer.
In summary, hummingbirds' preferences for one feeder over another are influenced by a combination of factors.
To attract these tiny creatures, it is essential to choose a brightly colored feeder, place it in a visible and safe location, maintain cleanliness, and provide a high-quality nectar solution.
By catering to their preferences and needs, you can enjoy the sight of these beautiful birds visiting your garden more frequently.
8 Reasons: Hummingbirds Prefer One Feeder Over Another
| | |
| --- | --- |
| Reasons | Explanation |
| Color | Hummingbirds are attracted to bright colors, especially red. Feeders with vibrant colors can be more appealing. |
| Shape | Some hummingbirds prefer feeders that mimic the shape of flowers they naturally feed upon. |
| Feeder Size | A larger feeder allows for more feeding ports, making it more convenient for multiple birds to feed. |
| Food Quality | Higher quality nectar can make a feeder more attractive to hummingbirds. |
| Cleanliness | Clean feeders are more appealing to hummingbirds, as they instinctively avoid spoiled or contaminated food. |
| Accessibility | Feeders that are easily accessible and in clear view are more likely to be chosen by hummingbirds. |
| Competition | Some hummingbirds may choose a less crowded feeder to avoid competition for resources. |
| Safety | Feeders located in safe areas, away from predators and elements, tend to be more attractive to hummingbirds. |
8 Reasons: Hummingbirds Prefer One Feeder Over Another
Key Takeaway
Color preference impacting hummingbird's feeder choice.
Importance of cleanliness and freshness of feeders.
Influence of nectar concentration on feeder preference.
Significance of feeder types and positions in attracting hummingbirds.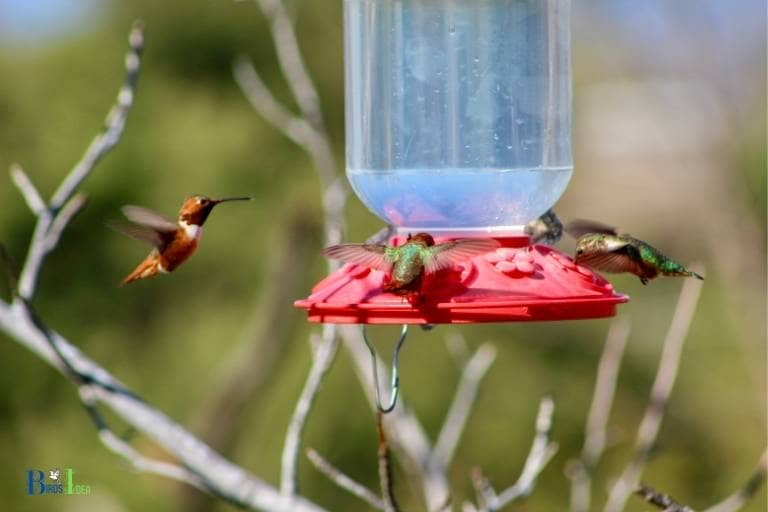 Five Facts About: Explaining Why Hummingbirds Prefer One Feeder Over Another
Hummingbirds are generally more attracted to brightly colored feeders, especially those in shades of red or orange, as these colors signal the presence of nectar in nature. (Source: Field Museum)
The cleanliness and freshness of a feeder play a significant role in their preference. Hummingbirds are more likely to choose clean and well-maintained feeders that have fresh nectar, preventing mold and fermentation. (Source: National Wildlife Federation)
Another factor is the concentration of sugar in the nectar, since hummingbirds require high-energy food sources. A higher sugar concentration may attract them to one feeder over another. (Source: All About Birds)
Different types of feeders, such as bowl feeders, tube feeders, or saucer feeders, may be preferred by hummingbirds due to their comfort and accessibility. Hummingbirds may choose feeders with perches or where they can hover and feed easily. (Source: Audubon)
The position of the feeder plays a vital role in attracting hummingbirds. They may prefer feeders placed near their natural perching and nesting areas and away from high-traffic areas to avoid disturbance. (Source: [The Hummingbird Society]
Why Hummingbirds Are Attracted To Feeders
Unique Characteristics That Make Hummingbirds Attracted To Feeders
Hummingbirds are unique birds with special characteristics that make them attracted to feeders.
Here are some of these characteristics:
Hummingbirds have a high metabolism rate, which requires them to consume food frequently.
They have a sharp vision that allows them to detect color contrasts, which makes brightly colored feeders more appealing to them.
Their long beaks and tongues help them get nectar from deep flowers, and this makes them well adapted to feeding from hummingbird feeders.
Hummingbirds are also very territorial birds, and they will defend their feeding spots from other birds and insects.
The sounds made by hummingbird feeders' dripping water or suction cups can attract hummingbirds from a distance.
Introduction To Hummingbirds' Diets
Hummingbirds are nectarivorous birds that feed primarily on nectar from flowers. Nectar is a sweet and sugary substance produced by flowers to attract pollinators such as hummingbirds.
Hummingbirds also feed on insects, spiders, and tree sap.
Hummingbirds need to consume a lot of nectar to fuel their high metabolism. They can drink up to 50% of their weight in nectar every day.
Nectar is the main source of energy for hummingbirds, and it gives them the sugar they need to fuel their flight and keep their body warm.
The Benefits Of Having A Hummingbird Feeder In Your Garden
Having a hummingbird feeder in your garden can have several benefits, including:
Attracting hummingbirds to your garden, which can help in pollinating your plants.
Providing hummingbirds with a reliable food source, especially during dry seasons when nectar from flowers may be scarce.
Creating a beautiful and enchanting spectacle of hummingbirds feeding in your garden.
Helping you observe and learn more about hummingbirds' behaviors and characteristics.
Reducing the risk of hummingbirds getting trapped in sticky substances or being attacked by predators when looking for nectar.
Hummingbirds are attracted to feeders because of their unique characteristics and high metabolism rate. Having a hummingbird feeder in your garden can be a great addition to create a beautiful and unique spectacle of these wonderful birds in your yard.
The Role Of Color In Hummingbird Feeders
Why Colors Matter In Hummingbird Feeders
Hummingbirds are known for their affinity towards colorful flowers, making it no wonder that colors play a crucial role in attracting them to feeders as well. The right choice of a color for your hummingbird feeder can significantly influence their behavior.
In this section, we will discuss the impact of different colors on hummingbird behavior and help you choose the right color for your feeder.
The Impact Of Different Colors On Hummingbird Behavior
Various colors have different impacts on hummingbirds' behavior, and choosing the right color can be the difference between attracting them or not.
Here are some colors and their impact on hummingbirds:
Red: Hummingbirds are naturally drawn to red and associate it with food. Using red on your hummingbird feeder will attract them more effectively than other colors.
Orange: Similar to red, orange also attracts hummingbirds to feeders. Using a combination of red and orange can be even more effective in attracting hummingbirds.
Yellow: Although hummingbirds are attracted to yellow, it is not their preferred color as it is similar to greenery, making it difficult for them to identify food sources. If you still want to use yellow, consider mixing it with red to attract them.
Pink and purple: These colors are not as effective in attracting hummingbirds as the above colors. However, if you have trouble with bees, wasps, or other insects, consider using pink or purple as they are less attracted to these colors.
Choosing The Right Colors For Your Hummingbird Feeders
When choosing a color for your hummingbird feeder, it is crucial to consider the type of birds in your area and the color of nearby flowers.
Here are some tips to help you choose the right color:
Use red or orange feeders to attract hummingbirds effectively
Mix colors like red and orange to attract even more birds
If you have trouble with insects, consider using pink or purple feeders instead
Make sure the feeder color contrasts with the background so that birds can easily locate it.
Choosing the right color for your hummingbird feeder can significantly impact their behavior and attraction to your feeder. By using the above tips, you can ensure that your feeder is the preferred source of food for hummingbirds in your area.
Factors That Influence Hummingbird Feeder Selection
Why Do Hummingbirds Prefer One Feeder Over Another
As a bird enthusiast, you have set up a hummingbird feeder to entice the little creatures to your garden or patio. However, as you observe hummingbirds, you notice that some prefer certain feeders over others.
If you are wondering why certain types of hummingbird feeders appeal more to the birds, then you have come to the right place.
We'll discuss the factors that influence hummingbird feeder selection, including how location affects hummingbird feeder preference, the impact of feeder style on hummingbird feeding patterns, and why material choices matter in hummingbird feeder selection.
Nectar And Hummingbird Feeder Preferences
Hummingbirds are known for their unique feeding preference. They love sweet nectar and are attracted to bright colors. But have you ever wondered why some hummingbirds seem to prefer one feeder over another? Here are some key factors to consider.
How To Make The Best Nectar For Hummingbirds
Making the right nectar for hummingbirds is essential to attracting them to your feeder.
Follow these simple steps to make the perfect nectar:
Mix 1 part sugar with 4 parts water.
Boil the mixture for two minutes to kill any bacteria.
Let it cool before pouring it into the feeder.
Note: do not add food coloring or honey as they can be harmful to hummingbirds.
The Impact Of Nectar Temperature On Hummingbird Behavior
The temperature of nectar can affect hummingbird behavior.
Here's what you need to know:
Hummingbirds prefer nectar that is at room temperature or slightly warmer.
Cold nectar can cause a hummingbird's body temperature to drop, slowing down their metabolism and making it harder for them to fly.
On the other hand, hot nectar can burn a hummingbird's tongue, causing them to avoid the feeder.
Other Factors Influencing Nectar And Hummingbird Feeder Preference
Apart from nectar quality and temperature, there are several other factors that can influence hummingbird feeder preference.
Feeder shape: Hummingbirds prefer feeders that mimic the shape of flowers. They also like feeders that are easy to perch on.
Feeder location: Hummingbirds prefer to feed in areas that offer some shelter and protection from predators.
Feeder cleanliness: Dirty feeders can deter hummingbirds. Make sure to clean your feeder regularly.
Feeder accessibility: Hummingbirds prefer feeders that are easy to access. Place them in areas where there are no obstructions.
By taking these factors into account, you can create an ideal environment for hummingbirds to feed and thrive. Happy bird watching!
Hummingbird Feeder Maintenance
Why Cleanliness And Upkeep Are Essential For Hummingbird Feeders
Hummingbirds are known for their love of sugary and sweet nectar. If you're observing these birds in your garden, you'll want to ensure that your feeder is always clean.
Over time, a dirty feeder can cause a lot of harm to your ecosystem.
Here's why it's crucial to keep your hummingbird feeder clean and maintained:
Dirty feeders can grow mold, mildew, and bacteria, which can harm the birds and ruin the nectar.
Hummingbirds are attracted to brightly colored feeders, and when not cleaned, the colors fade and repel them.
Sugary nectar left in the feeder for too long can ferment and cause a sour smell, which is unpleasant for the birds.
The Best Cleaning Techniques For Hummingbird Feeders
Cleaning your hummingbird feeder regularly is a must.
Here's what you should do to ensure that your feeder is clean and safe for the birds:
Disassemble the feeder and rinse away any leftover nectar.
Wash the feeder's components with soap and hot water.
Scrub the inside with a soft-bristled brush to remove any mold or bacteria
Rinse thoroughly with water and allow the parts to air dry before assembling.
These cleaning steps should be done every time you change the nectar.
Common Issues With Hummingbird Feeders And How To Troubleshoot Them
As with any equipment, hummingbird feeders can encounter problems.
Here are some of the most common issues with feeders and how to resolve them:
Leaking feeder: Check for cracks or loose components, replace damaged parts if necessary.
Bees and wasps are attracted to the sugar water: Place a barrier around the feeder to discourage them.
Ants are crawling in the feeder: Use an ant moat or a sticky substance such as petroleum jelly to trap the ants.
By following these cleaning and maintenance tips and troubleshooting recommendations, you'll ensure that your hummingbird feeder is always clean, functional, and a haven for these beautiful birds.
FAQ Of Why Do Hummingbirds Prefer One Feeder Over Another
Why Do Hummingbirds Prefer Certain Feeders?
Hummingbirds prefer feeders with bright colors, smooth surfaces, and familiar nectar sources.
What Colors Do Hummingbirds Prefer In Feeders?
Hummingbirds are attracted to feeders with bright red, orange, and pink colors.
How Often Should I Change Hummingbird Nectar?
Hummingbird nectar should be changed every 3 to 5 days, or more frequently in hot weather.
How Can I Prevent Ants From Getting Into The Feeder?
Smear petroleum jelly or cooking oil on the hanger or pole supporting the feeder, or buy an ant moat.
Conclusion
Hummingbirds are known for their high energy levels and their love for sweet nectar. We have learned that providing a feeder with the right features, such as red color, suitable depth, and an adequate number of feeding ports, can make a big difference in attracting and accommodating hummingbirds.
It's vital to clean and refill the feeder regularly to maintain its quality, and using natural sweeteners can also be a plus. Furthermore, choosing the right location for the feeder and keeping it away from direct sunlight or predators can contribute to hummingbirds' safety and comfort.
Understanding why hummingbirds prefer one feeder over another can help us appreciate these tiny birds better and give them the care they deserve. So, let's take a moment to observe and admire the beauty of these magnificent creatures and take action to protect them.