Why You Shouldn't feed Hummingbirds: Natural Habits!
Feeding hummingbirds can cause harm and negatively affect their natural habits.
Feeding hummingbirds, particularly with artificial nectar or sugar water, can lead to various issues that disrupt their natural behaviors and overall health.
Providing feeders with artificial nectar may result in hummingbirds becoming dependent on humans as a food source. This dependency could lead to a decreased motivation to forage for natural sources of nectar.
Furthermore, the use of artificial nectar or sugar water does not offer the essential nutrients that hummingbirds naturally receive from flowers.
Consequently, this could lead to malnourishment and weaker immune systems. Feeders can also promote the transmission of diseases and parasites among birds due to shared feeding sites.
Lastly, having feeders in a residential area could potentially attract predators, posing a risk to the hummingbirds' safety.
6 Reasons Why You Shouldn't Feed Hummingbirds
| | |
| --- | --- |
| Reasons | Explanation |
| Unnatural diet | Hummingbirds need a diverse range of nutrients that they get from a natural diet of nectar, insects and tree sap. Human-made food may not have sufficient nutrients. |
| Sugar water harms health | Regularly giving hummingbirds sugar water can lead to health problems like liver damage and nutrient deficiencies. |
| Attraction to predators | A feeder might attract predators such as cats and larger birds, making your yard a dangerous place for hummingbirds. |
| Dependency | Regular feeding might lead to dependency on human-provided food, disrupting their natural foraging behavior. |
| Disease spread | Feeders can become a breeding ground for harmful bacteria and fungi if not regularly cleaned, leading to the spread of disease among hummingbird populations. |
| Migration disruption | If hummingbirds become too dependent on your feeders, it could potentially interfere with their natural migration patterns. |
6 Reasons Why You Shouldn't Feed Hummingbirds
Key Takeaway
Feeding hummingbirds may disrupt their natural diet: Traditional bird feeders often supply sugar water, which lacks the nutrition hummingbirds find in their natural food sources.
It could make them less likely to migrate: Constant access to artificial food sources may cause hummingbirds to delay their natural migration routines, which could have serious impacts on their survival and reproductive cycles.
Could become dependent on human feeders: If hummingbirds become accustomed to readily available food sources, they may become less efficient at foraging on their own, creating a dependence that could be detrimental in the long-term.
Risk of disease and parasites: Bird feeders can become breeding grounds for harmful bacteria and parasites that can spread diseases among hummingbird populations.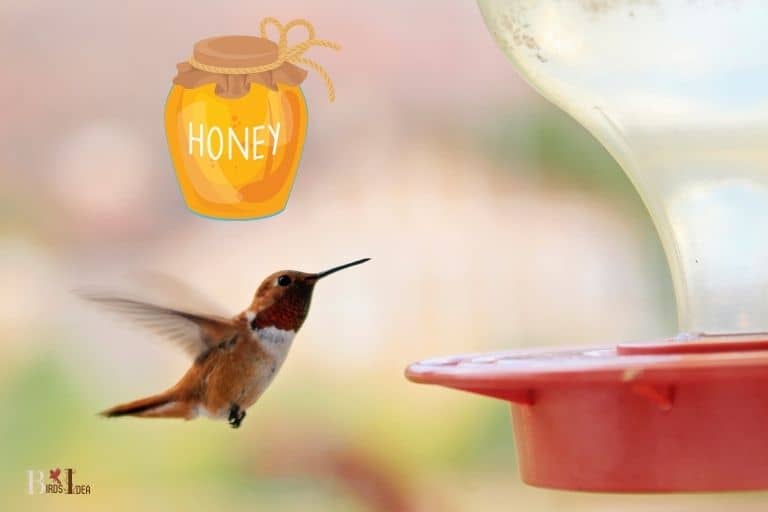 Five Facts About: Negative Effects of Feeding Hummingbirds
Hummingbirds have a highly specialized diet that consists primarily of nectar from flowers and small insects and spiders for protein. Access to simple-sugar feeders does not provide them with essential nutrients they require for survival. (Source: National Audubon Society)
Their migratory patterns are very precise and are believed to be triggered by changes in daylight. Any change in their food availability due to human-made feeders could potentially disturb their migration process. (Source: Hummingbird Migration)
If hummingbirds become dependent on bird feeders and the feeders are suddenly removed, it could cause significant hardship for these delicate creatures, potentially leading to malnourishment or even death. (Source: Bird Watcher's Digest)
Feeders, especially when not maintained properly, can become breeding grounds for parasites and bacteria, which can harm not only a single hummingbird but could also lead to the spread of disease among the population. (Source: The Spruce)
Human feeding can further amplify conflicts between hummingbirds, as feeders can become competitive areas, causing stress and potential injuries. In nature, hummingbirds feed from multiple flower sources reducing opportunities for conflict. (Source: Audubon Magazine)
Is Hand-feeding Hummingbirds Bad? Understanding the Dangers of Unsolicited Feeding
Hand-feeding hummingbirds can be a mesmerizing experience for bird enthusiasts, but it is essential to understand the potential dangers of unsolicited feeding.
Although the activity may seem harmless, it can negatively impact hummingbirds' natural behavior patterns and overall health.
By interfering with their foraging habits, we may inadvertently cause harm and disrupt the delicate ecological balance vital for their survival.
Negative consequences of hand-feeding hummingbirds include:
Altered migration patterns
Dependency on artificial food sources
Nutritional deficiencies
Spread of diseases and parasites
Increased vulnerability to predators
Disruption of natural mating and nesting behaviors
"Feeding hummingbirds can actually do more harm than good. It can disrupt their migration patterns and lead to overcrowding, disease, and malnutrition."

National Audubon Society
Harmful Effects of Trying to Feed Hummingbirds: Risks to Human Health and to the Well-Being of the Birds
Feeding hummingbirds may seem like a kind and enjoyable activity for nature lovers, but it can actually have unintended negative consequences for both humans and the birds.
Providing artificial food sources for hummingbirds can lead to various problems that affect their health, behavior, and overall well-being.
Similarly, creating an environment where hummingbirds are drawn to human dwellings can pose potential hazards to human health and safety as well.
Therefore, it is crucial to be aware of these risks and reconsider our well-intentioned attempts to feed hummingbirds.
Risks to the well-being of hummingbirds:
Dependency on artificial food sources, which may lead to malnutrition
Interference with natural migratory patterns
Increased aggression and territorial behavior among hummingbirds
Distraction from foraging for natural food sources, such as insects, which provide essential nutrients
Increased risk of disease transmission due to close contact with other hummingbirds at feeders
Risks to human health and safety:
Risk of injury from hummingbird beak strikes or collision with feeders.
Increased likelihood of bird droppings near human dwellings, which may carry disease-causing organisms.
Attraction of other wildlife, such as insects and rodents, drawn to food sources and potentially increasing disease transmission.
Accidental ingestion of expired or contaminated hummingbird nectar by humans, especially young children
Alternatives to Hand-Feeding Hummingbirds: Nutritious and Natural Foods that Keep Them Healthy
While hand-feeding hummingbirds can be a delightful experience, it is essential to consider their health and well-being.
Providing natural and nutritious alternatives to hand-feeding helps ensure that these tiny creatures thrive in their natural habitat without becoming overly reliant on humans.
Some alternatives to hand-feeding hummingbirds include planting a garden with hummingbird-friendly plants, offering homemade nectar, and providing protein sources, such as insects.
Plant a hummingbird garden: Fill your garden with nectar-rich, tubular-shaped flowers that hummingbirds love, such as trumpet vine, bee balm, and salvia.
Offer homemade nectar: Mix one part sugar with four parts water, boil the mixture to remove impurities, and then let it cool before offering it to hummingbirds in a feeder.
Provide protein sources: Set out overripe fruit, fruit flies, or mealworms to attract insects that hummingbirds need for protein.
Avoid using pesticides: Practice organic gardening techniques to protect these delicate birds from harmful chemicals.
Understanding Hummingbird Migration to Better Appreciate Nature's Beauty and Keep the Birds Safe
Hummingbird migration is a natural phenomenon that showcases the remarkable abilities and resilience of these tiny birds.
By understanding their migration patterns, we can learn to appreciate their significance in nature and take measures to protect them.
As hummingbirds cover thousands of miles during their migratory journeys, they are highly vulnerable to various threats such as loss of habitat, climate change, and human interference.
Although feeding hummingbirds might seem like a kind gesture, it can actually disrupt their natural feeding habits, making them dependent on artificial sources of nutrition.
Learn about the hummingbird migration routes and timings
Avoid feeding hummingbirds to prevent disrupting their natural habits
Plant native flowers in your garden to attract and support hummingbirds
Use bird-friendly window treatments to prevent bird collisions
Educate others about the importance of protecting hummingbirds during migration
DID YOU KNOW
According to a study by the Journal of Avian Biology, feeding hummingbirds can lead to an increase in their mortality rates, especially during migration season. In addition, the sugar water used in feeders can promote the growth of harmful bacteria and fungi, further putting hummingbirds at risk.

birdsidea
What are the disadvantages of a hummingbird feeder?
Feeding hummingbirds may seem like a kind gesture, but it can actually bring more harm than good.
There are several disadvantages of a hummingbird feeder, including:
Dependence on feeders: Hummingbirds can become dependent on the feeders, which can prevent them from seeking out natural food sources.
Nutritional deficiencies: The nectar in feeders does not provide the necessary nutrients that hummingbirds need for a well-rounded diet.
Disease transmission: Hummingbird feeders can attract several types of birds, which can lead to disease transmission between different species.
Insects and pests: The sugar water in feeders can attract insects and pests, which can cause harm to both the birds and humans.
Instead of relying on feeders, it is recommended to provide natural food sources such as flowers, as well as provide a clean and safe environment for hummingbirds to thrive.
Why is sugar not good for hummingbirds?
Hummingbirds are amazing creatures that are known for their unique ability to hover in mid-air. They are also known for their love of sugar, which is why many people put out sugar water for them to feed on.
However, it is not recommended to feed hummingbirds sugar water because it is not good for their health. Sugar water lacks the nutrients that hummingbirds need to thrive and can cause problems such as obesity, liver damage, and energy crashes.
Additionally, feeding hummingbirds sugar water can increase their dependency on humans, disrupting their natural feeding habits and migration patterns.
It is always best to let hummingbirds feed on their natural sources, such as nectar from flowers and other insects.
Here are some reasons why sugar is not good for hummingbirds:
Lack of essential nutrients
Can cause obesity and liver damage
Can lead to energy crashes
Increases dependency on humans
Disrupts natural feeding and migration patterns.
Is hummingbird nectar safe?
Hummingbird nectar is generally safe for birds to consume. However, there are several reasons as to why you shouldn't feed hummingbirds.
Firstly, feeding hummingbirds disrupts their natural feeding patterns and may cause them to become dependent on the artificial food source.
This dependency may also lead to malnutrition as the birds may not be receiving the necessary nutrients from the artificial food.
Additionally, feeding hummingbirds can lead to overcrowding which may result in the spreading of diseases as well as territorial aggression among the birds.
It is important to note that if you do choose to feed hummingbirds, it is essential to clean and change the nectar regularly to prevent the growth of harmful bacteria and mold.
Where should you not hang a hummingbird feeder?
Hummingbirds are beautiful creatures, and many people enjoy feeding them by hanging a hummingbird feeder.
However, it's important to know where you should not hang a hummingbird feeder. If you hang the feeder in the wrong location, it could actually be harmful to the birds.
Here are some places to avoid when hanging a hummingbird feeder:
Near a window or other reflective surface – hummingbirds may fly into the glass and injure themselves.
In direct sunlight – the nectar can spoil more quickly if it gets too hot.
Near a busy area – hummingbirds can be easily startled and may feel unsafe if there is too much activity around the feeder.
On a windy or unstable surface – if the feeder is not secure, it could fall and spill nectar or harm the birds.
It's important to provide a safe and suitable environment for hummingbirds to feed, so make sure to choose a location that is suitable for their well-being.
FAQ of Why You Shouldn't Feed Hummingbirds
Why is it not recommended to feed hummingbirds?
Feeding hummingbirds can disrupt their natural diet and may cause them to suffer nutritional deficiencies and disease.
Feeding hummingbirds is also potentially dangerous as where large numbers of birds are attracted to a single location, they can become a target for predators.
Is it okay to put out bird feeders for hummingbirds?
No, it is not recommended to put out bird feeders for hummingbirds.
While it may seem like a harmless way of providing food, it can actually cause them to rely on human-provided food sources, which can be more detrimental than beneficial in the long run.
What else can I do to help my local hummingbird population?
Creating a safe, natural habitat for hummingbirds by planting flowers, shrubs, and trees that will attract them and provide food and shelter.
You can also avoid using chemically treated pesticides or herbicides in your garden.
What should I give hummingbirds if I do choose to feed them?
If you choose to feed hummingbirds, the best thing to give them is a solution of white granulated sugar mixed with water. Do not use honey or other sweeteners as they can be harmful to hummingbirds.
The solution should be made with a 1 part sugar to 4 parts water ratio.
Conclusion
In conclusion, while it may be tempting to hand-feed hummingbirds, it is important to understand the potential risks and harm that can come from unsolicited feeding.
Attempting to hand-feed hummingbirds can pose a threat to both the birds and human health.
Instead, there are alternative ways to keep hummingbirds healthy, such as providing nutritious and natural foods. It is also crucial to understand hummingbird migration and appreciate their beauty while keeping them safe.
By taking these steps, we can ensure the well-being of the birds and continue to enjoy their presence without causing harm.