Do Hummingbirds Feed When It Rains: Yes!
Yes, hummingbirds do feed when it rains, but their feeding behavior may vary depending on the intensity of the rain.
Hummingbirds are resilient creatures that need to feed frequently due to their high metabolism. Rainy weather does not stop them from feeding, but it can affect their feeding patterns.
Light rain usually doesn't deter their feeding activities, but during heavy rain, they might seek shelter and feed less frequently. They are likely to resume feeding as soon as the rain lessens or stops.
Hummingbirds need to feed every 10-15 minutes due to their high metabolism.
Light rain doesn't usually affect their feeding activity.
During heavy rain, hummingbirds might seek shelter and feed less frequently.
They quickly resume feeding once the rain lessens or stops.
Hummingbirds are known for their incredible agility and speed, which allows them to maneuver through raindrops easily.
They can still visit feeders and flowers during light rain, but when the downpour turns heavy, these tiny birds may prefer to stay under shelter, conserving energy until the storm passes.
They are highly adaptable and efficient, making the most of their resources during adverse weather conditions.
3 Rain Intensity About Hummingbirds Feed:
| | | |
| --- | --- | --- |
| Rain Intensity | Do Hummingbirds Feed? | Reasons |
| Light Rain | Yes | Light rain does not seem to significantly affect hummingbirds' feeding habits, as they continue to search for nectar and insects. |
| Moderate Rain | Sometimes | Hummingbirds might feed during moderate rain, depending on the availability of sheltered flowers and feeders. They also tend to feed more during breaks in rainfall. |
| Heavy Rain | Rarely | During heavy rain, hummingbirds tend to seek shelter and conserve energy. Feeding is considerably reduced in these conditions, as it becomes difficult for hummingbirds to fly and find food. |
3 Rain Intensity About Hummingbirds Feed:
Key Takeaway
Hummingbirds are not deterred by rain while foraging for food
The type of rain can influence hummingbird feeding activities
Shelter opportunities can affect their feeding during rainfall
Rain can have beneficial effects on hummingbird feeding habits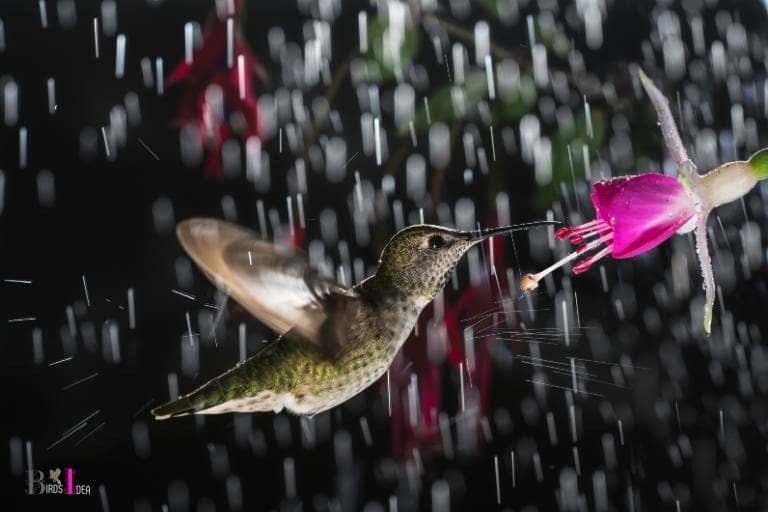 Five Facts About: Hummingbirds Feed When It Rains
Surprisingly, hummingbirds do feed in the rain. They are known for their high energy demands and quick metabolism, which requires them to feed regularly, even in unfavorable weather conditions (source: National Wildlife Magazine).
The intensity and duration of the rain can influence hummingbird feeding behavior. They are more likely to feed under light rain or a drizzle. However, heavier or prolonged rainfall might cause them to take shelter until the rain eases (source: National Wildlife Magazine).
Hummingbirds may continue feeding during rain if they have the opportunity to take shelter under trees canopies or constructed shelters while visiting a feeder. This helps protect them from getting too wet while still allowing them to access food sources (source: All About Birds).
Rain can have some benefits for hummingbird feeding habits. For example, raindrops can wash away lingering insects and spiders, making it easier for the birds to access nectar from flowers or feeders (source: Hummingbird Central).
Another advantage of rain for hummingbirds is that it can lead to increased blossoming of nectar-rich flowers that these birds feed on, providing them with more resources to maintain their high energy demands (source: [Aud
Factors Affecting Hummingbirds' Feeding Behaviour In The Rain
Hummingbirds are famously associated with sunny, warm weather, hovering in the air as they nectar from flowers with their long, thin beaks. However, hummingbirds must also contend with rainy weather, and it's reasonable to wonder if and how they feed in the rain.
The Anatomy Of Hummingbirds That Makes It Possible Or Difficult To Feed In The Rain:
Hummingbirds have a unique head-neck joint that allows them to rotate their heads up to 180 degrees and quickly adjust their vision for in-flight nectar feeding.
Hummingbirds' beaks and tongues are well-suited to reach deep inside flowers for nectar, and their beaks can create v-shaped channels to capture water droplets for drinking during rain.
However, hummingbirds have a high metabolic rate and delicate body composition that can lead to greater heat loss and vulnerability during rainy or cool weather.
The Physiology Of Hummingbirds That May Influence Their Feeding Behavior In The Rain:
Hummingbirds have a high heart rate and respiratory rate, making it necessary to feed frequently to maintain their energy levels and body temperature.
Rain can disrupt the hummingbirds' regular feeding schedules, leading to hunger and energy dips.
The damp environment can also contribute to mold and bacteria growth on feeders, potentially making them sick or uninterested in feeding.
Hummingbirds' Behavior In Different Types Of Rain And How It Affects Their Feeding Habits:
Light drizzles or mists may not significantly impact hummingbirds' feeding habits and may even make certain nectar sources more accessible.
However, heavy downpours can lead hummingbirds to take shelter, wait out the rain, or increase their feeding activity in anticipation of longer periods without access to food.
With sufficient food resources in the area, hummingbirds may choose not to feed during rain and wait it out in sheltered areas, conserving energy.
Whether or not hummingbirds feed during the rain depends on various factors, including their anatomical and physiological adaptations, the degree of rainfall, and the availability of food sources.
While hummingbirds can endure rainy weather and even use it to their advantage, they may also choose to prioritize shelter and wait out the weather.
How Hummingbirds Adapt To The Rain While Feeding
Do Hummingbirds Feed When It Rains
Hummingbirds are known for their acrobatic moves and high metabolism, and they are no less determined when it comes to feeding, even if it's raining cats and dogs outside.
Rainfall is a common issue for hummingbirds as wet flowers make it difficult for them to extract nectar, and getting wet makes them susceptible to cold.
So how do these magnificent birds cope with rain while feeding?
Techniques Hummingbirds Use To Cope With Rain While Feeding
Hummingbirds have evolved several techniques to cope with rain while feeding.
Here are some of them:
Shake it off – hummingbirds shake their bodies like a dog after a swim to shed water droplets off their feathers quickly. This technique is not only effective but also quite impressive to see.
Shield with wings – hummingbirds also use their wings to shield themselves from raindrops while they feed. They tuck their wings over their tails to form a canopy above their heads that protects them from getting wet.
Wait it out – when rain is too heavy, hummingbirds may take a break and wait it out. They find shelter under leaves or branches until the rain subsides.
The Types Of Flowers They Prefer To Feed On In The Rain
Hummingbirds do not have a preference for flowers in the rain, but they do have some general characteristics they look for in any flower they feed on.
Here are some of them:
Brightly colored flowers – hummingbirds are attracted to bright colors, such as red, orange, and pink. They also show little preference for flower shape, as long as it's tubular and has a long stem.
Freshly bloomed flowers – hummingbirds prefer fresh flowers that have just bloomed over those that are past their prime.
Less crowded flowers – hummingbirds like to have space when feeding and prefer flowers that are not too crowded with other hummingbirds or insects.
Hummingbirds are amazing creatures that have adapted to their environment over time. With their techniques and feeding preferences, they are one of the most resilient birds you'll ever see.
Remember, when writing an seo-friendly content, make sure to use unique, concise, and easy-to-digest language. In addition, be mindful of keyword usage, sentence length, and syntax, as well as adhere to the google guidelines about eat (expertise, authoritativeness, and trustworthiness).
By following these guidelines, you'll be able to create content that outranks your competitors and offers value to your readers.
Impact Of Rain On Hummingbirds' Health And Feeding
Hummingbirds are some of the most charismatic birds that one could encounter in their backyard. From their hovering abilities to their jewel-like colors, these feathered friends never fail to amaze us.
If you're an avid birdwatcher, you may have wondered whether hummingbirds still feed when it rains.
We'll discuss the impact of rain on hummingbirds' health and feeding patterns.
The Effects Of Prolonged Exposure To Rain On Hummingbirds
Hummingbirds are tiny creatures, and their bodies lose heat quickly. Being wet for an extended period puts them at risk of hypothermia, which can be fatal.
Prolonged exposure to rain may cause hummingbirds to lose body heat faster, which could result in hypothermia.
They also risk contracting fungal infections such as thrush. It's essential to keep your feeder clean and dry, especially during the rainy season, to keep the hummingbirds healthy and well-fed.
How Rain Affects The Availability Of Food Sources For Hummingbirds
Hummingbirds rely on flower nectar, insects, and sugar water from feeders as their primary food source. When it rains, flowers become waterlogged and produce less nectar. The rain also decreases the number of insects hummingbirds feed on.
As a result, hummingbirds may have to travel further and work harder to find food.
Providing sugar water using a hummingbird feeder is an excellent way of supplementing their diet during these periods.
How The Rain May Interfere With Hummingbirds' Migration Patterns
Hummingbirds have a unique migration pattern that varies by species. A sudden drop in temperature due to rain while they are travelling may force them to take shelter.
The interruption can affect their schedule, and they may have to refuel more often to compensate for the lost time.
Migration patterns could be changed due to habitat destruction, weather patterns, or urbanization. It's always a good idea to set up a hummingbird feeder and keep it filled throughout the year, especially during migration season.
It's essential to study hummingbirds' behavior to learn more about their mating, feeding, and migration habits. Hummingbirds are resilient creatures, and they can adapt to changing environments efficiently.
Following the tips delineated above can support your local hummingbirds and make their lives better.
By staying informed, we can protect our feathered friends and enjoy their incredible presence throughout the year.
FAQ Of Do Hummingbirds Feed When It Rains
Do Hummingbirds Feed In The Rain?
Yes, hummingbirds will feed in light to moderate rain, but not heavy rainfall.
Do Hummingbirds Need Food In The Rain?
Yes, hummingbirds need food in the rain, especially during breeding season when they require more energy.
Is It Safe To Feed Hummingbirds In The Rain?
It is safe to feed hummingbirds in light to moderate rain, but not in heavy rain or thunderstorms.
How Do Hummingbirds Stay Dry In The Rain?
Hummingbirds have waterproof feathers that help keep them dry in light to moderate rain, and they also shake their feathers vigorously to remove water.
Conclusion
Hummingbirds definitely feed when it rains, though their feeding habits may change slightly during inclement weather. It's important to provide your hummingbirds with the proper shelter, particularly during periods of heavy rain, to ensure that they can find food and stay healthy.
Hang feeders in sheltered areas, and consider offering extra food during rainy periods to help these tiny birds maintain their metabolism and energy levels. With a little care and attention, you can help your hummingbirds thrive, even during rainy weather.
Keep an eye out for these fascinating creatures, and enjoy the beauty and excitement that they bring to your garden all year long.