How Do Hummingbird Feeder Tubes Work: Contaminating!
Hummingbird feeder tubes work by providing a simple, yet effective, means for hummingbirds to access and consume nectar while preventing leakage and insects from contaminating the feeder.
Hummingbird feeder tubes are specially designed, slender tubes that contain a sugar-water solution, mimicking the nectar found in flowers. The tubes have a small opening at the bottom end, covered by a ball-bearing mechanism or stopper.
This allows hummingbirds to access the nectar, while ensuring the nectar does not spill out or attract insects.
When a hummingbird inserts its long bill and tongue into the tube's opening, it pushes the ball-bearing or stopper inside, releasing the nectar and allowing the bird to consume it.
Hummingbird feeder tubes mimic the natural feeding process of hummingbirds by providing sugar-water solution as artificial nectar.
The specially designed tubes prevent the leakage of nectar and keep insects away.
The ball-bearing mechanism or stopper at the tube's opening ensures nectar access for hummingbirds while maintaining cleanliness.
Hummingbird feeder tubes provide an easy and convenient way for bird enthusiasts to attract and observe hummingbirds in their gardens or yards.
Hummingbird feeder tubes offer a fantastic way for bird-lovers to attract these beautiful, delicate creatures to their outdoor spaces.
These tubes are designed to provide the hummingbird with a convenient and clean source of food while also maintaining an attractive and functional feeder.
By understanding the mechanisms behind these feeder tubes, one can ensure the hummingbirds' health and happiness and enjoy the captivating sight of these amazing birds in flight.
7 Aspects for Hummingbird Feeder Tubes Work:
| | |
| --- | --- |
| Aspect | Description |
| Purpose | To provide an artificial source of nectar for hummingbirds in gardens and other outdoor spaces. |
| Main components | A container for holding the nectar, feeder tubes, and a red or brightly colored base or cap to attract hummingbirds. |
| Feeder tube function | Feeder tubes transport nectar from the container to the feeding port where hummingbirds can access it. |
| Feeder tube design | Usually made from plastic or glass, feeder tubes have a ball bearing or pin mechanism inside to regulate the flow of nectar and prevent leaks. |
| Nectar mixture | A solution of 1 part white granulated sugar and 4 parts water, closely resembling the natural sugar content of flower nectar that hummingbirds feed on in the wild. |
| Cleaning and refilling | Regular cleaning and refilling (every 3-5 days) is essential to prevent the growth of mold and bacteria that can be harmful to hummingbirds. |
| Placement | Hummingbird feeder tubes should be placed in a shaded area, near flowers or plants that also attract hummingbirds, and at a safe distance from potential predators. |
7 Aspects for Hummingbird Feeder Tubes Work:
Key Takeaway
Hummingbird feeder tubes are specifically designed to provide hummingbirds easy access to nectar.
The tube's shape and size closely mimic natural flower nectar receptacles, encouraging hummingbirds to feed from them.
These feeding tubes typically have a red tip, which attracts the attention of hummingbirds due to their strong preference for red-colored objects.
Proper maintenance and cleaning of feeder tubes are essential to keep hummingbirds healthy and free from diseases.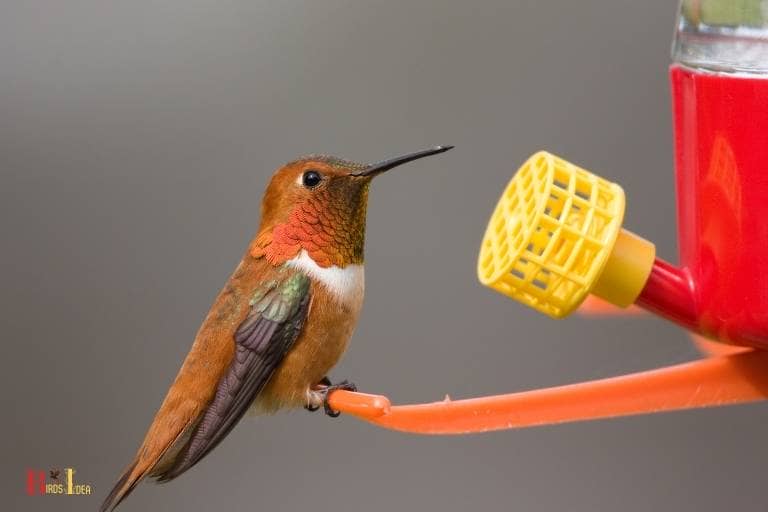 Five Facts About: Hummingbird Feeder Tubes Work
The primary function of hummingbird feeder tubes is to simulate the experience of feeding on natural flowers by providing an artificial source of nectar. (Source: Wild Birds Flying)
Hummingbird feeder tubes usually feature a red tip, which is a color that is known to attract hummingbirds. This is due to their strong preference for red flowers in their natural habitats. (Source: Hummingbird Guide)
Leakage control is a crucial aspect of hummingbird feeder tube design, as excess leakage can lead to mess, loss of nectar, and the attraction of unwanted insects such as ants and bees. (Source: The Spruce)
It is essential to perform regular cleaning and maintenance of hummingbird feeder tubes to prevent the growth of harmful microorganisms such as mold and harmful bacteria. Cleaning should include thorough washing of all parts of the feeder, including the tube, with warm water and mild soap at least once a week. (Source: National Wildlife Federation)
The ideal location for placing a hummingbird feeder tube is near nectar-producing flowers and in a partially shady area. This not only provides a
The Basics Of Hummingbird Feeder Tubes
Hummingbirds are among the most mesmerizing creatures in the bird family. Because of their small size and highly energetic nature, they require special feeding equipment different from regular bird feeders.
This is where hummingbird feeder tubes come in. These tubes are specially designed to meet the nutritional needs of hummingbirds in a way that is both safe and effective.
If you're curious about the basics of hummingbird feeder tubes, read on!
What Are Hummingbird Feeder Tubes?
Hummingbird feeder tubes are thin, plastic tubes with a small opening on one end and a larger opening on the other end.
The smaller end is usually inserted into a hole in the feeder to hold the tube in place, while the larger end is filled with nectar and allows the hummingbird to feed from it.
The tubes can be purchased separately or as part of a hummingbird feeder.
What Is The Purpose Of The Tubes?
The primary purpose of hummingbird feeder tubes is to provide a safe and easy way for hummingbirds to feed. Because of their small and delicate size, hummingbirds require a special feeding mechanism that is safe for their beaks and tongues.
A hummingbird feeder tube is designed to mimic the flowers that hummingbirds typically feed from in the wild, making it an effective way to attract and feed hummingbirds at home.
Types Of Feeder Tubes
There are several types of hummingbird feeder tubes available on the market, including:
Open-ended tubes: These tubes have an open end that is fitted into a hole in the feeder.
Close-ended tubes: These tubes have a cap at the end that prevents the nectar from leaking out.
Replacement tubes: These tubes can be bought separately to replace a damaged or lost tube.
How The Tubes Are Used
Using hummingbird feeder tubes is easy. Simply fill the tube with nectar, insert it into the feeder, and wait for the hummingbirds to arrive.
Here are some tips for using hummingbird feeder tubes:
Use a nectar solution that is 1 part sugar to 4 parts water.
Clean the feeder and tubes regularly to prevent the growth of mold and bacteria.
Hang the feeder in a shaded area to prevent the nectar from spoiling too quickly.
Overall, hummingbird feeder tubes are a great way to attract and feed hummingbirds in your backyard. With the right setup and maintenance, you'll be able to enjoy these beautiful birds up close on a daily basis.
How Do Hummingbird Feeder Tubes Function
Hummingbird feeders are a delightful decoration in any garden or porch. These specialized feeders contain tubes that present a sweet formula that energizes and sustains vibrant hummingbirds.
But have you ever wondered, "how do hummingbird feeder tubes function? "
In this section, we'll break down the anatomy of the feeder tube, examine the tube's influence on the hummingbird's behavior, discuss how sugar water travels through the tube, and explore how hummingbirds extract nectar from the tube.
The Anatomy Of The Feeder Tube
Hummingbird feeder tubes are typically made of plastic, glass, or rubber and have a pointed end that protrudes from the base. These tubes attach to the feeder's base, which contains the sugar water.
The tubes are small with narrow openings, so hummingbirds must insert their long narrow tongues into the tube to extract the nectar.
The Feeder Tube'S Influence On Hummingbird'S Behavior
Hummingbirds are remarkable birds, adapted to make use of nectar as their primary food source, but they also feed on insects. Their high metabolic rate necessitates a consistent source of food to sustain their energy levels.
The presence of a hummingbird feeder tube encourages hummingbirds to visit a particular spot repeatedly, even when natural flowers are available.
In addition, hummingbirds develop a relationship with the feeder, and some even defend it against other hummingbirds, ensuring that they get a consistent source of food.
How Sugar Water Travels Through The Tube
The tube is the conduit that transports the sugar water from the base to the tip, where the hummingbird feeds. Gravity plays a crucial role in the process; as the hummingbird drinks the nectar, sugar water flows through the feeder tube, refilling the tip.
Since the feeder's opening is small, little or no air enters the feeder, eliminating the possibility of a leak.
How Hummingbirds Extract Nectar From The Tube
Hummingbirds must insert their long, thin tongues into the feeder tube's small opening to access the nectar. The tongue's tip has multiple grooves that collect the nectar, which is then moved into the hummingbird's throat.
Hummingbirds' tongues are specialized for this process and can extend long enough to extract nectar from deep flowers or the feeder tube.
Hummingbird feeder tubes function by providing hummingbirds with a consistent source of sugar water, which they extract by inserting their long, thin tongues into the tube's small opening.
The feeder tube not only sustains hummingbirds' energy levels, but it can also influence their behavior and encourage them to visit repeatedly.
As humans, we can enjoy the hummingbird's beauty and vitality and marvel at these tiny birds' adaptations to survive in a world of much larger creatures.
The Benefits Of Using Feeder Tubes
Attracting Hummingbirds To Your Yard
If you're fond of bird-watching or simply enjoy having birds visit your garden, a hummingbird feeder can certainly enhance your outdoor experience.
Hummingbirds are fascinating and beautiful birds with incredible flying aptitude, hence, making it special to have these little creatures in your backyard.
Hummingbird feeder tubes allow you to utilize the natural sweetness of nectar to attract these birds.
Here are some ways in which feeder tubes can attract hummingbirds to your garden:
The feeder's bright colors and design catch the attention of hummingbirds
The sweet scent of nectar lures them
The feeder's location should be near nectar-rich flowers
The small size of hummingbirds allows them to easily access the feeder
Conserving Nectar
Nectar is a crucial factor in decisive hummingbird migration patterns.
A hummingbird feeder tube conserves nectar and ensures its freshness, which is important to the well-being of the birds.
Nectar from feeder tubes is easy to prepare with a few ingredients.
The feeder tube is designed to prevent nectar from spilling, thus conserving it.
The feeder tube's design keeps the insects away from the nectar, ensuring its freshness.
Providing Hummingbirds With A Healthy And Hygienic Feeding Environment
Hummingbirds require a hygienic, healthy, and safe feeding environment. Dirty feeders and contaminated nectar can cause health issues for them.
Here's how feeder tubes can help them stay healthy:
The design of the tubes prevents leaks that can cause bacterial growth.
They are simple to clean and easy to refill.
The feeder tube's small size ensures that a small amount of nectar is available, which prevents nectar from spoiling.
Feeders that are cleaned regularly and nectar that is changed with recommended frequency (every 2-3 days) maintain a hygienic feeding environment for hummingbirds.
Reducing The Risk Of Attracting Bees And Wasps
Bees and wasps are also attracted to nectar, which can make it difficult for hummingbirds to feed, thereby discouraging them from visiting.
However, feeder tubes have features that ensure hummingbirds are the only birds attracted and fed:
The design of the feeder tube has small feeding stations, preventing bees and wasps from accessing it.
The tube is designed with bee and wasp guards that stop them from drinking nectar or entering the feeding area.
Nectar prepared in the tube does not contain red dye, which prevents attracting wasps and bees as they are drawn to the color red.
Using feeder tubes is an effective way to attract and feed hummingbirds in your backyard.
The tubes assist with conservation, hygiene, and safety, creating a friendly and healthy feeding environment for these fascinating creatures.
Factors To Consider When Using Feeder Tubes
Feeder tubes are an excellent way to attract hummingbirds to your garden or backyard. These tubes provide a place for the birds to get nectar, which they need to survive.
If you are planning to use feeder tubes, there are some key factors you should consider to ensure that they work effectively.
Here are some important things to keep in mind when using hummingbird feeder tubes.
Factors That Can Prevent Hummingbirds From Utilizing The Feeder Tubes
Hummingbirds are beautiful and fascinating creatures, but they can be finicky when it comes to feeders. If you find that you are not attracting many birds to your feeder tubes, there may be some factor or factors that are preventing them from utilizing them.
Here are some things that could be preventing hummingbirds from visiting your feeder tubes.
Poor nectar quality: One reason hummingbirds might not be visiting your feeder tubes is that the nectar you've provided is of poor quality. Make sure you are using a proper recipe for making the nectar and that the nectar water is properly cleaned before filling the tubes.
Inaccessible location: Another reason hummingbirds might be avoiding your feeder tubes is that they are located in an inaccessible place, such as behind a tree or in a dark corner. Make sure your feeder tubes are in a visible and easily accessible spot.
Pests: Various pests like ants, bees, and wasps can deter hummingbirds from feeding. Ensure your feeder tubes have ant moats to prevent ants from crawling in & check regularly that other pests are not hovering around the feeders.
Old food: Rotting nectar produces bacteria and mold that can harm hummingbirds. Ensure regularly emptying nectar that has turned sour and clean and sterilize the feeder before adding fresh nectar.
Best Practices When Cleaning And Maintaining The Tubes
Maintaining and cleaning feeder tubes is essential to ensure that the hummingbirds continue to use them.
Here are some best practices for cleaning and maintaining the feeder tubes.
Always start by carefully reviewing the manufacturer's instructions on cleaning the feeder tubes. Be sure to follow the guidelines carefully.
Wear gloves whenever you clean the tubes to protect your hands from dirt or bacteria.
Use warm soapy water and a soft brush to clean and scrub food debris, mold, and stains from the tube. Rinse thoroughly and let it dry completely before hanging the tube.
Sterilize the tubes using a 50/50 mixture of white vinegar and water or a bleach solution. Soak the tube and all its parts and let it dry before use.
Check the nectar often to make sure it is not spoilt and keep changing it completely every 3-4 days.
The Impact Of Weather On The Usage Of The Feeder Tubes
Weather plays a significant role in hummingbirds' behavior and feeder tube usage. Depending on the weather, feeder tubes' effectiveness can vary, and the birds' frequency of return may change.
Temperature: At high temperatures, nectar often ferments more quickly, producing molds and bacteria quickly. During this time, the hummingbirds may empty their feeders rapidly. In cooler temperature, changing the nectar weekly is acceptable.
Rain: Rain dilutes nectar, spoiling it quickly, which can affect its general use. Make sure the feeder tubes are relatively dry, and water does not impact the concentration of your nectar.
Wind: Strong winds can entirely tip over the feeder tubes or cause leakage, which in turn can repel hummingbirds. Consider sheltered or protected locations for your feeder tubes.
Frequency Of Refilling The Nectar In The Tubes
Maintaining an adequate, consistent supply of nectar is essential to keeping hummingbirds happy. It is recommended to refill the nectar in the feeder tubes frequently, based on weather, region, and how often the birds visit for nectar.
Remember to change the nectar entirely every three to four days.
During peak summers, the nectar may even require a frequency of feeding time every alternate day.
Try keeping track of how often the food is consumed and at what time of day. This knowledge will help you adjust your feeding schedule, ensuring the hummingbirds are always well fed.
Overall, providing hummingbird feeder tubes depends on numerous factors, including the right location, maintenance, fresh nectar, and protection from weather and pests.
The more attention you pay to these details, the more likely you'll see these delicate creatures grace your feeder tubes with their presence.
FAQ For How Do Hummingbird Feeder Tubes Work
How Do Hummingbird Feeder Tubes Work?
Hummingbirds feed on nectar through the feeding ports on the tube, which they can access with their long beaks.
What Is The Process Of Filling A Hummingbird Feeder?
You should prepare a solution of four parts water to one part granulated sugar and then fill the hummingbird feeder with it.
How Often Should You Clean Hummingbird Feeder Tubes?
Hummingbird feeders should be cleaned at least once a week to remove mold and bacteria, and you should change the nectar solution every 3-5 days.
How Can You Prevent Bees And Ants From Getting Into Hummingbird Feeders?
You can place a water moat above the feeder to deter ants and can use bee guards to prevent bees and other insects from getting in.
Conclusion
Hummingbird feeders are a great way to attract hummingbirds to your garden or backyard. These amazing creatures are not only beautiful and fascinating to watch, but they also play an important role in pollinating plants.
The feeder tubes work by providing a steady supply of nectar to the hummingbirds.
The tubes are designed to mimic the shape of flowers, their natural food source. The hummingbirds are attracted to the color of the nectar and the tubes, making it easy for them to find.
It's important to keep the feeder tubes clean to avoid contamination and ensure the safety of the hummingbirds.
With the right feeder and care, you can enjoy watching these delightful birds as they flit and fly around your backyard. So, go ahead and set up a hummingbird feeder and let the magic begin!