How to Calculate How Many Hummingbirds You Have? Steps!
To calculate how many hummingbirds you have, observe and count the individual birds visiting your feeders or garden over a period of time.:
Estimating the number of hummingbirds in your area can be challenging, as these tiny birds are quick and constantly on the move.
Nevertheless, with some observation and patience, you can get a rough idea of their population.
Schedule a specific observation period and count the number of hummingbirds visiting your feeder or garden during that time. You may also want to note their markings and colors to distinguish different individuals.
Set up a regular observation period to count hummingbirds.
Note their markings and colors to differentiate individual birds.
Keep track of the highest number of birds seen at one time.
Consider setting up multiple feeders to attract more birds and improve counting accuracy.
Hummingbird counting can be a fun and rewarding activity for bird enthusiasts. By setting up a feeder or garden with plants that attract these tiny creatures, you can enjoy their presence and contribute to data collection on their populations.
Observing their behavior, identifying different species, and sharing your findings with fellow birdwatchers can help you connect with nature and better understand these fascinating birds.
8 Steps for Calculating the Number of Hummingbirds
| Step | Description |
| --- | --- |
| 1 | Define observation area |
| 2 | Observe the hummingbirds and count individually |
| 3 | Identify different species (if applicable) |
| 4 | Record the number of hummingbirds per species |
| 5 | Monitor over a period of time for accurate data |
| 6 | Calculate the average number of hummingbirds |
| 7 | Repeat observations in different seasons (optional) |
| 8 | Combine data for a comprehensive result |
8 Steps for Calculating the Number of Hummingbirds
Key Takeaway
Understanding hummingbird population dynamics and patterns helps with conservation and habitat preservation efforts.
Calculating the number of hummingbirds in an area requires consistent observation and data collection.
There is no foolproof method for calculating hummingbird population, as they are fast-moving and elusive creatures.
Observing and counting hummingbirds involves variables such as time of day, location, and presence of food sources.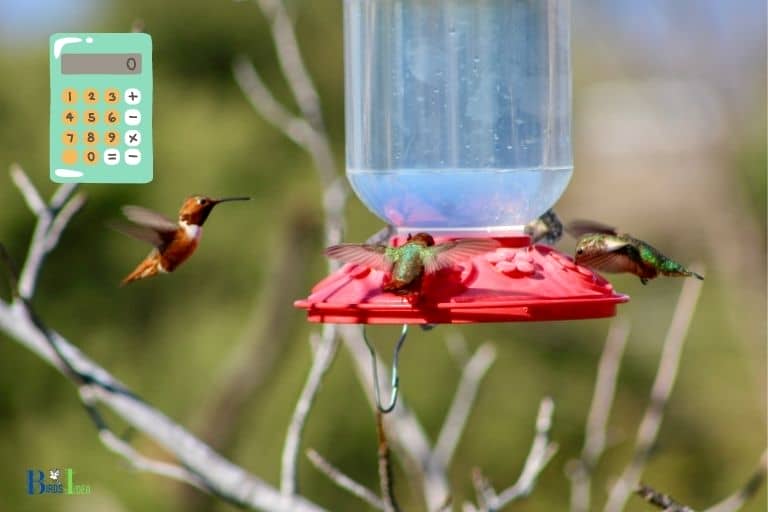 Five Facts About Hummingbirds
Hummingbirds are known to be the smallest birds in the world, with some species measuring only 3-4 inches in length. (source: National Geographic)
There are over 300 species of hummingbirds mostly found across the Americas with high concentration in the tropics and subtropics regions. (source: National Audubon Society)
Many hummingbirds are migratory, traveling thousands of miles between breeding and wintering grounds annually. This makes population calculation complex and dynamic. (source: Smithsonian Migratory Bird Center)
The ideal time to count and observe hummingbirds is during the early morning and late afternoon hours when they are most active, as they seek to replenish energy by feeding. (source: Hummingbird World)
FeederWatch is a research-based program that invites citizens to submit data on the number of hummingbirds observed using nectar feeders. This data contributes to the understanding of hummingbird populations and helps in their conservation. (source: Cornell Lab of Ornithology)
Understanding Hummingbirds: A Brief Introduction
Hummingbirds might be small, but they're mighty. These tiny creatures are fascinating to observe, and calculating how many you have can be a fun and exciting activity.
In this section, we'll discuss the anatomy of hummingbirds, the different types of hummingbirds, and everything else you need to know about these unique creatures.
So, let's dive in!
Introduction To Hummingbirds
Hummingbirds are small birds known for their ability to hover in mid-air by rapidly flapping their wings. They are known for their dazzling bright colors that shine in the sunlight.
Anatomy Of Hummingbirds
Hummingbirds have unique physical features that allow them to fly at high speeds and maneuver in the air with much grace.
Here are some key aspects of their anatomy:
Hummingbirds have a long, slender beak that they use to feed on nectar.
Their wings are incredibly powerful, enabling them to move at lightning-fast speeds.
Hummingbirds have highly developed eyesight, allowing them to see flowers from afar.
They have excellent hearing, which helps them detect threats and predators.
Types Of Hummingbirds
There are over 300 species of hummingbirds, each with unique characteristics and adaptations.
Here are a few of the more common types:
Rufous-tailed hummingbird: This type of hummingbird has a reddish-brown tail and green and white plumage.
Anna's hummingbird: These birds have vibrant pink-red coloring on their head and throat.
Ruby-throated hummingbird: Males of this species have a vibrant red throat, while females feature green and white plumage.
Black-chinned hummingbird: These birds have a metallic purple-black chin with a green and white plumage.
Hummingbirds are fascinating creatures that display unique characteristics and behaviors. Understanding their anatomy and learning about the different types can deepen your appreciation for them.
By following the guidelines given above, you can now calculate how many hummingbirds you have with ease.
Measuring Hummingbird Population: Counting Techniques And Tools
The Importance Of Counting Hummingbirds
Hummingbirds are an interesting bird species that are admired for their beauty, grace, and speed. Counting hummingbirds is an essential part of monitoring and maintaining their population.
Counting these little birds is significant for several reasons:
It is essential for record-keeping and monitoring of hummingbird population dynamics over time.
It helps researchers understand factors that influence hummingbird populations, such as habitat loss, climate change and human activity.
Counting hummingbirds is also important for conservation initiatives, protecting and managing hummingbirds' habitats.
Basics Of Counting Hummingbirds
Before delving into the methods and tools used to count hummingbirds, it is important to understand the basics of hummingbird counting.
Here are some essential things you should understand.
Most hummingbirds in north america have specific migration patterns, which allows researchers to know when to count them.
It is important to choose a specific location and count all hummingbirds seen in that same location, especially during peak season.
It is crucial to take note of the age and sex of each hummingbird seen when counting them.
Methods Used To Count Hummingbirds
When it comes to counting hummingbirds, researchers use different methods, which include:
Direct observation: This method involves sitting in the same location for specific durations, with or without the use of binoculars. This technique helps spot and count individual birds as they pass by, giving an accurate count of their populations.
Sweep nets: These are fine-meshed nets used to catch hummingbirds. They are placed in strategic locations like feeding zones, allowing researchers to count and identify hummingbirds accurately.
Mist nets: These are lightweight nets used to capture hummingbirds in mid-air. The birds are then banded with a unique identification marker, enabling researchers to track and count them accurately.
Hummingbird feeders: Researchers can use feeders to track hummingbirds. Feeder visits are counted, and researchers can get a rough estimate of the population based on the number of feeders and their location.
Tools Used To Count Hummingbirds
To effectively and efficiently count hummingbirds, several tools are used.
Binoculars: These are essential for accurately observing hummingbirds from afar.
Magnifying glass: This tool is used to identify specific bird characteristics, which helps with species identification.
Cameras: Cameras help capture images of hummingbirds. These images can be used to help identify hummingbird species or for record-keeping.
Maps: These help researchers map the area and route taken by hummingbirds during migration, making it easier to predict and count them accurately.
Birding apps: There are several birding applications that researchers can use to help identify hummingbird species and keep records of their counts.
Counting hummingbirds may seem like an arduous task, especially since they are fast-paced and often hard to spot.
However, using the right techniques and tools, researchers can accurately monitor and maintain these bird species' populations, ensuring their survival for future generations.
Estimating Hummingbird Population: Calculation Methods And Formulas
Hummingbirds are fascinating creatures known for their iridescence and extraordinary agility in the air.
If you have a hummingbird feeder in your backyard and you're curious about how many hummingbirds frequent it, there are a few ways to estimate the population.
Let's take a look at some methods and formulas to calculate how many hummingbirds you have.
Understanding The Variability Of Hummingbird Population
Before we dive into the calculation methods, it's important to understand the natural variability of the hummingbird population.
Estimating the exact number of hummingbirds is a challenging task due to their erratic behaviour and movement patterns. Moreover, their population can vary depending on the season, weather, and food availability.
Keeping these factors in mind, it's crucial to acknowledge the margin of error in the estimates and interpret the results as a rough approximation.
Formula For Estimating Hummingbird Population
One of the simplest methods to calculate hummingbird population is based on observation time. Start by setting a timer for an amount of time you wish to spend observing the feeder, such as 10 minutes.
Count the number of hummingbirds that visit the feeder during that time. For example, if you saw 10 hummingbirds in 10 minutes, the rate of hummingbirds per minute is 1.
By multiplying the rate per minute with the number of minutes in an hour, we can get the estimated number of hummingbirds per hour.
In this case, we would estimate there to be 60 hummingbirds in an hour (1 hummingbird/minute x 60 minutes).
Alternatively, you can estimate the approximate number of hummingbirds by weighing the amount of nectar they consume. The average hummingbird consumes up to half of its body weight in nectar daily.
If you know how much nectar a hummingbird drinks in a day, you can divide the total amount of nectar consumed by the amount of nectar one hummingbird consumes per day.
Factors Affecting Hummingbird Counts
There are some factors that can affect hummingbird counts that are worth noting.
Some of these include:
Weather conditions: Hummingbirds may not appear in extreme hot or cold temperatures or during heavy rains.
Predators: Presence of predators in the vicinity of the feeder can deter hummingbirds from visiting.
Time of day: Hummingbirds are most active during daylight hours.
Position of feeder: The feeder's position can affect how visible it is to the hummingbirds. Placing it in a highly visible location can increase the likelihood of hummingbird visits.
By understanding these factors, you can make better estimates of the hummingbird population in your area.
Bear in mind that these methods are estimations, and the precise number of hummingbirds may differ. Enjoy observing these fascinating birds!
Recording And Analyzing Data: Using Technology To Aid Your Count
The Importance Of Keeping Accurate Records
As a hummingbird enthusiast, keeping accurate records in counting hummingbirds is of the utmost importance. By doing so, you will be able to better understand the hummingbirds' behavior and help in their conservation.
Here are some key points to take note of:
Accurate records will allow you to track the movement patterns of the hummingbirds, noting their migration and breeding periods.
It will also help you establish a baseline count so that you can determine if a significant decrease or increase in the hummingbird population has occurred.
Keeping records will allow you to share your knowledge with other hummingbird enthusiasts and help in monitoring the hummingbird population on a larger scale.
Tools And Apps To Record And Analyze Hummingbird Counts
The use of technology has made it easier to collect and analyze hummingbird data.
Here are some tools and apps that you can use to aid in your hummingbird counts:
Hummingbird guide – an app that provides bird species information, sighting logs, and location mapping.
Birdlog – this app provides you with a platform to log your bird sightings, allowing you to share your sightings with others and contribute to a global database.
Ebird – this tool is a widely recognized database that collects bird observations globally, allowing you to store and share sightings with other bird enthusiasts.
Techniques For Analyzing And Interpreting Hummingbird Data
To get the most out of the hummingbird data you have collected, you need to analyze and interpret it effectively.
Here are some techniques to consider when analyzing and interpreting hummingbird data:
Use graphs and charts to visualize your data, making it easier to see patterns and trends in the hummingbird population.
Compare your data to previous years to note any changes in the hummingbird population and identify patterns.
Use statistical analysis to determine if your data is statistically significant.
Correlate your data with other variables such as weather data, to note any associations between hummingbird behavior and environmental factors.
By recording, analyzing, and interpreting data accurately, you will be able to contribute to the scientific knowledge of hummingbirds, as well as monitor and protect their population.
Always remember the importance of keeping accurate records and using technology to aid in the process.
FAQ On Hummingbirds
How Do I Identify Hummingbirds In My Area?
Hummingbirds are small birds with iridescent feathers and long, thin bills. Look for their distinctive hovering and darting flight patterns.
How Can I Count The Number Of Hummingbirds In My Yard?
The easiest way to count the number of hummingbirds in your yard is to set up a hummingbird feeder and keep track of how many birds visit.
What Kind Of Food Should I Offer Hummingbirds?
Hummingbirds primarily feed on nectar from flowers and sugar water from feeders. It's important to use the correct ratios of sugar to water in your feeder.
When Is The Best Time To Count Hummingbirds?
The best time to count hummingbirds is during peak migration times, which vary depending on your location. Check with your local birding organizations for specific information.
How Can I Create A Hummingbird-Friendly Environment In My Yard?
Planting a variety of flowering plants and shrubs, providing a water source, and setting up hummingbird feeders are all great ways to create a hummingbird-friendly environment in your yard.
Conclusion
Calculating how many hummingbirds you have can be a fun and exciting activity. It can help you track the effectiveness of your hummingbird feeders and monitor changes in the hummingbird population in your area.
By following the steps outlined in this article, you can easily determine the approximate number of hummingbirds visiting your feeders.
Remember to keep records and observe changes in behavior, migration patterns, and feeding habits. Also, make sure to maintain clean and fresh feeders to keep the hummingbirds healthy and happy.
The more effort you put into observing and caring for your feathered friends, the more rewarding the experience will be. So, grab your binoculars, a notepad, and start counting those hummingbirds!