How to Decorate a Hummingbird Cake? 6 Steps!
To decorate a hummingbird cake, you should create a visually appealing and tasty design using cream cheese frosting, toasted nuts, and fresh or candied fruits.
A hummingbird cake is a popular Southern dessert featuring a moist, spiced cake filled with bananas, pineapple, and pecans or walnuts.
The cake is traditionally finished with a rich and tangy cream cheese frosting, giving it a balance of flavors and an attractive appearance.
With its tropical-inspired ingredients and delicious taste, decorating a hummingbird cake is all about showcasing its unique characteristics and adding a touch of creativity.
Use a cream cheese frosting as your base for decoration
Add toasted nuts such as pecans or walnuts for texture and flavor
Incorporate fresh or candied fruits like pineapple, banana, and orange slices
Give a touch of creativity with edible flowers or piping techniques
When decorating a hummingbird cake, begin by evenly spreading a generous layer of cream cheese frosting over the entire cake. Next, press toasted nuts gently onto the sides and/or sprinkle on top for added texture and flavor.
To bring a pop of color and a tropical touch, arrange fresh or candied fruit slices in a visually appealing pattern on top of the cake.
Finally, you can enhance the overall presentation by adding edible flowers or using piping techniques to create intricate designs with the frosting.
This combination of elements will result in a beautifully decorated hummingbird cake that is sure to impress your guests.
Step-by-Step Guide to Decorate a Hummingbird Cake
| Step | Decoration Item | Instructions |
| --- | --- | --- |
| 1 | Cream cheese frosting | Prepare and spread cream cheese frosting evenly on the top and sides of the cake. |
| 2 | Pecans | Toast the pecans, then chop them and press them into the sides of the cake. |
| 3 | Dried pineapple flowers | Slice pineapple thinly, dry in the oven, and shape into flowers. Arrange them on the top of the cake. |
| 4 | Edible flowers | Scatter edible flowers, such as pansies or violas, around the pineapple flowers on the top of the cake. |
| 5 | Coconut shavings | Sprinkle toasted coconut shavings on the top and sides of the cake. |
| 6 | Additional fresh fruits | Add small fresh fruits, like raspberries or blueberries, around the pineapple flowers for a pop of color. |
Step-by-Step Guide to Decorate a Hummingbird Cake
Key Takeaway
Hummingbird cake is a traditional Southern dessert featuring tropical flavors
Decorating a hummingbird cake typically involves cream cheese frosting and various garnishes
Having a proper technique for frosting application ensures a visually appealing cake
Customizing the decorations allows for a personal touch, making the cake more special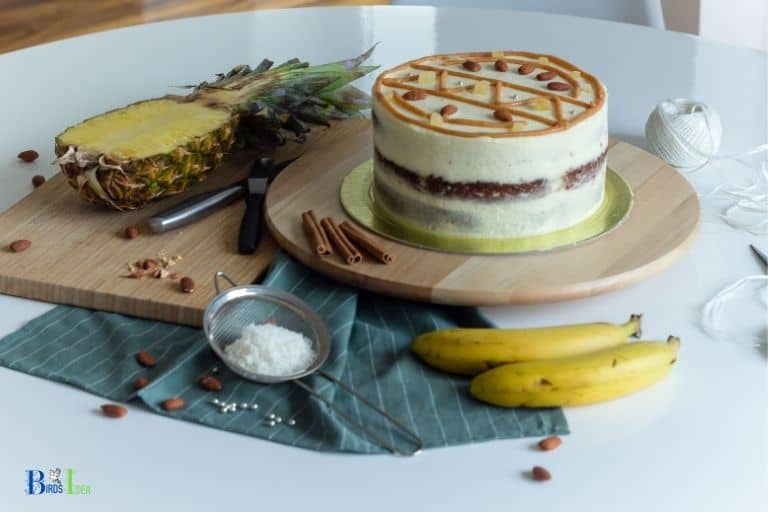 Five Facts About Decorating a Hummingbird Cake
Hummingbird cake is a delicious Southern dessert that originated in Jamaica, but became popular in the United States in the 1970s. It is a moist, sweet cake featuring bananas, pineapples, and spices such as cinnamon (source: Southern Living).
The traditional frosting for a hummingbird cake is cream cheese frosting, which perfectly complements the tropical fruit flavors of the cake itself. To achieve a smooth, even layer of frosting, it is essential to use an offset spatula or a flat knife (source: Sally's Baking Addiction).
One popular decoration for hummingbird cakes is to add nuts, such as pecans or walnuts, to the exterior. These nuts can be finely chopped and pressed into the sides of the cake, or simply sprinkled on top to add a crunchy texture and enhance the cake's appearance (source: The Spruce Eats).
Another visually appealing option is to use edible flowers as a garnish for a hummingbird cake. This adds a whimsical, natural touch that complements the cake's tropical vibe. Choose flowers that are pesticide-free and safe for consumption, such as pansies, nasturtiums, or violas (source: Delish)
Understanding The Hummingbird Cake
If you are someone who is always on the lookout for something tasty and unique, then you must try out the hummingbird cake. This cake is a layered cake that has a combination of unique ingredients, and it is delicious.
It is a perfect balance of flavors that will make you come back for more. Here is all you need to know about understanding the hummingbird cake.
A Brief History Of The Cake
The hummingbird cake is said to have originated in jamaica.
It made its way to the united states in the late 1970s and quickly became popular.
The cake's name comes from the hummingbird, which is a symbol of love, joy, and beauty.
Overview Of The Ingredients
The cake consists of three layers that are usually filled with cream cheese frosting.
The ingredients include ripe bananas, crushed pineapples, pecans, and cinnamon.
The cake has a rich flavor and a moist and dense texture.
Differences Between Hummingbird Cake And Other Cakes
The hummingbird cake is distinct because it has fruit in its ingredients.
It is also unique because it uses oil instead of butter, which gives it its moist texture.
The cake has a beautiful combination of spices, bananas, and pineapples, which bring out its intense flavor.
Now that you understand the hummingbird cake, you can decorate it and indulge in its sweet and tangy flavor.
Preparing The Cake For Decorating
Decorating a cake can be a fun and rewarding experience, especially when it comes to a delicious hummingbird cake. But before you get started on the decoration process, it's important to prepare your cake correctly.
In this section, we'll focus on the key steps you need to take to ensure your hummingbird cake is ready for decorating.
Choosing The Right Cake Pan And Size Of The Cake
Choosing the right cake pan and size is essential to achieve the perfect cake.
Here's what you need to consider:
The size of the cake should be based on the number of guests you are serving. A standard 9-inch cake pan will make enough cake to serve around 12 people.
Consider the depth of the cake pan. A deeper pan will create a taller cake, but you'll need to adjust the cooking time accordingly.
Baking The Perfect Hummingbird Cake
Baking a hummingbird cake requires precision and attention to detail.
Follow these steps to ensure your cake turns out perfectly:
Preheat your oven to 350°f.
Mix the dry ingredients in a separate bowl.
Combine the wet ingredients in a separate bowl.
Mix the dry and wet ingredients together.
Fold in the remaining ingredients by hand, one at a time.
Pour the batter into your prepared cake pan and smooth out the top.
Bake for 25-30 minutes or until a toothpick comes out clean when inserted into the middle of the cake.
Remove the cake from the oven and let it cool before decorating.
Cooling And Leveling The Cake
The next step is to cool and level the cake.
Here's how:
Let the cake cool completely before attempting to decorate.
Use a serrated knife or cake leveler to trim off the top of the cake to create a flat surface if needed.
Run a butter knife or spatula around the edges of the cake pan to release the cake from the sides.
Flip the cake pan over and gently remove the cake from the pan.
Frosting The Cake: Cream Cheese Frosting Vs. Buttercream Frosting
Finally, it's time to choose your frosting. There are two main types of frosting for hummingbird cakes: cream cheese frosting or buttercream frosting.
Here are some key differences to consider:
Cream cheese frosting is tangy and pairs well with the fruity flavors of the hummingbird cake. It's also a great option if you want to add a bit of texture to your cake.
Buttercream frosting is sweet and smooth, and a good choice if you want to balance out the flavors of the cake. It's also a good option if you want to create intricate designs on your cake.
No matter which frosting you choose, make sure you spread it evenly over the entire cake. Once you're finished, your hummingbird cake will be ready to serve and enjoy!
Decorating Techniques For Hummingbird Cake
If you're looking to impress your guests with a beautifully decorated cake, then the hummingbird cake might be just what you need.
This delectable cake is made with bananas, pineapples, pecans, and a touch of cinnamon, making it a perfect tropical dessert to celebrate any occasion.
Here are some fantastic decorating ideas that will make your hummingbird cake look and taste even better.
Applying Frosting To The Cake: Crumb Coating
Before applying the frosting to your hummingbird cake, it's crucial to ensure the surface is smooth. You can achieve this by using a crumb coating technique, which involves applying a thin layer of frosting to trap any loose crumbs on the cake.
Here's how you can do it:
Begin by adding a dollop of frosting on the center of the cake.
Use a cake spatula to spread the frosting outwards, making sure to cover the top and sides.
Once you've finished the first layer, refrigerate the cake for at least 30 minutes to set the frosting.
Apply a second layer of frosting to the cake using the same technique.
Piping Techniques For Hummingbird Cake
Adding intricate piping designs to your hummingbird cake is an excellent way to create a visually appealing cake.
With some practice, you can master the following piping techniques:
Simple rosettes – use a piping bag with a star-shaped tip to create rosettes starting from the center of the cake, spiraling towards the edges.
Basketweave – use a ribbon tip to create a crisscross pattern on the cake surface.
Lacework – use a lacy decorating tip to create intricate floral designs on the cake's sides.
Using Fresh Flowers And Fruits For Decoration: Dos And Don'Ts
Decorating your hummingbird cake with fresh flowers and fruits can lend it an exotic touch.
Here are some tips to help you get it right:
Dos:
Use edible flowers that are free from pesticides or chemicals.
Wash the fruits thoroughly and dry them before placing them on the cake.
Place the flowers and fruits on the cake just before serving.
Don'ts:
Do not use flowers or fruits that are toxic or not edible.
Do not use fruits that release moisture and soften the cake's surface.
Edible Gold And Silver Leaf For Cake Decoration: Step-By-Step Guide
If you want to add a royal touch to your hummingbird cake, edible gold or silver leaf is an excellent choice.
Here's how you can apply it to your cake:
Brush a thin layer of edible glue or vodka on the surface where you want to apply the gold/silver leaf.
Gently place the leaf on the glue surface and press it down using a clean paintbrush.
Once the glue dries, gently brush away any excess leaf with a clean, dry paintbrush.
Repeat the process until you achieve the desired effects.
Decorating your hummingbird cake involves a lot of creativity and patience, but the end result is worth it. With these techniques, you can create a stunning cake that is sure to impress your guests.
Advanced Techniques For Hummingbird Cake Decoration
Decorating a hummingbird cake can be a fun and creative experience, especially if you're on the lookout for advanced techniques to take your cake to the next level.
Whether you're a professional baker looking to wow your clients, or an avid enthusiast eager to impress your friends and family, this guide has got you covered with some of the best and most innovative hummingbird cake decoration ideas.
Carving And Shaping The Cake For Intricate Designs
Start by freezing the cake the day before you plan to decorate it. Freezing the cake will make it easier to carve and shape.
Once frozen, use a serrated knife to carve the cake into any desired shape or design. You can go for multiple layers, sloped designs, or anything else your creative mind can come up with.
Next, use a piping bag and your favourite icing to cover the cake's newly carved surfaces, leaving the cake with a smooth finish to decorate further.
Combining Hummingbird Cake With Other Desserts For An Impressive Display
Display your hummingbird cake with complementary desserts that'll add visual interest and variety to the table, making it even more enticing to guests.
Mini hummingbird cupcakes are a perfect addition to the main cake, as they can be decorated in similar styles and colours, complementing the cake while looking beautiful and delicious.
Placing the cake on a tiered stand and adding colourful fruits around it will also create a vibrant and colourful display that's sure to impress.
Airbrushing And Stenciling Techniques For Cake Decoration
Airbrushing is a technique of applying food colouring to the cake's surfaces to give it an airbrushed look. You can use stencils to create an intricate design on top of the cake, creating a unique and eye-catching effect.
To achieve this look, apply the food colours to the cake using an airbrush gun, which can be found from most baking supply shops.
Use stencils to create different shapes and patterns on your cake. Hold the stencils firmly and airbrush over them to create the desired design.
Using Fondant For Decoration: Tips And Tricks
Fondant is a sugar dough that's rolled out and used to create decorations like bows, flowers, or lettering that perfectly match the cake's colour scheme.
Start by kneading the fondant for a few minutes before rolling it to the desired thickness.
Use cookie cutters or fondant molds to mold the fondant and create decorations that will add that perfect finishing touch to your hummingbird cake.
FAQ About Decorating a Hummingbird Cake
How Do I Make A Hummingbird Cake?
To make a hummingbird cake, combine flour, sugar, baking soda, cinnamon, salt, vegetable oil, eggs, pineapple, and bananas. Bake for 25-30 minutes.
Can I Freeze A Hummingbird Cake?
Yes, you can freeze a hummingbird cake. Wrap the cake tightly in plastic wrap and then in aluminum foil before storing in the freezer.
How Do I Decorate A Hummingbird Cake?
You can decorate a hummingbird cake with cream cheese frosting, sliced almonds, chopped pecans, shredded coconut, or fresh fruit.
How Long Does A Hummingbird Cake Last?
A hummingbird cake can last up to five days if stored at room temperature in an airtight container, or up to a week if refrigerated.
What Occasions Are Suitable For Serving A Hummingbird Cake?
Hummingbird cakes are perfect for brunches, weddings, baby showers, birthdays, or any special occasion where you want to impress your guests with a delicious and unique cake.
Conclusion
Decorating a hummingbird cake can be an enjoyable and creative experience, bringing joy to any occasion or event. Summarizing the process, it all starts with making a delicious hummingbird cake and deciding on the color scheme and design for the icing.
From there, choosing the appropriate decorating tools, like piping bags and tips, will help bring your vision to life. You can also include fresh fruit or flowers as beautiful and natural garnishes. And remember, practicing ahead of time can make a significant difference in the final result.
The possibilities are endless with hummingbird cake decorating, allowing you to unleash your creativity and have fun. Don't be afraid to try new things and make it your own. Give it a go and let your imagination run wild!