How to Tell How Old a Hummingbird is: Behaviors!
Determining the age of a hummingbird can be challenging, but there are certain physical characteristics and behaviors that can provide clues to their approximate age.
Hummingbird age can be estimated based on factors such as size, plumage coloration, molt patterns, and vocalizations.
While it is difficult to pinpoint their exact age, understanding these indicators can help make an educated guess about a hummingbird's age.
Size: Juvenile hummingbirds are initially smaller than adults but quickly grow to match adult size within a few weeks.
Plumage coloration: Young hummingbirds have duller plumage compared to adults, with males developing bright, iridescent colors as they mature.
Molt patterns: Hummingbirds experience several molts throughout their lives, with juveniles undergoing a complete molt after fledging, and adults having annual partial molts.
Vocalizations: Juvenile hummingbirds tend to have simpler and less complex vocalizations than adults.
When trying to determine the age of a hummingbird, start by observing its size and plumage coloration. If the bird is smaller and has duller feathers, it may be a juvenile.
Also, pay attention to molt patterns – if the bird is in the process of a complete molt, it could indicate a younger age.
Finally, listen to the bird's vocalizations, as simpler calls may be a sign of immaturity.
Keep in mind that even with these indicators, determining a hummingbird's exact age is still a challenging task.
6 Methods to Determine the Age of a Hummingbird
| | | |
| --- | --- | --- |
| Methods | Physical Characteristics | Behavior |
| Hatchling | Barely any feathers, eyes closed, size of a jellybean | Mostly stays in the nest, relies on parents for food |
| Nestling | Developing feathers, eyes open, growing quickly | Still in the nest, starts stretching and flapping wings |
| Fledgling | Full set of feathers, smaller size compared to adults, duller coloration | Leaves the nest, learns to fly, starts to feed independently |
| Juvenile | Resembles adults, but with duller colors and less iridescence, shorter tail and wing feathers | Begins to explore territory, practices hovering and feeding from flowers |
| Adult | Bright, iridescent colors, longer tail and wing feathers, distinctive markings depending on species | Establishes territory, mates, feeds and cares for young |
| Older Adult | Possible fading of colors, wear on feathers, especially on wingtips and tail, may have reduced agility and flying speed | Continues normal adult behavior, may have reduced reproduction success |
6 Methods to Determine the Age of a Hummingbird
Key Takeaway
Age determination in hummingbirds is key for tracking their growth, studying their populations, and understanding their behavior.
Feather coloration and wear can provide significant evidence in estimating a hummingbird's age.
Molt patterns are a crucial tool for determining age in hummingbirds, as they shed their feathers in a somewhat predictable fashion.
Band studies and data records are essential for collecting accurate information on hummingbird age and population studies.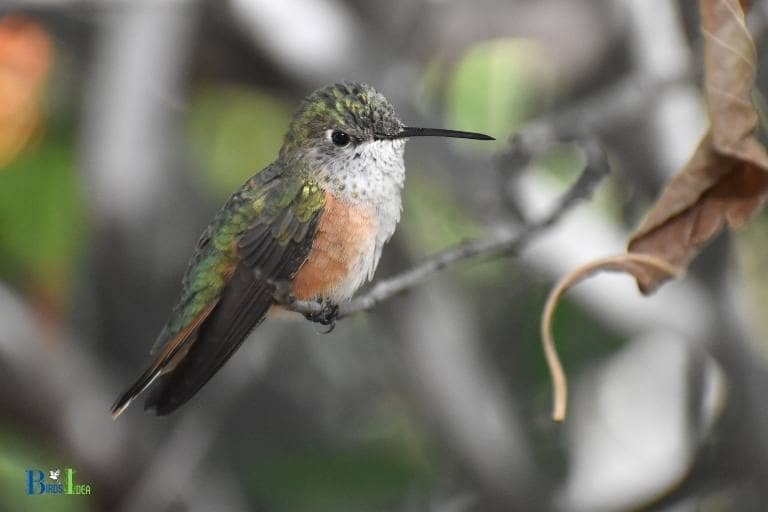 Five Facts About: Hummingbird Aging
Hummingbirds experience juvenal molt in their first year of life, which can be a strong indicator of their age. During this process, they replace their juvenile feathers with adult ones. (Source: The Spruce)
The rate and pattern of a hummingbird's feather wear can vary depending on factors such as their diet, habitat, and migration patterns. Observing these factors can help in determining their age. (Source: Audubon)
Researchers and bird banders use banding as a method to track individual hummingbirds and collect data on their age. The unique combination of colors and bands on their legs provide important information for scientists. (Source: Western Hummingbird Partnership)
Secondary feathers in a hummingbird's wing are often a key age indicator. These feathers in juvenile hummingbirds show wear patterns that are less clean and integrated than in adults. (Source: The Ohio State University)
Hummingbird age determination can also be made through molecular techniques such as DNA analysis, providing a more accurate method for scientists to study populations. (Source: The Auk: Ornithological Advances)
Understanding Hummingbird Anatomy And Physiology
Hummingbirds are fascinating creatures that captivate our hearts with their beauty and agility. These tiny birds flit around so quickly that it's hard for us to catch a glimpse of them, let alone determine how old they are.
By the end, you'll be equipped with the knowledge to tell how old a hummingbird is.
Overview Of Hummingbird Anatomy And How It Relates To Aging
Hummingbirds are the smallest bird species in the world. As such, their anatomy differs significantly from that of other birds. Given their small size, it's essential to understand their anatomy to determine their age accurately.
Here're some key points to keep in mind:
Hummingbirds' average lifespan is three to five years.
Hummingbirds have highly efficient respiratory and circulatory systems because they need to fly continuously.
Their wings are attached to their bodies with a ball-and-socket joint, which allows them to rotate their wings in all directions and hover in place.
Their feathers are lightweight, which allows them to fly comfortably.
How Wing And Tail Feathers Can Be Used To Age A Hummingbird
Hummingbirds' feathers can provide a wealth of information about their age.
Here's what you need to know:
Juvenile hummingbirds have downy feathers with yellow tips.
During their first molt, juveniles get their first adult feathers and develop a tell-tale notch in their outermost primary feather, which makes it easy to determine their age.
Older birds have more worn feathers, indicating their age.
If you're examining a hummingbird's tail feathers, you can count the number of notches in the feathers to determine the bird's age. Each notch represents a year of the bird's life.
With these tips in mind, you should be able to tell how old a hummingbird is with ease. However, keep in mind the importance of respecting these awe-inspiring creatures while observing them.
Factors That Affect Age Determination
Hummingbirds are beautiful and fascinating creatures that capture our attention. Determining the age of a hummingbird can be challenging, as there are several factors that can affect the accuracy of age determination.
Among these factors are the following:
Discussion Of Factors That Can Make Age Determination Difficult
Determining the age of a hummingbird can be difficult because of various factors that come into play.
Here are some of them:
Lack of data: It can be challenging to determine the age of a hummingbird without sufficient data or information.
Wear and tear: The wear and tear on a bird's feathers can make it challenging to identify a hummingbird's age accurately.
Feather wear: Birds' feathers naturally wear and tear due to climate changes, migrations, and molting.
Feather damage: The condition of a bird's feathers can vary depending on various factors, such as environmental conditions, parasites, and exposure to toxins.
Feather variation: The feathers of hummingbirds are known to vary in color and pattern depending on the species, making it difficult to determine their age accurately.
Toothpick technique: A commonly used method to determine the age of hummingbirds is the toothpick technique, which involves inserting a toothpick into the bird's skull to observe the skull's structure and age features.
How To Account For Variation In Feather Wear Due To Climate, Migration, And Molt
Since feather wear can vary significantly depending on climate conditions, migratory patterns, and molting, it is essential to take these factors into account when determining a hummingbird's age.
Here are some tips on how to do it:
Look for asymmetry: If one wing is more worn than the other, it could indicate that the bird has been flying for a longer period, indicating an older bird.
Study feather growth cycles: Feather growth cycles can provide clues to the age of the bird, as older birds may have feathers that are changing color or patchy.
Feather condition: The condition of a hummingbird's feathers can give a clue to its age. Younger birds generally have sleek and shiny feathers.
Molt patterns: Molt cycles can vary depending on the species, but generally, older birds tend to have more regular and predictable molt patterns, while younger birds may have less predictable or more frequent molting.
Keeping these factors in mind can help in determining the age of a hummingbird more accurately. While there are various techniques to determine a bird's age, it is essential to remember that it is not an exact science and should be viewed as an estimate.
As with any estimate, there is the potential for inaccuracies, so the age of a hummingbird should be taken with a grain of salt.
Techniques For Age Determination
Hummingbirds are intriguing creatures that have captured the attention of bird enthusiasts worldwide. Identifying the age of a hummingbird is crucial for understanding their behavior, health, and migratory patterns.
Here's a detailed explanation of techniques for determining the age of a hummingbird:
Bill Length
The bill length of a hummingbird is one of the easiest ways to estimate their age. The bill of a juvenile hummingbird is shorter than that of an adult hummingbird.
Generally, the bill of a hummingbird grows with age. To measure the bill length, use a pair of calipers to capture the bill's length in millimeters.
Feather Wear And Coloration
Feather wear and coloration is also an essential technique in determining a hummingbird's age. Juvenile hummingbirds have fresh and bright feather colors.
Over time, feathers undergo natural wear and tear, losing their sheen, and become dull. As hummingbirds age, their feathers lose their vibrant colors.
The scruffy appearance is also prevalent in juvenile birds.
Skull Ossification
Skull ossification is another method used to determine the age of hummingbirds. The skull of a juvenile hummingbird is not fully fused, while that of an adult is completely fused.
To analyze skull ossification, gently press the skull with your finger.
If the skull yields to pressure, then it's a juvenile bird. If the skull is hard, then the bird is an adult.
Moult Limits
Molt limits is another reliable technique for determining the age of hummingbirds. The tails and wing feathers of juvenile hummingbirds have molt boundary lines that separate the feathers.
The feathers' edges are paler than the rest of the feathers, and the edges are ragged in appearance.
On the other hand, adult hummingbirds do not have molt boundary lines, and their wings have a uniform appearance.
Skull Measurements
Measuring the skull size of hummingbirds is another technique for determining their age. The skull size of juvenile birds is relatively smaller than that of adult birds.
This method requires precision instruments like a caliper, but it's best done by an experienced researcher or ornithologist.
Hummingbirds' age determination requires the expertise of skilled researchers or ornithologists who can use a combination of techniques to determine their age.
By using these techniques and observing other physical features, such as body size and weight, we can better understand hummingbirds' behaviors and health.
Remember, considering different techniques for age determination is essential to get as close to the hummingbird's actual age as possible.
FAQ Of How To Tell How Old A Hummingbird Is
How Can You Tell The Age Of A Hummingbird?
Age can be determined based on physical characteristics, such as plumage color and iridescence.
Can You Tell A Hummingbird'S Age By Its Feathers?
Yes, a hummingbird's feathers can be analyzed to determine its age by looking at their iridescence and wear.
What Is The Lifespan Of A Hummingbird?
The lifespan of a hummingbird varies by species, but can range from 3 to 12 years.
How Long Do Baby Hummingbirds Stay With Their Mothers?
Baby hummingbirds stay with their mothers until they are old enough to fend for themselves, which can take anywhere from 18 to 30 days.
How Can You Attract Hummingbirds To Your Garden?
Attract hummingbirds to your garden by planting native flowers with bright colors and sweet nectar, providing fresh water, and avoiding the use of pesticides.
Conclusion
Hummingbirds have always fascinated bird enthusiasts, and their age is something that many people wonder about. While it can be difficult to determine the exact age of a hummingbird, there are some signs that can indicate whether they are young or old.
By observing their behavior, plumage, and physical characteristics, we can learn a lot about these delicate creatures. It is important to remember that hummingbirds are fragile and should be handled with care.
If you are ever in doubt about the age of a hummingbird, it is best to consult with a wildlife expert.
By working together, we can ensure the safety and well-being of these incredible birds and continue to learn more about them. With a little patience and observation, anyone can become an expert in identifying the age of hummingbirds.
So get outside and start exploring the world of these tiny creatures – you never know what you might discover!