How to Keep Hummingbirds from Flying into Windows? 8 Method
To keep hummingbirds from flying into windows, use visual deterrents, window films, and feeders placement adjustments to reduce accidents and make your windows more visible to these tiny creatures.
Hummingbirds can fly into windows because they may not see the glass, mistake window reflections for open space, or be attracted to indoor plants. This can lead to serious injuries or even death for the fragile birds.
By implementing simple measures, you can make your windows more visible to hummingbirds and reduce the risk of collisions.
Install visual deterrents: Use decals, stickers, or bird tape to create patterns on your windows, making them more visible to hummingbirds.
Apply window films: Cover your windows with films that have patterns or colors that hummingbirds can easily see, limiting reflections and increasing visibility.
Adjust feeder placement: Place feeders either very close (within 3 feet) or far away (25-30 feet) from windows, reducing the chance of birds flying into the glass.
Modify window exteriors: Add window screens, external shutters, or bird netting to break up reflections and provide a buffer between the glass and hummingbirds.
Visual deterrents such as bird tape or decals can be an effective way to make windows more noticeable to hummingbirds.
These can be applied in various patterns or designs, with the most effective being spaced closely together for maximum visibility.
In addition, window films can provide similar benefits by altering the glass's reflective properties while also serving as a decorative element.
Be sure to adjust feeder placement to minimize the likelihood of birds mistaking windows for open spaces, and consider modifying your window exteriors.
8 Prevention Methods to Keep Hummingbirds from Flying Into Windows
| Prevention Methods | Description |
| --- | --- |
| Window Decals | Attach bird-safe window decals or stickers to the outside of the window, making it more visible. |
| Bird Tape | Use bird deterrent tape or strips on the windows to create a pattern that can be seen by the birds. |
| Window Screens | Install window screens on the outside of the windows, creating a barrier and reducing reflections. |
| Anti-Reflection Film | Apply anti-reflection film to the windows, reducing glare and making the windows more visible to birds. |
| Outdoor Motion Sensor | Set up an outdoor motion sensor that plays bird distress sounds when activated, deterring the birds. |
| Feeders Placement | Place bird feeders at least 10 feet away from windows to reduce the likelihood of birds flying into them. |
| Landscaping | Plant trees and bushes near windows, creating a natural barrier and reducing window reflections. |
| Temporarily Close Curtains or Blinds | Close curtains or blinds during high bird activity hours, reducing reflections and improving visibility. |
8 Prevention Methods to Keep Hummingbirds from Flying Into Windows
Key Takeaway
Importance of preventing hummingbird collisions with windows
Implementing effective measures to make windows more visible
Understanding hummingbird behavior to minimize accidents
Creating a safe environment for hummingbirds around your home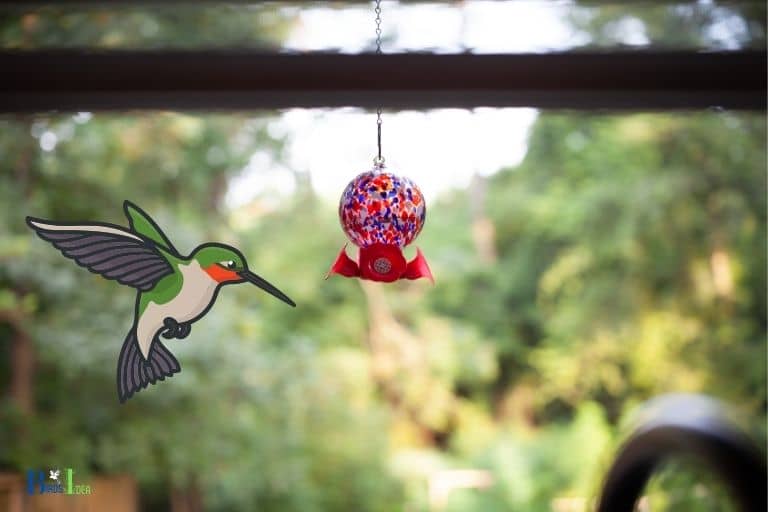 Five Facts About Avoiding Hummingbird-Window Collisions
Hummingbirds, like other birds, often fly into windows because they cannot perceive the clear glass as a solid barrier (Source: American Bird Conservancy)
One effective method to keep hummingbirds from flying into windows is by applying decals, stickers or window films that create a pattern and make the glass more visible for them (Source: The Spruce)
Another approach to prevent collisions is to move bird feeders closer to the windows, within 3 feet, as this would encourage the birds to slow down before reaching the window, reducing the force of impact (Source: All About Birds)
Strategically placing garden elements such as plants, water features, and feeders can help guide hummingbirds to safer areas and away from windows (Source: Hummingbird Central)
Turning off indoor lights or using window blinds at night can reduce reflections on the glass, making it less likely for hummingbirds to fly into windows (Source: Bird Watcher's Digest)
Understanding Hummingbird Behavior
Hummingbirds are fascinating creatures. Their bright colors and rapid movements are a joy to watch. Unfortunately, they can be at risk of accidentally colliding with windows.
In this section, we will explore hummingbird behavior to understand why these collisions occur and how to prevent them.
How Hummingbirds See And Navigate Their Environment
Hummingbirds rely heavily on their visual system to navigate their environment. They have excellent color vision and can see a broad range of colors.
They are also capable of detecting ultraviolet light, which is invisible to humans. This unique ability helps them locate flowers that are rich in nectar.
To navigate, hummingbirds use landmarks and their keen sense of spatial memory. They can remember the location of feeders, flowers, and perches with great accuracy. This ability allows them to quickly return to a food source or safe spot.
The Risks Of Window Collisions And Why They Occur
Despite their advanced visual system, hummingbirds can still collide with windows.
There are two primary reasons for this:
Misleading reflections – windows can reflect their surroundings, creating a misleading image of the environment. Hummingbirds may mistake reflections of trees and sky as actual objects, leading them to fly towards the window.
Unseen glass – hummingbirds can't see glass, especially when it's clean. This makes it difficult for them to avoid a collision.
Both of these factors can be deadly for hummingbirds, causing injury or even death.
To prevent window collisions, it's essential to take proactive measures. In the next section, we'll explore effective strategies for keeping hummingbirds safe.
Strategies For Keeping Hummingbirds Safe
There are several strategies you can use to keep hummingbirds safe from window collisions. These include:
Window decals and stickers: Placing decals and stickers on your windows can help make them more visible to hummingbirds. There are many options available, from simple silhouettes to intricate designs.
Window film: Applying a film to your windows can make them more visible to hummingbirds while still allowing you to see outside.
Move feeders away from windows: If you have hummingbird feeders near windows, consider moving them further away. This can reduce the risk of collisions.
Block the view: You can use curtains or blinds to block the view from the inside of your home. This eliminates reflections and makes the window more visible to hummingbirds.
By following these strategies, you can help ensure that hummingbirds stay safe and healthy. With a little effort, you can enjoy these amazing creatures while also protecting them from harm.
Techniques For Keeping Hummingbirds Safe
Hummingbirds are marvelous creatures. They are tiny, exquisite and fascinating to watch, but unfortunately, they can sometimes face a serious problem of colliding with windows.
These collisions are often fatal for hummingbirds, and it's heartbreaking to see them lying motionless on the ground.
However, there are several techniques that you can use to keep hummingbirds safe. Some of these techniques are:
Installing Physical Barriers Like Screens And Decals
Hummingbirds are not able to see the glass of your windows, so they often fly straight into them. To help them avoid collisions, you can install physical barriers like screens and decals.
Here are a few ways to implement this technique:
Install screens on your windows, preferably with small mesh that will act as a deterrent but not obstruct the view.
You can also use decals to create a pattern on your windows. This helps hummingbirds recognize that there is something in front of them, and encourages them to change direction.
The decals can be any shape or design, but make sure that they are placed in a way that hummingbirds can see them.
Attracting Hummingbirds Away From Dangerous Areas With Food And Shelter
Hummingbirds are attracted to colourful flowers, nectar, and feeders, which can often be placed in strategic locations. This can help to divert their flight path away from dangerous areas.
Here are a few ways to attract hummingbirds to safer areas:
Install feeders in visible areas that are at least three feet away from windows. Make sure to keep them clean and full of fresh food.
Plant flowers with bright colors and nectar in areas farther away from windows, where hummingbirds can eat without distraction from nearby windows.
Provide hummingbirds with shelter by planting trees and bushes with dense foliage.
Using Technology Like Motion-Activated Sound And Light Systems To Deter Collisions
Tools like sound and light systems can also be used to alert hummingbirds of potential danger and encourage them to change their flight path.
Here are a few ways to employ this technique:
Install motion-activated lights outside your windows, so that they light up when hummingbirds fly too close, giving them a signal to change direction.
Use a motion-activated sound system that emits a sound that is detectable to hummingbirds but not humans. Systems like sonicshield have been developed specifically for this purpose.
If you live in an area where bird collisions are common, consider installing a bird alert system that sounds an alarm when a bird is detected in the danger zone.
By employing one or more of these techniques, you can help to keep hummingbirds safe and reduce the incidence of window collisions.
These little creatures are fascinating to watch, and by taking these steps, you can do your part to ensure that they remain a part of our ecosystem for years to come.
Creating A Safe Outdoor Environment
Hummingbirds are fascinating creatures that can add a touch of beauty to any outdoor space. However, with their fast flying speed, sometimes they may fly into your windows.
To make sure your yard remains safe for hummingbirds, here are some useful tips to consider.
Tips For Landscaping Your Yard To Be Hummingbird-Friendly
Hummingbirds are attracted to particular plants, and planting these in your yard can promote a safe environment for these tiny birds.
Here are some recommendations for landscaping your yard to be hummingbird-friendly:
Plant native flowers: Planting native flowers will attract hummingbirds to your outdoor space and provide them with natural sources of food and shelter.
Include bright-colored flowers: Hummingbirds are drawn to bright-colored flowers, particularly red, orange, and pink ones.
Plant trumpet-shaped flowers: Hummingbirds enjoy feeding on trumpet-shaped flowers as they fit the birds' long, thin beaks.
Plant in natural groupings: Plant flowers in natural groupings to create a more realistic-looking environment for hummingbirds, as opposed to scattered plantings.
Potential Dangers To Avoid In Your Yard
Apart from window collisions, several other dangers in your yard can harm hummingbirds.
Below are some potential dangers to avoid in your yard:
Artificial flowers: Keep away from using artificial flowers, as they can confuse and harm hummingbirds when they try to feed on them.
Use bird-friendly pesticides: Avoid using pesticides that can harm hummingbirds. Opt for bird-friendly pesticides or use natural pest control methods.
No pesticides: Avoid using pesticides of any kind if possible. Hummingbirds are particularly sensitive to chemicals, and they could harm them.
Reflections from windows: To reduce the chances of hummingbirds flying into your windows, use decals, markings, or films on your windows as they help break up reflections.
By adhering to these essential tips, you can create a safe environment for hummingbirds in your yard and ensure their well-being while enjoying their beauty and company.
FAQ On Keeping Hummingbirds Away From Windows
How Do I Stop Hummingbirds From Hitting My Windows?
You can place decals or curtains on the window to break up the reflection and avoid bright colors near your window.
What Colors Attracts Hummingbirds To Our Windows?
Bright colors like red, orange, or yellow can attract hummingbirds to your windows.
What Kind Of Netting Can I Use To Keep Hummingbirds Away From Windows?
Use a specially designed netting with openings no larger than 0. 5 inches to prevent hummingbirds from getting tangled.
Can I Use Reflective Tape To Keep The Hummingbirds Away?
Yes, reflective tape or hanging cds can be used to deter hummingbirds from flying into windows.
Is It True That Hummingbirds Can Get Used To Window Decals And Return To Hitting My Windows?
Yes, hummingbirds can become accustomed to decals; therefore, it is important to rotate the placement of decals frequently.
Conclusion
To sum up, keeping hummingbirds safe from windows is a matter of priority for anyone who enjoys watching these beautiful creatures. As we have seen, there are several ways to mitigate the hazards of window collisions, including installing decals, external screens, and shades, and placing feeders away from the windows.
It is essential to act quickly if a bird does collide with your window, as they are often left stunned and vulnerable to predators. By taking these precautions, we can all do our part to protect the hummingbirds in our surroundings.
Remember, these delicate but resilient birds are a valuable part of our ecosystem, and their protection is vital for the future of our planet. So let's work together to ensure that they can thrive and continue to enchant us with their majestic flights and vibrant plumage.