How to Know If Hummingbirds are in Your Area: Migration!
To know if hummingbirds are in your area, observe for their presence, listen for their distinctive sounds, look for their preferred food sources, and check migration patterns.
Hummingbirds are small, colorful birds known for their swift movements and unique ability to hover in place while feeding.
They are found across North and South America, with different species inhabiting various regions.
To determine if you have hummingbirds in your area, there are several key indicators to look for and consider.
Presence of hummingbird feeders and sightings of the birds themselves
Distinctive humming sound created by their rapidly beating wings
Availability of favored food sources such as nectar-producing flowers and insects
Migration patterns and seasonal presence in different regions
Another sign of hummingbirds in your area is the presence of hummingbird feeders, which are designed to attract these unique birds.
Lastly, consider the migration patterns of hummingbirds, as some species migrate between North and South America, and may only be present in certain regions during specific months.
5 Identifying Signs of Hummingbirds Presence in Your Area
| | |
| --- | --- |
| Identifying Signs | Description |
| Sightings | Observing hummingbirds flying, feeding, or perching |
| Humming sounds | Hearing the humming sound of their wings while in flight |
| Nest presence | Discovering small, cup-shaped nests on tree branches |
| Pollinator activity | Noticing an increase in visited flowers and feeders |
| Favored plants | Locating abundant tubular flowers or nectar-rich plants |
5 Identifying Signs of Hummingbirds Presence in Your Area
Key Takeaway
Presence of hummingbirds depends on geographical location and time of year.
Utilize community resources to determine if hummingbirds might be in your area.
Keep an eye out for telltale signs of hummingbird activity, such as specific flowers and high-pitched sounds.
Encourage hummingbirds to visit by providing appropriate feeders and habitat.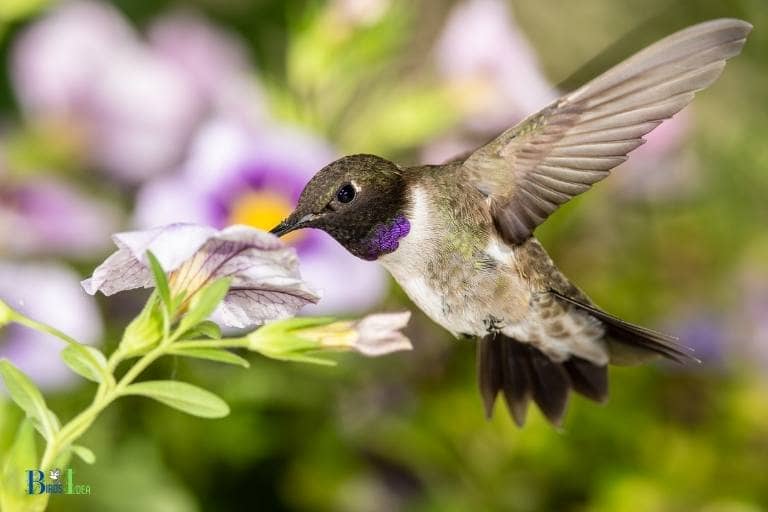 Five Facts About: How to Detect Hummingbirds in Your Area
Hummingbirds are native primarily to the Americas, with the highest species diversity found in tropical regions of South and Central America. (source: National Geographic)
They migrate throughout the year, with most species spending the summer months in North America before heading back south in the winter. (source: Audubon Society)
To find out whether hummingbirds frequent your area, join a local birdwatching group or consult online resources like eBird, which tracks bird sightings globally. (source: eBird)
Hummingbirds are typically drawn to tube-shaped flowers and feed on nectar, insects, and spiders. Planting flowers like trumpet vine, salvia, and fuchsia in your garden can increase the chances of attracting them. (source: Audubon Society)
Their wings beat extremely fast (up to 80 times per second), producing a unique humming sound. Keep your ears open for this high-pitched sound as an indicator of their presence. (source: Smithsonian)
Hummingbird Species Found In Your Area
Are you curious about the different types of hummingbirds that may be found in your area? Here's an overview of the hummingbird species that can be commonly seen in north america.
Overview Of Hummingbird Species Found In North America
Ruby-throated hummingbird: These birds are known for their bright green feathers and the iridescent ruby red patch at the throat. They are typically found in the eastern half of north america.
Anna's hummingbird: These birds have a slightly larger bill than other hummingbirds and are known for their metallic green feathers, with males having a rose-colored throat. They are commonly found in the western parts of north america, especially in california.
Rufous hummingbird: These birds have a reddish-orange coloring on their backs and a bright orange-red throat, making them easy to spot.
Brief Description Of Unique Features For Each Species
Ruby-throated hummingbird: These birds are small and agile, capable of flying forwards, backward, and even upside-down. The males have iridescent green feathers and a striking patch of ruby red feathers that glows when it catches the light.
Anna's hummingbird: These birds are unique in their ability to fly at high altitudes, up to 14,000 feet above sea level. They also have a metallic green coloring, with males having a rose-colored patch on their necks.
Rufous hummingbird: These birds have a long, thin bill that allows them to feed from flowers with deep corollas. They are known for their aggressive nature, frequently chasing away other hummingbirds from their feeding grounds.
Hummingbird Migration Patterns In North America
Hummingbirds are known for their migration patterns, with some species traveling thousands of miles each year.
The timing and routes of hummingbird migration depend on the species, but most north american hummingbirds migrate to central or south america during the winter months.
Ruby-throated hummingbirds: These birds typically migrate from the southeastern parts of the united states to central america, crossing the gulf of mexico during their journey.
Anna's hummingbirds: Although these birds are known for staying in north america year-round, some populations do migrate to the northern parts of mexico during the winter months.
Rufous hummingbirds: These birds are known for their long-distance migration, traveling up to 3,000 miles from their summer breeding grounds in the western parts of north america to wintering grounds in mexico and central america.
Now that you know the basics of hummingbird identification and migration patterns in north america, keep an eye out for these fascinating birds in your area!
Steps To Attract Hummingbirds In Your Backyard
As a bird lover, nothing is as exciting as the sight of hummingbirds hovering gracefully around your backyard. The good news is that attracting hummingbirds is both easy and pleasurable.
With a few simple steps, you can create a hummingbird-friendly environment that will entice these tiny, beautiful birds to visit your backyard regularly.
Here are the steps to attract hummingbirds in your backyard.
Provide Food That Attracts Hummingbirds
Hummingbirds love sweet things. So, providing food for them is a top priority.
Here are the things you need to do:
Hang a feeder: Use a feeder with bright colors, such as red or orange, to attract the hummingbirds' attention.
Make nectar: Mix one part white granulated sugar with four parts water. Boil the mixture and let it cool before filling the feeder. Avoid using honey, artificial sweeteners, or food coloring in the mixture.
Place the feeder: Hang the feeder in a shaded area that is visible from a distance. Change the nectar every 2-3 days.
Hummingbird-Friendly Plants To Plant In Your Garden
Hummingbirds thrive in environments with abundant plants, particularly those rich in nectar.
Here are some of the plants that hummingbirds love:
Bee balm (monarda didyma): A tall, red-pink plant that blooms in mid-summer.
Fuchsia (fuchsia spp. ): It produces two-toned, bell-shaped flowers that hummingbirds can easily reach.
Cardinal flower (lobelia cardinalis): A wildflower with clusters of bright red flowers that hummingbirds adore.
Salvia (salvia spp. ): A long-blooming plant that produces spikes of red, pink, and purple flowers.
Simple Tips For Creating A Hummingbird-Friendly Environment
Creating a hummingbird-friendly environment goes beyond providing food and plants.
Here are some simple tips to make your backyard a haven for hummingbirds:
Provide water: Hummingbirds also need water to stay hydrated and to bathe. A shallow birdbath or misting station will suffice.
Avoid using pesticides: Choose natural alternatives to pesticides to keep your plants and surrounding environment healthy.
Maintain a clean environment: Sweep dead leaves and other debris that can clog the feeder and attract pests.
With these simple steps, you're well on your way to attracting hummingbirds to your backyard. Enjoy your newfound feathered friends and the beauty they bring to your life.
Identifying A Hummingbird In Your Area
Hummingbirds are fascinating creatures that are enjoyed by bird watchers and nature enthusiasts worldwide. Not sure if you have them in your area?
Let's take a look at some of the ways to identify these tiny birds.
Physical Characteristics To Look Out For
Hummingbirds are known for their small size and distinctive flying patterns.
Some ways to identify these diminutive birds include:
Size: Hummingbirds are one of the smallest bird species with an average size of 3-5 inches long.
Beak shape: They have a long, tubular beak that curves downwards, perfectly designed for sipping nectar.
Color: Hummingbirds have iridescent feathers that shimmer in the sunlight. The color and patterns of the feathers vary depending on the species and can be shades of green, blue, red, and purple.
Wing shape: Their wings are narrow and pointed, allowing them to fly in all directions, even upside down.
Behavioural Patterns Of Hummingbirds
Hummingbirds have unique behaviours that set them apart from other bird species.
Some common behavioural patterns that can help you identify these birds include:
Hovering: Hummingbirds can hover in mid-air using their wings to remain stationary while they feed or survey their environment.
Rapid wing movement: Hummingbirds have a higher wingbeat rate than most other birds, with some species flapping their wings up to 80 times per second.
High metabolism: These birds have a high metabolism, which allows them to fly and feed almost continuously throughout the day.
Territorial: Hummingbirds can be highly territorial and will defend their feeding and breeding areas from other birds.
Close-Up Views, Photos, And Videos
If you want to get a closer look at hummingbirds, here are some things you can do:
Add a hummingbird feeder to your yard: This will attract hummingbirds, giving you an opportunity to see them up close.
Take photos or videos: Consider purchasing a high-quality zoom lens for your camera or use your smartphone to capture photos and videos of these birds in action. You can then use these pictures to identify different species of hummingbirds or share them on social media.
Watch a live cam: Several organizations have set up live cameras near hummingbird feeders or nesting sites, allowing you to watch these birds from the comfort of your own home.
By looking out for these physical characteristics, observing behavioural patterns, and getting closer views through photos and videos, you can easily identify hummingbirds in your area. Happy bird watching!
Citizen Science Opportunities For Hummingbird Watchers
How Ordinary People Like You Can Help Scientists
Hummingbirds are fascinating creatures that are admired by many, but they also play a crucial role in our ecosystem. As a hummingbird watcher, you can help scientists gather data about hummingbirds and protect their habitats.
Citizen science programs provide opportunities for ordinary people like you to participate in important research.
Here are some ways you can get involved:
Join ebird, a global citizen science program where you can submit hummingbird sightings and help scientists map bird distribution and abundance.
Participate in the hummingbirds at home project, where you can help scientists track hummingbird populations by reporting when and where you see them.
Become a hummingbird bander, where you can learn to capture, band, and release hummingbirds and contribute to scientific research.
Simple Ways To Participate In Citizen Science Projects
You don't need a background in science to participate in citizen science programs. These programs are designed for ordinary people to easily get involved in contributing data to scientific research.
Here are some simple ways to participate:
Watch hummingbirds in your backyard and report your sightings to online citizen science programs like ebird or hummingbirds at home.
Attend a citizen science training session to learn how to capture, band, and release hummingbirds.
Support scientific research by donating to hummingbird conservation organizations.
The Significance Of Citizen Science In Understanding Hummingbirds
Citizen science is a valuable tool for scientific research as it allows scientists to collect more data over a larger area than possible alone. Citizen science programs also empower ordinary people to take action and protect the environment.
Understanding hummingbird behavior and distribution is essential for their conservation.
Citizen science data can help scientists identify declining populations, monitor breeding patterns, and develop effective conservation strategies.
As a hummingbird watcher, you have the power to contribute to scientific research and protect these amazing creatures.
By participating in citizen science programs, you can help scientists better understand hummingbirds and their habitat needs, ultimately leading to their conservation.
FAQ For How To Know If Hummingbirds Are In Your Area
How Can I Attract Hummingbirds To My Yard?
You can attract hummingbirds to your yard by planting colorful flowers and providing a clean and reliable source of nectar.
How Do I Identify Hummingbirds?
Hummingbirds have a unique hovering flight pattern and long, thin beaks. Color and size variations can also aid identification.
What Kind Of Food Do Hummingbirds Eat?
Hummingbirds primarily feed on nectar from flowers, but also eat insects and tree sap for added protein.
What Time Of Year Are Hummingbirds Commonly Seen?
Hummingbirds are typically seen in north america from april to october, but specific timing may vary depending on location and climate.
Where Do Hummingbirds Migrate During The Winter?
Most hummingbirds migrate to warmer climates in central and south america during the winter months.
Conclusion
Observing hummingbirds around your home can be a delightful experience. By following the tips shared in this post, you can easily determine if these tiny birds are present in your area.
Remember to keep an eye out for the visual cues, such as the iridescent colors and quick movements, as well as the characteristic hum of their wings.
Additionally, setting up a hummingbird feeder in your yard can provide an opportunity to observe these birds up close. However, be sure to maintain and clean your feeder regularly to avoid attracting unwanted pests.
Overall, whether you are a bird enthusiast or simply enjoy nature, spotting hummingbirds in your area can be a thrilling and rewarding experience.