How to Get Rid of the Bully Hummingbird: Simple Guide!
To get rid of a bully hummingbird, use tactics such as multiple feeders, visual barriers, and strategic placement to avoid territorial behavior and promote harmony among the birds.
Bully hummingbirds can be problematic because they often try to monopolize nectar sources, chasing away other hummingbirds and limiting their access to food.
This behavior is typically related to territoriality, as they attempt to establish dominance over the feeding area. By implementing various tactics, you can deter bully hummingbirds and allow all the birds to feed peacefully.
Utilize multiple hummingbird feeders
Create visual barriers between feeding stations
Use feeders with different colors and designs
Opt for feeders with limited perching options
Additionally, using feeders with varied designs and colors can attract different species of hummingbirds, reducing competition and making it more challenging for a single bully bird to control them all.
Finally, consider using feeders with limited perching options to discourage territorial behavior, as birds in flight are less likely to chase off other hummingbirds.
 6 Methods to Deter Bully Hummingbirds
| | | | |
| --- | --- | --- | --- |
| Method | Description | Pros | Cons |
| Ignore | Pretend the bully hummingbird doesn't exist and go about your business. | Low effort and stress-free. | The bully hummingbird may increase its bullying behavior. |
| Deterrents | Use reflective materials, wind chimes, or moving objects around your feeder. | Can keep the bully hummingbird away without harming it. | May also deter non-aggressive hummingbirds. |
| Multiple Feeders | Place multiple feeders in various locations, making it difficult for the bully hummingbird to monopolize them. | Offers more opportunities for other hummingbirds to feed. | May attract more bully hummingbirds. |
| Choose a Different Feeder | Use a feeder specifically designed to prevent bullying behaviors, such as feeders with multiple feeding ports or feeders with built-in barriers. | Can reduce the likelihood of a single bird monopolizing the feeder. | May not work for particularly aggressive bully hummingbirds. |
| Temporarily Remove Feeder | Remove the feeder for a short period (1-2 days) to encourage the bully hummingbird to find another food source. | Can help break the cycle of bullying behavior. | May result in a temporary loss of all hummingbirds visiting your feeder. |
| Create Distractions | Plant different types of flowers in your garden to provide alternative food sources and hiding spots for other hummingbirds. | Can reduce competition for resources and bullying behavior. | Takes time and effort to maintain a diverse garden. |
 6 Methods to Deter Bully Hummingbirds
Key Takeaway
Establish a peaceful environment for attracting other hummingbirds and reducing the bully hummingbird's dominance.
Use multiple feeders strategically placed around your yard to prevent the bully hummingbird from controlling all food sources.
Opt for feeders with limited visibility to lessen the aggressive hummingbird's ability to see and chase away other birds.
Create natural barriers in your garden by planting shrubs and trees to help protect smaller or timid hummingbirds.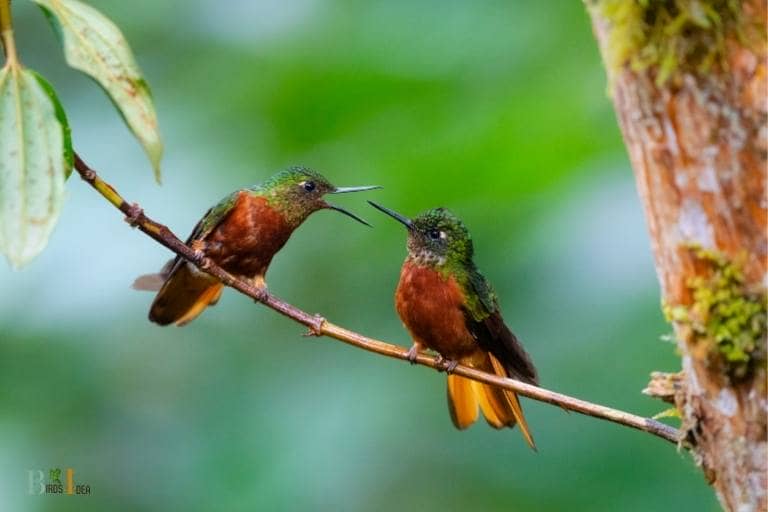 Four Facts About: Bully Hummingbirds and Their Behavior
Bully hummingbirds are usually male and assert their dominance by chasing away other hummingbirds from feeders and nesting areas (source: Hummingbird Central).
Using feeders with multiple ports can help accommodate more hummingbirds and may discourage bullying behavior (source: Perky-Pet).
Changing the feeder location or putting up new feeders every few days may help keep the bully hummingbird off-balance (source: Feeder Watch).
Natural barriers such as bushes, trees, and vines provide refuge for smaller or timid hummingbirds and help create more complex spaces that may discourage a single hummingbird from dominating the area
Understanding The Bully Hummingbird
Hummingbirds are one of the most fascinating creatures on earth. They are tiny birds that flap their wings at an unbelievable speed and are altogether lovely and fun to watch.
One type of hummingbird that you may have heard of is the bully hummingbird.
This tiny bird can dominate other birds in their territory, and if you're having trouble with them, you may feel like they're bullying your other birds. In this post, we'll explore some of the common behavior patterns of the bully hummingbird and the impact it can have on other species.
Common Behavior Patterns Of Bully Hummingbirds
Bully hummingbirds have specific behavioral patterns that differentiate them from other hummingbirds.
Here are some common behavior patterns of the bully hummingbird:
The bird's territory: Bully hummingbirds protect their territory from other birds, including their kind. They often spend a lot of time chasing other birds away to ensure they are alone.
Food aggressiveness: Since hummingbirds rely on nectar for food, they are territorial about those resources and can be aggressive to other birds who try to feed on the same flowers.
Chasing other birds: This bird will regularly chase other hummingbirds away from the feeders, which can cause other birds to migrate to your neighbor's feeders, leaving yours empty.
The Impact Of A Bully Hummingbird On Other Species And The Environment
Bully hummingbirds can have an impact on other species and the environment.
Here are some of the effects:
Creates chaos: The bully hummingbird can cause chaos among your yard birds, leading to lower populations and decreased diversity among species.
Decreases feeding: Bully hummingbirds also prevent other birds from feeding. With the larger birds chased away, the bully hummingbird may be the only one eating the nectar which may lead to your feeder remaining full and less food for the others.
Aggression: Too many hummingbirds in one area leads to aggression. This can make the birds fight, leading to potential injuries or death.
While the bully hummingbird is a small bird, it can be a dominant force in your backyard. These birds have specific behavior patterns that differentiate them from other hummingbirds.
When it comes to feeding or protecting their territory, they can be aggressive, which has significant impacts on other species and the environment.
Therefore, it's crucial to find a sustainable solution to keep these birds from bullying other birds.
Identifying A Bully Hummingbird
How To Spot A Bully Hummingbird In The Garden
Hummingbirds are delightful creatures to have in your garden; their vibrant colors and rapid wing flaps never fail to impress. However, there are times when you may witness an aggressive hummingbird behavior towards its peers, and that could be a bully hummingbird.
Here are some ways to spot one.
A bully hummingbird will aggressively guard a particular feeder or flower patch and chase other hummingbirds away.
A bully hummingbird will show a confrontational attitude, making threatening aerial maneuvers.
It will make loud noise while chasing other hummingbirds.
Physical Traits That Distinguish A Bully Hummingbird From Others
Not all hummingbirds are bullies. Still, some have dominance over their territory and could be classified as bullies if they demonstrate aggressive behavior. Here are some physical traits to help differentiate a bully hummingbird from other hummingbirds.
The bully hummingbird has a larger body and a broader chest than other hummingbirds, making it look intimidating.
It has a darker head and back, with a more iridescent throat, making it appear more significant and more robust than others.
The bright gorget color is often distributed unevenly and may have spots or stripes in the plumage.
Identifying The Nesting Behavior Of A Bully Hummingbird
Hummingbirds, especially female ones, show peculiar nesting behavior when preparing for their young ones. Observing a bully hummingbird's nesting behavior can help confirm a possible bully.
A bully hummingbird will typically build its nest in its territory, near humans' pathways and dwellings.
It may lure other hummingbirds to its nest, hoping to intimidate them and claim the territory as its own.
It will aggressively defend its nest, attacking everything and everyone to protect its young.
Spotting a bully hummingbird can be challenging, but careful observation can help identify them from other hummingbirds. With the right knowledge, you can manage their aggressive behavior and enjoy their beauty in your garden.
Preventing The Bully Hummingbird
Creating The Right Environment To Deter Bully Hummingbirds
To prevent the occurrence of bully hummingbirds in your yard, it's important to create an environment that is not conducive to their breeding.
Here are some tips to follow:
Plant a variety of different flowers in your garden to distract bully hummingbirds from a single food source.
Ensure that there are no empty hummingbird feeders in your yard that could tempt aggressive birds.
Hang multiple hummingbird feeders around your garden so that your garden won't be monopolized by a single bird.
Place feeders on opposite sides of your garden and at different heights. This will provide a more even distribution of food throughout your garden and will discourage bullies from hogging all the food.
Avoid creating areas of high traffic and congestion in your garden, as this can cause stress and aggression among hummingbirds.
Common Mistakes That Attract Bully Hummingbirds
Here are some common mistakes that homeowners make that tend to attract bully hummingbirds:
Hanging only one hummingbird feeder in the garden. This can create monopolization of the food source, leading to aggressive behavior among hummingbirds.
Planting only one type of flower in the garden. This can attract a large number of hummingbirds to a small area, leading to competition for food and aggressive behavior.
Engaging in frequent inspection and maintenance of the hummingbird feeders. Frequent inspections can cause stress among the hummingbirds and may lead to aggression.
Ways To Discourage Bully Hummingbirds
If you're encountering a particularly aggressive hummingbird in your garden, there are steps you can take to discourage this behavior.
Here are some tips:
Create a decoy hummingbird feeder. This will draw the attention of the bully hummingbird and will reduce the competition for the other feeders in your garden.
Use a different hanger for the feeder. This could help the bully hummingbird identify the feeder as a different food source, leading to reduced aggressive behavior.
Place a birdhouse in your garden to provide an alternative nesting and feeding location for the bully hummingbird.
Hang a brightly colored ribbon near the feeders to help deter aggressive hummingbirds.
If all else fails, simply take down the feeder for a few days to give aggressive hummingbirds a chance to disperse.
Removing The Bully Hummingbird
When To Remove A Bully Hummingbird
It is essential to identify when a hummingbird is considered a bully. Sometimes hummingbirds can be territorial and chase away other hummingbirds who try to feed.
This behavior is normal to an extent but can be considered bullying when a particular hummingbird pursues and attacks other birds continuously.
Removing a bully hummingbird becomes necessary, mainly if its behavior endangers the health of other birds or disrupts the natural balance of the habitat.
Here are some of the signs that indicate a hummingbird is a bully:
Constantly chasing and attacking other hummingbirds
Refusing to let other hummingbirds get close to feeding stations
Preventing other species from feeding from the same flower patches
Safe And Humane Ways To Remove A Bully Hummingbird
Removing a bully hummingbird should be done safely and humanely. One of the most effective methods is to remove the bully's food source, which can force it to move elsewhere.
Here are some safe and humane ways to remove a bully hummingbird:
Remove feeders: Removing bird feeders for a few days is one way to stop the bully hummingbird from coming back to that specific location. This method can help break the hummingbird's habitual pattern of attacking other birds.
Change the feeding schedule: Change the time you refill your feeders; this can confuse the bully hummingbird and prevent it from memorizing a predictable feeding time.
Provide more feeding stations: Add more feeding stations around your garden or property. This can help spread out the hummingbirds, making it harder for the bully to guard all the feeding locations.
Install visual barriers: Installing visual barriers around feeding stations can help reduce aggressiveness and allow other hummingbirds to feed safely.
Protecting Other Species In The Process
It is crucial to consider other species when removing a bully hummingbird. Sometimes, the feeding stations are shared by other bird species too, and removing the bully can protect everyone.
Here are some tips to protect other species in the process:
Choose the right location for feeders: Place the feeding stations away from other bird nests to prevent disturbances or direct aggression towards other species.
Monitor the activities around the feeding stations: Keep an eye on any aggressive behavior; if you notice any, try to resolve the problem quickly.
Provide different feeder types: Different bird species have specific feeder preferences. Providing different styles and types of feeders can help other bird species coexist with hummingbirds without any competition.
Removing a bully hummingbird should be done humanely and in consideration of other species in your garden or property. Follow these tips and be patient; it may take some time before the bully hummingbird changes its behavior.
Remember, hummingbirds play an essential role in our ecosystem, and it is essential to protect them and other bird species.
FAQ For How To Get Rid Of The Bully Hummingbird
How Do You Identify A Bullying Hummingbird?
Identify the bully by observing their chasing behavior and territorial aggression towards others.
What Should I Not Do If A Bullying Hummingbird Is Near?
Do not use red-colored feeders, wear red clothes, or hang shiny objects near the feeder.
How Can One Prevent Bullying In Hummingbirds?
Offering multiple feeders in different areas and away from entrances, and allowing natural food sources can discourage bullying.
Can Hummingbirds Harm Humans Or Pets?
They are not harmful to humans or pets but may initiate aggressive behavior towards other birds.
How Can You Protect Smaller Birds From A Bullying Hummingbird?
Creating small openings or saucer shapes in the feeder that make it difficult for the larger hummingbirds to feed may help smaller birds access the feeder.
Conclusion
To sum it up, getting rid of the bully hummingbird is not an easy task, but it's not impossible either. The key is to understand wh
Creating a welcoming and safe environment for all birds to coexist is important, whether it means providing multiple feeders or altering the feeder's design.
It's also critical to spread awareness, educating others on the behavior of these feisty little creatures, and encouraging them to take an active role in creating a harmonious backyard bird habitat.
The welfare of all birds is our responsibility, and by taking the necessary steps outlined in this post, we can keep our feathered friends happy and healthy while enjoying their presence during the beautiful seasons of the year.
So let's take action today and make our backyard bird habitats a welcoming refuge for all.