How to Make a Horizontal Hummingbird Feeder: Materials!
To make a horizontal hummingbird feeder, you need to gather the necessary materials, create the feeding holes, add the sugar solution, and hang the feeder properly.
A horizontal hummingbird feeder is a type of feeder designed to allow hummingbirds to feed while hovering in a horizontal position. This design can be more convenient for the birds and visually appealing for the observer.
Making a horizontal feeder is a simple project that can be done in just a few steps.
Gather necessary materials: plastic bottle, small feeding tubes, sugar, water, and hanging wire
Create feeding holes: drill small holes in the bottle's cap and insert the feeding tubes
Prepare sugar solution: mix 4 parts water to 1 part white granulated sugar, and fill the bottle
Hang the feeder: use hanging wire to suspend the feeder where hummingbirds are known to frequent
To make your horizontal hummingbird feeder more attractive, consider adding red accents to the feeder's exterior, as this color is known to be particularly enticing to hummingbirds.
It's also essential to clean the feeder regularly to prevent the buildup of harmful bacteria or mold, which can be detrimental to the birds' health.
Replace the sugar solution every few days to keep it fresh and always ensure the feeding tubes are fully submerged to prevent air bubbles from forming, which may cause the feeder to malfunction.
7 Steps to Make a Horizontal Hummingbird Feeder:
| | | |
| --- | --- | --- |
| Step | Material | Instructions |
| 1 | Platform | Choose an appropriate material for the platform, such as wood or plastic. Ensure it is big enough to accommodate multiple feeding stations for hummingbirds. |
| 2 | Feeding Stations | Gather shallow feeding dishes or small containers, such as bottle caps, to serve as feeding stations. You will need a few of these, depending on the size of your platform. |
| 3 | Nectar | Prepare the nectar for the hummingbirds by combining 4 parts water and 1 part sugar. Boil the mixture to dissolve the sugar and then let it cool before using it in the feeder. |
| 4 | Assembly | Attach the feeding stations securely to the platform, ensuring they are evenly spaced. Fill each feeding station with nectar. |
| 5 | Perches | Provide perches around the feeder for the hummingbirds to rest on. This can be accomplished by attaching small branches or twigs to the platform or by placing the feeder near a natural resting place for birds. |
| 6 | Hanging | Attach a durable rope or string to the platform to hang it horizontally. Use a branch or hook to position the feeder at a height that is easily accessible for the hummingbirds. |
| 7 | Maintenance | Regularly clean and refill the feeding stations with fresh nectar. Monitor the feeder for any damage, and repair or replace parts as necessary to maintain a safe environment for the hummingbirds. |
7 Steps to Make a Horizontal Hummingbird Feeder:
Key Takeaway
Horizontal hummingbird feeders provide a unique approach to attracting these fascinating birds.
Proper placement and maintenance of the feeder will ensure the best chances of attracting hummingbirds.
The design of horizontal feeders can reduce competition among hummingbirds, making it easier for them to feed.
High-quality nectar and regular cleaning are essential for the health and wellbeing of hummingbirds visiting your feeder.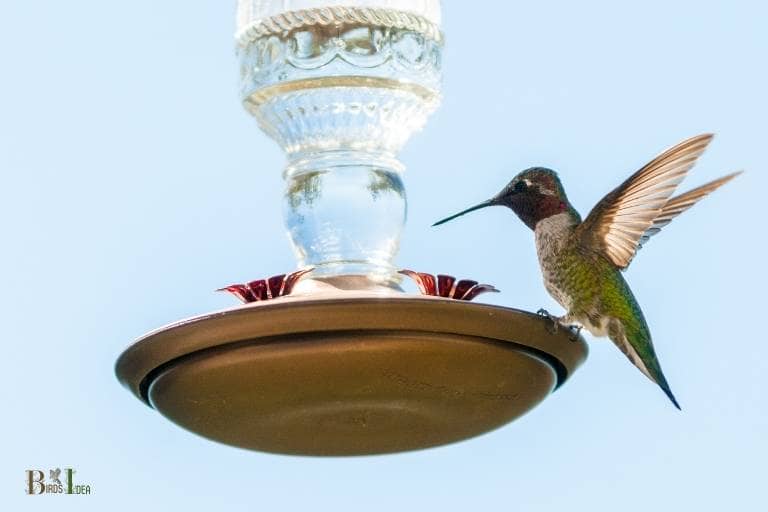 Five Facts About: Make a Horizontal Hummingbird Feeder
Horizontal hummingbird feeders are designed to allow multiple birds to feed simultaneously without competing for space, making it a popular choice among bird enthusiasts (source: HummingbirdGardensStore).
To attract hummingbirds, it's important to place the horizontal feeder in a location that provides a good view of the surrounding area, as well as protection from predators and direct sunlight (source: BirdWatchingHQ).
Good maintenance of the feeder requires changing the nectar at least once a week in cool temperatures, and more frequently during hot weather to prevent fermentation and the growth of harmful mold (source: HummingbirdSociety).
When making nectar for a hummingbird feeder, it's important to mix four parts water with one part sugar, ensuring not to use honey, artificial sweeteners, or dyes, as they can be harmful to hummingbirds (source: HummingbirdSociety).
Cleaning the feeder at least once a week with hot water and a bottle brush is essential to prevent the buildup of harmful bacteria that can make the hummingbirds visiting your feeder sick (source: BirdsAndBlooms).
Why A Horizontal Hummingbird Feeder Is Better Than A Traditional One
Hummingbirds are fascinating creatures and a treat to watch. Creating a horizontal hummingbird feeder can enhance the experience for both the birds and the bird enthusiasts.
In this blog post, we will explore why a horizontal hummingbird feeder is better than a traditional one and discuss its benefits and drawbacks.
Benefits Of A Horizontal Hummingbird Feeder
A horizontal hummingbird feeder has multiple advantages over the traditional, vertical design.
Here are a few key points:
A horizontal feeder can accommodate multiple birds at once, which reduces competition for nectar, and allows more birds to feed simultaneously.
It is easy to clean and maintain a horizontal feeder as the food doesn't spill and accumulate at the bottom.
A horizontal feeder reduces the risk of injury or death to the birds as they don't have to hover in the air to feed, and can perch and rest while feeding.
It allows you to enjoy a better view of the hummingbirds as they feed at a closer level.
Drawbacks Of A Traditional Hummingbird Feeder
While traditional hummingbird feeders have been used for years, they have some drawbacks compared to a horizontal feeder.
Here are a few key points:
Traditional feeders are smaller and can accommodate fewer birds, which creates competition for nectar and discourages other birds from feeding.
The food can quickly get contaminated and spoil in traditional feeders, leading to the growth of bacteria and fungi that can be harmful to the hummingbirds' health.
The vertical positioning of traditional feeders makes it challenging to clean and maintain them. The accumulation of nectar at the bottom of the feeder requires frequent cleaning and disinfecting.
Hummingbirds have to expend more energy while hovering in the air to feed from traditional feeders, which can lead to exhaustion and even death in some cases.
A horizontal hummingbird feeder is a better option than a traditional one due to several benefits such as accommodating more birds, ease of maintenance, safety, and enhanced viewing experience.
Traditional feeders have some drawbacks such as contamination, limited capacity, and higher energy expenditure for the birds while feeding.
By using a horizontal hummingbird feeder, you can create a hub for these beautiful and fascinating creatures while offering them a safe and comfortable environment to feed.
Gather Required Supplies
If you're looking for a fun diy project to attract more hummingbirds to your garden, learning how to make a horizontal hummingbird feeder is a great place to start!
This easy-to-follow guide will gather all the supplies you need, where to buy them, and the tools required for the project.
Materials Needed
Here's a list of all the materials you need to make a horizontal hummingbird feeder:
A length of 1-inch pvc pipe (about 3 feet long)
Pvc elbows
Pvc cement
Plastic feeder tubes
Corks or plugs
Hummingbird nectar
Red dye
Tools Required
To make a horizontal hummingbird feeder, you'll need these tools:
A saw to cut the pvc pipe
A drill
A small drill bit to make holes in the plastic feeder tubes
Best Places To Purchase Necessary Supplies
Finding the right supplies can be half the battle when it comes to a diy project.
Here are some of the best places to purchase the necessary supplies for your hummingbird feeder:
Your local hardware store: You can find all the pvc pipe, elbows, and cement there.
Your local pet store: Pet stores often carry hummingbird feeder tubes that you can purchase to use in your diy project.
Online retailers: If you prefer shopping online, you can find all the necessary supplies on websites like amazon or home depot.
By gathering all the materials and tools needed before starting this project, you'll save time and effort in the long run. Start your hummingbird feeder diy project today!
Building The Feeder
Once you have gathered all the necessary materials, it's time to move on to the exciting part: building your horizontal hummingbird feeder.
Here are some important tips to keep in mind to ensure its safe and proper construction.
Assembling The Feeder
Start by cutting a piece of wood to your desired size. Make sure it's sturdy and can withstand the weight of the nectar and any visiting hummingbirds.
Sand the edges and corners of the wood to prevent any rough spots that could harm the birds.
Important Tips For Ensuring Safety And Proper Construction
Use non-toxic materials to ensure the safety of visiting birds. Avoid treated wood or any materials that may contain harmful chemicals.
Hang the feeder in a safe location away from predators and in a place that is easily accessible for cleaning and refilling.
By following these simple steps and guidelines, you can create a beautiful and functional horizontal hummingbird feeder that will attract and delight these delightful and fascinating birds.
Attracting Hummingbirds To The Feeder
Hummingbirds are beautiful birds that are a delight to watch. If you want to attract them to your garden, creating a horizontal hummingbird feeder is a great idea.
However, the feeders won't be of much use if they are not designed to attract the birds.
Best Practices To Guarantee Hummingbirds Are Attracted To The Feeder
To attract hummingbirds to your feeder, follow these best practices:
Choose bright colors – hummingbirds are attracted to the color red, so use a feeder with bright red parts.
Place it in the right location – hummingbirds prefer shaded areas with natural cover, so place your feeder in an area like this.
Information On Maintaining The Feeder'S Cleanliness
To ensure that hummingbirds come to your feeder, it is essential to keep it clean.
Here are some tips to help you:
Clean it regularly – clean the feeder every few days so that mold or fungus does not grow on it.
Use a vinegar solution – wash the parts of your feeder regularly using a solution of vinegar and water to keep it clean.
Rinse thoroughly – make sure to rinse the feeder thoroughly after washing so that no residue is left behind.
Making a horizontal hummingbird feeder is a great way to attract these beautiful birds to your garden. Follow the guidelines mentioned above to make sure your feeder is clean, well-maintained and designed to attract hummingbirds.
FAQ On How To Make A Horizontal Hummingbird Feeder
How Do I Attract Hummingbirds To My Feeder?
To attract hummingbirds to your feeder, use a mixture of 1 part sugar to 4 parts water, hang the feeder in a shaded area, and change the nectar regularly.
What Is The Best Location For A Hummingbird Feeder?
The best location for a hummingbird feeder is in a shaded area, away from windows or mirrors to avoid collisions and easy to clean.
What Materials Do I Need To Make A Horizontal Hummingbird Feeder?
A plastic or glass bottle, 2 copper pipes, a coupling, a drill with a hole saw bit, pliers, and a coat hanger are the materials needed.
Is It Necessary To Make A Horizontal Hummingbird Feeder?
No, it is not necessary, but a horizontal feeder is beneficial for hummingbirds to perch and rest, and allows for easier cleaning and refilling of nectar.
Conclusion
After following these simple steps, you can now sit back and enjoy the view of beautiful hummingbirds feeding from your homemade horizontal hummingbird feeder.
It's a great feeling to provide nourishment for these lovely creatures while enjoying their vibrant colors and graceful movements.
Remember to place your feeder in a shady area, so the nectar doesn't spoil quickly, and clean it frequently to prevent mold and bacteria growth. Making your own feeder not only saves money but adds a personal touch to your backyard.
With a little bit of patience and creativity, you can design a unique and functional feeder that will attract hummingbirds to your yard and provide hours of enjoyment. So, why not try your hand at making a horizontal hummingbird feeder today and watch the magic unfold before your eyes!