How to Make a Glass Hummingbird Feeder: Step By Step
To make a glass hummingbird feeder, follow these steps: gather necessary materials, create the feeding tube, decorate the glass container, attach the feeding tube, and finally hang the feeder.
A glass hummingbird feeder is not only an attractive addition to your garden but also a convenient way to attract and nourish hummingbirds. Making your own feeder allows you to customize the design and save money compared to store-bought versions.
The process involves gathering materials, creating a feeding tube, decorating the glass container, attaching the feeding tube, and hanging the feeder in a suitable location.
Gather materials: Collect a glass container (such as a mason jar or wine bottle), a feeding tube (available for purchase or DIY), wire or string, and decorative elements (optional).
Create the feeding tube: Purchase a feeding tube with a stopper or make one using a small glass or plastic tube, a rubber stopper, and a red cap or flower.
Decorate the glass container: Customize the container by painting it, adhering decorative elements, or wrapping it with wire or twine in a visually appealing design.
Attach the feeding tube: Insert the feeding tube into the container's opening, creating a secure seal with the stopper to prevent leaks.
Attracting hummingbirds to your glass feeder is crucial for its success. To entice these nectar-loving birds, fill the feeder with a homemade sugar solution (1 part sugar to
8 Steps to Make a Glass Hummingbird Feeder:
| | | |
| --- | --- | --- |
| Step | Instructions | Materials Needed |
| 1 | Choose a design | Sketch paper, pen |
| 2 | Gather materials | Glass bottle, glass tubing, rubber stopper, copper wire, nectar container, flowers, hummingbird perches, pliers, glass cutters, waterproof glue, protective eyewear, gloves |
| 3 | Cut glass tubing | Glass tubing, glass cutters, protective eyewear, gloves |
| 4 | Attach feeder to bottle | Rubber stopper, nectar container, waterproof glue |
| 5 | Attach flowers and perches | Flowers, hummingbird perches, waterproof glue |
| 6 | Create a hanging hook | Copper wire, pliers, glass bottle |
| 7 | Fill with nectar | Hummingbird nectar, bottle |
| 8 | Hang feeder | Copper wire hook, sturdy branch or hook |
8 Steps to Make a Glass Hummingbird Feeder:
Key Takeaway
Glass hummingbird feeders provide a beautiful and functional way to attract hummingbirds to your yard or garden.
These feeders can be made easily at home with a few simple materials and tools.
Choosing the right location and maintaining proper hygiene are crucial for hummingbird health and happiness.
Attracting hummingbirds with brightly colored flowers and sugar-water solution can help to create a vibrant and lively outdoor space.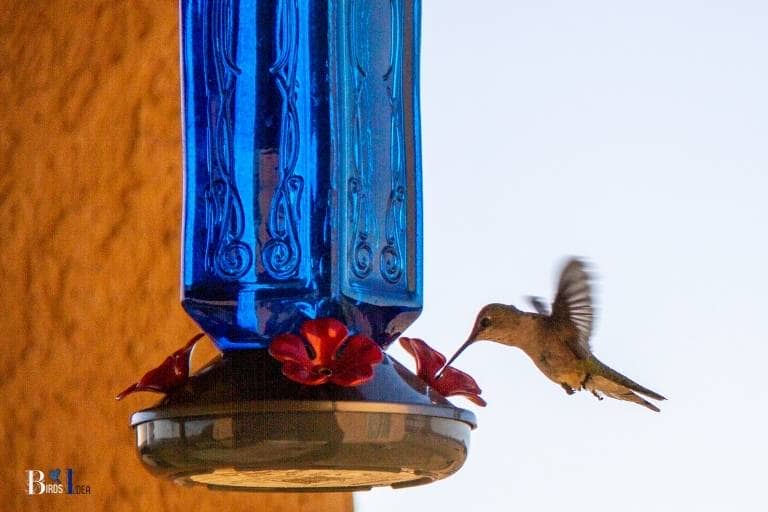 Five Facts About: Make a Glass Hummingbird Feeder
Glass hummingbird feeders come in various shapes, designs, and colors, with the most popular shape being a bottle-like container with feeding ports for the birds. (Source: The Spruce)
Glass is an advantageous material for hummingbird feeders because it is less likely to harbor bacteria and can be more easily cleaned than plastic or wooden feeders. (Source: Gardening Know How)
To make a glass hummingbird feeder, you can use everyday materials like a small glass bottle or jar, a rubber stopper with feeding ports, and a metal or plastic hanger to suspend the feeder from a tree branch or hook. (Source: DIY Network)
It is important to maintain proper hygiene of the feeder by regularly cleaning it with hot water and vinegar or a mild soap solution, as well as changing the sugar-water solution every three to four days to prevent mold and fermentation. (Source: Audubon Society)
Planting brightly colored flowers, such as red, orange, or purple blooms, near the feeder can help to attract more hummingbirds and create a visually appealing environment for both you and the birds to enjoy. (Source: Birds & Blooms)
Materials Required
Glass hummingbird feeders can be quite costly to purchase, but with a little bit of effort and some materials, you can easily create your own diy feeder.
Glass Bottle
To make a glass hummingbird feeder, the first thing you need is a glass bottle. You can use anything from an old juice bottle to an empty wine bottle.
Make sure the bottle is clean, clear, and has no cracks or chips as it will be the main vessel for the hummingbird nectar.
Feeder Tubes
Feeder tubes can be purchased from any craft or hobby store.
Choose a tube that fits snugly into the opening of your glass bottle to ensure that it stays securely in place.
The tube should be long enough to reach the bottom of the bottle, but not too long that it interferes with the nectar flow.
Cork Stopper
A cork stopper is necessary to close off the top of the feeder tube and create a seal.
Be sure to choose a cork that is the appropriate size to fit comfortably into the bottle's opening without falling through.
The cork must be able to contain the feeder tube securely in place.
Wire
A thin and flexible wire is needed to create the base of the hummingbird feeder.
The wire will be twisted around the bottle to offer support, and also to secure the cork stopper and feeder tube in place.
Choose a wire that is strong enough to support the weight of the bottle and feeder tube without breaking or bending too easily.
Epoxy
Epoxy is a type of adhesive that binds two pieces of metal together and is crucial for this project.
Epoxy should be applied on the wire wrapped around the bottle, as well as around the feeder tube, and where the cork meet the bottle, to hold the structure together.
Choose an industrial-strength epoxy for maximum durability.
Drill Machine
A drill machine is necessary to drill a hole in the cork where the feeder tube will be glued in.
Ensure to use the appropriate drill bit size that matches the feeder tube's diameter.
Sandpaper
Sandpaper is needed to smooth out the rough edges of the cork and bottle opening after drilling.
Use fine-grit sandpaper to gently sand down any rough or sharp edges.
Acrylic Paint
Although optional, painting the bottle to give it a vibrant and colorful look can be quite appealing for hummingbirds.
Choose acrylic paint since it dries quickly, is easy to clean up, and unlikely to harm the hummingbirds if they accidentally touch it.
With these materials, you can now proceed to create your very own diy glass hummingbird feeder, improving the aesthetics and functionality of your outdoor space while feeding our little friends.
Step-By-Step Instructions
Step 1: Preparing The Bottle
To start making your glass hummingbird feeder, you'll first need to prepare the glass bottle.
Here are the key points to follow:
Choose a clear glass bottle with a narrow neck to make it harder for bees and wasps to find their way in.
Thoroughly clean the bottle with warm soapy water and rinse it with water to remove any dirt and residue.
Remove any labels or stickers on the bottle. You can use rubbing alcohol or vinegar to help remove the residue.
Drill a hole through the cap that fits snuggly on the bottle.
Step 2: Making The Feeder Tubes
Now, it's time to create the feeder tubes that the hummingbirds will drink from.
Here are the key points to follow:
Gather some plastic straws or tubes. You may use clear or colorfully decorated ones.
Using scissors, cut the straws to the size you want. Alternatively, you can use pre-cut tubes if available in your local store.
To make the blossoms that attract the hummingbirds, cut small strips of colorful tissue paper, twist tie them together, and make small flowers.
Step 3: Attaching The Feeder Tubes To The Bottle
Time to put the pieces together! Here are the key points to follow:
Insert the straws into the hole you made in the cap. Make sure they are secure and extend into the bottle.
Cover the holes in the bottom of the straws with the tissue paper blossoms, securing them with glue or twist ties.
Step 4: Making The Hanger
Now that your feeder is assembled, it is necessary to create a functional, attractive hanger to display it.
Here are the key points to follow:
Cut a length of ribbon or wire long enough to hang your feeder where you want it.
Tie one end of the ribbon or wire around the neck of the bottle.
On the other end, tie a loop to hang the feeder. You could also use a recycled chain from an old necklace or bracelet.
Step 5: Painting The Feeder (Optional)
If you want a unique or artistic touch to your feeder, you can consider painting it.
Here are the key points to follow:
Make sure you use paint that is non-toxic and safe for birds.
Use a paintbrush or spray paint in a well-ventilated area.
Let it dry completely before hanging it outside.
And there you have it! Your very own homemade glass hummingbird feeder, ready to hang in your garden and attract these beautiful birds.
Enjoy the sight of the hummingbirds sipping nectar from the blossoms!
Tips For Successful Feeder Placement
Location
The right location for the hummingbird feeder is a crucial aspect for its success. Hummingbirds are attracted to red, so placing the feeder in a spot that can be seen from a distance will pique their interest.
Here are some tips to consider when choosing a location for your feeder:
Avoid direct sunlight as nectar can spoil faster in warm temperatures.
Place feeders in shady areas where possible, or were they will receive partial sunlight at the start or end of the day.
Keep the feeder in an area that is protected from the wind but with free access for the birds.
Height
Hummingbirds tend to fly close to the ground, making it essential to hang the feeder at the right height.
Here are some pointers to ensure that the hummingbirds will be able to access the feeder conveniently:
Hang the feeder at least five feet above the ground to reduce the risk of attracting predators.
Ensure that the feeder's height is adjustable to accommodate the birds' behavior. For example, during nesting season, the feeder should be at a lower height and moved higher after the young birds have left the nest.
Be sure to choose a spot that is comfortable to reach when it's time to refill the feeder.
Maintenance
Proper maintenance is essential to ensure the hummingbirds visit your feeder regularly.
Here are some tips to follow:
Regularly check the feeder for mold and inspect the nectar, as these can make birds ill. Regular cleaning with a mixture of one-part white vinegar to four parts water is necessary to prevent mold growth.
Replace the nectar every three to five days or more frequently in hot weather. Unused portions should be stored in the fridge to postpone spoilage.
Ensure that the feeder ports and perches are clean and free of debris to avoid bacterial growth and ensure that the birds can perch comfortably.
Successful placement of your hummingbird feeder is crucial for attracting these beautiful birds. The right location and height, along with proper maintenance, will guarantee that they keep coming back to your feeder.
FAQ Of How To Make A Glass Hummingbird Feeder
What Materials Are Needed To Make A Glass Hummingbird Feeder?
You will need a glass bottle, a hummingbird feeder kit, glue, and sugar water.
How Do You Clean A Glass Hummingbird Feeder?
Soak the feeder in a solution of hot water and mild soap, then scrub with a brush and rinse thoroughly.
Where Should I Hang My Glass Hummingbird Feeder?
Choose a location that is high enough to protect from predators and in a shaded area away from direct sunlight.
What Is The Best Way To Attract Hummingbirds To My Feeder?
Mix a solution of four parts water to one part sugar, and place the feeder in a shaded area with nearby flowers.
Conclusion
Creating your own homemade glass hummingbird feeder can be a fun and rewarding diy project. Whether you're an experienced crafter or just starting out, this guide provides clear instructions on how to make a beautiful and functional feeder.
Remember to always prioritize safety when working with glass materials, and choose high-quality supplies to ensure the longevity and durability of your creation.
By following these steps and incorporating your own personal touches, you can have a unique and eco-friendly hummingbird feeder that will attract these beautiful creatures to your backyard for years to come.
Not only will you enjoy the satisfaction of creating something with your own hands, but you will also be providing nourishment and beauty to the natural world around you.
So get creative, and happy crafting!