How to Make a Hummingbird Bath? Small Pump, Native plants
To make a hummingbird bath, you need to create a shallow water source with moving water and place it in an accessible location for these tiny birds to drink and bathe.
Hummingbirds are attracted to clean, moving water sources, as they provide them with a safe and refreshing option to drink and bathe.
Creating a DIY hummingbird bath will not only benefit these beautiful birds but also add a delightful touch to your garden or patio.
Shallow water source: Hummingbirds prefer shallow water sources, so choose a container with a depth of no more than 2 inches.
Moving water: Adding a small pump, solar fountain, or even a dripping faucet will help to create moving water, which is more attractive to hummingbirds.
Location: Place the bath in a well-lit area, away from heavy foot traffic, with nearby perches for the birds to rest on.
Easy maintenance: Regularly clean and refill the bath to provide fresh, clean water and maintain a healthy environment for your hummingbird visitors.
Creating a hummingbird bath requires simple materials that can be easily found in your home or at a garden store. Use a shallow dish or container, like a plant saucer, for the base of the bath.
Position a small pump or solar fountain in the center to create the moving water effect. Place the bath at a safe height (about 3 feet off the ground) and surround it with native plants to make the area more inviting for hummingbirds.
Finally, ensure you clean and refill the water source regularly to maintain a healthy environment for your feathered friends.
7 Steps for Making a Hummingbird Bath
| Step | Materials Needed | Instructions |
| --- | --- | --- |
| 1 | Shallow bowl or dish | Choose a shallow bowl or dish with a depth of around 1 inch to hold the water for the bath. |
| 2 | Water | Fill the bowl or dish with fresh, clean water. Replace the water daily or as needed. |
| 3 | Flat rocks or pebbles | Add flat rocks or pebbles to the bowl to create a varied surface for hummingbirds to stand on. |
| 4 | Dripping mechanism (optional) | Consider adding a drip mechanism, such as a dripping water bottle, sponge, or specific bird bath dripper, to help attract hummingbirds with the sound of dripping water. |
| 5 | Hanging hardware (optional) | If you prefer to hang the bath, choose a suitable location and use hanging hardware such as a hook, chain, or rope to suspend the dish or bowl. |
| 6 | Selecting a location | Place the hummingbird bath in a quiet, shaded area near flowers or plants that hummingbirds will be attracted to for nectar. Ensure the bath is located away from potential predators. |
| 7 | Maintaining cleanliness | Clean the bath regularly by scrubbing with a brush to remove algae and debris, and refill it with fresh water. This will encourage hummingbirds to continue using the bath. |
7 Steps for Making a Hummingbird Bath
Key Takeaway
Attracting hummingbirds to your garden with a hummingbird bath
Design considerations for a successful hummingbird bath
Maintenance and hygiene of a hummingbird bath
Benefits of having a hummingbird bath in your outdoor space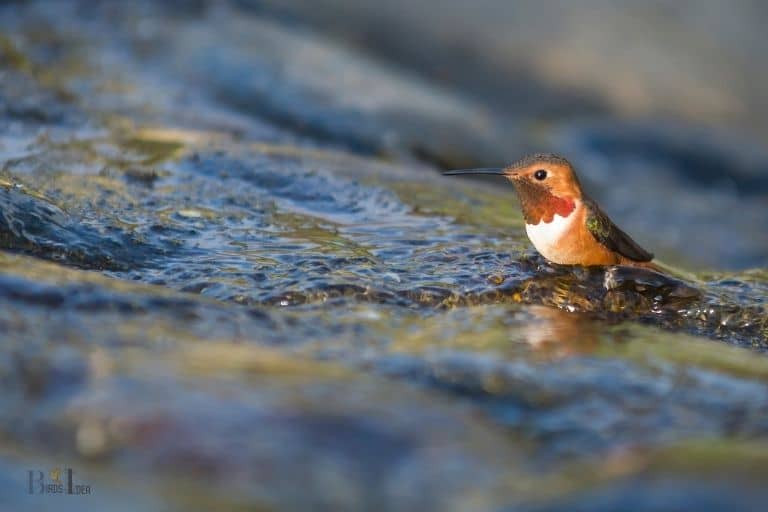 Five Interesting Facts About Hummingbird Baths
Hummingbirds are attracted to moving water rather than still water, so a shallow bath with a gentle fountain or bubbler is ideal for enticing them to bathe and drink.
Bright colors, particularly reds and oranges, will draw hummingbirds to your bath, as these shades resemble the flowering plants they feed on.
A proper location for a hummingbird bath is crucial, as it should be near suitable perches, such as branches or feeders, and away from lurking predators, like cats.
To keep the hummingbird bath clean and safe for the birds, it's essential to change the water regularly, scrub the bath with a stiff brush, and avoid using chemicals or additives.
Having a hummingbird bath in your garden not only supports the overall health and hygiene of these birds but also promotes pollination and adds beauty to your outdoor space.
Materials Required For Making A Hummingbird Bath
Description Of The Ideal Materials Needed
Creating a hummingbird bath not only makes your garden more visually appealing but also attracts the beautiful hummingbirds.
You may have various materials lying around your house that can be useful, but here's a list of the ideal materials you would need for making a hummingbird bath:
A shallow bowl or saucer: You can use any shallow dish that holds water, but it's preferable to use a ceramic or glass saucer, since they can withstand the changing temperatures and are not harmful to the birds.
Pebbles or rocks: Smooth pebbles and rocks play a vital role in the hummingbird bath setup. They not only provide a landing place for the birds but also keep them from drowning.
Freshwater: Clean and fresh water is essential for any bird to bathe in as they are likely to drink it too. So, it's necessary to change the water daily to avoid bacterial or fungal growth.
Benefits Of Using Certain Materials
Creating a hummingbird bath with the ideal materials may seem like a tedious task, but the benefits will make it all worth it.
Here are some advantages of using specific materials:
Ceramic or glass saucers: Ceramic or glass saucers are not just visually pleasing but also long-lasting. They can withstand weather changes and prevent buildup of harmful toxins or chemicals that could be fatal to the hummingbirds.
Smooth pebbles or rocks: Smooth, flat-surfaced pebbles or rocks create a shallow depth in the bird bath, making it less likely for the hummingbirds to drown. Not to mention, they also make for a comfortable landing place for the birds.
Clean and freshwater: Once you have set up your hummingbird bath, it's essential to provide clean and fresh water. Stagnant water can quickly become a breeding ground for bacteria and fungus. Moreover, hummingbirds are attracted to clean, freshwater and may drink from the bath.
Safety Precautions
Making sure that the materials used in creating a hummingbird bath are safe and secure is essential.
Avoid using plastic or metal containers: These materials can be harmful to the birds. Plastic containers can release harmful chemicals into the water, and metal can rust over time, leading to bacterial growth.
Don't use soap or detergents on the bird bath: These products can leave harmful residue and toxins, which may be fatal to the birds.
Make sure the bath is easily accessible to hummingbirds: It's crucial to make sure that the bath is in an open and visible area as hummingbirds may avoid obscure or an unsafe spot.
There you have it – all the essential information and materials needed to make a hummingbird bath. Give it a try and watch as your garden becomes a hummingbird oasis!
Steps For Making A Hummingbird Bath
Detailed Instructions On How To Make A Hummingbird Bath
Hummingbirds are beautiful and fascinating birds that require lots of water to stay hydrated and healthy. Building a hummingbird bath is a simple yet fulfilling project that can contribute to their wellbeing.
Here is a step-by-step guide to help you create your own hummingbird bath.
Choose a suitable location: The ideal place for your hummingbird bath should be near trees or bushes to provide a shade and perches. The spot you select should be easily viewable from indoors or outdoors.
Pick a container: Your hummingbird bath can be made from any shallow container, such as a pie pan, shallow bowl, or a plant saucer. It should be sturdy and stable enough not to tip over in high wind.
Add stones or marbles: Hummingbirds love playing in water, but they need somewhere to perch while they're taking a break. The addition of stones or marbles will give them a place to rest while doing so.
Add water: Fill your container with clean water between 1-2 inches deep. Make sure the water is changed daily to prevent mosquito larvae from growing.
Customization Options For Your Hummingbird Bath
Now that you know the basics of how to make a hummingbird bath, it is time to explore your options to create a customised bird bath that suits your style.
Material choice: Choose a container that goes with the theme of your garden. You can make a hummingbird bath by repurposing items you already own.
Paint and decorations: You can get creative and personalise your hummingbird bath with paint, stickers, or other small decorations. Choose colours and prints that are visible to attract hummingbirds.
Water features: If you want to make your hummingbird bath even more appealing, add a fountain or a bubbler to provide more stimuli for the birds.
Creating a hummingbird bath is an enjoyable activity that also helps these delightful birds to stay hydrated. With these instructions, you'll have a hummingbird bath that's functional and visually appealing.
How To Properly Place Your Hummingbird Bath
Importance Of Choosing The Right Spot
The location you choose for your hummingbird bath can make or break its usefulness.
Consider the following factors before setting your bath up:
Choose a shaded spot: Hummingbirds prefer to relax and bath in cool and shaded areas. If possible, place your bath in a shaded spot that is also protected from the wind.
Avoid direct sunlight: Hummingbirds are sensitive to both heat and light, so it is important to place your bath in the appropriate location to avoid overheating.
Pick a visible spot: Hummingbirds are sociable birds, and spotting one can bring joy even to non-avid bird watchers. A visible spot in your garden or backyard makes it easy for anyone to spot these tiny birds while they take a dip.
Tips For Attracting Hummingbirds To Your Bath
The following tips can help you make your hummingbird bath more attractive to these tiny birds:
Keep the water fresh: Hummingbirds are attracted to the sparkle of fresh water. Therefore, it is important to change the water in your bath at least once a week to maintain the sparkle and freshness.
Add some motion: Hummingbirds are attracted to moving water. In addition to changing the water frequently, consider adding a bubbler or dripper to your bath to create some motion and intrigue.
Plant flowers in your garden: Hummingbirds are naturally attracted to the nectar in flowers. Planting nectar-rich flowers, such as petunias, fuchsias, and salvias around your hummingbird bath can make it an irresistible spot for hummingbirds to stop by.
Maintenance Requirements For Your Hummingbird Bath
Keeping your hummingbird bath clean requires more than just changing the water frequently.
Here are some maintenance tips to keep in mind:
Scrub the bath regularly: Over time, algae and dirt can build up on the sides and bottom of your baths, making it less appealing to hummingbirds. Clean your bath regularly with a brush and a mixture of vinegar and water.
Be mindful of predators: Hummingbirds are tiny and vulnerable to attack from larger birds, cats, and other animals. Place your hummingbird bath in a location that is safe for the birds and away from potential predators.
Store away for the winter: Hummingbirds fly south for the winter, so make sure to store your bath away in a warm and dry place during the cooler months. Bring it out again in early spring when the hummingbirds return.
Remember, providing a hummingbird bath in your garden is a simple and inexpensive way to attract these tiny marvels to your yard.
With the tips above, you can set up a hummingbird bath that is safe, clean, and attractive to these fascinating creatures.
Additional Tips And Resources For Hummingbird Enthusiasts
Place the bath at a height of 3 to 4 feet above the ground level to keep cats and other predators away.
You can add a small water fountain or dripper to attract hummingbirds.
Adding rocks or pebbles to the bath can provide a secure and stable footing for hummingbirds.
Buy or make a hummingbird feeder to supplement the nectar supply in the garden.
Making a hummingbird bath is a great way to attract these beautiful birds to your garden. With a little effort and some careful planning you can create an environment that is perfect for hummingbirds to bathe, relax and thrive in.
Happy hummingbird watching!
FAQ About Hummingbird Baths
How Deep Should A Hummingbird Bath Be?
Hummingbird bath should be about 1-2 inches, shallow enough for hummingbirds to stand in.
What Materials Should Be Used To Make A Hummingbird Bath?
Use shallow glass or plastic container and add rocks or pebbles for perching spots.
Why Is It Important To Make A Hummingbird Bath?
Bathing helps hummingbirds maintain their feathers, keep them healthy, and fly faster.
How Often Should The Water In The Hummingbird Bath Be Changed?
Change the water every two days if the hummingbirds don't use once in a while.
Where Is The Best Location For A Hummingbird Bath?
Place the hummingbird bath in a shady area and near feeders, away from direct sunlight.
Conclusion
Now you know how to create a hummingbird bath in your backyard. With just a few simple steps and materials, you can attract these beautiful birds to your garden and provide them with a refreshing spot to cool off.
Remember to place the bath in a shady area, keep the water clean and fresh, and add a few colorful flowers nearby to enhance the bird's viewing experience.
By following the tips outlined in this guide, you not only create a welcoming environment for these winged friends but also contribute to the ecosystem by providing them with a source of water. So, get started and enjoy watching these tiny creatures take a dip in their new bath!