How to Make a Hummingbird Come to You: A Guide!
To make a hummingbird come to you, create an attractive environment with bright-colored flowers, set up a hummingbird feeder, maintain your garden, and practice patience.
Hummingbirds are naturally curious and are attracted to vibrant colors and sweet nectar. By providing an environment that caters to their needs and preferences, you can increase the likelihood of these tiny birds visiting your garden or yard and even coming close to you.
Plant bright-colored flowers, such as red, orange, and pink, to attract hummingbirds.
Set up a nectar-filled hummingbird feeder in your garden or yard.
Maintain a clean, green environment by providing fresh water and avoiding pesticides.
Practice patience and stillness when trying to attract hummingbirds to come closer.
Bright-colored flowers play a significant role in attracting hummingbirds to your garden, as they are visual creatures drawn to vibrant hues. Planting flowers like trumpet vine, bee balm, and salvia can entice these birds to visit.
Additionally, hummingbird feeders filled with nectar can be an irresistible lure for these nectar-loving birds. Ensure to regularly clean the feeder and replace the nectar to keep it fresh.
Providing a source of fresh water for bathing and drinking can also encourage them to stay in your yard. Lastly, remember to be patient and still while observing hummingbirds; sudden movements may cause them to fly away.
8 Steps to Attract a Hummingbird
| | |
| --- | --- |
| Step | Description |
| 1 | Choose the right location: Find a spot in your garden or yard where hummingbirds are likely to visit, such as near flowering plants that attract them. |
| 2 | Set up a hummingbird feeder: Purchase a feeder designed specifically for hummingbirds and fill it with sugar-water solution (4 parts water to 1 part white sugar). |
| 3 | Choose appropriate plants: Add hummingbird-friendly plants to your garden, such as trumpet vine, bee balm, and salvia. These plants provide natural nectar sources and encourage hummingbirds to visit. |
| 4 | Maintain feeder cleanliness: Clean the feeder regularly to prevent mold and bacteria growth. Change the sugar-water solution every 2 to 4 days, or even more frequently during hot weather. |
| 5 | Create a perching spot: Provide a visible and accessible place for hummingbirds to perch, such as a small tree branch or a shepherd's hook near the feeder. |
| 6 | Provide a water source: Set up a shallow birdbath or fountain with clean water where hummingbirds can drink and bathe. |
| 7 | Avoid using pesticides: Pesticides can harm hummingbirds and their food sources. Stick to organic gardening methods to keep your garden hummingbird-friendly. |
| 8 | Be patient and observant: It may take some time for hummingbirds to find and visit your garden. Spend time outside and observe their behavior, so you can learn when they're most likely to visit. |
8 Steps to Attract a Hummingbird
Key Takeaway
Attracting hummingbirds requires creating a hospitable environment
Providing a consistent food source is essential
Using bright colors, especially red, attracts hummingbirds
Ensuring their safety will increase the chances of hummingbirds visiting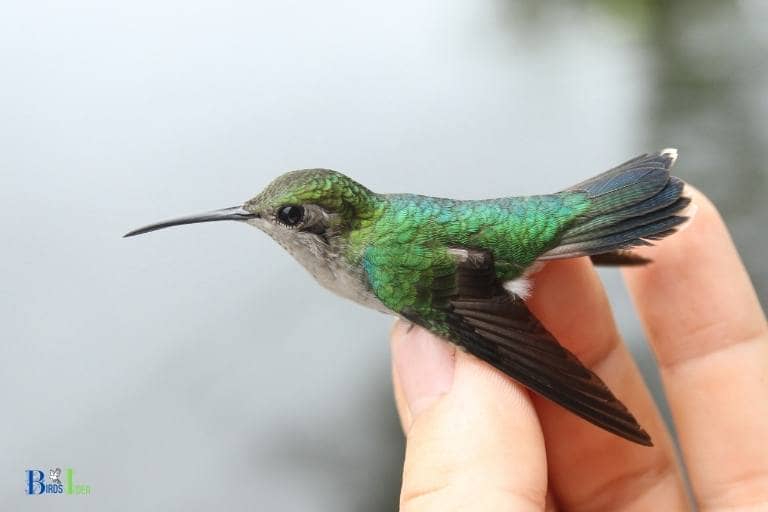 Five Facts About: Attracting Hummingbirds
Hummingbirds are attracted to bright colors, especially red. Placing red flowers or red feeders in your garden will make it more likely for hummingbirds to visit. (source: Hummingbird Society)
Providing a consistent food source is vital for attracting hummingbirds. You can achieve this by planting a variety of nectar-rich flowers or by using hummingbird feeders filled with sugar water. (source: Audubon)
Hummingbirds also require a source of water for bathing and drinking. Providing a shallow dish or bowl with fresh, clean water in your garden can help attract hummingbirds. (source: The Spruce)
Ensuring the safety of hummingbirds is crucial. You can do this by placing feeders and plants in locations where they are protected from predators and free from disturbance. (source: Bird Watching HQ)
To make hummingbirds feel more at home, provide perching spots and nesting materials like small sticks, leaves, and bark in your garden. This will encourage them to stay longer and possibly even build a nest. (source: Smithsonian Migratory Bird Center)
Getting Started With Hummingbird Attraction
Understanding The Habitat Of Hummingbirds
Hummingbirds are native to the americas, and they live in a wide range of habitats, including forests, meadows, and even urban areas.
Here are some key points to understand about their habitat:
Hummingbirds need a lot of nectar to survive, so they tend to live in areas with plenty of flowering plants.
They also need a source of protein, which they get from eating insects. This means they are often found near areas with a lot of insect activity.
Hummingbirds prefer areas with plenty of cover, such as trees or bushes, where they can hide from predators.
Essentials For Birdwatching
If you want to attract hummingbirds to your yard or garden, you'll need a few essential supplies.
Here's what you'll need to get started:
A hummingbird feeder – this will provide a source of nectar for the birds to feed on
Sugar – you'll need to make your own nectar for the feeder by mixing water and sugar
Binoculars – great for getting a closer look at the birds without disturbing them
A field guide – this will help you identify different hummingbird species
Preparing Your Yard Or Garden
If you want to attract hummingbirds to your yard or garden, there are a few things you can do to make your space more appealing to them.
Here are some key steps to follow:
Plant flowers hummingbirds are attracted to bright, colorful flowers, particularly those that produce a lot of nectar
Provide perches hummingbirds need a place to rest in between feeding, so make sure you have plenty of perches, such as small tree branches or wires
Avoid pesticides hummingbirds are extremely sensitive to pesticides and other chemicals, so try to use natural pest control methods instead
Keep the feeder clean make sure to clean your hummingbird feeder regularly, as mold and bacteria can grow quickly in sugary water
By following these steps, you can create a welcoming environment that will attract hummingbirds to your yard or garden, allowing you to enjoy their vibrant beauty up close.
Five Effective Ways To Attract Hummingbirds
Hummingbirds are a delight to watch, with their jewel-toned feathers and swift movements. If you want to attract these beautiful creatures to your garden, here are five effective ways to do it:
Choosing The Right Feeder
Hummingbirds feed primarily on nectar, and providing them with a feeder is an excellent way to invite them to your garden.
When selecting a feeder, keep the following things in mind:
Choose a feeder with bright colors, as hummingbirds are attracted to red, orange, and pink shades
Opt for a feeder with bee guards to prevent bees and wasps from getting to the nectar
Ensure that the feeder has multiple feeding ports to cater to several hummingbirds at once
Selecting The Appropriate Nectar
Hummingbirds need a reliable source of nectar to keep them coming back.
Here's what you need to know about selecting appropriate nectar:
Purchase nectar instead of making it at home, as most homemade mixes can ferment and harm hummingbirds
Choose clear nectar over red-dyed nectar, which can be detrimental to their health
Refill the feeder every 2-3 days, especially during hot weather, to prevent the nectar from spoiling
Planting The Right Flowers
Hummingbirds also feed on insects and flower nectar. Planting the right flowers in your garden can attract more hummingbirds.
Here are some tips:
Choose flowers with trumpet-shape as they are perfect for the birds to feed on the nectar easily
Purple and red flowers are the best as hummingbirds are attracted to these colors.
Cluster different types of flowers to create a "nectar feeder," making it easier for hummingbirds to feed.
Providing A Water Source
Apart from nectar and insects, hummingbirds also need a constant source of water.
Here's how you can create a water source for hummingbirds in your garden:
Use a shallow container as a bird bath
Place rocks in the container to create a landing area for the hummingbirds
Change the water at least twice a week to prevent mosquito breeding
Understanding Hummingbirds' Feeding Habits
Finally, to attract hummingbirds, it's essential to understand their feeding habits.
Here are some vital things to know:
Hummingbirds have a high metabolism and need to feed frequently.
Hummingbirds also have a great memory, so don't be surprised if they remember your feeder from year to year.
Hummingbirds are territorial, so if you have several feeders, ensure they're at least 10-15 feet apart.
With these five tips, you'll be able to attract hummingbirds and create a beautiful, vibrant garden perfect for these tiny birds.
Tips For Maintaining A Hummingbird-Friendly Environment
Hummingbirds are some of the most graceful and charming birds you can observe around your home. But how to make them come to you, and what can you do to create a hummingbird-friendly environment?
Here are some tips to get you started.
Keeping The Feeder And Nectar Clean
Hummingbirds depend on the food we provide them, and it's crucial to keep it clean and fresh. A dirty feeder can cause mold and bacteria, which can be harmful to birds and lead to potential diseases.
Here are some tips for maintaining a clean feeder and nectar:
Wash the feeder weekly with soap and warm water, rinsing thoroughly to make sure no soap residue is left.
Refill the feeder every 3-5 days, even if it's not empty, to keep the nectar fresh and prevent fermentation.
Avoid using boiling water to fill the feeder, as it can damage the plastic components and harm the birds.
Dispose of any leftover nectar before cleaning the feeder, and use white vinegar to sanitize it.
Preventing Ants And Insects
Ants and other insects can be a nuisance and deter hummingbirds from visiting your feeder. Here are some tips to keep them away.
Place a moat or ant guard above or below the feeder, as ants cannot swim through water.
Use insect-proof feeders with bee guards and built-in ant moats to ensure insects can't access the nectar.
Avoid filling the feeder to the brim, as it can attract bees and other insects.
Don't use pesticides in your garden, as it can be harmful to hummingbirds and their food sources.
Dealing With Predators
Hummingbirds are small and can fall prey to predators such as cats, snakes, and larger birds. Here's how to protect hummingbirds from predators.
Keep the feeder at a safe distance from trees and bushes, which can provide hiding spots for predators.
Place a cage or netting around the feeder to prevent larger birds from accessing it.
Keep your yard free from debris and overgrown vegetation, reducing the cover available to predators.
Avoid using bird feeders which can attract larger birds and predators alike.
Best Practices For Yard Maintenance
Creating a hummingbird-friendly environment goes beyond providing food for them. Here are some things to keep in mind when maintaining your yard.
Plant a hummingbird garden with native plants that can provide nectar and insects for the birds.
Provide a water source, such as a bird bath, for hummingbirds to bathe and drink from.
Avoid using pesticides in your garden and choose organic alternatives, which can be less harmful to hummingbirds and their food sources.
Limit the use of bright lights, as it can disorient hummingbirds during migration.
By following these tips, you can create a welcoming environment for hummingbirds in your yard and watch them visit your home more often. Remember to keep the feeder clean and avoid attracting predators, and you'll be sure to create a hummingbird haven in no time.
FAQ On How To Make A Hummingbird Come To You
How Do You Attract Hummingbirds To Your Yard?
Plant red and tubular flowers, provide water sources, and hang a hummingbird feeder.
What Time Of Day Is Best To Attract Hummingbirds?
Hummingbirds are most active during early morning and late afternoon to evening.
What Can I Put In My Hummingbird Feeder?
A mixture of four parts water to one part sugar is the best solution for a hummingbird feeder.
How Far Apart Do Hummingbird Feeders Need To Be?
Hummingbird feeders should be placed at least 10-15 feet apart to prevent territorial fights.
How Do You Keep Ants Out Of The Hummingbird Feeder?
Hang the feeder with an ant moat or choose a feeder with an ant guard to keep the ants out.
Conclusion
As we conclude our article on how to make a hummingbird come to you, it's vital to remember the key takeaways. Hummingbirds are attracted to bright colors, hummingbird feeders, and flowers rich in nectar.
Creating the perfect environment for these little birds can be both simple and rewarding.
By following the tips shared in this post, you can successfully bring hummingbirds to your backyard and be mesmerized by their beauty.
Regular maintenance of your feeder, clean water supply, and fresh nectar will ensure that these tiny creatures find their way back to your gardens every year.
Watching hummingbirds can be a therapeutic pastime as they flit and flutter around, bringing joy to all who observe them. So why wait?
Start implementing these steps and enjoy the magical experience of having hummingbirds in your backyard.