How to Open a Stuck Hummingbird Feeder: Rubber Grip!
To open a stuck hummingbird feeder, use warm water, dish soap, a rubber grip, or pliers for added leverage.
Hummingbird feeders can become stuck due to dried nectar, a vacuum seal, or tight threading. It's important to open the feeder without damaging it, ensuring it remains safe and functional for the hummingbirds.
Soak the feeder in warm water to dissolve any dried nectar causing the stuck lid.
Apply dish soap around the edges of the lid to provide lubrication and help loosen the stuck parts.
Use a rubber grip, such as a jar opener or rubber glove, to get a better grip and apply more force.
If necessary, use pliers for added leverage but be cautious to avoid damaging the feeder.
Before attempting any of these methods, make sure to empty the feeder of any remaining nectar to prevent spills. Start with the least invasive method, such as warm water and dish soap, and gradually progress to more forceful techniques if needed.
Remember to be patient and gentle to avoid breaking the feeder. If all else fails, consider purchasing a new hummingbird feeder with an easy-to-open design to prevent future issues.
8 Steps to Open a Stuck Hummingbird Feeder:
| | |
| --- | --- |
| Step | Description |
| 1 | Inspect the hummingbird feeder for potential causes of it being stuck (e.g., dried sugar water, dirt, rust). |
| 2 | Hold the hummingbird feeder securely with one hand, ideally using a towel or gloves to improve grip and avoid injury. |
| 3 | Apply gentle, even pressure while trying to twist open the stuck parts of the feeder. Avoid using excessive force, as this may cause damage. |
| 4 | If the feeder remains stuck, try using a hairdryer to apply heat to the affected area for a few minutes, potentially loosening any dried sugar water. |
| 5 | For stuck parts due to dirt or rust, soak the feeder in warm, soapy water for at least 30 minutes. Do not use hot water, as it may damage the feeder material. |
| 6 | After soaking, use a soft brush or sponge to clean the feeder, focusing on the stuck parts. Rinse the feeder thoroughly and attempt to open it again. |
| 7 | If the feeder is still stuck, apply a small amount of cooking oil or a silicone-based lubricant to the stuck parts to help loosen them. Avoid using petroleum-based lubricants, as these may be harmful to hummingbirds. |
| 8 | If all previous attempts have been unsuccessful, consult the manufacturer's guidelines or contact their customer support for further assistance. |
8 Steps to Open a Stuck Hummingbird Feeder:
Key Takeaway
Importance of proper maintenance and cleaning of hummingbird feeders
Familiarity with different types of hummingbird feeders and their specific opening methods
Using safe and gentle techniques to avoid damage to the feeders
Keeping a persistent and patient approach during the process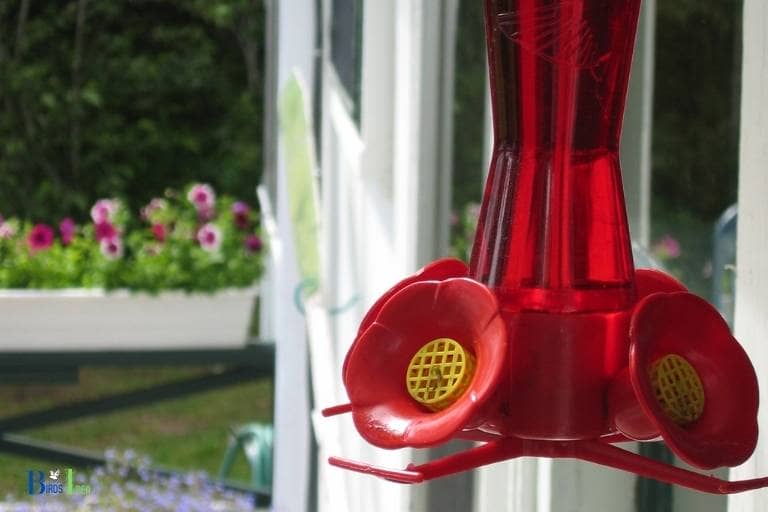 Five Facts About: Open a Stuck Hummingbird Feeder
Hummingbird feeders require regular cleaning to prevent the growth of mold and bacteria, which can potentially harm hummingbirds. (Source: World of Hummingbirds)
There are several types of hummingbird feeders, such as dish-style, bottle-style, and window feeders, each having a unique method to open and clean them. (Source: Hummingbird Guide)
To open a stuck feeder, it is crucial to apply gentle force to avoid breaking or damaging the feeder while turning or twisting its parts. (Source: Wild Birds Unlimited)
Using warm water and a mild dish soap can be helpful in loosening stuck feeder parts, but it's important to ensure the feeder is thoroughly rinsed afterward to prevent residue that may harm hummingbirds. (Source: The Spruce)
Patience is essential when attempting to open a stuck hummingbird feeder, as it may take time for the feeder components to loosen and undue stress or force may result in damage. (Source: Perky-Pet)
Understanding The Possible Causes Of A Stuck Hummingbird Feeder
Factors That Contribute To A Feeder Getting Stuck
Hummingbird feeders provide a convenient source of food for the tiny creatures to sip their nectar. However, when a feeder gets stuck, it can be frustrating because it prevents hummingbirds from accessing their much-needed source of nutrition.
Understanding the causes and factors that contribute to a feeder getting stuck can help you know how to fix it.
Here are some key points to consider:
Contamination: Hummingbird feeders can become sticky from exposure to sugary substances that attract dirt and dust that contribute to feeder clogs.
Wear and tear: Damaged plastic components that wear out over time can result in a feeder getting stuck.
Climate and weather: Temperature changes that cause material expansion, including plastic, can make some feeder parts to stick or jam.
Lack of maintenance: A dirty feeder that is not cleaned regularly can contribute to the formation of mold and bacteria, which degrades the feeder's performance over time.
Identifying The Root Cause Of The Problem
If your hummingbird feeder is stuck, it's crucial to determine the root cause of the problem before proceeding with any repair work.
Here are some things to keep in mind when it comes to identifying what's causing your hummingbird feeder to be stuck:
Inspect the feeder: Check for any visible damage or dirt inside the feeder, especially near the portals and the main feeding hole.
Check the surface: Look for any cracks or irregularities on the surface. Identify any tight spots, rough patches, or broken features that may interfere with the feeder's normal operation.
Check the portals: Look through the feeding portals to ensure there are no blockages in the feeding tube or ants' clogging.
Importance Of Troubleshooting To Avoid Feeder Damage
Solving feeder issues is essential to keeping your hummingbirds fed, happy, and healthy. Troubleshooting can help you avoid feeder damage, prolonging its lifespan.
Follow these tips to troubleshoot a hummingbird feeder that's stuck:
Clean the feeder: Disassemble the feeder and clean it thoroughly with hot, soapy water, rinse well, and let it dry thoroughly before reassembling.
Lubricate the components: Apply some vegetable oil or vaseline on the feeding tube to reduce friction. Apply oil or vaseline to any surfaces or components that come into contact within the feeder.
Replace damaged parts: If a critical component of your feeder is damaged, replace it. Damaged parts can cause a feeder to stick or become unsafe to use.
Inspect surrounding areas: Check the surrounding areas for any possible culprits, including pests like ants that can cause the feeder to stick.
Understanding the possible causes of a stuck hummingbird feeder, identifying the root of the problem, and troubleshooting to avoid feeder damage are essential.
By following these guidelines, you can keep your feeder in tip-top shape to ensure hummingbirds have a reliable source of food and enjoy their visits.
Tools And Materials Needed For Opening A Stuck Hummingbird Feeder
If you're a bird lover, a hummingbird feeder is an excellent way to attract these tiny, colorful creatures to your yard. However, trying to open a stuck hummingbird feeder can be a frustrating experience, especially if you lack the proper tools or knowledge.
To help, here are some essential tools and materials that you should have on hand when attempting to open a stuck hummingbird feeder.
Safety Measures To Observe Before Attempting To Open The Feeder
Before opening a stuck hummingbird feeder, it's essential to take some safety precautions to avoid any injuries.
Here are some safety measures to observe before opening the feeder:
Wear protective gloves such as rubber or leather gloves to protect your hands from any sharp edges or corrosive materials.
Make sure that the feeder is empty and clean to avoid accidentally spilling sugar water on your clothing or skin.
Check to see if there are any bees or wasps around the feeder before attempting to open it as they may become aggressive and sting you.
Essential Tools To Have On Hand
To open a stuck hummingbird feeder, you only need a few essential tools. These tools will help you to loosen the feeder cap and dislodge any clogs.
Here are the essential tools to have on hand:
Pliers: Use pliers to grip the feeder cap and twist it counterclockwise to loosen it. You can also use pliers to straighten any bent parts of the feeder.
Wrench: If the pliers are not enough, use an adjustable wrench to help you to grip the feeder cap firmly and turn it. Make sure to select the right size for the feeder based on its threads before using the wrench.
Vinegar: Mix equal amounts of water and white vinegar to make a solution. Use this solution to soak the feeder cap and base to dissolve any clogs caused by sugar deposits.
Additional Materials That May Be Helpful
Apart from the essential tools, there are additional materials that can make opening a stuck hummingbird feeder an easier task.
These materials include:
Boiling water: Pour boiling water over the feeder cap and base to expand the metal parts and loosen the threads. This method is especially useful if the feeder has been stuck for a long time.
Silicone grease: Apply a tiny amount of silicone grease to the threads of the feeder cap to prevent it from sticking in the future. Make sure not to apply too much as it may cause the cap to slip and fall off.
Sandpaper: If the feeder cap is too tight, use a fine-grit sandpaper to file down any rough edges on the cap or the base. This method makes it easier to twist the cap and loosen it.
By following these tools and materials, now you can open a stuck hummingbird feeder easily and safely, and enjoy the birds' presence in your yard. Always remember to clean the feeder regularly and observe safety measures to avoid any accidents.
Step-By-Step Guide On How To Open A Stuck Hummingbird Feeder
Preparing The Feeder For Opening
Hummingbird feeders are often delicate and require special attention when being opened. Before attempting to open a stuck feeder, it's important to prepare the feeder for manipulation.
Here's how:
Remove the feeder from where it's hanging and bring it down to eye level. This will give you a better view of the problem area and enable you to work on it without hurting yourself.
Check the feeder for any damages or signs of wear and tear. Replace any damaged parts before attempting to open the feeder
Ensure that the feeder is clean. Sticky residue and nectar buildup can make it difficult to open the feeder. So, clean it thoroughly before trying to open it.
Applying Lubrication To Get The Feeder Unstuck
Lubrication is the best way to loosen a stuck hummingbird feeder. It can help decrease the friction and make the trapped parts easier to move.
Here are the steps to follow:
Purchase a food-safe lubricant designed for use with hummingbird feeders. These are often available at home improvement stores or online.
Identify the areas where the feeder is stuck through careful inspection.
Apply a small amount of lubricant to the stuck areas using a cotton swab or toothpick. Take care not to use too much.
Wait for a few minutes to allow the lubricant to work its way in.
Gently try to move the stuck parts, and they should start moving after applying lubricant.
Alternate Methods Of Opening If Lubrication Fails
In some situations, you may find that lubrication is ineffective, and the feeder remains stuck. In that case, you may need to try an alternative opening method.
Here are a few suggestions:
Use hot water. Soak the stuck parts in hot water for a few minutes and use a towel to grip them firmly, so that they come loose.
Freezer method. Place the hummingbird feeder in the freezer for 30 minutes, then remove it and try gently twisting the stuck pieces to loosen them.
Use pliers. Cover pliers with a soft cloth or use plastic pliers to avoid damaging the feeder. Grip the parts firmly and gently twist to loosen them.
Cleaning And Maintenance Tips After Opening The Feeder
After you've opened the hummingbird feeder, it's essential to clean it thoroughly to remove any residue.
By following the above guidelines, you can open your hummingbird feeder when it gets stuck easily. Remember to take your time and proceed gently, and your hummingbird feeder will function appropriately throughout the season.
Tips And Tricks To Prevent A Hummingbird Feeder From Sticking Again
Opening a stuck hummingbird feeder can be a frustrating task for any bird enthusiast. However, preventing the feeder from sticking again is equally essential to ensure the feeder's longevity and hummingbirds' wellbeing.
Preventative Measures To Avoid Future Sticking
Preventing a hummingbird feeder from sticking again requires making changes in the feeder's design and environment.
Here are some measures that can help avoid feeder jamming:
Choose a feeder with wider feeding holes and ports to reduce clogging chances.
Choose a feeder that disassembles easily to facilitate cleaning and maintenance.
Position the feeder away from direct sunlight to prevent nectar from overheating, which can cause clogging.
Factors To Consider When Choosing A Hummingbird Feeder
The feeder's design, placement, and material can also affect its stickiness and overall attractiveness to hummingbirds.
Here are some factors to consider when choosing a hummingbird feeder:
Material: Choose a feeder made of durable material like glass, plastic, or metal, which are easy to clean and long-lasting.
Design: Choose a feeder that simulates flowers and replicates natural nectar sources.
Size: Choose a feeder that can supply sufficient nectar to hummingbirds, preventing overcrowding and clogging.
Colour: Hummingbirds are attracted to bright colors like red, yellow, and orange. Choose a feeder with vibrant and easily visible colors.
By implementing these tips and tricks, you can keep your hummingbird feeder sticky-free and maintain the hummingbirds' health and well-being.
FAQ Of How To Open A Stuck Hummingbird Feeder
How Do I Know If My Hummingbird Feeder Is Stuck?
If the nectar is not flowing or the hummingbirds are not feeding, your feeder might be stuck.
What Should I Do When My Hummingbird Feeder Is Stuck?
Try unscrewing the feeding ports and cleaning them. If that doesn't work, soak the feeder in warm soapy water.
Can I Use Any Soap To Clean My Hummingbird Feeder?
Avoid using harsh chemicals or soap with a strong scent. You can use a mild dish soap diluted in warm water.
How Often Should I Clean My Hummingbird Feeder?
Clean your feeder at least once a week to prevent mold and bacteria growth, and more frequently in hot weather.
Conclusion
Opening a stuck hummingbird feeder may seem like a daunting task, but with the right tools and techniques, it can be done easily. Before attempting to open a stuck feeder, make sure to wear protective gloves and glasses.
Use hot water or a vinegar solution to loosen any sticky residue that may be causing the feeder to stick.
Sometimes, gently tapping the feeder on a hard surface or using pliers may also help to release the feeder. Once the feeder is open, give it a thorough cleaning to ensure its longevity and to keep your feathered friends coming back for more.
With these simple steps, you can enjoy a stress-free hummingbird feeding experience while providing nutritious nectar for your winged visitors. Happy birdwatching!