What Animals Do Crows Attack? Smaller Birds!
Crows are known to be aggressive towards a variety of creatures, including smaller birds such as robins and sparrows, bird nestlings, urban pests like rats and garbage scavengers, and occasionally other animals when competing for food or protecting their territory.
They may also target eggs and chicks of different bird species.
Crows exhibit predatory and defensive behaviors that lead them to attack certain animals:
Birds: Smaller birds and nestlings are common targets.
Urban Pests: Crows will hunt rats and other scavengers.
Eggs and Chicks: They sometimes raid nests for eggs and chicks.
Territorial Defense: Crows may attack to protect their territory.
In the avian hierarchy, crows stand out as formidable defenders of their domain, capable of strategic attacks on intruders and competitors.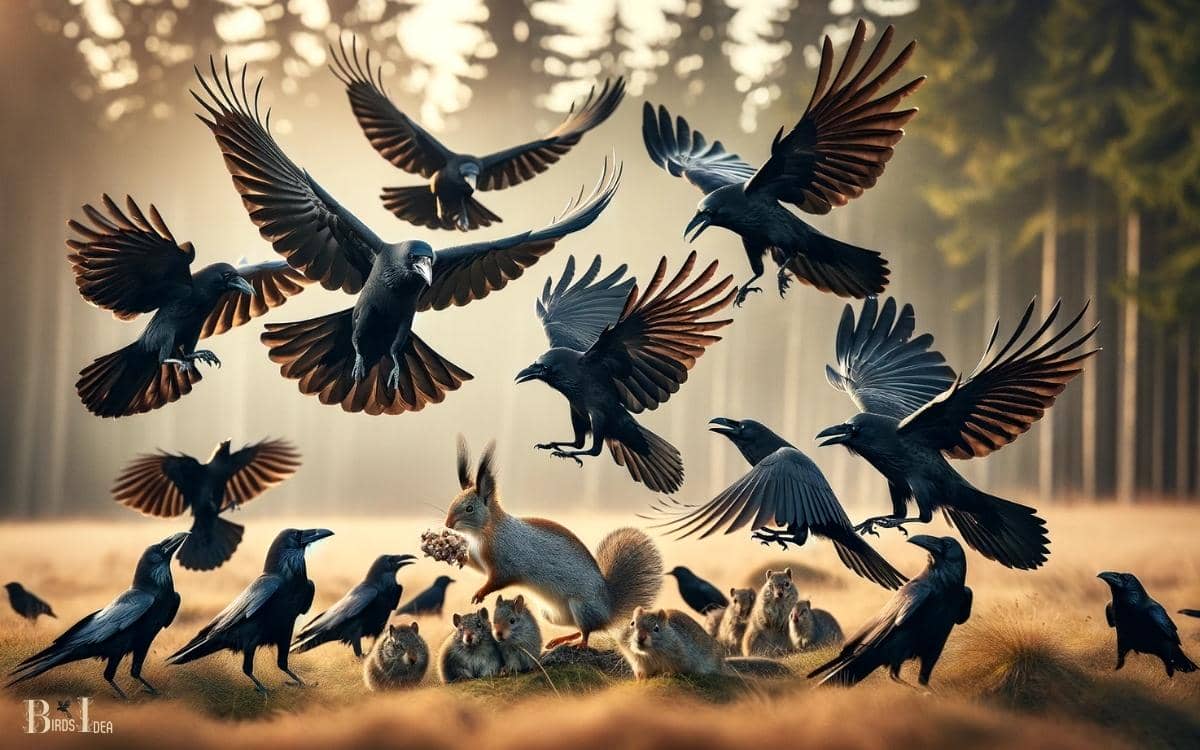 Key Takeaway
Crows exhibit aggressive behavior towards smaller birds and nesting raptors, impacting ecosystem dynamics.
Crows are attracted to urban areas for scavenging and play a crucial role in controlling urban pest populations.
Crows engage in conflicts with larger birds and compete for territory and resources.
Crows compete with vultures, ravens, and other scavenger species for carrion, disrupting scavenging activities and impacting population dynamics.
Small Birds
Crows often target and attack small birds for territorial and food competition. Their aggressive behavior towards smaller birds is driven by the need to establish dominance in their territory and secure food resources.
Small birds such as sparrows, finches, and robins often fall victim to crow attacks, especially during the breeding season when crows become more protective of their nesting sites.
The attacks on small birds also serve as a means for crows to assert their dominance and maintain control over the available food sources.
While crows are known for their intelligence and resourcefulness, their aggressive behavior towards smaller birds highlights the challenges and competition present in the natural world.
Understanding the dynamics of these interactions is crucial for appreciating the complexities of wildlife and the freedom of species to compete for survival.
Nesting Raptors
During the nesting season, crows may target nesting raptors as part of their territorial defense and competition for resources.
Raptors such as hawks, owls, and eagles are often seen as competitors by crows, especially when it comes to nesting territories and access to food sources.
Crows will aggressively mob and harass nesting raptors to drive them away from their preferred nesting sites and hunting grounds.
This behavior is not only a means of protecting their own nesting areas but also a way to reduce competition for food resources.
The interactions between crows and nesting raptors can have significant impacts on the overall ecosystem dynamics, influencing the distribution and behavior of both species.
Understanding these interactions is crucial for conservation efforts and maintaining healthy ecosystems.
Transitioning into the subsequent section about 'urban pests', it is important to recognize how human development has influenced crow behavior.
Urban Pests
Urban areas are commonly targeted by crows for scavenging and foraging. In these environments, crows often view human settlements as an abundant source of food and nesting materials.
Urban pests such as rodents, insects, and discarded food attract crows to cities and towns, where they play a crucial role in controlling these populations.
While this scavenging behavior can sometimes bring crows into conflict with humans, it also highlights the adaptability and intelligence of these birds.
Efforts to discourage crow activity in urban areas often involve securing garbage bins, eliminating food sources, and implementing deterrents to minimize conflicts.
Understanding the factors that attract crows to urban environments can help communities coexist with these intelligent and resourceful birds, promoting a balanced and harmonious urban ecosystem.
Larger Birds
Crows are known to engage in conflicts with larger birds such as hawks and eagles, often competing for territory and resources.
Their behavior towards vultures can be quite aggressive, leading to confrontations between the two species.
Furthermore, crows have been observed attacking and harassing raptors, showcasing their territorial and competitive nature in the avian world.
Hawk and Eagle Conflicts
In encounters between crows and larger birds such as hawks and eagles, conflicts often arise over territory and resources.
Crows are known for being fiercely territorial and will defend their nesting sites and foraging areas from perceived threats, including larger predatory birds.
When hawks and eagles encroach upon crow territories, confrontations can occur as the crows attempt to drive the intruders away.
Conflicts may arise when both crows and larger birds compete for the same food sources, such as small mammals, insects, and carrion.
These interactions reflect the complex dynamics of avian communities, where different species vie for survival and sustenance in a shared environment.
Understanding these interactions is crucial for appreciating the intricate balance of nature and the coexistence of diverse bird species in the wild.
Crow Vs. Vulture Behavior
When confronted by vultures, crows may exhibit aggressive behavior as they compete for access to food and resources.
Vultures are larger birds and often dominate food sources due to their size and strength. The interaction between crows and vultures can be intense as both species attempt to assert their dominance.
Crows are known to harass and mob vultures in an effort to drive them away from a food source.
This behavior may involve dive-bombing, vocalizing loudly, and even physically pecking or striking at the vultures.
The following table provides a comparison between crows and vultures in terms of size, diet, and behavior:
| Characteristic | Crow | Vulture |
| --- | --- | --- |
| Size | Medium | Large |
| Diet | Omnivorous | Scavenger |
| Behavior | Agile, opportunistic | Dominant, intimidating |
"Avian Carrion Competition: Interactions among crows, vultures, ravens, and other scavengers influence carrion availability, shaping population dynamics."
Understanding the dynamics of crow-vulture interactions sheds light on the complex social behaviors of these intelligent avian species.
Attacks on Raptors
The crow's aggressive behavior toward larger birds, such as raptors, is a notable aspect of their interactions within the avian community.
When crows confront raptors, the intensity of the conflict is palpable.
The crow's audacious nature is on full display as they fearlessly challenge the majestic raptors.
The clash between these powerful birds ignites a raw sense of defiance and determination.
Witnessing the aerial ballet of these fierce creatures evokes a deep sense of admiration for their unyielding spirit.
The crow's relentless pursuit of dominance over the sky symbolizes the unquenchable thirst for freedom and autonomy.
As the crows engage in these daring encounters, they embody the untamed essence of the wild.
Moving forward, let's delve into the intriguing dynamics of crows' interactions with scavengers.
Scavengers
Crows are known to target scavenger species such as vultures, ravens, and other birds that feed on carrion.
Understanding crow predation habits on scavengers is crucial for comprehending their impact on ecosystems.
Crow Predation Habits
Crows' predation habits as scavengers play a crucial role in maintaining the ecological balance of their environment.
As scavengers, crows exhibit remarkable behaviors that evoke a sense of freedom and wildness:
They fearlessly scavenge for food in diverse landscapes, symbolizing resilience.
Their communal feeding displays a sense of unity and cooperation, inspiring harmony.
Crows' adaptability to urban environments signifies the freedom to thrive amidst human presence.
Their intelligence in finding and utilizing resources reflects the liberation of the mind.
Crows' aerial agility and freedom of flight showcase their untamed spirit.
These behaviors highlight the crows' vital role as scavengers, contributing to the ecosystem's equilibrium.
Understanding their interactions with other scavenger species further illuminates the intricate dynamics of the natural world.
Targeted Scavenger Species
As scavengers, crows assert their dominance by targeting specific scavenger species for competition, thus influencing the intricate dynamics of the ecosystem.
Crows often compete with other scavenger species such as vultures, ravens, and other large birds of prey for access to carrion.
Their aggressive behavior towards these species can disrupt the balance of scavenging activities in an ecosystem.
By targeting these scavenger species, crows can impact the population dynamics of these animals, potentially leading to changes in the scavenging hierarchy and the overall distribution of resources.
This can have far-reaching consequences for the ecosystem, affecting not only the scavenger species themselves but also the broader food web and the ecological processes that rely on efficient decomposition and recycling of organic matter.
Understanding the impact of crow behavior on ecosystems is crucial for maintaining ecological balance.
Impact on Ecosystems
The predation of carrion by crows can significantly disrupt the scavenging dynamics within ecosystems, impacting the population balance and resource distribution of scavenger species.
This disruption can have a profound impact on the overall health and stability of ecosystems, leading to a cascade of effects that reverberate throughout the food web.
The consequences of crows attacking scavenger species include:
Imbalance: Disrupting the natural balance of scavenger populations.
Competition: Heightening competition for limited carrion resources.
Decline: Contributing to the decline of certain scavenger species.
Vulnerability: Making scavenger species more vulnerable to other threats.
Ecosystem Health: Compromising the overall health and functioning of ecosystems.
These effects underscore the interconnectedness of species within ecosystems and the importance of preserving the freedom of natural processes.
Invasive Species
Invasive species often fall victim to attacks by crows due to their impact on the natural ecosystem.
Crows are known to target invasive species that disrupt the balance of the ecosystem, causing harm to native plants and animals.
Here's a breakdown of some invasive species that crows commonly target:
| Invasive Species | Impact on Ecosystem | Crow Attacks |
| --- | --- | --- |
| European Starlings | Compete for nesting | Attack and drive |
| | sites with native | away from nesting |
| | birds | sites |
| House Sparrows | Outcompete native | Peck and harass |
| | birds for food and | and drive away |
| | nesting sites | |
| Feral Cats | Prey on native | Crows mob and |
| | wildlife, disrupt | attack to protect |
| | ecosystems | their own nests |
"Crows, environmental guardians, actively combat ecosystem threats by targeting invasive species such as European Starlings, House Sparrows, and Feral Cats, mitigating their impact on native biodiversity."
Crows play a crucial role in maintaining the balance of ecosystems by targeting these invasive species that pose a threat to the natural environment.
Conclusion
Crows are known to attack a variety of animals including small birds, nesting raptors, urban pests, larger birds, scavengers, and invasive species.
Their aggressive behavior and predatory nature play a crucial role in maintaining ecological balance and controlling certain animal populations.
Their intelligence and adaptability make them successful hunters and scavengers, allowing them to thrive in diverse environments.
These fascinating interactions between crows and their prey showcase the complex dynamics of the natural world.