What Are Baby Crows Called: Chicks!
Baby crows are called chicks.
This term is commonly used to describe the young of many bird species, including crows, which are part of the Corvidae family.
The development of baby crows can be categorized into several stages:
Egg Stage: Before they hatch, crow offspring are contained within eggs.
Hatchling: Once they emerge from the egg, they are known as hatchlings. At this stage, they are blind and featherless.
Nestling: As they grow feathers and open their eyes, they become nestlings and remain in the nest, dependent on their parents.
Fledgling: When crows are ready to leave the nest, they are called fledglings. They may still rely on their parents for food and protection as they learn to fly.
Juvenile: After this stage, as they gain independence, they become juveniles until they reach adulthood.
The early life of a crow is filled with rapid growth and learning as it transitions from a vulnerable chick to a capable juvenile, ready to explore the world independently.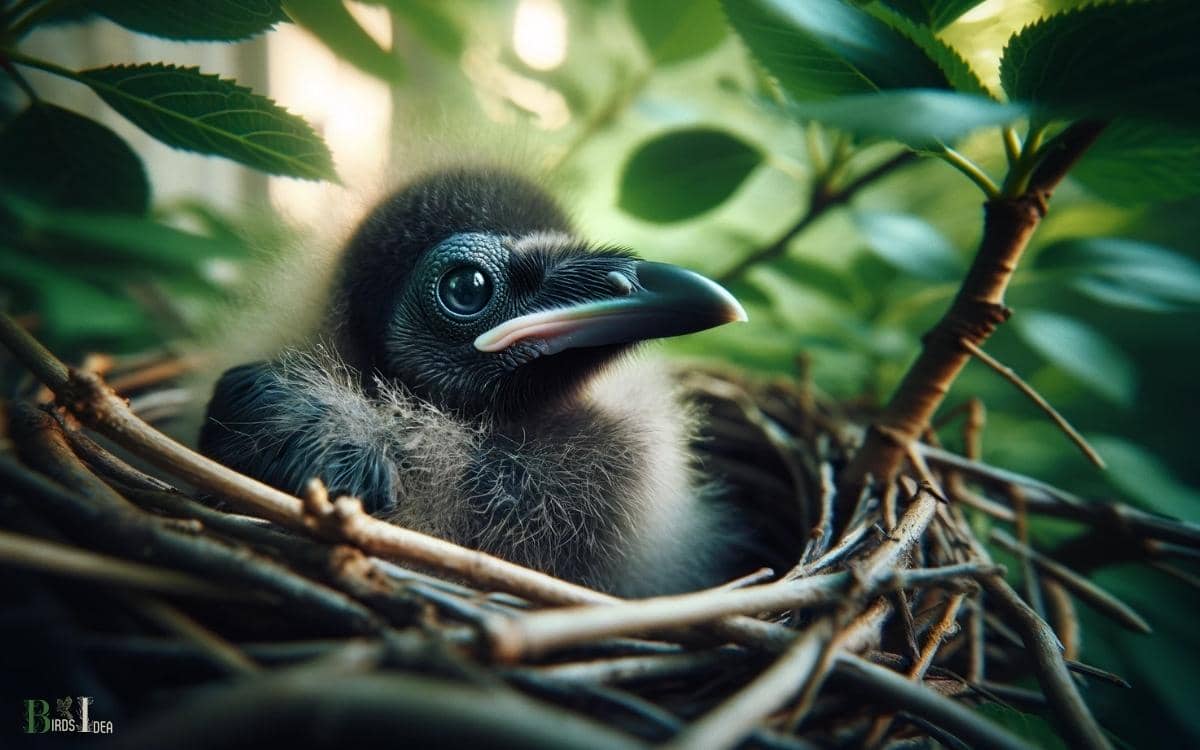 Key Takeaway
Baby crows go through several developmental stages, starting as eggs and progressing to fledglings and then juveniles.
The common name for baby crows is "chicks" or "fledglings," while the biological term is "fledgling."
The fledgling period is crucial for learning survival skills and gaining independence.
Young crows exhibit complex social behaviors, forming social bonds with siblings and other young crows, and establishing their rank within the family group.
The Common Name for Baby Crows
The common name for baby crows is 'chick' or 'fledgling.' Crows, known for their intelligence and adaptability, are part of the Corvidae family.
These young birds are born blind and naked, and they rely entirely on their parents for nourishment and protection.
As they grow, their plumage changes from dull and fluffy to shiny and black, resembling the adults.
The term 'fledgling' is used to describe a young crow that has developed flight feathers and is learning to fly.
It's fascinating to observe these young creatures as they explore their surroundings and learn to fend for themselves. Understanding the lifecycle and development of baby crows offers a deeper appreciation for the freedom and resilience these intelligent birds embody.
Biological Terminology for Baby Crows
Biological terminology for baby crows encompasses the specific names used to refer to these young birds, as well as the developmental stage they go through before reaching adulthood.
Understanding the terminology associated with baby crows provides insight into their growth and behavioral patterns, shedding light on their unique characteristics during this early phase of life.
Exploring the biological aspects of baby crows can enhance our appreciation for these intelligent and adaptable creatures.
Baby Crow Name
A baby crow is known as a 'fledgling' in biological terminology. The term 'fledgling' refers to a young bird that has developed its feathers sufficiently to be able to fly.
When a baby crow reaches this stage, it is able to leave the nest and start exploring its surroundings.
At this point, the fledgling is still under the care and supervision of its parents, who continue to feed and protect it while it learns to fend for itself.
The fledgling period is a crucial stage in the development of a crow, as it learns essential survival skills and gains the strength and abilities necessary for independent living.
It's a fascinating time in the life of a crow, as it transitions from a helpless chick to a capable and self-sufficient adult bird.
Crows' Juvenile Stage
During the juvenile stage, baby crows undergo crucial developmental changes as they prepare for independent living.
This stage begins when the young crows fledge, leaving the nest and learning to fly. They are still reliant on their parents for food and protection, but they start exploring their surroundings and developing essential survival skills.
Juvenile crows have a distinctive appearance, often with a pink gape (the inside of the mouth) and blue eyes, which gradually turn brown as they mature.
They begin to socialize with other young crows, learning the intricate dynamics of crow society and forming bonds that will be essential for their future.
This period is vital for their growth and learning, setting the stage for their transition into adulthood.
As they progress through this stage, they begin to develop the characteristics that will define them as mature crows.
Next, let's delve into the subsequent section about 'baby crow development stages'.
Baby Crow Development Stages
Young crows, known as fledglings, go through distinct development stages as they mature from hatchlings to fully independent adults.
Understanding these stages can provide insight into the fascinating journey of crow development:
Hatchling Stage: Baby crows are born blind and featherless, relying entirely on their parents for warmth, food, and protection.
Nestling Stage: As the fledglings grow, they develop feathers and begin to explore the area around their nest, while still relying on their parents for food and guidance.
Fledgling Stage: This is the stage when young crows start to leave the nest, hop around on the ground, and learn to fly. They are still dependent on their parents but are gradually gaining independence.
These stages showcase the gradual progression of young crows toward independence and adulthood, reflecting their innate desire for freedom.
The Nesting and Fledging Process
During the nesting and fledging process, baby crows experience the intricate behavior of nest building, which plays a crucial role in their survival.
Additionally, fledgling survival techniques are developed during this time, as young crows learn to navigate their environment and find food.
The dynamics of parental care also play a significant role in the fledging process, as adult crows provide essential guidance and protection to their offspring.
Nest Building Behavior
The nest building behavior of crows, known as the nesting and fledging process, is a crucial aspect of their reproductive cycle.
Understanding the intricacies of this behavior sheds light on the fascinating life of these intelligent birds.
Here are three key aspects of the nesting and fledging process:
Site Selection
Crows meticulously choose the location for their nest, often preferring tall trees for security and visibility.
Urban areas have also become popular nesting sites for crows due to the abundance of food and relative safety from predators.
Construction
Crows exhibit remarkable skill in constructing their nests using a variety of materials such as twigs, leaves, and even bits of metal or plastic.
Their ability to adapt to different environments is reflected in the diversity of materials used.
Fledging
Once the chicks are hatched, the fledging process begins, during which the parents diligently care for and feed their young until they are ready to leave the nest and fend for themselves.
Fledgling Survival Techniques
Exhibiting remarkable adaptability, crows employ various survival techniques during the fledgling stage of the nesting and fledging process.
Fledglings, once they leave the nest, are often vulnerable to predators and environmental hazards.
To counter this, fledgling crows develop strong flight skills and quickly learn to forage for food.
They are also adept at finding safe perches and hiding spots, often utilizing the cover of trees or structures to evade threats.
Fledglings often stay close to their parents, benefiting from their protection and guidance.
These techniques enable fledgling crows to navigate the challenges of their new environment and build the necessary skills for survival.
Transitioning from this crucial stage, the parental care dynamics further contribute to the development and protection of the fledglings.
Parental Care Dynamics
An integral aspect of the nesting and fledging process for baby crows is the parental care dynamics, which play a crucial role in fostering their development and ensuring their protection as they transition from fledglings to independent individuals.
Nesting: Crows build their nests using a variety of materials, including twigs, leaves, and grass, often in tall trees or other elevated locations.
Feeding: Parent crows diligently feed their young a diverse diet, including insects, small animals, fruits, and seeds, to ensure proper nutrition and growth.
Fledging: As the baby crows grow, parents encourage them to leave the nest and practice flying, while still providing guidance and protection.
The parental care dynamics of crows demonstrate the nurturing and supportive environment necessary for the successful development of their young.
Social Behavior of Young Crows
Young crows exhibit a complex and hierarchical social structure within their family groups. They engage in cooperative behaviors such as grooming, sharing food, and standing guard, which strengthen the bonds within the group.
Juvenile crows often form social bonds with their siblings and other young crows in the area, engaging in play and learning essential survival skills.
As they mature, they establish their rank within the family group through vocalizations, body language, and occasional conflicts.
These social interactions are crucial for their development and integration into the larger crow community.
Understanding the social behavior of young crows provides insight into their adaptability and intelligence as they navigate the challenges of their environment.
This social acumen is particularly valuable as they face various survival challenges in their early stages of life.
Survival Challenges Faced by Baby Crows
Baby crows face a myriad of survival challenges in their early stages of life, requiring them to quickly adapt to various environmental pressures.
These challenges include:
Predation: Baby crows are vulnerable to predators such as cats, raccoons, and birds of prey, making survival a constant battle against being hunted.
Food Acquisition: Young crows must learn to forage for food and compete with other animals for resources, often navigating urban environments and human settlements to find sustenance.
Environmental Hazards: Baby crows must contend with hazards like extreme weather, pollution, and human interference, which can pose significant threats to their survival.
These challenges demand resilience and resourcefulness from baby crows as they strive to overcome the obstacles that stand in the way of their freedom and independence in the wild.
Human Interaction With Baby Crows
Human interaction with juvenile crows can significantly impact their development and behavior in the wild.
While it may be tempting to feed or attempt to care for a baby crow found alone, it's essential to understand the potential consequences of such actions.
Crows are highly intelligent and social birds, and their natural development is reliant on learning from their own kind.
Interfering with this process can lead to behavioral issues and dependency on humans, which can hinder their ability to survive in the wild.
Instead of intervening, it's best to observe from a distance and contact local wildlife rehabilitation experts if necessary.
By allowing baby crows to develop naturally, we respect their freedom and give them the best chance of thriving in their natural environment.
What Do Young Crows Look Like?
Young crows, commonly referred to as fledglings, have a different appearance than adult crows.
The exact characteristics can vary depending on the specific species of crow, as there are several different types.
However, in general, young crows typically have the following features:
Size and Shape: Fledgling crows are smaller and have a more compact and rounded body compared to adults. They may also have a shorter tail.
Plumage: The plumage of young crows is often softer and more fluffy than that of adults. It can be a duller or more muted version of the adult's coloration.
Color: The color of a young crow's feathers may not be as dark or glossy as that of an adult. The plumage may appear brownish or more mottled.
Eyes: The eyes of young crows may appear bluer or grayer than the darker eyes of adults.
Behavior: Fledgling crows are often seen hopping on the ground or perching in lower branches, learning to fly. They may be accompanied by adult crows, as they are still under the care and supervision of their parents.
It's important to note that fledgling crows are not necessarily abandoned or in need of assistance.
The parents are typically nearby, keeping an eye on their young and continuing to care for them.
If you encounter a young crow on the ground, it's best to observe from a distance to avoid unnecessary disturbance.
If you suspect a bird is injured or in danger, you can contact local wildlife rehabilitators or animal control for guidance.
Conclusion
The common name for baby crows is 'chick' or 'fledgling,' while the biological term is 'nestling' or 'juvenile.'
Baby crows go through various development stages, from hatching to fledging, and exhibit complex social behaviors within their family groups.
However, only 40-60% of baby crows survive their first year, facing challenges such as predation, disease, and human interference. Understanding their development and survival challenges is crucial for their conservation.