What Animals Get into Hummingbird Feeders: Insects!
Animals that get into hummingbird feeders are usually insects, birds, and small mammals attracted to the sugar-rich nectar.
Hummingbird feeders are designed to provide nectar to hummingbirds, but other animals are often drawn to the sweet solution as well.
As a result, various insects, birds, and small mammals end up feeding on the nectar, sometimes causing issues for the hummingbirds and the feeders' owners.
Insects: Bees, wasps, ants, and butterflies
Birds: Orioles, woodpeckers, and house finches
Small mammals: Squirrels, raccoons, and bats
Potential problems: Overcrowding, feeder damage, and contamination
One way to reduce unwanted visitors at your hummingbird feeders is by using insect guards and ant moats to minimize insect access. Additionally, place feeders with squirrel baffles in areas where squirrels cannot easily reach them.
Ensure that your feeders are cleaned regularly to prevent contamination and spoilage, which can attract more unwanted animals. Finally, try offering alternative food sources like birdseed or suet for other birds and mammals, so they are less likely to consume the hummingbirds' nectar.
8 Types of Animals That Intrude Hummingbird Feeders
| | | |
| --- | --- | --- |
| Animal | Description | Impact on Hummingbird Feeders |
| Ants | Small insects that are attracted to the sugar in hummingbird feeders. | Can contaminate the nectar and deter hummingbirds from using the feeder. |
| Bees | Flying insects that collect nectar and pollen from flowers. | Can swarm the feeder, making it difficult for hummingbirds to access the nectar. |
| Wasps | Flying insects related to bees and ants, also attracted to sugar. | Similar to bees, can swarm the feeder and deter hummingbirds. |
| Raccoons | Nocturnal mammals known for their curiosity and ability to access human-made structures. | May knock over or damage feeders in an attempt to access the nectar. |
| Opossums | Nocturnal marsupials, also known to scavenge for food. | May knock over, damage or drink from hummingbird feeders. |
| Squirrels | Small rodents that are attracted to various food sources. | Can hang from or climb on feeders, damaging them or spilling the nectar. |
| Birds of Prey | Larger birds, such as hawks or falcons, that prey on smaller birds. | May use hummingbird feeders as a hunting ground, scaring away hummingbirds. |
| Orioles | Larger than hummingbirds, orioles also feed on nectar. | May monopolize hummingbird feeders and drink large amounts of nectar. |
8 Types of Animals That Intrude Hummingbird Feeders
Key Takeaway
Various animals are attracted to the sweet nectar of hummingbird feeders
Certain measures can be implemented to prevent unwanted animals from accessing feeders
Different animal species possess unique traits and feeding habits that could cause issues for hummingbird feeders
The maintenance and placement of hummingbird feeders play a crucial role in deterring unwanted animals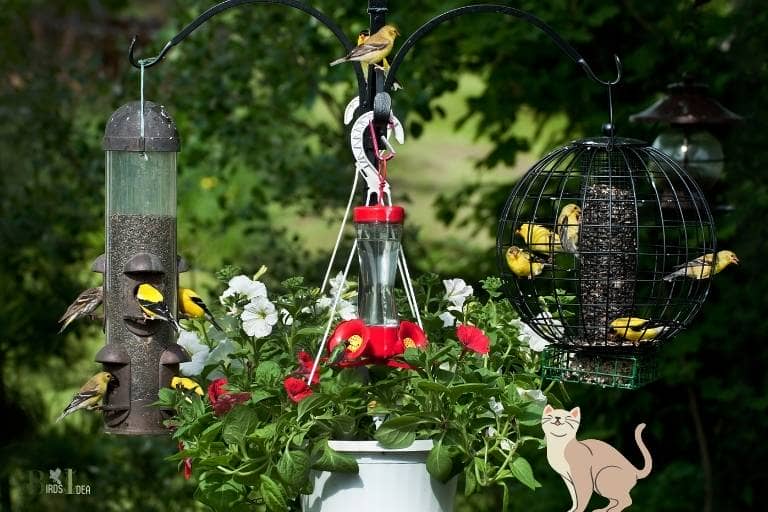 Five Facts About: Animals That Get into Hummingbird Feeders
Bats have been known to get into hummingbird feeders at night, as they are also attracted to nectar like many birds. They can drain the feeders and make it difficult for hummingbirds to find food (source: Hummingbird Central).
Bees, wasps, and ants are often drawn to the sweet nectar in hummingbird feeders, which could harm the hummingbirds or deter them from feeding (source: Birds & Blooms).
Squirrels and raccoons are also known to raid hummingbird feeders due to their interest in the sweet nectar. These clever animals can cause damage to the feeders and create barriers for the hummingbirds (source: Audubon Society).
Installing bee guards on hummingbird feeders and using ant moats can help prevent unwanted insects from accessing the nectar while still allowing hummingbirds to feed (source: Bird Watcher's Digest).
Proper placement and maintenance of hummingbird feeders can help reduce the risk of unwanted animals accessing the feeders. Positioning the feeders at
Understanding Hummingbird Feeders: A Brief Overview
Hummingbirds are some of the most mesmerizing creatures that anyone can witness. With their beautiful colors and excellent hovering skills, it's no wonder why so many people are interested in attracting these tiny birds to their yards.
Hummingbird feeders are an excellent way to provide these birds with the necessary nutrients to survive.
Here's a brief overview of these feeders, how they work, and the different types available.
What Are Hummingbird Feeders?
Hummingbird feeders are specialized containers that hold a nectar solution designed to attract hummingbirds. The feeders are usually made of glass or plastic and suspended from a hook or pole.
They serve as an alternative source of food for hummingbirds, who feed on the nectar produced by flowers.
These feeders come in different shapes and sizes, and they can be easily installed in your backyard.
How Do They Work?
Hummingbird feeders work by mimicking the nectar that a hummingbird would find in flowers. The nectar is typically a mixture of water and sugar (4:1) and placed in the feeder. The solution should be changed and cleaned every three to four days to prevent fermentation.
The feeding ports on the feeder allow the birds to perch and feed on the nectar.
What Kinds Of Hummingbird Feeders Are There?
Hummingbird feeders are available in various designs, and the type you choose depends on your preferences, budget, and location.
Some of the common types include:
Flat-base feeders: These feeders have a flat base and come with suction cups that allow them to be attached to a window.
Bottle feeders: These feeders have a bottle-shaped container that is easy to clean and refill.
Saucer feeders: These feeders have a saucer-shaped container and are perfect for large groups of hummingbirds.
Top-fill feeders: These feeders have a convenient design that makes it easy to clean and refill.
Hummingbird feeders are an excellent way to provide hummingbirds with the necessary nutrients to survive. They come in various designs and are easy to install and maintain. By using hummingbird feeders, you can attract these lovely birds to your backyard and enjoy their beauty.
Common Animals That Get Into Hummingbird Feeders
Hummingbird feeders are intended to attract hummingbirds, but they also attract other animals. Here are some common animals that can frequently get into hummingbird feeders:
Squirrels: Why Are They Attracted To Hummingbird Feeders?
Squirrels are attracted to the sweet nectar in hummingbird feeders.
Here are some reasons why they like it:
They are fond of sugary substances.
They need a lot of energy to sustain their active lifestyle.
They can easily climb trees and poles to reach the feeder.
Keeping squirrels away from hummingbird feeders can be challenging, but there are ways to do it. One option is to hang the feeder in a location where a squirrel cannot climb, or install a squirrel-proof baffle.
Raccoons: How Do They Get To Hummingbird Feeders?
Raccoons may seem like unlikely visitors to hummingbird feeders, but they tend to visit a backyard that has a lot of food sources.
Here are some ways they can reach the feeder:
They can climb trees to reach the feeder.
They can reach up to 3 feet with their paws.
They can easily remove the feeder from its hanger.
They can use their sharp teeth to chew through plastic feeders.
To prevent raccoons from raiding hummingbird feeders, hang them above ground level, or remove them from the area altogether at night.
Ants: What Are The Signs Of Ants In Hummingbird Feeders?
Ants are attracted to the sugar in hummingbird feeders.
Here are some signs that there may be ants in your feeder:
Trails of ants leading to the feeder.
Ants around the feeder ports.
Dead ants in the nectar.
To prevent ants from getting to the nectar, use an ant moat or apply petroleum jelly around the hanger or pole that holds the feeder.
Bees: Can Bees Harm Hummingbirds?
Bees may be a common sight around hummingbird feeders, but they aren't necessarily harmful to hummingbirds.
Here are some things to consider:
Bees and hummingbirds can peacefully coexist without causing harm to each other.
Some species of bees are pollinators that are essential to plant growth.
Bees can be territorial and may chase hummingbirds away from the feeder.
If bees become a nuisance, try moving the feeder to a different location, or using bee guards on the feeder ports.
Other Animals: Identifying Unfamiliar Birds Or Animals In Your Feeder
Sometimes, you may see unfamiliar birds or animals in your hummingbird feeder.
Here are some tips to help you identify them:
Use a field guide to birds or animal tracks.
Observe the animal's physical characteristics and compare them to pictures online.
Ask a wildlife expert or birdwatcher for assistance.
By properly identifying unfamiliar animals, you can identify if they pose any threat to hummingbirds and take appropriate action to prevent them from accessing the feeder.
How To Eliminate Animals From Hummingbird Feeders
Using Squirrel-Proof Hummingbird Feeders
One common problem with hummingbird feeders is that they attract squirrels who will not only eat birdseed but also damage feeders. Squirrels will easily climb poles or jump from nearby trees and bushes in search of food.
You can deter them in the following ways:
Use squirrel-proof hummingbird feeders designed with special caps that close under the weight of squirrels and deter them from reaching the nectar.
Additionally, try putting squirrel baffles or guards to create obstacles to squirrel's access to the feeder.
Installing Baffles And Guards To Deter Raccoons And Larger Animals
Apart from squirrels, raccoons are another menace to hummingbird feeders, especially if you live in an area with a high population of wildlife.
They can cause significant damage while trying to gain access to the feeders or while eating; the following preventive measures can deter them:
You can protect your feeder by installing a significant cage, which has a cap that can keep away raccoons or other larger predators.
Squirrel baffles also work against raccoons as it acts as an obstacle that they are hesitant to climb over.
Encapsulate your feeder in metal wiring, and it will act as an invisible barrier, keeping raccoons at bay.
Ant Moats: How To Stop Ants From Getting Into Hummingbird Feeders
Ants are another pest that may be attracted to hummingbird feeders. Ants have a great sense of smell and are attracted to the sugar in the nectar.
Keeping them away will require the following methods:
Ant moats are a small yet efficient barrier against ants. They can be set up using items around the house such as small plastic containers or lids with water inside.
Affix ant guards to the hook of your feeder to prevent access to the feeders.
Using Bee Guards: How They Work And How To Install Them
Hummingbird feeders can also attract bees that become an eyesore when they perch around the feeder.
Discourage bees from hovering around your hummingbird feeder in the following ways:
Install bee guards, which are small plastic spouts attached to feeding ports to keep bees from diving in.
You can attach other bee-catching devices, such as swimming pools that are installed in any nearby place. The bees will be more attracted to the swimming pools due to the nectar around them.
Other Methods: What Are Some Alternative Strategies To Keep Animals Out?
Apart from those methods highlighted above, there are still other ways of keeping your hummingbird feeders safe from animals.
Here are some alternative strategies:
You can wrap plastic or metal mesh around your feeder's pole to deter climbing animals.
Hang your feeder from a thin wire, which makes it too wobbly for larger animals to grasp.
These methods might not work in all cases, but adding a small amount of plant oil to your nectar will make it taste bad to animals. Additionally, changing the feeding times will help keep the problem at bay.
Tips For Maintaining Hummingbird Feeders
Regular Cleaning: The Importance Of A Clean Feeder
Keeping your hummingbird feeder clean can be the difference between attracting hummers and growing mold.
Here's why:
Bacteria and mold can grow in the nectar, making the feeder unsanitary and unhealthy for birds.
Effective Disinfecting: How To Do It Properly
Cleaning your feeder regularly is not enough; you must also disinfect it from time to time.
Follow these steps to disinfect properly:
Take the feeder apart and soak the parts in a solution of one part white vinegar and four parts water.
Scrub the feeder with a bottle brush or other small brush, making sure to remove any grime from hard-to-reach areas.
Rinse the parts thoroughly with warm water, making sure that no vinegar or soap residue remains.
Let the clean, disinfected parts air-dry before putting them back together.
By disinfecting your hummingbird feeder every four weeks, you can protect your feathered friends from harmful bacteria and fungus growth.
Replacing Nectar: How Often Should You Replace The Nectar?
While you should clean your feeder every 2-3 days, how often you need to replace the nectar depends on the weather.
In hot weather (above 90 degrees fahrenheit), nectar should be replaced every day to prevent fermentation.
In cooler weather, nectar can last up to 4-5 days.
If you notice a cloudy or discolored nectar, it's time to replace the contents of your feeder.
To extend the life of your hummingbird feeder's nectar, store the excess nectar in the refrigerator.
How To Store Hummingbird Feeders: Overwintering Your Feeder
If you live in an area with cold winters, you'll need to store your hummingbird feeder properly to ensure longevity.
Clean and disinfect the feeder thoroughly before storing it for the winter.
Store the feeder in a cool, dark place, like a garage or basement.
If your feeder is made of glass, store it inside to prevent it from cracking in cold temperatures.
Check your feeder for wear and tear before putting it away. If any parts look damaged, you may need to order replacement components.
By taking these steps, you can keep birds' feeding locations safe and come back to a healthy, clean feeder in spring.
Additional Measures: Ways To Keep Your Feeder In Top Shape
Beyond regular cleanings and disinfectings, here are some additional ways to keep your hummingbird feeder in top shape:
Choose the right spot for your feeder. Hang it where there's plenty of shade and space for the birds to hover and feed.
Use a dripless feeder or add an ant moat to prevent ants and other insects from getting into the nectar.
Consider getting a feeder with a built-in ant moat or bee guards to keep ants and bees at bay.
Opt for red feeder parts or add a red ribbon to attract hummingbirds, who are attracted to the color red.
Replace the feeder if the plastic or glass becomes cracked or cloudy over time.
By following these tips and regularly maintaining your hummingbird feeder, you'll enjoy happy, healthy birds and longer-lasting nectar for your feathered friends.
FAQ On What Animals Get Into Hummingbird Feeders
What Animals Are Attracted To Hummingbird Feeders?
Hummingbird feeders attract ants, bees, wasps, bears, raccoons, and squirrels.
How Do Animals Get Into Hummingbird Feeders?
Animals get into hummingbird feeders by climbing, flying, or knocking them over.
Are Ants Harmful To Hummingbirds?
Ants crawling into hummingbird feeders can contaminate the nectar, making it harmful to hummingbirds.
How Can I Keep Animals Out Of My Hummingbird Feeder?
Use a feeder with bee guards, hang it high up, use a baffle, and keep it clean.
Conclusion
Overall, it is important to take necessary measures when setting up hummingbird feeders to prevent unwanted guests. Squirrels, ants, bees, and even bears are some of the common animals that get into hummingbird feeders, causing potential harm to the hummingbirds.
By choosing the right type of feeder, placing it in a well-protected area, and using ant moats and bee guards, you can create a safer environment for the hummingbirds while still enjoying their presence in your garden.
Regular cleaning and maintenance of the feeders are equally important to ensure that the nectar stays fresh and does not turn into harmful mold or bacteria.
With these precautions in place, you can attract and facilitate the well-being of these delicate birds in a way that is both enjoyable for you and safe for them. Remember, humans have a responsibility to protect and preserve the birds and other wildlife that share our natural spaces.