What Birds Do Crows Hate ! Hawks, Eagles & Owls!
Crows generally dislike certain birds that pose a direct threat to them or compete with them for resources.
Predominantly, crows hate birds of prey such as hawks and owls, which are natural predators.
They also tend to be antagonistic towards larger birds that could dominate them, other noisy and aggressive bird species, as well as potential competitors for nesting sites.
Crows may react negatively to birds with bright plumage, which could be due to the competition for attention during mating season or other social dynamics.
Crows are highly intelligent and social birds, and their interactions with other bird species are influenced by survival and competition.
Here are some examples of birds that crows typically dislike:
Natural Predators: Birds of prey like hawks, eagles, and owls.
Larger Birds: Larger species that can outcompete crows for food or territory.
Noisy and Aggressive Birds: Species that are similarly aggressive or that disrupt the crows' social structure.
Nesting Competitors: Birds that vie for the same nesting sites.
Bright Plumage: Birds with conspicuous coloring, which may be seen as rivals.
Understanding these avian confrontations can provide valuable insights for birdwatchers and nature enthusiasts alike.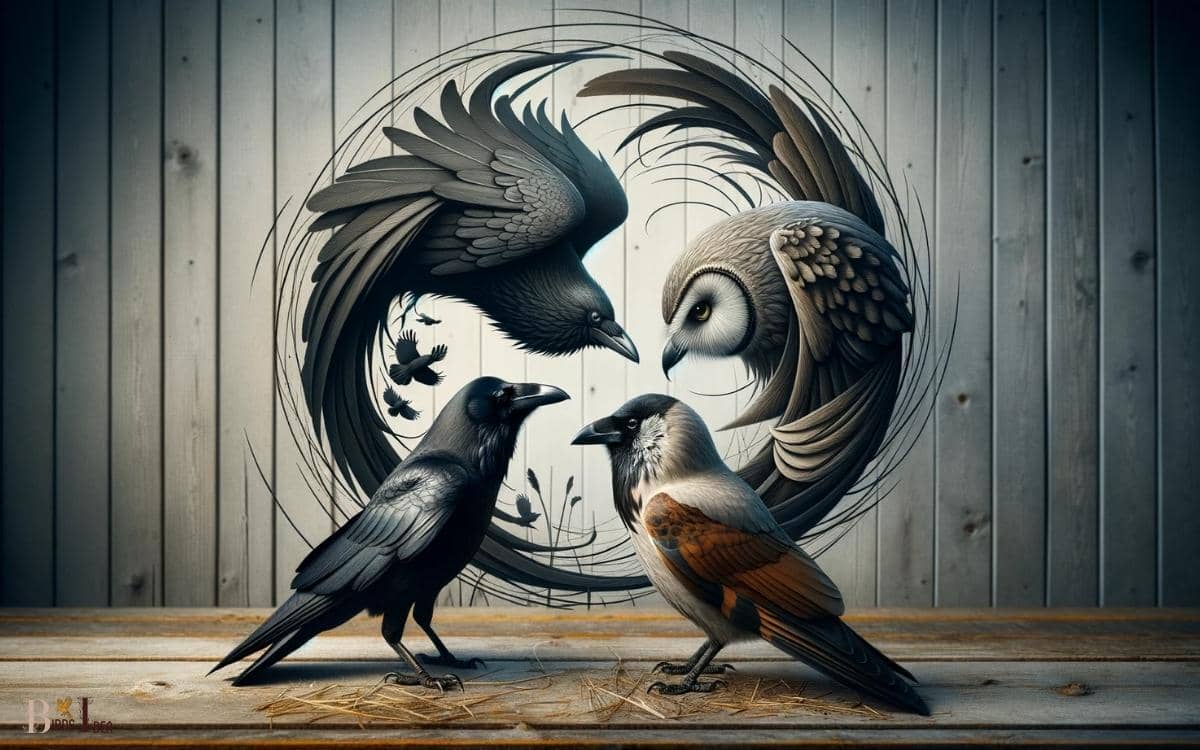 Key Takeaway
Crows are natural predators of smaller birds like sparrows and hawks, but they are often preyed upon by larger birds of prey such as hawks, owls, eagles, falcons, and raptors.
Crows have a dislike for noisy and aggressive species like blue jays, ravens, magpies, mockingbirds, and grackles.
Crows often compete with nesting competitors such as ravens, magpies, owls, hawks, and sparrows.
Crows may have a dislike for birds with bright plumage like the blue jay, northern cardinal, American goldfinch, painted bunting, and Baltimore oriole.
Natural Predators
Crows have a natural aversion to raptors, such as hawks and owls, which are their primary natural predators.
This aversion is an adaptive behavior developed through evolution to ensure the survival of the crow species.
Raptors are skilled hunters and pose a significant threat to crows, often preying on their eggs, nestlings, and even adult birds.
Crows have developed complex social behaviors to detect and mob raptors, emitting distinct calls to alert other crows and coordinate group attacks to drive away the perceived threat.
This behavior not only protects the crows but also benefits other bird species by reducing the presence of potential predators in the area.
Understanding the dynamics of this predator-prey relationship is crucial in comprehending the behavior and ecology of crows in their natural environment.
This aversion to raptors transitions naturally into the subsequent section about 'larger birds of prey'.
Larger Birds of Prey
With a natural aversion to raptors, such as hawks and owls, crows also exhibit caution and wariness towards larger birds of prey.
Larger birds of prey, including eagles and falcons, pose a significant threat to crows due to their predatory nature and powerful hunting abilities.
Crows often form mobbing groups when they encounter larger birds of prey, emitting loud calls and performing aerial maneuvers to drive the potential threat away.
The larger size and formidable talons of birds of prey make them formidable adversaries for crows, prompting the smaller birds to employ defensive tactics to protect themselves and their nests.
This instinctive response demonstrates the crows' recognition of the danger posed by larger birds of prey and their proactive efforts to mitigate the risk of predation.
Noisy and Aggressive Species
An analysis of crows' aversions reveals a strong dislike for noisy and aggressive species. Crows are known to be particularly intolerant of birds that exhibit loud vocalizations and aggressive behavior.
The following are species that are typically disliked by crows:
Blue Jays
Ravens
Magpies
Mockingbirds
Grackles
These birds are known for their raucous calls and confrontational nature, often competing with crows for resources and territory.
The aggressive behavior of these species can lead to conflicts with crows, resulting in intense aversions.
The vocal nature of these birds may disrupt the peace and quiet that crows typically seek, further contributing to their disfavor.
Understanding the interactions between crows and these noisy and aggressive species provides valuable insight into crow behavior and avian dynamics.
Nesting Competitors
Nesting competitors of crows often include species that vie for similar nesting sites and resources, leading to territorial disputes and aversions.
Common competitors for nesting sites include other corvids such as ravens and magpies, as well as larger birds of prey like owls and hawks.
These species often compete with crows for suitable nesting locations, such as tall trees or abandoned buildings, and may engage in aggressive behaviors to secure these sites.
Smaller bird species like sparrows, starlings, and robins can also pose competition for resources like food and nesting materials.
The resulting territorial disputes can lead to aversions between crows and these nesting competitors, as each species seeks to establish and defend its own nesting territory.
Understanding these dynamics can provide valuable insights into crow behavior and ecological interactions.
Birds With Bright Plumage
Bright plumage on birds often triggers aversions in crows, leading to territorial disputes and competitive behaviors.
Crows are known to show particular aversion to birds with bright plumage due to their natural instinct to protect their territory and resources.
The following birds with bright plumage are likely to provoke aversive reactions from crows:
Blue Jay
Northern Cardinal
American Goldfinch
Painted Bunting
Baltimore Oriole
The vibrant and eye-catching colors of these birds can be perceived as a threat by crows, leading to aggressive behaviors and attempts to drive them away from their territory.
This aversion is a result of the competitive nature of crows and their need to protect their resources from potential rivals.
What Birds Are Crows Afraid Of?
Crows are highly intelligent and adaptable birds, and they are known to be wary of potential threats.
While it's not accurate to say that crows are "afraid" of specific birds, there are certain species that may pose a threat or compete with crows for resources.
Here are a few examples:
Owls: Crows and other birds often perceive owls as predators. Owls are nocturnal hunters, and their presence can be a cause for concern among crows.
Hawks: Similarly, various hawk species are predators that might be seen as a threat to crows. Hawks are birds of prey and are known for hunting smaller birds.
Eagles: Larger birds of prey, such as eagles, could potentially pose a threat to crows, especially if they are in competition for food or nesting sites.
It's important to note that while crows may be cautious around potential threats, they are also known to engage in mobbing behavior, where they gather together to harass and drive away predators.
This behavior is a way for crows to protect themselves and their nests.
Conclusion
Crows have been observed to show aversion towards natural predators, larger birds of prey, noisy and aggressive species, nesting competitors, and birds with bright plumage.
It is interesting to note that crows have been known to exhibit mobbing behavior towards larger birds of prey, such as hawks and owls, as a collective defense mechanism.
This behavior showcases the complex social dynamics and adaptive strategies of crows in coexisting with other bird species.