What Birds Do Crows Attack: Robins, Jays, Hawks & Owls!
Crows are known to attack a variety of bird species, particularly during the breeding season when they target the nests of smaller birds.
Common victims include songbirds such as robins, jays, and sparrows, as well as raptors like hawks and owls when crows are defending their territories or young.
The reasons behind crows attacking other birds are multifaceted. During nesting season, crows may raid nests to feed on eggs and nestlings, directly impacting the populations of smaller bird species.
They are also known to engage in mobbing behavior, where groups of crows harass and attack larger birds of prey to defend their nests or young.
Nest Raiding: Smaller birds like robins, jays, and sparrows.
Territorial Defense: Larger birds of prey such as hawks and owls.
Mobbing: Crows collectively defend against perceived threats.
As intelligent and adaptable creatures, crows exhibit complex behaviors that both fascinate and concern conservationists, reflecting the delicate balance within our ecosystems.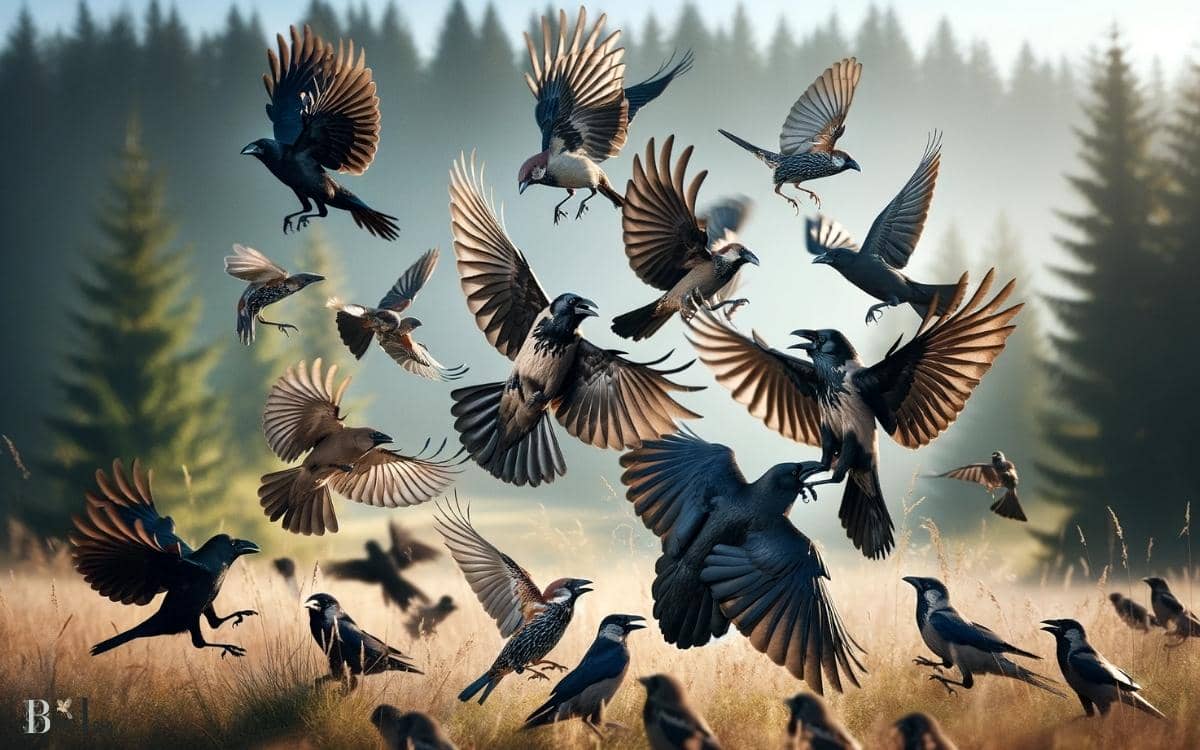 Key Takeaway
Crows attack a variety of bird species, including songbirds, raptors, pigeons/doves, and seabirds.
Crow aggression is primarily driven by nest raiding and the defense of their territories or young.
Crow attacks have a negative impact on smaller bird populations, disrupting the natural balance within ecosystems.
Crow aggression alters the behavior of other bird species and affects the biodiversity and abundance of bird populations.
Common Targets of Crow Aggression
Crows primarily target other bird species and small mammals when displaying aggressive behavior.
They are known for their confrontational nature, often exhibiting territorial behavior, especially during breeding season.
Common targets of crow aggression include smaller birds such as robins, blue jays, and even other corvids like magpies.
They are also known to harass and attack larger birds of prey, such as hawks and owls, especially when they perceive a threat to their nesting sites.
Crows may show aggression towards small mammals like squirrels and rats. This behavior is often a result of competition for resources or defense of their territory.
Understanding the targets of crow aggression can provide valuable insights into the complex social dynamics and ecological interactions within avian communities.
Birds Crows Compete With
When competing for resources and territory, crows often come into conflict with other bird species.
This includes songbirds and small raptors, leading to aggressive interactions and confrontations.
Songbirds: Crows compete with songbirds for nesting sites and food sources, often driving them away from preferred areas.
Small Raptors: Crows may confront small raptors, such as kestrels or merlins, as they both seek the same prey and nesting locations.
Pigeons and Doves: Crows and these birds often compete for urban habitats and food sources, leading to territorial disputes.
Seabirds: In coastal areas, crows may compete with seabirds for nesting sites and scavenging opportunities, sometimes leading to aggressive encounters.
Crows' competitive nature can create complex dynamics within ecosystems, shaping the distribution and behavior of various bird species.
Species at Risk From Crow Attacks
Bird species at risk from crow attacks include those that compete with crows for resources and territory, such as songbirds, small raptors, pigeons, doves, and seabirds.
Crows are known to target the nests and young of these species, as well as compete for food sources.
Songbirds and small raptors often fall victim to crow attacks, especially during nesting and fledgling seasons.
Pigeons and doves, which share similar urban and suburban habitats with crows, are also at risk of aggression and predation.
Seabirds, particularly those nesting in coastal areas, may face threats from crows seeking to scavenge for food or disrupt their nesting sites.
Understanding crow behavior towards other birds is crucial for implementing effective management strategies to mitigate the risks posed to these vulnerable species.
Understanding Crow Behavior Towards Other Birds
As crows are highly territorial and competitive, it is important to understand their behavior towards other bird species to effectively manage potential conflicts and threats.
When it comes to interacting with other birds, crows exhibit specific behaviors that are essential to comprehend:
Aggression: Crows are known to display aggressive behavior towards larger birds or those that may pose a threat to their territory.
Mobbing: They often engage in mobbing behavior, where a group of crows will work together to drive away predators or perceived threats.
Scavenging: Crows may compete with other bird species for food sources, often scavenging for carrion or raiding other birds' nests for eggs or chicks.
Communication: Crows use vocalizations and body language to communicate with other bird species, signaling dominance or warning of potential conflicts.
Understanding these behaviors can help in mitigating conflicts and promoting coexistence among bird species.
Impact of Crow Aggression on Bird Populations
The aggression of crows has a significant impact on bird populations, influencing the distribution and behavior of various avian species within their shared habitats.
Crow aggression can lead to a decrease in the populations of smaller bird species, as crows may prey on their eggs and young.
This can disrupt the natural balance within ecosystems, affecting the overall biodiversity and abundance of bird species.
The presence of crows can alter the behavior of other bird species, causing them to avoid certain areas or change their foraging and nesting patterns.
As a result, the interaction between crows and other birds can have far-reaching consequences on the dynamics of bird populations.
Understanding these impacts is crucial for implementing effective conservation and management strategies that promote the coexistence of diverse bird species.
What Birds Do Crows Eat?
Crows are omnivorous birds, meaning they eat a wide variety of foods, including both plant and animal matter. Their diet can vary depending on their location, the season, and the availability of food.
Here are some common items that crows may eat:
Insects: Crows are known to feed on a variety of insects, including beetles, caterpillars, grasshoppers, and ants.
Small Animals: Crows may eat small animals such as rodents, small mammals, and even nestlings of other birds.
Bird Eggs: Crows are opportunistic feeders and may raid the nests of other birds to consume eggs or nestlings.
Fruits and Vegetables: Crows also eat a variety of fruits and vegetables. They may forage for berries, grains, and agricultural crops.
Carrion: Crows are scavengers and will eat carrion, including the remains of dead animals.
Human Food: Crows are adaptable and may scavenge human food scraps, especially in urban areas. They are often seen foraging in garbage bins.
Shellfish: In coastal areas, crows may feed on shellfish and other marine invertebrates.
Crows are highly intelligent birds and are capable of using tools to extract food, solving problems to access resources, and adapting their feeding habits to different environments.
Their opportunistic and versatile diet contributes to their success in a wide range of habitats. Keep in mind that the specific diet of crows can vary based on geographic location and local food availability.
Conclusion
The targets of crow aggression are diverse and can include smaller birds, eggs, and even larger birds in some cases.
Understanding the behavior of crows towards other birds is essential for conservation efforts and protecting vulnerable bird populations.
How can we better mitigate the impact of crow aggression on bird populations and promote coexistence among different bird species?