What Color Are Hummingbirds: Variety of Colors!
Hummingbirds come in a variety of colors, from green, blue, red, orange, pink to purple. The actual color of a hummingbird largely depends on the species.
For example, the Ruby-throated Hummingbird has a bright ruby red throat, with green and white plumage, while the Costa's Hummingbird has vibrant purple and green feathers.
Color categories of hummingbirds are:
Iridescent: This coloration is caused by the interaction of light with structures in the feathers, giving a shimmery effect that can appear blue, green, purple or gold.
Brown/gray: Hummingbirds in this grouping have a more dull, neutral coloration.
Black: Rarely seen among hummingbirds, these birds have a solid black coloration.
Red or orange
: Many hummingbird species have areas of vibrant red or
orange
, often observed on the throat or tail.
Overall, the range of coloration among hummingbirds is quite impressive.
Depending on the species, they can feature a wide variety of stunning hues that range from shimmery metallic shades to bold, vivid colors.
10 Vibrant Species of Hummingbirds
| | |
| --- | --- |
| Species of Hummingbird | Dominant Color |
| Ruby-throated | Red |
| Anna's | Green |
| Black-chinned | Black |
| Costa's | Purple |
| Blue-throated Mountain | Blue |
| Rufous | Orange |
| White-necked Jacobin | White |
| Green Violetear | Green |
| Berylline | Green |
| Buff-bellied | Buff |
10 Vibrant Species of Hummingbirds
Key Takeaway
Hummingbirds are a diverse species with varying coloration, primarily resulting from iridescence rather than pigmentation.
The color of a hummingbird's feathers can change depending on lighting conditions and viewing angle due to their optical characteristics.
Around 340 species of hummingbirds are recognized, each with unique colors and markings.
Certain species of hummingbirds can exhibit a variety of hues, making their identification difficult even for experienced bird watchers.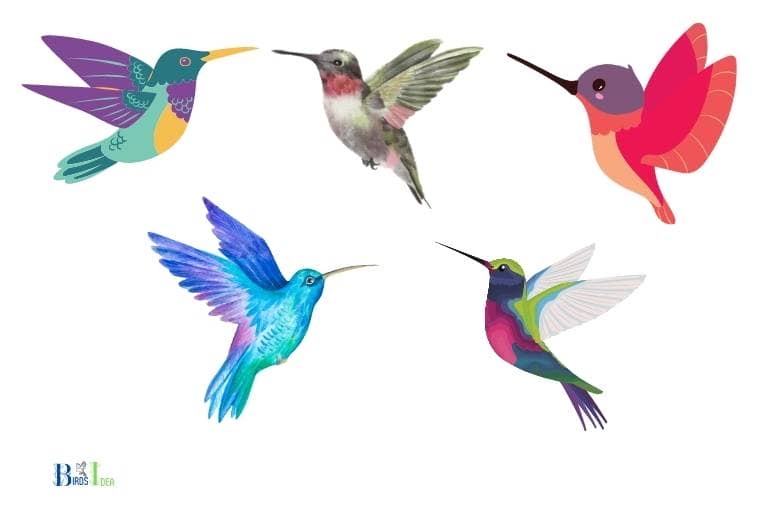 Five Facts About: Colors of Hummingbirds
Hummingbirds are among the smallest birds on the planet, with most species measuring 7.5–13 cm (3–5 in) in length.
The color of a hummingbird is not due to pigment, but instead a result of how light waves interact with the structure of their feathers.
Hummingbirds have a magnificent metallic sheen, which may appear iridescent in sunlight, varying from greens and blues to reds and purples.
More than 340 species of hummingbirds are known to exist, each with its own unique coloring.
The "Topaz Hummingbird" stands out among its peers as one of the most colorful species, with gold, green, red, and blue feathers.
Types of Hummingbird Colours
Hummingbirds are brightly-coloured, tiny birds with a unique style of flight. Their stunning, iridescent feathers come in a range of dazzling hues, making them one of the most colorful birds in the world. Here are some of the most common hummingbird colours:
Scarlet red: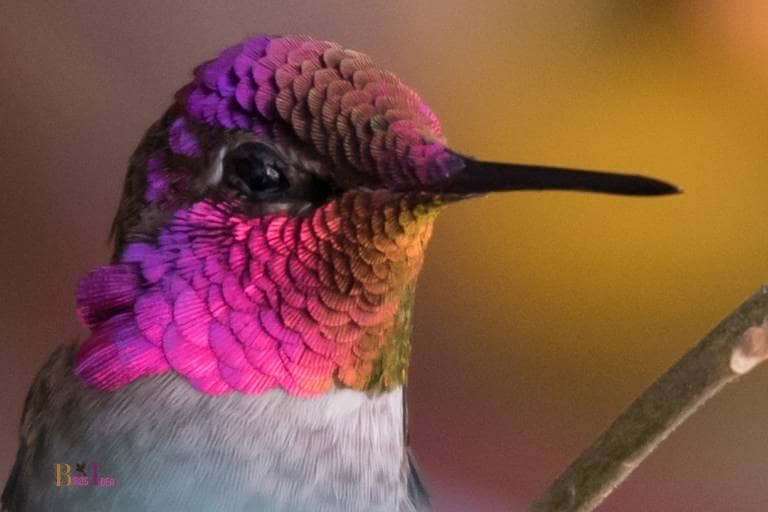 Found in species like the Black-chinned Hummingbird and Ruby-throated Hummingbird, this colour is a vivid, sparkling scarlet red.
Violet and blue: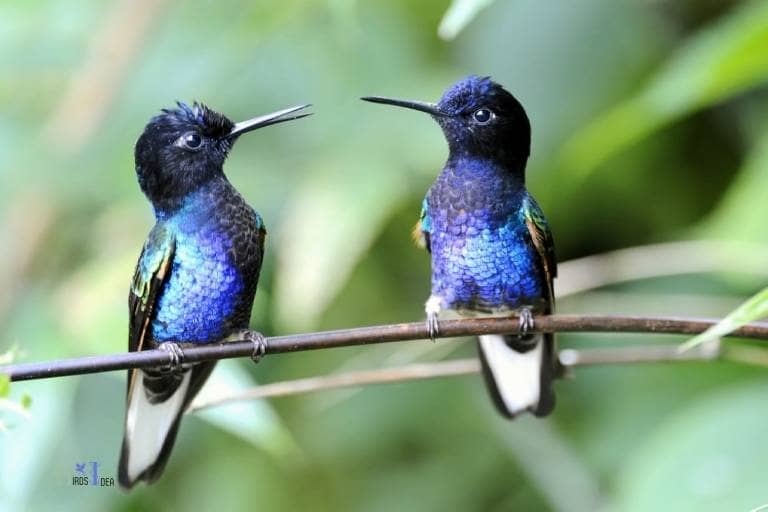 From the shiny violet hue of the Black-chinned Hummingbird to the shimmering, blue-green throat of the Lucifer Hummingbird, these colours can appear iridescent in bright light.
Golden yellow: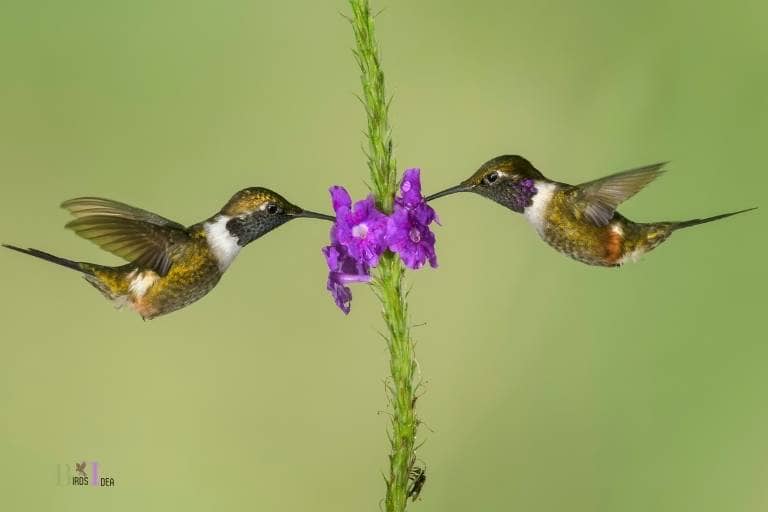 Found in hummingbirds like the Costa's Hummingbird, this colour ranges from rich, golden yellows to ochre and copper shades.
Green: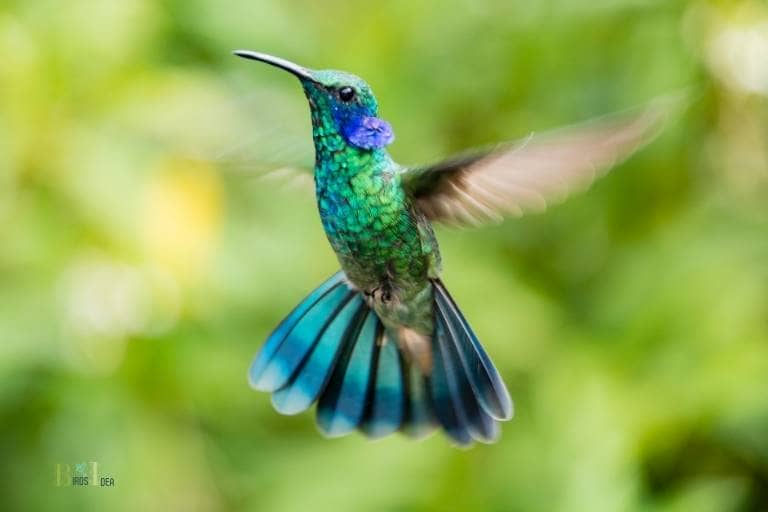 Seen in species like the Broad-billed Hummingbird, this colour can range from subtle, cool greens to parrot-like shades.
Brown and tan: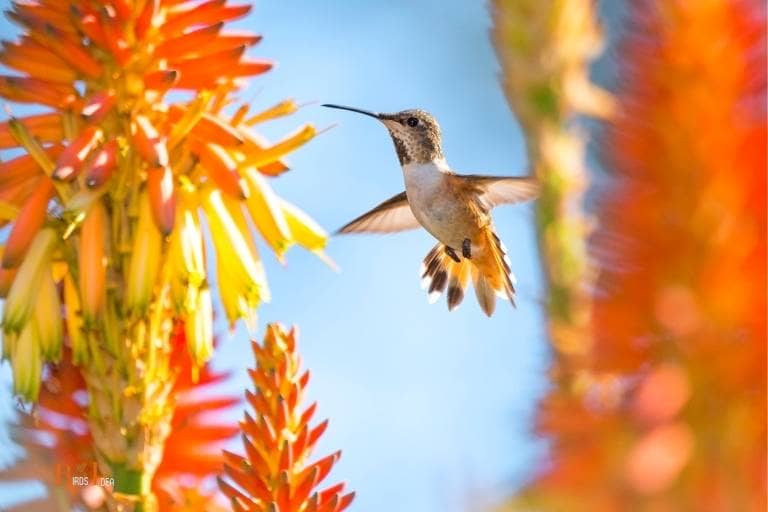 Species like the Cinnamon Hummingbird display shades of stony, desert-like browns, while others such as the Broad-tailed Hummingbird have feather patterns that blend tan and grey.
Black: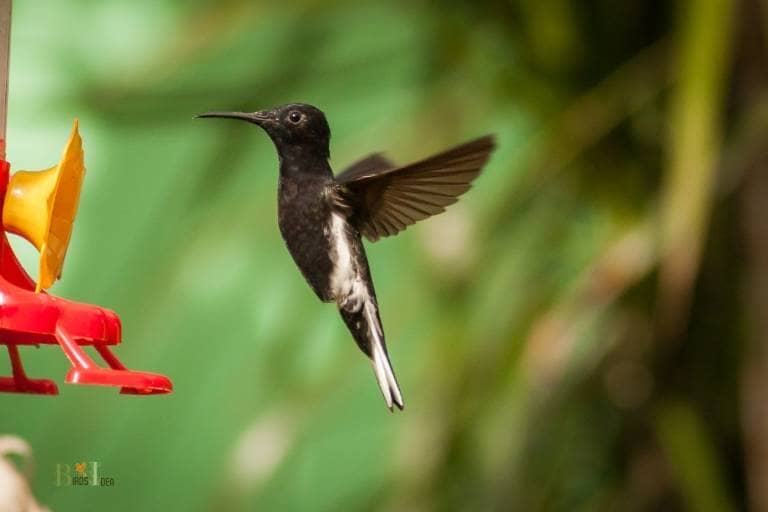 Found in species such as the Calliope Hummingbird, this is usually seen in various shades like slate, charcoal or black.
What Causes Hummingbird Plumage Colours?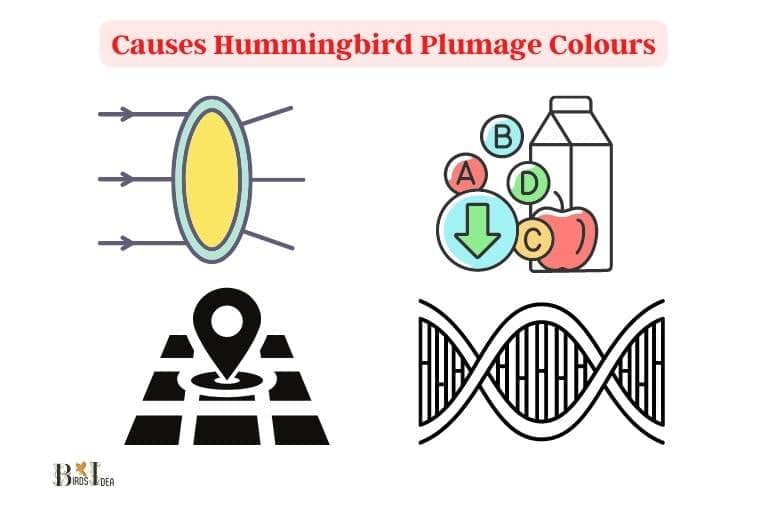 The colours of a hummingbird's plumage are caused by a range of factors, including light refraction, nutritional intake, geographical location, and genetics.
Light Refraction: The iridescent colour that occurs in the feathers of hummingbirds is caused by the refraction of light by the structure of the feathers themselves.
Nutritional Intake: Diet can play a large role in determining the colours of a hummingbird's plumage. Specifically, a bird with a diet high in carotenoids and melanin can create more deep and vibrant colours.
Geographical Location: The hummingbird species that inhabit a particular area will also play a role in determining their plumage colour.
Genetics: Ultimately, the biggest influence on a hummingbird's plumage colour is genetics. Different species will often have specific and individual colour combinations, making it easier to tell them apart.
What Is The Advantage of Hummingbird Colours?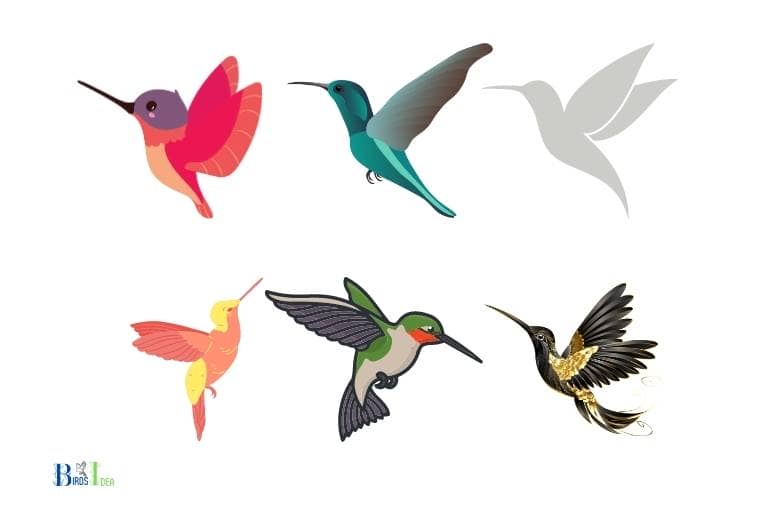 The main advantage of hummingbird colors is that they are used to attract mates and provide camouflage against predators.
Hummingbirds are often brightly colored in shades of red, blue, yellow, green, black, and white to advertise their presence and attract potential mates.
The colors also provide protection against predators, as they are often able to blend in with their surroundings due to the range and complexity of colors in their feathers.
Some of the colors hummingbirds display can even act as camouflage, allowing them to hide more easily in their environment.
Additionally, the colors help them regulate their body temperature, absorbing or reflecting heat.
Are Hummingbird Colours Static?
No, hummingbird colours are not static. The colour features vary from bird-to-bird and are typically determined by the species. Many hummingbirds have bright and vibrant colours, including emerald green and bright red.
Other species may have duller colouration like greys, browns, and black. Hummingbirds moult each year, which can also cause changes in their colour.
Do All Hummingbird Species Have The Same Colours?
No, different hummingbird species have different colours. Hummingbirds sport a wide variety of colors and designs, ranging from brilliant greens and blues to deep purples and dramatic reds. It is not unusual for a single species to exhibit a range of colors.
Common colors among hummingbirds include blue, red, green, brown, yellow, white, black, pink and purple. Certain individual hummingbirds may even display multiple colors at once.
Do Hummingbird Colours Differ Between Males and Females?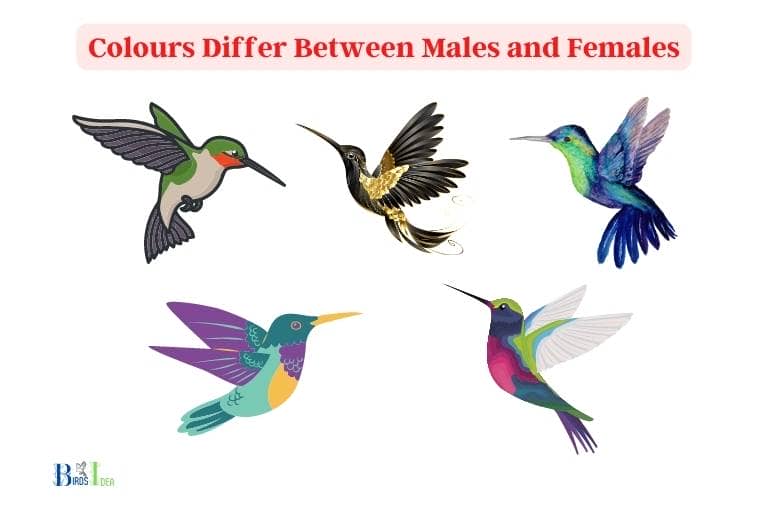 Yes, hummingbird colours usually differ between males and females. Male hummingbirds tend to have brighter and more distinct colours than females.
Male hummingbirds typically have more colourful red, violet, pink, and green hues on their feathers.
Females, on the other hand, have dress-like feathers with streaks of colour in neutral tones. The following are some common colour variations of hummingbirds between species:
Ruby-throated Hummingbirds: Males have a deep ruby red throat on their iridescent green chest, while females have a plainer colour palette of muted white and light grey.
Black-chinned Hummingbirds: Males have a black chin with white throat and bright green feathers, while females have varying colours from grey-green feathers, with white streaking on their sides.
Blue-throated Hummingbirds: Males are a deep blue-violet with a white breast, while the females are a neutral light grey with white highlights on the throat and wings.
Rufous Hummingbirds: Males are a bright orange-red on their back and head, while females are more muted warm red, generally with olive-green wings and a pale throat.
Anna's Hummingbirds: Males have an iridescent red throat with green back and deep blue tail, while females have varying shades of light grey and white with a glimmer of lighter red highlights.
What Do Different Colours Mean For Hummingbirds?
Hummingbirds come in different colors that each carry their own meaning and symbolism. Common colors in hummingbirds include shades of green, violet, blue, pink, and brown.
Each one has its own symbolism, such as:
Green: eternal life, health, and renewal
Violet: spiritual enlightenment and peace
Blue: psychical and mental relaxation
Pink: love, beauty, and femininity
Brown: strength, adaptability, and focus
The colors of the hummingbird are generally unique to the species, so it can be easy to tell them apart simply by the colors of their feathers.
A bright, vibrant hummingbird may symbolize joy and enthusiasm in life, while a muted one may be a sign of introspection and contemplation.
Additionally, hummingbirds often feature mirrored patterns on both sides of the wings with a unique design that reflects the light and attracts attention.
FAQ of What Color Are Hummingbirds
What color are hummingbirds?
Hummingbirds are typically brightly colored with iridescent feathers, displaying shades of green, copper, bronze, purple, and blue. The color and pattern of feathers helps some species of hummingbirds to camouflage from predators or to attract a mate.
Are all hummingbirds the same size?
No, hummingbird sizes vary between species, but generally range from 2.4 inches to 3.9 inches in length and weigh between 2-20 grams. The smallest hummingbird is the bee hummingbird from Cuba.
What are hummingbirds diets composed of?
Hummingbirds feed on small insects, worms, and spiders but mainly consume nectar from flowers. They use their long beaks and tongues to sip the nectar from flowers, and sometimes consume tree sap and honeydew.
Do Hummingbirds migrate?
Yes, hummingbirds migrate in large numbers throughout the year. Depending on the species, some species of hummingbirds may migrate up to 3,000 miles between their wintering grounds in the south and their breeding grounds in the north.
Conclusion:
With an impressive variety of colors, hummingbirds often feature shimmery metallic shades as well as bold, vibrant colors, such as blues, greens, purples and golds, as well as browns, grays and blacks.
Certain species may also have areas of red or orange on their throats or tails.