What Can I Feed Hummingbirds Besides Sugar Water?
Hummingbirds can eat a variety of foods including insects, fruit, and nectar.
The most important thing to provide is a nectar-rich diet, as sugar water is not nutritionally sufficient.
Hummingbirds are naturally attracted to nectar-rich flowering plants, which provide them with essential nutrients.
Besides this, store-bought hummingbird nectar is also a good option but should be free from dyes and additives.
As hummingbirds are insectivores, they also feed on small insects and spiders for protein and other necessary nutrients.
Provide sugar water to attract hummingbirds
Supplement sugar water with live insects
Offering ripe fruits and nectar-rich flowers
Plant a variety of flowering plants in your garden
Providing a balanced diet to hummingbirds is a great way to keep them healthy and strong.
Insects are an excellent source of protein and essential amino acids, while rich nectar and fruit provide carbohydrates and energy.
Creating a hummingbird friendly garden with the right plants and food sources will attract more hummingbirds and give them the nutrition they need to thrive.
5 Food Sources: Feeding Hummingbirds Besides Sugar Water
| | |
| --- | --- |
| Food Source | Description |
| Nectar from Flowers | Hummingbirds can sip nectar directly from flowers. Plants such as salvia, hibiscus, and bee balm are particularly attractive to hummingbirds. |
| Ready-made Nectar | There are commercially available ready-made nectars that can be put in a hummingbird feeder. Be sure to choose one without any harmful additives. |
| Insects and Spiders | Hummingbirds eat small insects and spiders. These provide essential protein that is not present in nectar. You can attract insects to your garden by having a diverse range of plants. |
| Tree Sap | Hummingbirds can extract sap from the holes created by sapsuckers (a type of woodpecker). The sap provides a good source of nutrients and sugars. |
| Fruit Juice | Some believe that hummingbirds can safely consume small amounts of fruit juice. However, it should not replace nectar as the main source of their diet. |
5 Food Sources: Feeding Hummingbirds Besides Sugar Water
Key Takeaway
Hummingbirds are migratory birds that often survive by consuming nectar from flowers which is primarily made up of sucrose.
It is essential to provide an adequate and healthy diet for hummingbirds for their survival and growth.
Different food alternatives can be given to hummingbirds other than sugar water, such as fruits, insects, and artificial nectar.
Avoiding artificial coloring and harmful sweeteners when preparing home-made nectar is vital to protect the health of the hummingbirds.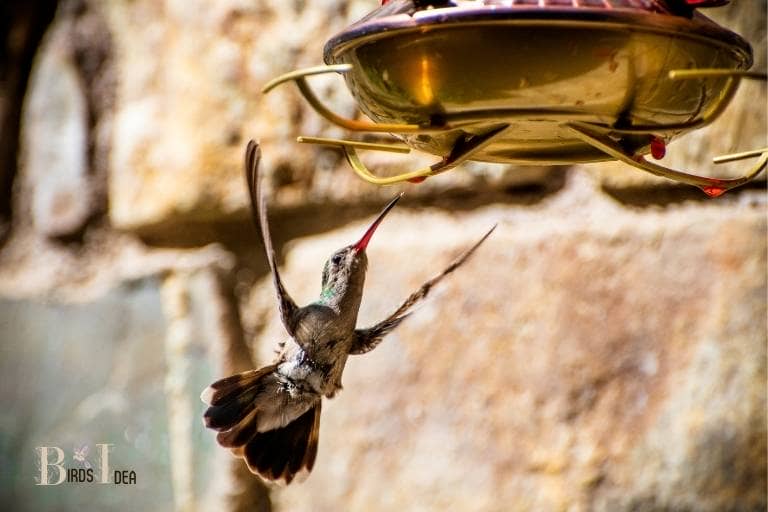 Five Facts About:  Feeding Hummingbirds with Alternatives to Sugar Water
Hummingbirds primarily feed on nectar obtained from flowers. This nectar is essentially sugar water which comprises around 25-30% sucrose (Rush University Medical Center).
A good alternative to sugar water for hummingbirds is artificial nectar. This can be prepared at home by dissolving one-part white granulated sugar in four parts of water. Red dye or honey should be avoided as they could be harmful to the birds (Hummingbird-guide.com).
Insects and spiders make up about 10% of a hummingbird's diet. They provide protein, vitamins, and minerals which cannot be obtained from nectar. Hence, hummingbird is considered an omnivore (National Geographic).
Hummingbirds can also eat tree sap. The sap is similar to nectar but also includes important nutrients which is a good supplement for their diet, especially in early spring when flowering plants have not bloomed yet (The Spruce).
Some hummingbirds may take small amounts of fruits, usually incorporated into their diet when there is a scarcity of nectar or food supply. However, this is not a common practice amongst most species of hummingbirds (World Birds).
What Do Hummingbirds Eat?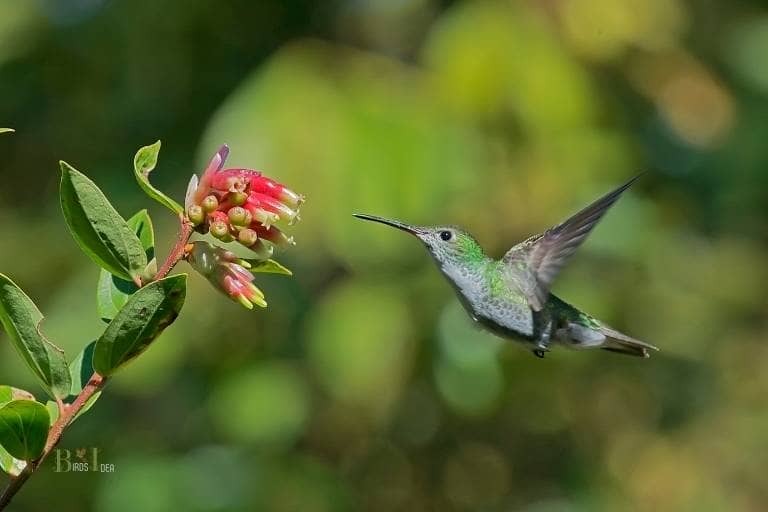 Hummingbirds mainly eat nectar from flowers and small insects that they find on plants or in the air. Other important parts of a hummingbird's diet include sap from trees, water, and nectar substitutes and supplements.
Five primary food sources for hummingbirds include:
Nectar from flowers: Hummingbirds rely on nectar – a sugar-rich liquid produced by flowers – as their primary source of food.
Small insects: Hummingbirds often hunt small insects such as spiders and ants to supplement their diets.
Tree sap: Hummingbirds sometimes drink tree sap from holes made by woodpeckers.
Nectar substitutes and supplements: Rich in natural sugars and essential minerals, hummingbird nectar substitutes and supplements help to attract and nourish hummingbirds in the wild.
Water: Hummingbirds also need to drink water to stay hydrated.
Can You Have Hummingbird as a pet?
No, it is not recommended to have a hummingbird as a pet. Hummingbirds, like all wildlife, belong in the wild and should not be kept as pets or harmed in any way.
Caring for a hummingbird requires:
Adequate food and water sources
Suitable shelter and nesting spots
Appropriate sleeping areas
A clean and safe environment
A careful and regular inspection of the bird's condition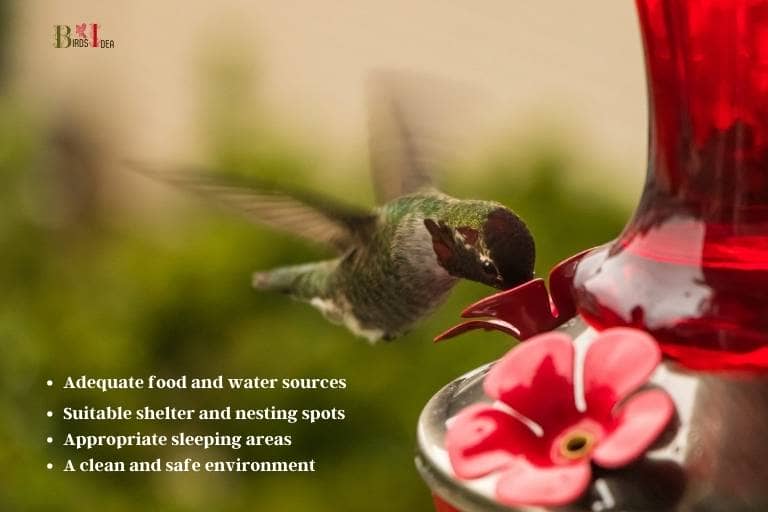 Hummingbirds need a variety of foods such as nectar, insects, spiders, and other small creatures to maintain optimal health. Clean water sources to sip on and bathe in should be provided as well.
Suitable shelter and nesting spots must be provided so that the hummingbird can rest and mate without any disruption from other birds or predators, and suitable sleeping areas must be provided to ensure that the bird has a safe and comfortable place to sleep.
Providing a clean and safe environment is essential for the safety and health of the bird.
Finally, regular inspection of the bird's condition is essential to ensure they are healthy and free of any parasites.
DID YOU KNOW
The U.S. Fish and Wildlife Service estimates that more than 34 million hummingbirds make their migratory trips through the US each year.
What Foods Should I Avoid Giving To Hummingbirds?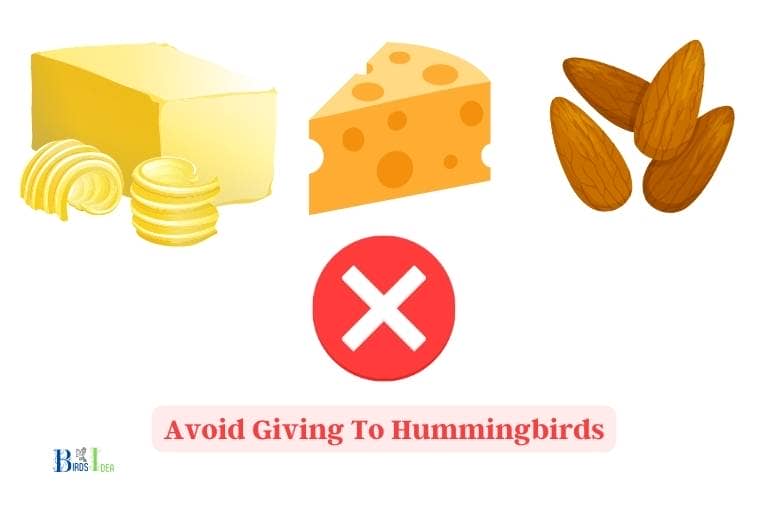 Caring for Hummingbirds involves providing them with safe, suitable foods.
Foods to avoid feeding hummingbirds include:
Processed foods such as cheese, nuts, and peanut butter
Sugary treats such as honey, cake, and fruit juice
Avocado, garlic, and onions
Uncooked meats, fish, and eggs
Salty, greasy, and fatty foods
Citrus fruits, including oranges, lemons, and limes
It is important to avoid giving these foods to hummingbirds in order to keep them healthy and discourage unhealthy habits. Instead, provide them with a variety of safe foods such as live or frozen mealworms, suet, and nectar.
What Are Some Alternative Foods That I Can Feed Hummingbirds?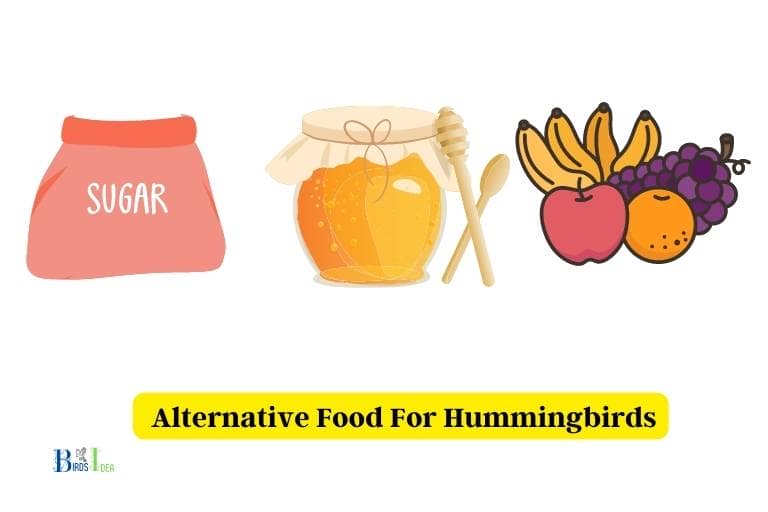 Hummingbirds require sugar-water or nectar to stay healthy. They enjoy a variety of foods, including sugar-water, store-bought nectar, sugar syrup, artificial nectar, flower nectar, and honey.
Additionally, it is possible to provide hummingbirds with foods that contain proteins and fats to supplement their high-sugar diets, such as fruits, insects, and mealworms.
Here are some alternative foods that you can feed hummingbirds:
Sugar-Water: Hummingbirds need to consume large amounts of sugar-water to remain healthy. Sugar-water is a solution of four parts water to one part sugar, and it should be changed daily to prevent spoilage.
Store-Bought Nectar: Many pet stores sell prepared hummingbird nectar, which is an excellent source of essential vitamins and minerals for hummingbirds.
Sugar Syrup: Home-made hummingbird nectar can be created using 4 parts water and 1 part sugar..
What Are The Benefits of Feeding Hummingbirds Alternative Foods?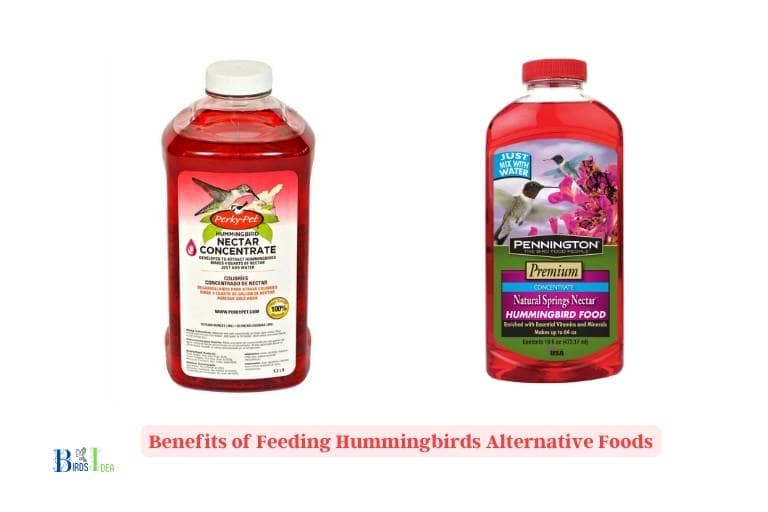 Hummingbirds can be beneficial little helpers in the garden due to their natural pest-management abilities.
Feeding hummingbirds alternative foods can bring even more rewards.
Some of the benefits of feeding hummingbirds alternative foods include:
Providing a diverse and balanced diet: Alternative food sources provide a range of vitamins and minerals that hummingbirds need. This helps to keep them healthy and nourished.
Attracting different species: Different types of food can attract different species of hummingbirds to your garden. This can make your garden even more diverse and interesting.
Encouraging cooperative behavior: Some foods, like hummingbird nectar, can encourage cooperative behavior among hummingbirds. This can make your garden a more peaceful and enjoyable space.
Minimizing cost: Alternatives to hummingbird nectar, like plants and insects, can minimize the cost of caring for hummingbirds in your garden.
Supporting the ecosystem: Certain alternative food sources for hummingbirds, like insects, can support the wider ecosystem in your garden. It can help to keep the balance of insect populations.
Creating a pleasant environment: Alternatives food sources can make your garden more enjoyable. The additional sights, sounds and smells can help to create a pleasant and unique atmosphere.
Providing more opportunities for research: Feeding hummingbirds alternative foods can create more opportunities for research, giving us greater insight into these fascinating
What Are The Best Sources of Alternative Foods to Feed Hummingbirds?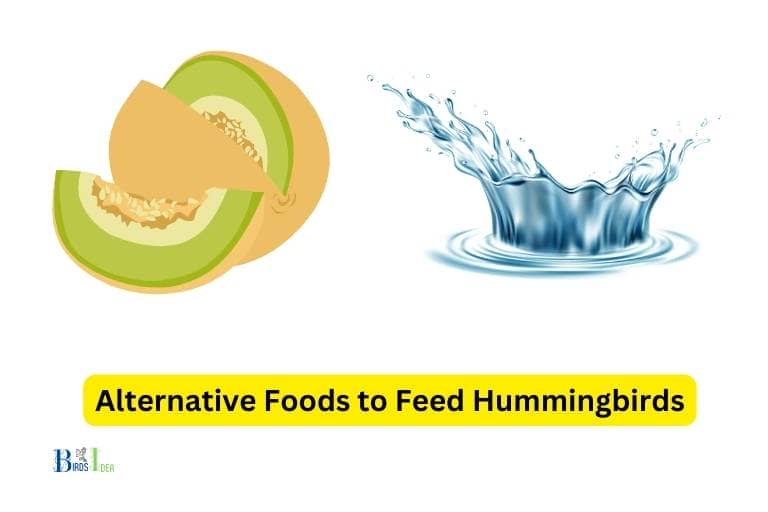 Caring for a hummingbird requires specific knowledge and attention to the bird's needs. Hazardous materials, such as fertilizer or pesticides, should not be used near the bird's safe habitat.
Providing a suitable shelter in a well-ventilated, warm location is critical.
Other important care considerations include:
Food: Hummingbirds primarily feed on nectar and small insects. To supplement their natural diet, providing a hummingbird feeder with a mixture of five parts water to one part organic, pure cane sugar can attract more birds to the area.
Water: Offering fresh, clean water daily is necessary for the bird's health. To entice hummingbirds to drink from shallow containers, rocks or sand can be added to the water's surface.
Health: Saving a sick or injured bird requires contacting a veterinarian or a local wildlife rehabilitation center. Hummingbirds should also be checked regularly for signs of mites or disease.
Safety: Minimizing exposure to pesticides and other hazardous materials is essential to protecting the bird's health and wellbeing.
Providing a safe habitat with plenty of natural shrubbery, small trees, and abundant flowers can provide the hummingbird with necessary shelter, food, and protection.
How To Make Homemade Hummingbird Food?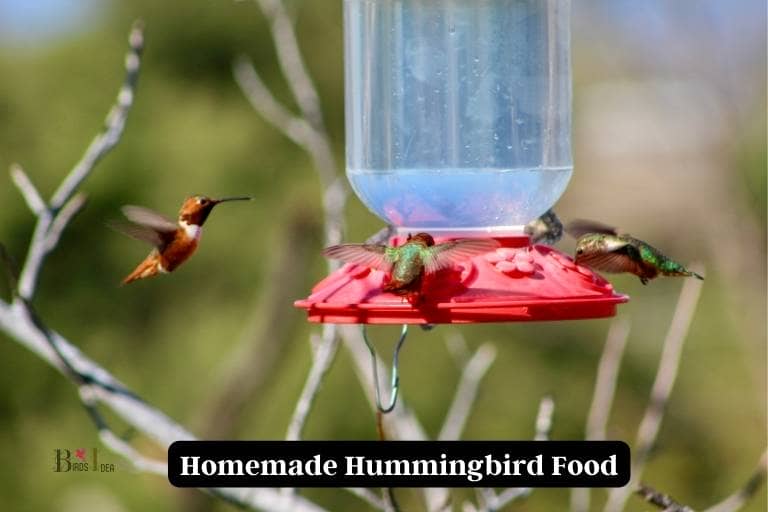 Making hummingbird food at home is relatively easy.
Here are the steps to make homemade hummingbird food:
Collect 1 part of white sugar and 4 parts of water
Boil the water and stir the sugar until it is completely dissolved
Remove the sweet solution from the heat and let it cool down
Transfer your homemade hummingbird food in an old hummingbird feeder or a shallow dish
Hang the feeder or place the dish outside and watch your feathered friends enjoy your homemade food
Making hummingbird food yourself is a great and cost-effective way to help hummingbirds survive. It is also a fun activity for the whole family that teaches about the importance of wildlife conservation.
Additionally, you can choose the ingredients to make sure your homemade food is healthy for the birds.
FAQ of What Can I Feed Hummingbirds Besides Sugar Water?
What food do hummingbirds feed on?
Hummingbirds typically feed on a variety of small insects, as well as nectar from flowers. They also feed on nectar from specially formulated hummingbird food, which is composed of a solution of simple table sugar, or sucrose.
What are some natural sources of food that hummingbirds eat?
Hummingbirds naturally feed off of flowers, insects, and tree sap. They will also seek out other natural sources of nutrition, such as fruits, berries, and even some small spiders.
Is it necessary to feed hummingbirds?
It is not necessary to feed hummingbirds in order for them to survive. They are able to find food and shelter naturally throughout their migratory trips.
What is the best way to provide food for hummingbirds?
The best way to provide food for hummingbirds is by using a hummingbird feeder
Conclusion:
Attracting hummingbirds to your garden can be a really rewarding and enjoyable experience.
By supplementing their diet with plenty of live insects, ripe fruits, and nectar-rich flowers or plants, you can ensure they get the nutrition they need to drastically improve their health and increase their population.