What Diseases Do Crows Carry? West Nile Virus, Salmonella!
Crows are known to carry several diseases that can potentially affect humans and other animals.
These include West Nile virus, avian influenza, and histoplasmosis. It's important to be aware of these diseases, especially in areas where crows are abundant.
Crows' role as disease vectors is an important aspect of urban wildlife management and public health monitoring, necessitating proactive measures to mitigate risks.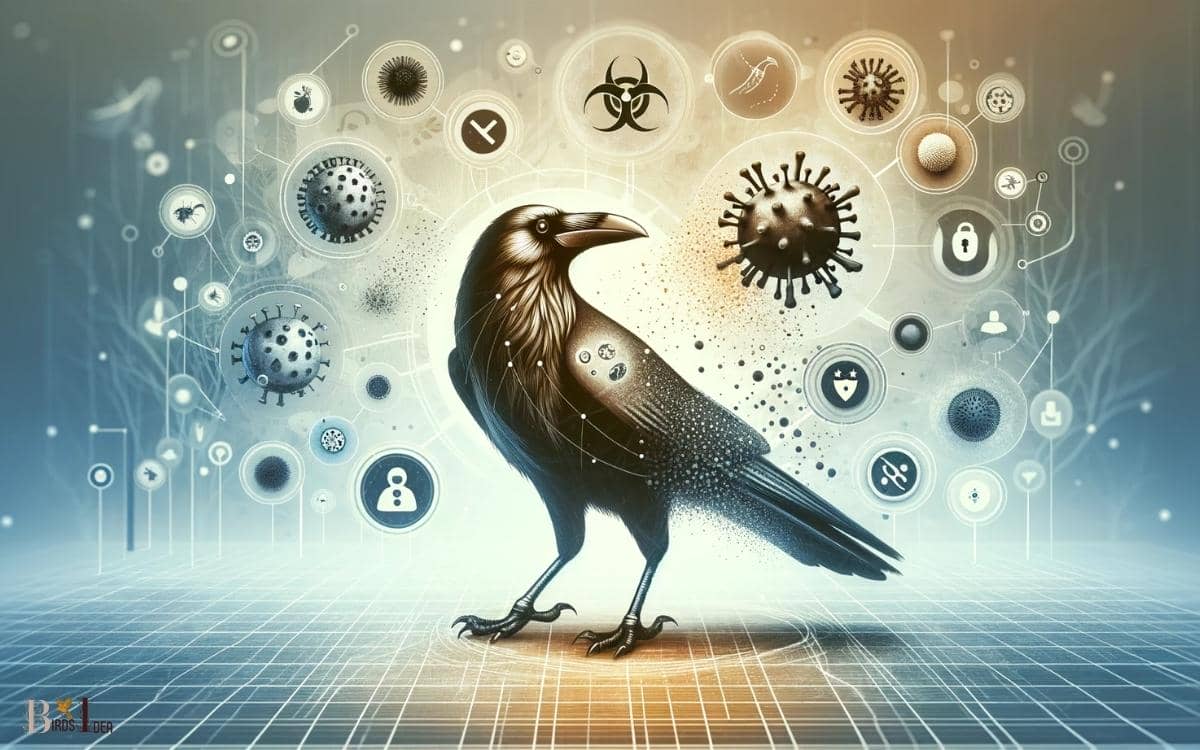 Key Takeaway
Crows can harbor and transmit West Nile Virus, Avian Influenza (Bird Flu), Salmonella, Toxoplasmosis, and Cryptococcosis.
Mosquitoes can spread West Nile Virus from infected crows to other birds and humans.
Avian Influenza can be transmitted from birds to humans and can cause severe respiratory illness.
Crows carrying Salmonella can contaminate the environment and food sources, posing a risk to both crows and humans.
Avian Influenza and Crows
Avian influenza, also known as bird flu, is a viral infection that has been found to affect crows and other bird species.
This highly contagious disease can cause severe illness or death in birds, impacting not only wild populations but also domestic poultry.
Avian influenza is of concern not only for its potential impact on bird populations but also due to its zoonotic potential, meaning it can be transmitted to humans.
While the risk of transmission to humans is generally low, the consequences can be severe. Understanding the prevalence and transmission of avian influenza in crow populations is crucial for both avian and human health.
Moving forward, it is essential to explore the relationship between crows and other viral infections, such as the West Nile virus, to comprehensively understand the health risks associated with these birds.
West Nile Virus and Crows
Crows can harbor the West Nile virus, posing potential health risks to both avian and human populations.
As a reservoir host for the virus, crows can become infected and potentially transmit the disease to mosquitoes, which can then spread it to other birds and humans.
While crows themselves can suffer from the virus, the greater concern lies in the potential transmission to humans.
West Nile virus can cause severe illness in humans, ranging from fever and body aches to more serious conditions such as encephalitis or meningitis.
It is crucial for individuals to take preventive measures, such as using insect repellent and removing standing water, to reduce the risk of contracting the virus.
Understanding the role of crows in the transmission of West Nile virus is essential for implementing effective public health strategies.
Salmonella and Crows
The potential health risks associated with crows extend beyond West Nile virus, as they can also carry and transmit Salmonella, posing a concern for both avian and human populations.
The presence of Salmonella in crows can lead to several alarming consequences:
Health Risks: Salmonella can cause serious illness in both crows and humans, ranging from gastroenteritis to severe bloodstream infections.
Environmental Contamination: Infected crows can spread Salmonella through their feces, contaminating the environment and potentially exposing other wildlife and domestic animals to the bacteria.
Food Safety Concerns: Crows carrying Salmonella may contaminate food sources, posing a risk to human health if the bacteria is transmitted through consumption of contaminated food.
Public Health Impact: The presence of Salmonella in crow populations can heighten public health concerns, necessitating measures to minimize exposure and transmission.
The implications of Salmonella in crows are significant, warranting attention and action to address these health risks. This is particularly crucial in understanding the broader spectrum of diseases that crows can carry, including toxoplasmosis.
Toxoplasmosis and Crows
Toxoplasmosis presents a significant concern in relation to crows and their potential role in disease transmission.
Crows can become infected with Toxoplasma gondii, a parasite that reproduces in the intestines of cats.
When infected cat feces contaminate soil or water, crows and other animals can ingest the parasite.
Although crows themselves are not a significant source of Toxoplasma transmission to humans, they can serve as indicators of environmental contamination.
The presence of infected crows in urban or suburban areas can signal a potential risk for human and animal exposure to Toxoplasma.
It is essential to handle crow carcasses and feces with caution to minimize the risk of exposure to Toxoplasma and to prevent its potential spread.
Cryptococcosis and Crows
Cryptococcosis can be carried by crows and poses a potential risk of disease transmission. It is important for individuals to be aware of the potential health risks associated with this fungal infection.
Here are four reasons why understanding the connection between cryptococcosis and crows is crucial:
Health Awareness: Recognizing the potential for disease transmission from crows can help individuals take necessary precautions to protect themselves and their families.
Ecosystem Preservation: Understanding the impact of cryptococcosis on crows highlights the importance of preserving the natural balance of ecosystems for the well-being of all species.
One Health Approach: Recognizing the link between animal health and human health emphasizes the interconnectedness of all living beings and the need for a holistic approach to healthcare.
Empowerment: Knowledge empowers individuals to make informed decisions about interacting with wildlife and protecting their health and freedom.
Interactions with Humans and Livestock
Exposure Risks:
Disease Transmission
Crows can potentially transmit diseases to humans through direct or indirect contact.
Diseases like West Nile Virus and Salmonellosis may be transmitted through exposure to crow droppings or contaminated surfaces.
Scratches or bites from infected crows can pose a direct risk of disease transmission.
Contaminated Environments
Crow roosts and feeding areas may accumulate droppings, feathers, and other debris, creating an environment conducive to the spread of pathogens.
Humans may inadvertently come into contact with contaminated surfaces in parks, urban areas, or agricultural settings.
Zoonotic Diseases:
Crows can harbor zoonotic diseases, which are infectious diseases that can be transmitted between animals and humans. Examples include Cryptococcosis and Histoplasmosis.
Prevention Strategies:

Personal Hygiene:
Encourage individuals to practice good personal hygiene, such as washing hands thoroughly after being in areas frequented by crows or handling objects that might be contaminated.
Using hand sanitizers can be recommended when soap and water are not readily available.
Avoiding Direct Contact:
Educate the public about the risks associated with handling crows, especially those found dead or exhibiting unusual behavior.
Discourage feeding crows by hand to minimize the risk of bites or scratches
Protective Clothing
When working in areas with a high concentration of crows or known disease risks, individuals may consider wearing protective clothing, such as gloves and masks.
Environmental Management:
Implement measures to reduce crow roosting in densely populated areas to minimize the risk of disease transmission to humans.
Prompt cleanup of crow droppings in public spaces can help reduce the environmental contamination risk.
Vaccination Programs:
Explore the possibility of vaccination programs for individuals who are at higher risk of exposure, such as wildlife rehabilitators or ornithologists
Public Awareness:
Conduct public awareness campaigns to educate communities about the potential health risks associated with crow interactions.
Provide information on recognizing signs of disease in crows and reporting such instances to relevant authorities.
Collaboration with Health Agencies:
Foster collaboration between public health agencies, wildlife management authorities, and local communities to monitor and manage potential disease outbreaks related to crow populations.
By implementing these prevention strategies, it is possible to mitigate the risks associated with human-crow interactions and promote coexistence while safeguarding public health.
Control Measures for Disease Transmission
Population Control:

Understanding Population Dynamics:
Conduct studies to understand the local crow population dynamics, including breeding patterns, migration routes, and roosting behaviors.
Use population data to identify areas with high crow concentrations and potential disease hotspots.
Culling Programs:
Consider targeted culling programs in areas where crow populations are exceptionally dense or where disease outbreaks are recurrent.
Implement culling ethically and responsibly, adhering to guidelines and regulations to avoid negative ecological impacts.
Contraceptive Measures:
Explore the use of contraceptive methods to control crow populations, offering a more humane and non-lethal approach to population management.
Research and develop methods that are effective, reversible, and pose minimal risks to the individual birds.
Public Involvement:
Engage with local communities and stakeholders to gain support for population control measures.
Communicate the importance of managing crow populations for both ecological balance and disease control.
Habitat Management:

Roosting Site Modification:
Identify and modify roosting sites to discourage large crow congregations, especially in urban areas.
Implement deterrents such as noise devices, visual repellents, or alterations to roosting structures.
Waste Management:
Address issues related to food waste and refuse that attract crows to urban environments.
Encourage proper waste disposal practices to reduce the availability of food sources that sustain large crow populations.
Green Spaces Planning:
Incorporate habitat management strategies into urban planning to create green spaces that are less attractive to crows.
Design landscapes with features that deter crow roosting, such as sparse tree cover or open areas.
Collaboration with Agriculture:
Work with agricultural communities to implement habitat management practices that reduce crow attraction to crop fields.
Explore scare tactics or repellents to protect crops without resorting to lethal control methods.
Research on Roosting Behavior:
Support research on crow roosting behavior to better understand the factors influencing their choice of roosting sites.
Use findings to develop targeted habitat management strategies that discourage crow roosting in high-risk areas.
Monitoring and Adaptive Management:
Establish monitoring programs to assess the effectiveness of habitat management strategies.
Adapt management approaches based on ongoing research and monitoring results to optimize disease control efforts.
By integrating population control measures and habitat management strategies, it is possible to address the root causes of crow-related disease transmission and create a more sustainable and balanced coexistence between crows and human populations.
Conclusion
Crows can carry a variety of diseases including Avian Influenza, West Nile Virus, Salmonella, Toxoplasmosis, and Cryptococcosis.
It is important for individuals to be cautious around these birds and take necessary precautions to avoid exposure to these diseases.
Understanding the potential health risks associated with crows can help prevent the spread of these illnesses.