What Do Australian Crows Eat: Insects, Small Animals, Seeds!
Australian crows have a varied diet that primarily consists of insects, small animals, seeds, fruits, and carrion.
They are opportunistic feeders and adapt well to urban environments, where they can also feed on human leftovers and garbage.
The diet of Australian crows includes:
Insects such as beetles, grubs, and caterpillars
Small animals like frogs, lizards, and rodents
Plant-based foods including seeds, nuts, and fruits
Carrion, which is the flesh of dead animals
In urban areas, they have adapted to consume:
Food scraps from bins or those fed by humans
Leftover pet food
Discarded waste from food outlets
These birds are intelligent and resourceful, often using tools and complex problem-solving strategies to access food.
Australian crows' adaptability to different environments underlines their survival skills, making them a fascinating subject for ornithologists and nature enthusiasts alike. Their dietary flexibility reflects their intelligence and resourcefulness.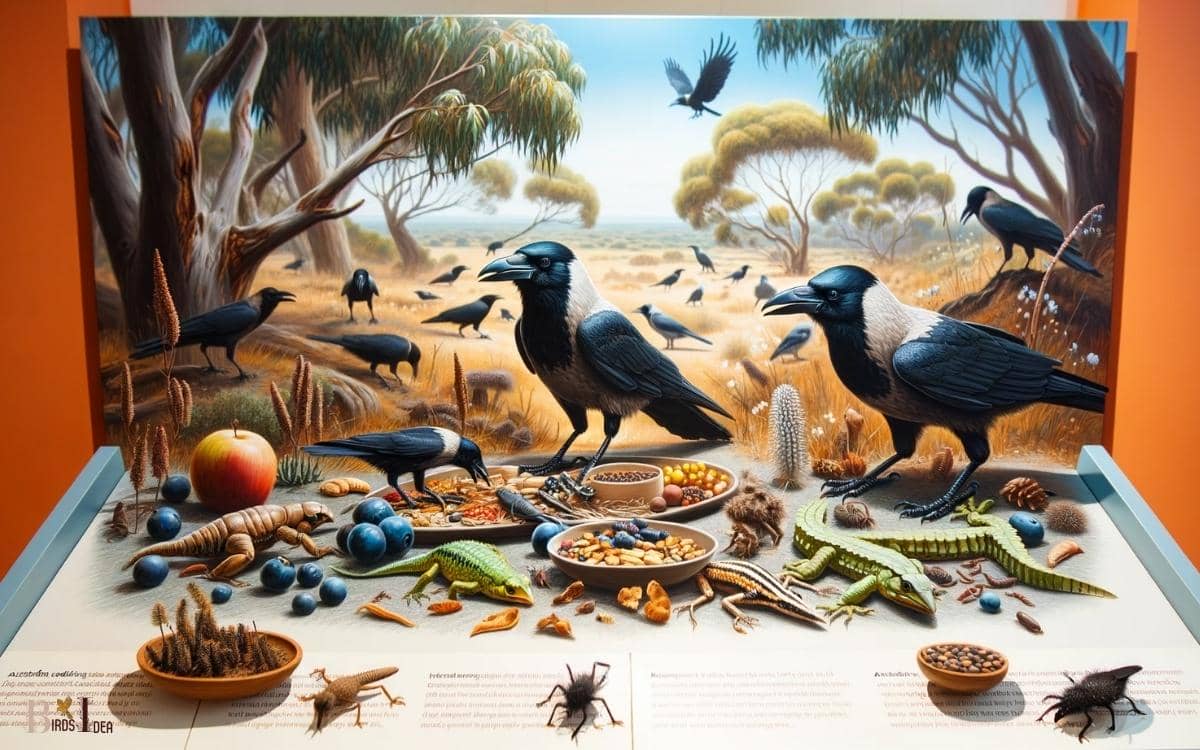 Key Takeaway
Australian crows have a natural diet in the wild that includes fruits, insects, small animals, and carrion.
In urban areas, Australian crows adapt their foraging habits and scavenge for food scraps, leftover pet food, and insects in grassy areas and gardens.
In cities, Australian crows also feed on fast food scraps, picnic leftovers, unattended pet food, and insects affected by insecticides.
Human influence on their diet has led to changes in their traditional diet, and they have demonstrated remarkable intelligence and resourcefulness in adapting to human-generated food sources.
Natural Diet in the Wild
The natural diet of Australian crows in the wild consists primarily of fruits, seeds, insects, small animals, and carrion.
These intelligent and adaptable birds have a varied diet that reflects their ability to thrive in diverse environments.
Fruits such as berries, figs, and grains form a significant part of their diet, providing essential nutrients and energy.
Australian crows are known to consume a wide array of insects, including grasshoppers, caterpillars, and beetles, showcasing their role in controlling insect populations.
They also feed on small animals like lizards, frogs, and nestlings, displaying their opportunistic feeding behavior.
Moreover, carrion, or the decaying flesh of dead animals, supplements their diet, highlighting their scavenging nature.
This diverse diet exemplifies the adaptability and resourcefulness of Australian crows in the wild.
Urban Foraging Habits
Urban foraging habits of Australian crows are influenced by the availability of city food sources and human influence on their diet.
As these intelligent birds adapt to urban environments, their foraging behaviors have been observed to change in response to the presence of human settlements and the food sources they provide.
Understanding how crows navigate and exploit urban landscapes sheds light on the dynamic relationship between human activities and wildlife foraging habits.
City Food Sources
Australian crows often rely on city food sources, such as discarded human food and insects, to supplement their diet.
In urban environments, they have adapted to scavenge for food from human-generated sources.
They are known to scavenge for scraps around outdoor dining areas, garbage bins, and landfill sites. Human food waste provides a readily available and energy-rich food source for these intelligent birds.
Australian crows are skilled hunters and forage for insects in urban areas. They are often observed searching for insects in grassy areas, gardens, and even on sidewalks.
This diverse foraging behavior allows Australian crows to thrive in urban settings, demonstrating their remarkable ability to adapt and utilize city food sources to meet their dietary needs.
Human Influence on Diet
Adapting to urban environments, Australian crows demonstrate a remarkable ability to forage for human-generated food sources, utilizing discarded scraps and scavenging for insects.
This adaptability has led to changes in the crows' diet, as they have incorporated a variety of human food items into their traditional diet of fruits, seeds, and invertebrates.
The table below illustrates the types of human-generated food that Australian crows commonly forage for in urban environments.
| Food Source | Description |
| --- | --- |
| Fast food scraps | Leftover fries, burgers, and other fast food items |
| Picnic leftovers | Sandwiches, chips, and snacks left behind at parks |
| Pet food | Unattended pet bowls and spilled pet food |
| Insecticides | Insects affected by chemical sprays |
| Food waste bins | Garbage bins containing edible waste |
"Australian urban crows thrive on a diverse diet: fast food scraps, picnic leftovers, pet food, insects, and scavenging from food waste bins. Adaptable city foragers."
The crows' ability to adapt their diet to urban environments highlights their remarkable intelligence and resourcefulness.
Predation on Small Animals
Crows in Australia are known to opportunistically prey on a variety of small animals, including insects, small mammals, reptiles, and birds.
This predatory behavior plays a crucial role in the crow's diet and survival in the Australian ecosystem.
The following are the specific small animals that Australian crows commonly prey on:
Insects: Crows are known to feed on a wide range of insects, including grasshoppers, caterpillars, and beetles.
Small Mammals: They have been observed preying on small mammals such as mice, rats, and young rabbits.
Reptiles and Birds: Australian crows also target reptiles like lizards and snakes, as well as small birds and their eggs.
This predatory behavior showcases the adaptability and opportunistic nature of Australian crows in meeting their dietary needs.
Consumption of Insects
The consumption of insects serves as a significant component of the crows' diet, with a diverse array of species, including grasshoppers, caterpillars, and beetles, contributing to their nutritional needs.
Crows are known to forage for insects in various habitats, including grasslands, agricultural fields, and urban areas.
Their opportunistic feeding behavior allows them to exploit a wide range of insect species, making them adaptable and successful predators.
Insects provide essential nutrients such as protein, fats, and vitamins, supporting the crows' overall health and reproductive success.
The following table illustrates the variety of insects commonly consumed by Australian crows:
| Insect Species | Habitat | Nutritional Value |
| --- | --- | --- |
| Grasshoppers | Grasslands | High protein |
| Caterpillars | Agricultural fields | Rich in fats |
| Beetles | Urban areas | Good source of vitamins |
"Australian crows thrive on diverse insect diets, from high-protein grasshoppers in grasslands to fat-rich caterpillars in agricultural fields, and vitamin-packed beetles in urban areas."
Fruits and Seeds in Their Diet
Occasionally, Australian crows incorporate a variety of fruits and seeds into their diet to supplement their nutritional intake.
This diverse diet allows them to thrive in a range of environments, from urban areas to rural landscapes.
The inclusion of fruits and seeds in their diet provides essential nutrients and energy, contributing to their overall health and well-being.
Some of the fruits and seeds that Australian crows consume include:
Berries: Australian crows are known to feed on various types of berries, such as elderberries and blackberries, which are rich in antioxidants and vitamins.
Grains: They also consume a variety of grains, including wheat and rice, which provide carbohydrates and essential nutrients.
Nuts: Australian crows have been observed feeding on nuts like acorns and almonds, which are high in protein and healthy fats.
This diverse diet demonstrates the adaptability and resourcefulness of Australian crows in their quest for sustenance.
Interactions With Human Food Sources
Interactions between Australian crows and human food sources are of significant interest due to the scavenging behavior exhibited by these birds.
The impact of their foraging on the environment, particularly in urban areas, is a point of concern for many researchers and conservationists.
Understanding the dynamics of this interaction is crucial for managing potential conflicts and promoting coexistence between crows and human communities.
Human Food Scavenging
Australian crows scavenge human food sources in urban and suburban environments. This behavior has led to several interesting observations about their interactions with human food.
Adaptability
Crows have shown remarkable adaptability in their scavenging behavior, often seeking out and consuming a wide range of human food items, including leftovers, discarded fast food, and even unattended picnic snacks.
Innovation
These intelligent birds have been observed using various innovative techniques to access human food, such as opening food containers, picking through trash, and even stealing food directly from outdoor dining areas.
Competition
As scavengers, crows often compete with other urban wildlife, such as pigeons and seagulls, for access to human food sources, leading to complex dynamics and behaviors in these shared environments.
This behavior showcases the resourcefulness and adaptability of Australian crows in their quest for sustenance in human-dominated landscapes.
Impact on Environment
As urban and suburban environments continue to be shaped by human activities, the scavenging behavior of Australian crows has raised concerns about its impact on the local ecosystem and wildlife dynamics.
The crows' opportunistic feeding habits often lead them to scavenge for human food scraps and waste, creating potential conflicts with other wildlife and altering the natural balance of the environment.
This interaction can result in competition for resources and the displacement of native species, ultimately influencing the biodiversity and ecological stability of the area.
| Positive Impacts | Negative Impacts |
| --- | --- |
| Seed dispersal | Competition for food |
| Pest control | Displacement of native species |
| Nutrient recycling | Spread of diseases |
| Ecosystem balance | Habituation to humans |
Interactions impact ecosystems: positive effects include seed dispersal and pest control, while negatives involve competition, displacement, and disease spread.
Understanding the implications of the crows' interactions with human food sources is crucial in developing effective strategies for coexistence and conservation.
Conclusion
Australian crows have a diverse and varied diet. This includes natural foraging habits, predation on small animals, consumption of insects, and the consumption of fruits and seeds.
They have also been known to interact with human food sources. Their adaptable and resourceful nature allows them to thrive in a variety of environments. This makes them an integral part of the ecosystem.