What Does a Baby Hummingbird Look Like: A Gudie!
A baby hummingbird is very small, typically about the size of a penny. It has tiny feathers that are not as bright or iridescent as adult hummingbirds. Its beak starts out short and straight but gradually elongates and curves downward as it matures.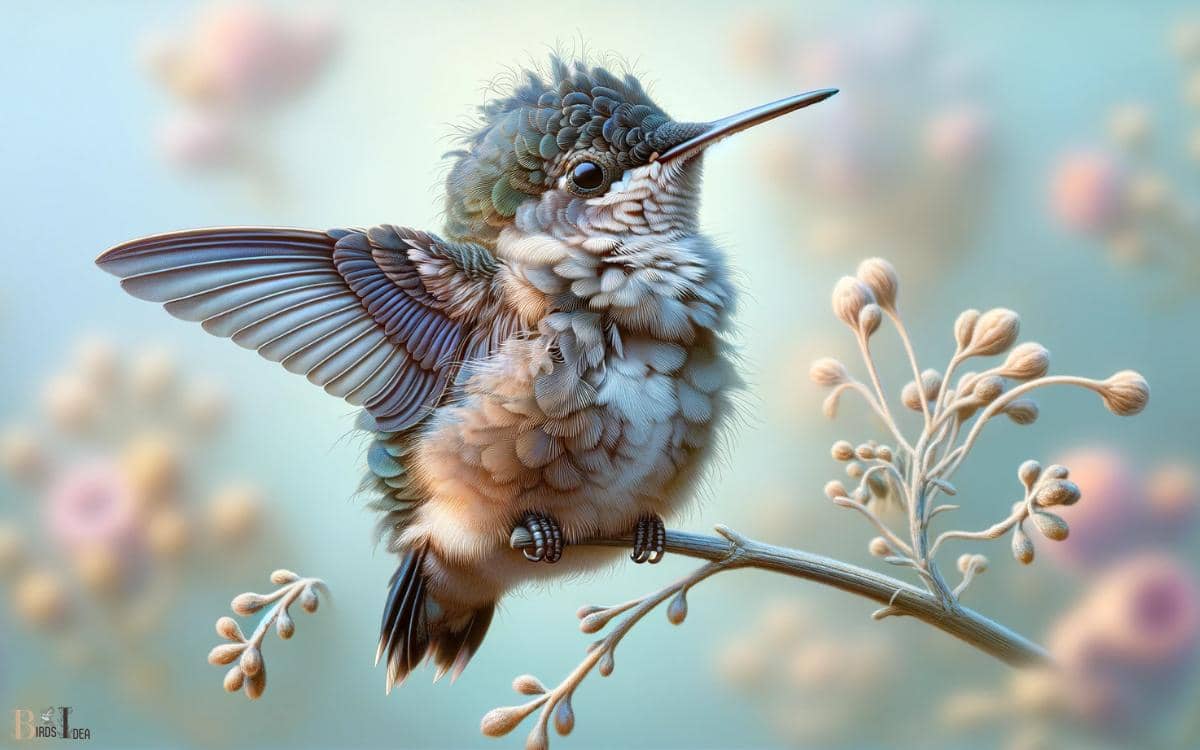 Key Takeaway
Baby hummingbirds, also known as chicks, have an initial greyish-white color before their true colors start to show.
They don't yet possess the beautiful plumage typical of matured hummingbirds.
Their beaks begin straight and short but grow longer with age, curving downwards in alignment with their species characteristics.
Physical Appearance
A baby hummingbird is a tiny creature with vibrant colors and delicate feathers. Its small size and rapid wingbeats make it an enchanting sight to behold in nature.
The baby hummingbird's appearance is a testament to the beauty and wonder of the natural world.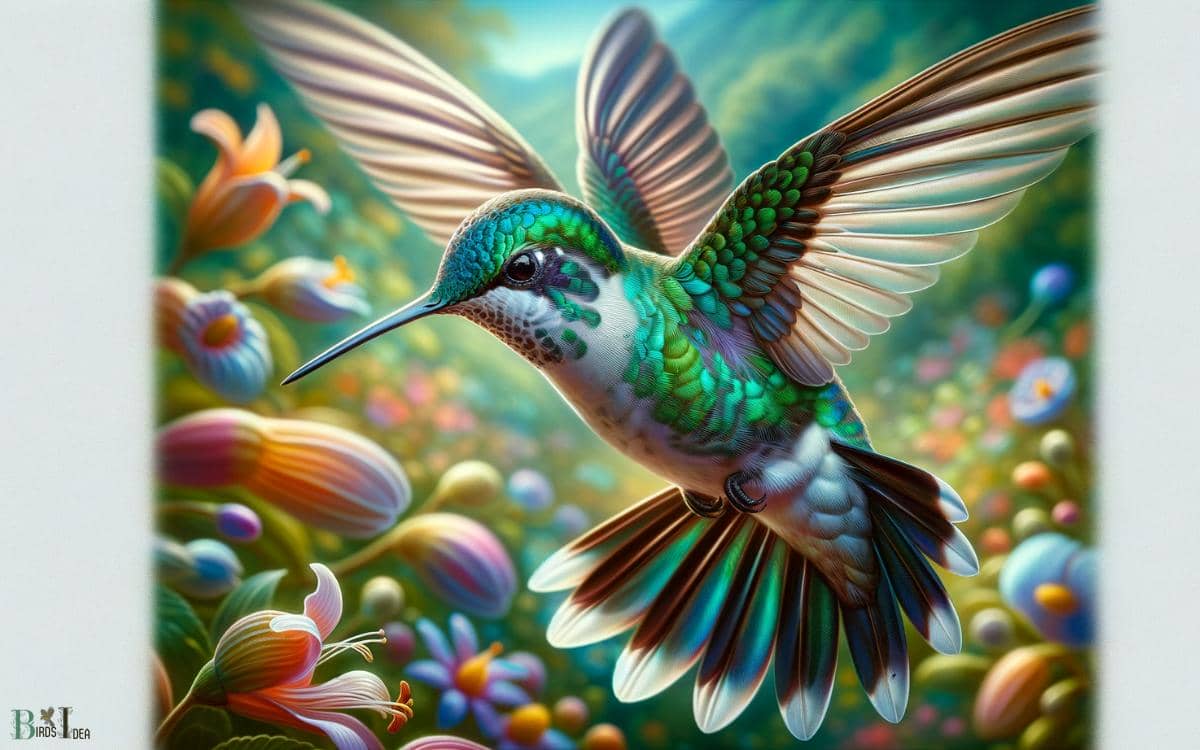 When it comes to the physical appearance of a baby hummingbird, there are several features that make them truly unique and fascinating.
From their small size to their vibrant plumage, every aspect of their appearance is a marvel to behold.
| Aspect | Description |
| --- | --- |
| Size | 2.5 to 4 centimeters in length |
| Weight | 2 to 3 grams |
| Plumage Color and Pattern | Gray, white, brown, and green hues |
| Beak Shape and Size | Slender and needle-like, relatively long |
This table summarizes the key information about baby hummingbirds' size, weight, plumage color and pattern, and beak shape and size.
Feather Development
Understanding the feather development of baby hummingbirds is truly fascinating. These tiny creatures go through a remarkable transformation as they grow from hatchlings to fully-fledged adult birds.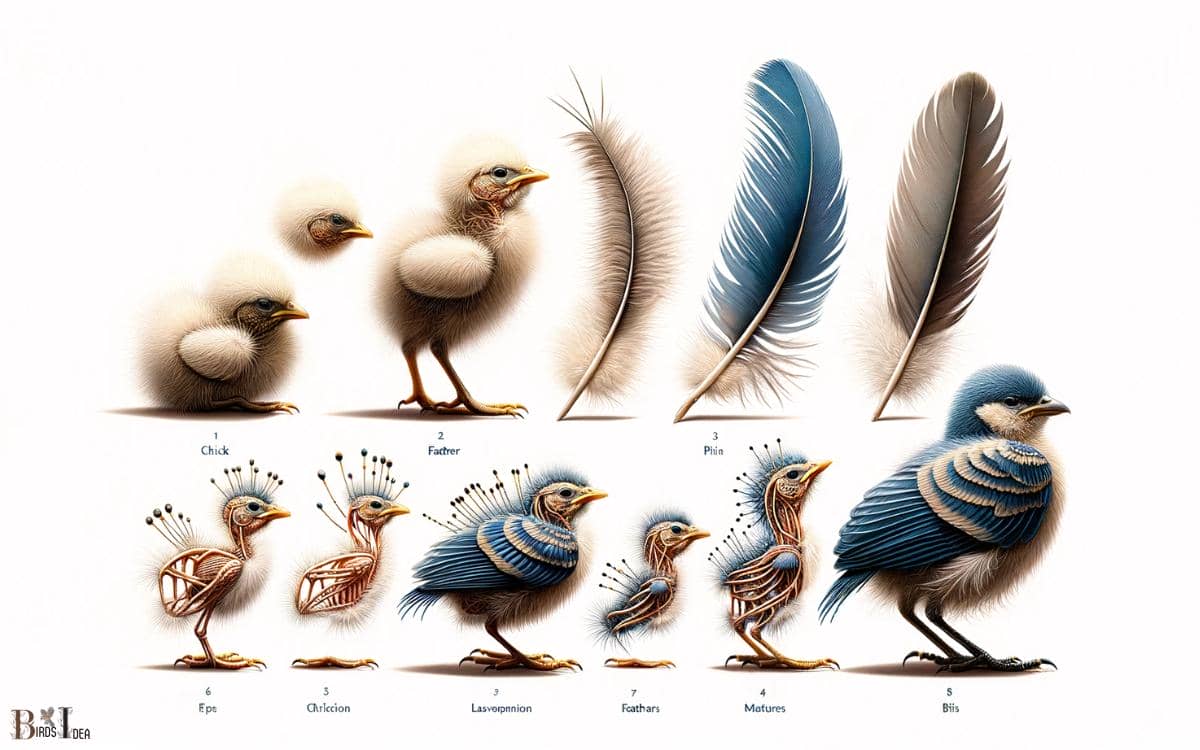 Down Feathers
Baby hummingbirds are incredibly small and vulnerable when they hatch.
They are covered in soft, fluffy down feathers that provide insulation and regulate body temperature.
These down feathers are not suitable for flight and are often light-colored or translucent.
The down feathers help the hatchlings appear cozy and warm and provide camouflage in the nest.
Despite their delicacy, these down feathers are crucial for the early development of baby hummingbirds, keeping them warm and protecting them from temperature fluctuations during their critical first weeks of life.
Growth Of Flight Feathers
As baby hummingbirds mature, they develop flight feathers.
Flight feathers are stiffer and more rigid than down feathers, providing the necessary rigidity for flight.
As flight feathers grow, the hatchlings' appearance changes from a downy, soft look to a more structured and defined shape.
The development of flight feathers is gradual and occurs as the baby hummingbirds practice flight movements and gain wing strength.
Over time, these flight feathers become more elongated and distinct, eventually taking on the iconic shape and coloration of adult hummingbird feathers.
Transition To Adult Plumage
Baby hummingbirds undergo a remarkable transition to their adult plumage as they mature.
This transition involves the replacement of juvenile feathers with the vibrant and dazzling feathers characteristic of adult hummingbirds.
During this transition, you may observe a mix of juvenile and adult feathers on the birds, creating a visual contrast.
Adult plumage is more intense in color and often includes iridescent hues, enhancing the beauty of these creatures.
The process of feather development in baby hummingbirds is intricate, from the initial growth of down feathers to the gradual emergence of flight feathers and the ultimate transition to exquisite adult plumage.
Observing these remarkable changes in baby hummingbirds is a privilege that showcases their incredible adaptation and beauty in nature.
Behavioral Characteristics
The appearance of a baby hummingbird is characterized by its small size, delicate feathers, and lack of vibrant colors.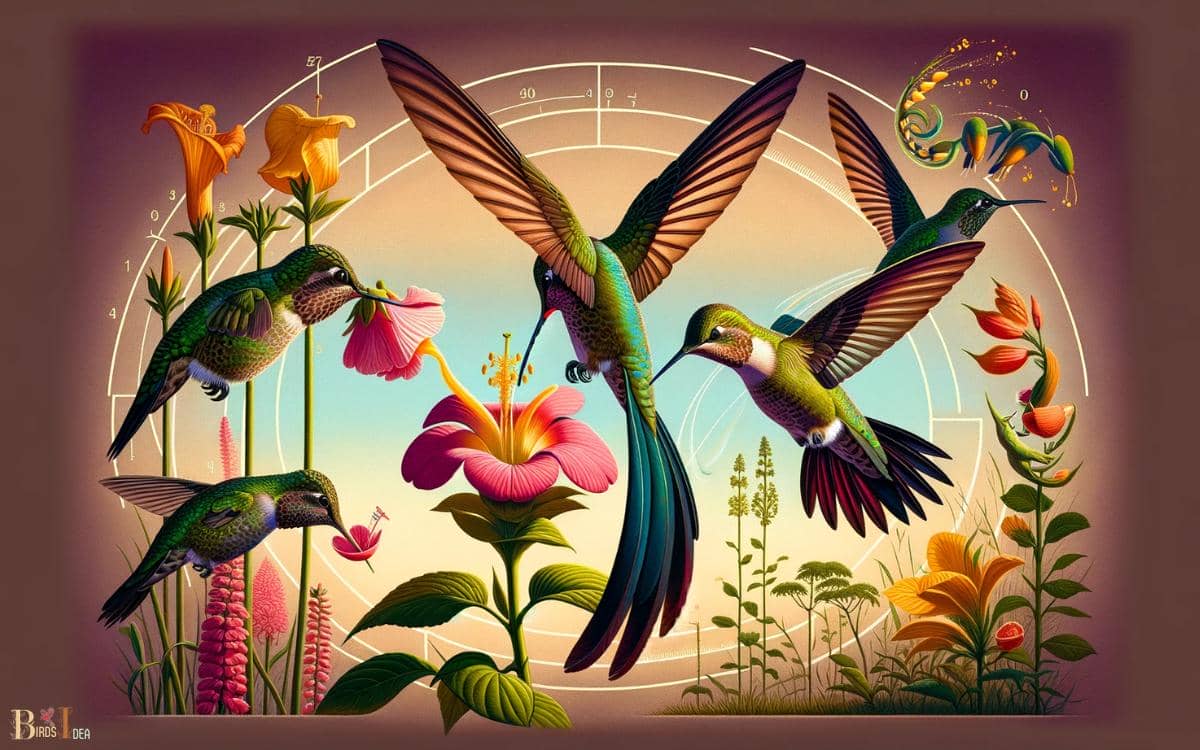 They have an adorable and endearing presence, captivating observers with their tiny bodies and growing wings.
| Characteristic | Description |
| --- | --- |
| Nesting Behavior | Building cup-shaped nests using twigs, leaves, and mosses. |
| Feeding Habits | Consuming nectar from flowers and insects for protein. |
| Communication with Parents | Using vocalizations to convey needs to parents. |
Observing the behavioral characteristics of baby hummingbirds offers a glimpse into the intricacies of their lives.
From building their nests to feeding on nectar and communicating with their parents, these small birds showcase remarkable abilities right from the start. It is truly a privilege to witness their growth and witness the wonders of nature.
Life Cycle
Understanding the life cycle of a baby hummingbird is a fascinating journey that unveils its remarkable transformation.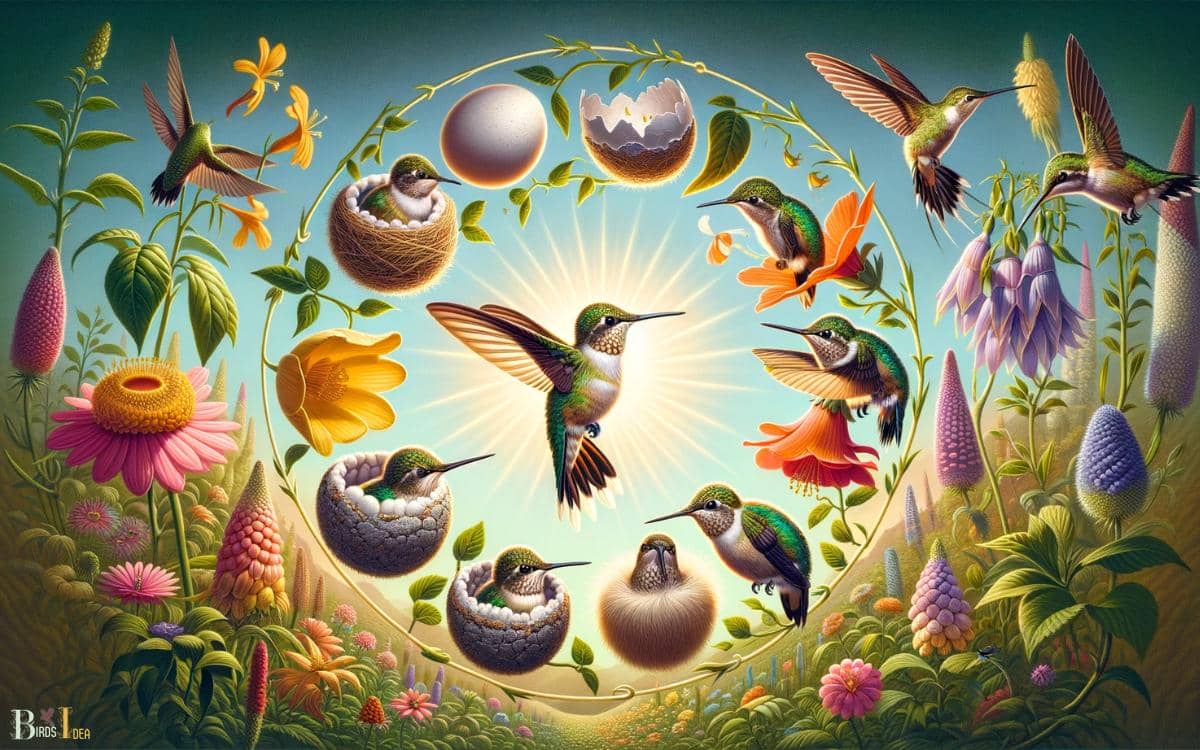 From its initial stage as an egg to becoming a juvenile hummingbird ready to explore the world, each phase is filled with unique milestones. Let's take a closer look at these stages:
From Egg To Hatchling:
Mother hummingbird selects a suitable nest location.
Eggs are small and elegant, usually laid in pairs, about the size of a pea.
Incubation period lasts 14-23 days (species-dependent).
Mother fiercely guards and keeps the eggs warm until hatching.
Nestling Stage:
Hatchlings are featherless and vulnerable.
They rely entirely on their mother for warmth, protection, and food.
Mother feeds them a specialized diet of regurgitated nectar, insects, and small spiders.
Over 18-22 days, they grow rapidly, develop pinfeathers, and their eyes open.
Fledgling Stage:
Fledglings have grown feathers and are ready to leave the nest.
They practice fluttering wings, building strength for flight.
Mother continues to feed and guide them.
Takes 1-3 weeks for fledglings to become proficient flyers and independent.
Juvenile Stage:
Feathers gradually change, revealing adult plumage colors.
Juveniles explore independently, displaying playful and energetic behavior.
They practice aerial maneuvers, feed on nectar, and discover foraging spots.
Over time, they become more self-reliant and acquire survival skills.
The life cycle of a baby hummingbird is a remarkable journey, from delicate eggs to fascinating, agile creatures, highlighting the beauty and fragility of life in nature.
Adaptations And Survival Skills
Baby hummingbirds may be small in size, but they possess remarkable adaptations and survival skills that help them navigate the world from a very young age.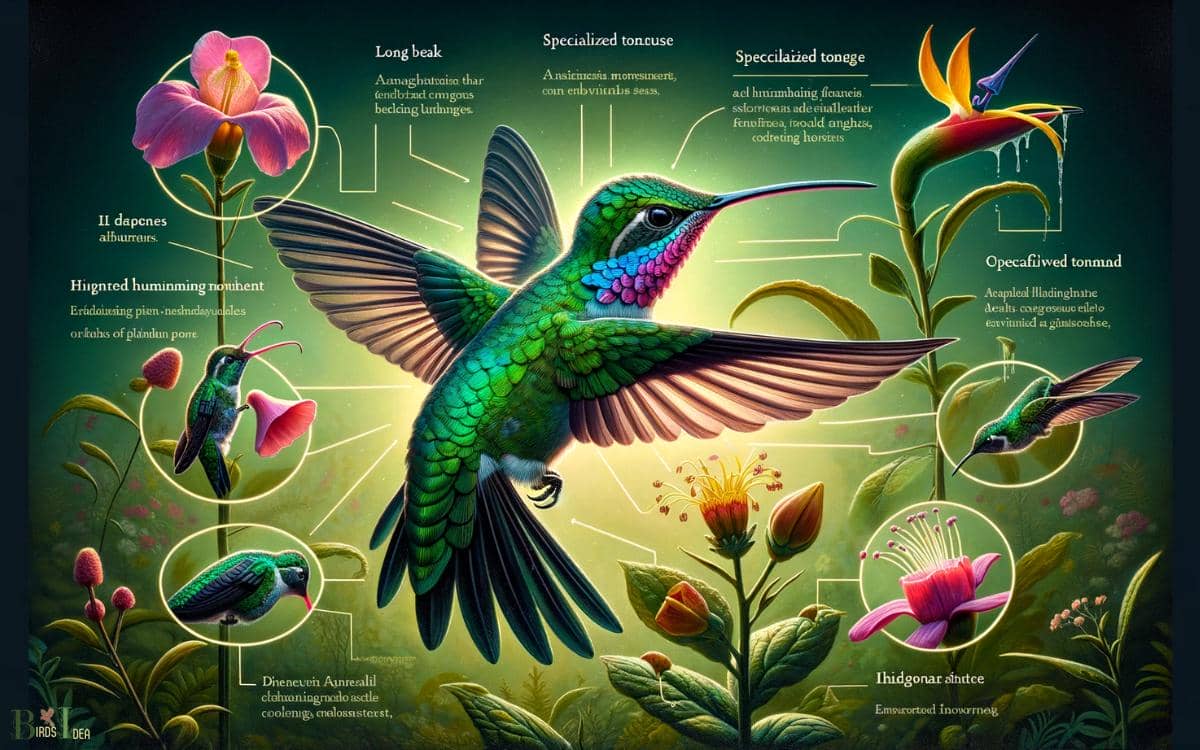 Through their remarkable abilities in camouflage and predator avoidance, feeding strategies, and flight capabilities, these tiny creatures demonstrate their resilience and ability to thrive.
Camouflage and Predator Avoidance:
Baby hummingbirds rely on camouflage for survival.
Soft and fluffy feathers make them nearly invisible among surroundings.
Feather coloration helps them blend with tree and flower foliage.
Camouflage allows them to hide from potential predators, increasing their chances of survival.
Feeding Strategies:
Baby hummingbirds have developed exceptional feeding strategies.
Long, specialized beaks are adapted for reaching into trumpet-shaped flowers for nectar.
High metabolism allows them to consume large quantities of nectar and insects.
Efficient feeding ensures nutritional requirements are met for rapid growth and development.
Flight Capabilities:
Baby hummingbirds possess impressive flight capabilities.
Wings can flap up to 80 times per second.
This allows them to hover in mid-air and change direction swiftly.
Agile flight aids in finding food and escaping potential predators, ensuring their safety and survival.
Growth And Development
A baby hummingbird is truly a sight to behold. These tiny creatures undergo remarkable growth and development from the moment they hatch until they reach adulthood.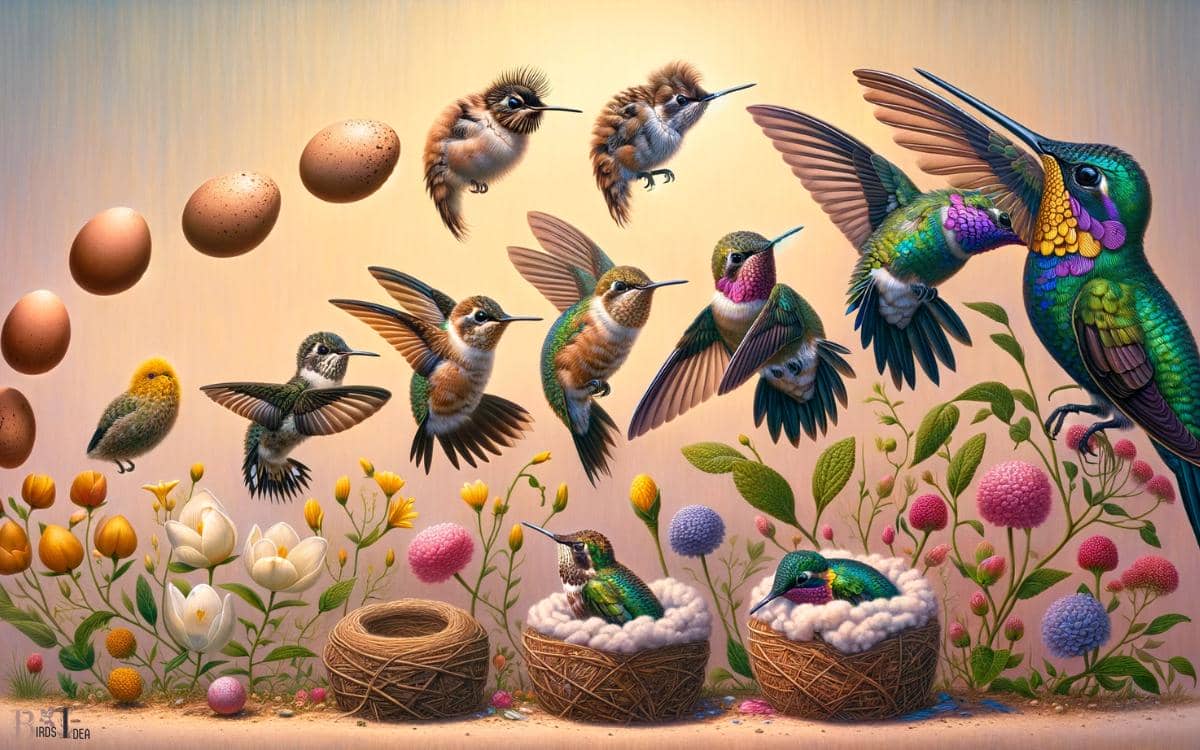 Understanding the growth process of a baby hummingbird can provide fascinating insights into the remarkable journey of these avian wonders.
Rate of Growth:
Baby hummingbirds experience incredibly rapid growth.
They double or even triple in size within a matter of days.
Featherless bodies fill out with fluffy down feathers for insulation and protection.
Rapid growth is essential for gaining strength and agility needed for survival.
Learning and Acquiring Skills:
Baby hummingbirds initially depend entirely on parents for nourishment.
Parents feed them a diet of regurgitated nectar and insects.
As they grow, baby hummingbirds observe and mimic parents' behaviors, including foraging and hovering flight.
Independence from Parents:
Baby hummingbirds gradually become more independent.
They start venturing out of the nest and practicing flying.
Their independence includes obtaining nectar from flowers independently using their slender beaks.
The growth and development of a baby hummingbird are truly remarkable, showcasing rapid growth, skill acquisition, and increasing independence.
Witnessing this journey is a testament to the wonders of nature and the resilience of these incredible avian beings.
Endangered Species And Conservation Efforts
The world of hummingbirds is a mesmerizing one. These tiny creatures, known for their vibrant colors and incredible speed, captivate our hearts with their unique beauty.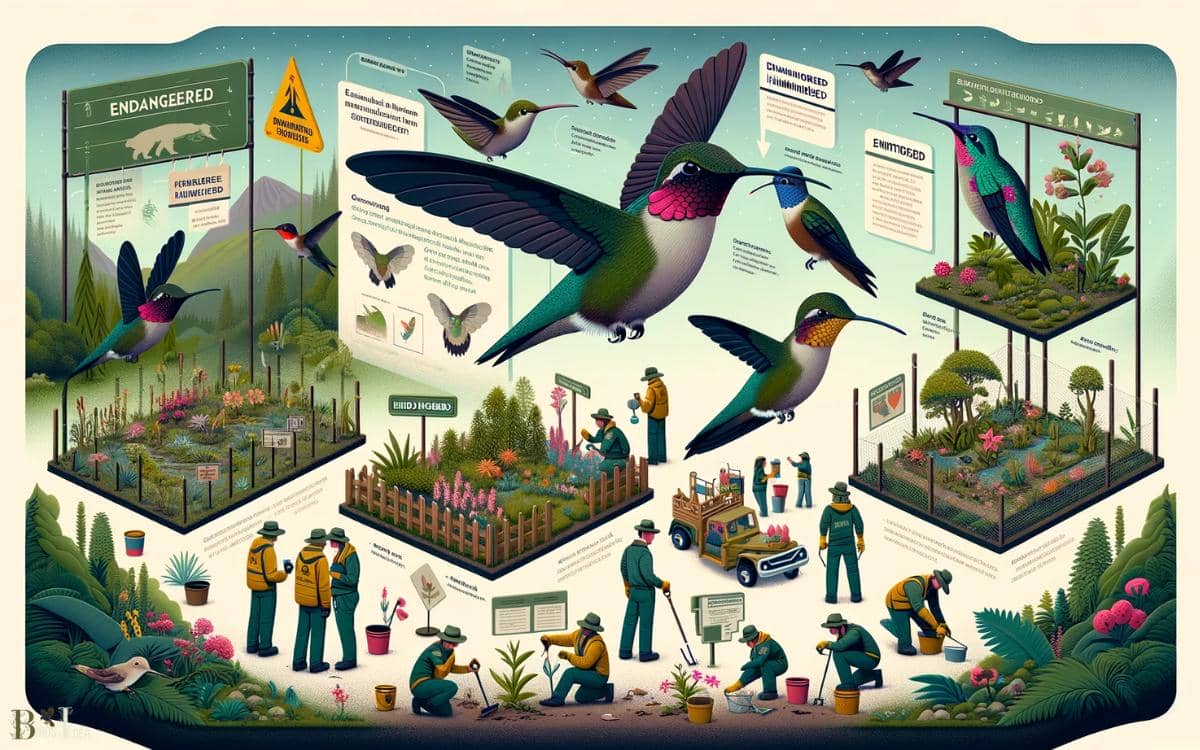 However, what many people don't realize is that some species of hummingbirds are at risk of extinction.
Threats to Baby Hummingbirds:
Loss and degradation of natural habitats due to deforestation, urbanization, and agriculture.
Disruption of nesting sites and limited access to food sources.
Predators such as snakes, lizards, and larger birds.
Conservation Initiatives:
Establishment of protected areas and sanctuaries to safeguard hummingbird habitats.
Raising awareness about the importance of preserving hummingbird habitats.
Promoting sustainable practices for habitat preservation.
Role of Environmental Factors:
Availability of nectar-producing flowers as the primary food source.
Presence of suitable materials for nest construction.
Climate change affecting food source availability and timing.
Extreme weather events like hurricanes threatening nests and well-being.
Conservation efforts and the consideration of environmental factors are crucial in ensuring the survival and well-being of baby hummingbirds amidst the challenges they face.
Conclusion
In a nutshell, a baby hummingbird is an adorable miniature version of its adult counterpart. Sporting softer feathers and a smaller size, these tiny creatures are captivating to behold.
Their quick growth and development, from hatching to fledging, are a testament to their resilient nature.
Understanding what a baby hummingbird looks like provides a glimpse into the enchanting world of these fascinating creatures.
Discovering more about these adorable creatures is a joy for both nature enthusiasts and bird lovers alike. So, keep your eyes peeled for these delightful fledglings in your backyard or local parks!