What Does a Hummingbird Feeder Look Like
A hummingbird feeder is typically a colorful, often red container with feeding ports that resemble flowers.
It's designed to hold nectar solution which the birds can access through these ports. The feeder usually has a hanging mechanism for placing it outdoors.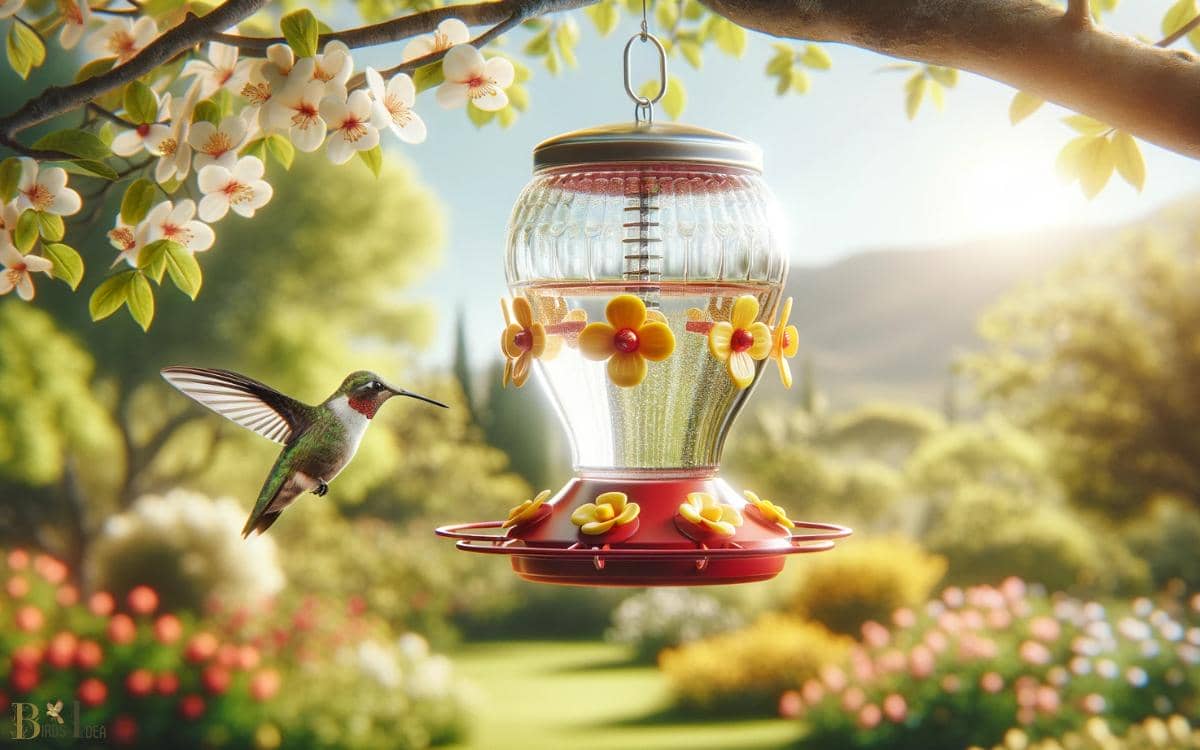 Key Takeaway
Hummingbird feeders are characterized by their bright colors, predominantly red, to attract hummingbirds who have an affinity towards brightly colored objects.
These feeders come in varying designs but most have similar basic features like a reservoir for holding the nectar and multiple feeding ports from where the birds drink.
The feeding ports on these feeders are specially designed to mimic flowers as hummingbirds in nature sip nectar from blossoms.
Some models also feature built-in ant moats or bee guards since ants and bees are known to invade such feeders.
Understanding The Basic Structure Of A Hummingbird Feeder
A hummingbird feeder consists of a container (usually plastic or glass) filled with sugary nectar.
It has feeding ports or tubes for hummingbirds to access the nectar and is hung at a visible height in your garden to attract these birds. Understanding its basic structure is important for selecting the right feeder.
Components Of A Typical Hummingbird Feeder
Reservoir: The container holding nectar.
Ports: Small openings for hummingbirds to feed.
Nectar Tray: Catches dripping nectar.
Feeder Base: Connects reservoir to ports.
Hanging Mechanism: For suspending the feeder.
Importance Of A Well-designed Hummingbird Feeder
Easy Accessibility: Ensures convenient access to nectar with suitable perches and feeding ports.
Nectar Conservation: Minimizes waste with anti-drip features or trays.
Safety Measures: Enhances safety by deterring predators, preventing bee and wasp interference, and reducing bird entrapment risks.
Factors To Consider When Choosing A Hummingbird Feeder
Key factors to consider when selecting a hummingbird feeder:
Feeder Capacity: Choose one that suits the expected number of hummingbirds.
Material and Durability: Opt for weather-resistant materials like glass or quality plastic.
Easy Maintenance: Select a feeder with removable parts and wide openings for convenient cleaning and refilling.
Insect Guards: Consider feeders with built-in insect guards to deter unwanted visitors.
Choosing the right feeder will enhance your hummingbird-watching experience in your garden.
Types Of Hummingbird Feeders
Popular Designs And Styles Of Hummingbird Feeders
Hummingbird feeders can be categorized based on their designs and styles. The following are some of the popular designs you'll come across:
| Feeder Type | Description |
| --- | --- |
| Bottle feeders | These feeders resemble a bottle with a feeding port or ports on one end. They are easy to fill and clean, making them a convenient choice for many bird enthusiasts. |
| Saucer feeders | As the name suggests, saucer feeders have a saucer-shaped dish with feeding ports along the rim. They usually have a larger capacity and are suitable for attracting multiple hummingbirds. |
| Window feeders | Window feeders are designed to attach to a window using suction cups. They provide a close-up view of hummingbirds feeding and are ideal for those who want to observe these tiny birds from indoors. |
| Perch feeders | Perch feeders have small perches or landing spots where hummingbirds can rest while feeding. This design allows them to conserve energy and stay longer at the feeder. |
Pros And Cons Of Each Type Of Hummingbird Feeder
Each type of hummingbird feeder has its advantages and disadvantages. Here's a quick summary:
Bottle feeders: Easy to fill and clean, but may attract bees and wasps.
Saucer feeders: Large capacity, suitable for multiple birds, but may require frequent refilling.
Window feeders: Provides close-up view, easy to observe, but requires regular cleaning of window glass.
Perch feeders: Allows birds to rest while feeding, encourages longer visits, but may be more challenging to clean.
When choosing a hummingbird feeder, consider factors such as ease of use, capacity, visibility, and maintenance.
Remember to place the feeder in a quiet and safe location, away from predators and direct sunlight.
By selecting the right type of hummingbird feeder, you can create a welcoming oasis for these delightful birds right in your backyard. Happy birdwatching!
Materials Used In Hummingbird Feeders
When it comes to hummingbird feeders, the materials used in their construction play a crucial role in attracting these vibrant little birds.
The right choice of materials not only ensures durability but also affects the feeder's functionality and overall aesthetic appeal.
Common Materials Used In The Construction Of Hummingbird Feeders
Hummingbird feeders are made from a variety of materials, each with its unique characteristics and advantages.
Here are some common materials you'll come across when looking for a hummingbird feeder:
| Material | Description |
| --- | --- |
| Glass | Glass hummingbird feeders are not only visually appealing but also easy to clean and sanitize. They do not discolor over time and provide a clear view of the nectar level. However, glass feeders are fragile and need extra care to avoid breakage. |
| Plastic | Plastic is a popular choice for hummingbird feeders due to its durability and affordability. They are lightweight, resistant to breakage, and often come in various colors and designs. However, plastics may deteriorate over time due to exposure to sunlight and can be harder to clean. |
| Ceramic | Ceramic feeders are known for their aesthetic appeal and ability to retain nectar freshness. They are often handcrafted with intricate designs, adding a touch of elegance to your garden. However, ceramic feeders can be heavy, prone to chipping, and may require more effort to clean. |
| Metal | Metal feeders, such as copper or stainless steel, offer excellent durability and resistance to weather conditions. They are often designed with vibrant colors to attract hummingbirds. While metal feeders are sturdy and long-lasting, they can be more expensive and may require regular maintenance to prevent rusting. |
Benefits And Drawbacks Of Different Materials
Every material used in hummingbird feeders has its pros and cons. Here's a summary of the benefits and drawbacks of different materials:
Glass: visually appealing, easy to clean, clear view of nectar level, but fragile and requires careful handling.
Plastic: durable, lightweight, affordable, available in various colors and designs, but may deteriorate over time and harder to clean.
Ceramic: aesthetic appeal, retains nectar freshness, handcrafted with intricate designs, but heavy, prone to chipping, and requires more effort to clean.
Metal: excellent durability, resistance to weather conditions, vibrant colors, but more expensive and may require regular maintenance to prevent rusting.
Choosing The Right Material For Your Hummingbird Feeder
When selecting the material for your hummingbird feeder, consider the following factors:
The environment and weather conditions in your area.
Your personal style and aesthetic preferences.
Your budget and long-term maintenance commitment.
By taking these factors into account, you can make an informed decision and choose the perfect material for your hummingbird feeder.
Remember, the essential thing is to provide a safe and inviting space for hummingbirds to enjoy their meals while adding beauty and charm to your outdoor space.
Key Features To Look For In A Hummingbird Feeder
When choosing a hummingbird feeder, consider these essential features for optimal effectiveness:
Shape and design: Bottle-style or dish-style options have pros and cons; choose based on your preferences.
Bright colors: Opt for vibrant shades like red, orange, or pink to attract hummingbirds.
Perches: Look for feeders with perches to provide resting spots for hummingbirds.
Multiple feeding ports: Ensure the feeder has multiple ports to accommodate several birds simultaneously.
Easy to clean and refill: Choose a feeder with detachable parts or wide openings for easy maintenance.
To prevent unwanted bee and ant visitors:
Bee guards: Look for feeders with built-in bee guards or the option to add them separately.
Ant guards: Use ant moats filled with water to create a barrier that ants cannot cross.
To deter squirrels:
Placement: Hang the feeder at least 10-12 feet away from objects squirrels can use to reach it.
Baffle: Install a squirrel baffle or cone-shaped device below the feeder to make climbing difficult.
Squirrel-proof designs: Consider feeders with weight-activated ports that close when squirrels try to access them.
Spicy deterrents: Apply capsaicin-based spicy deterrents to the feeder or surroundings to discourage squirrels without harm.
Setting Up A Hummingbird Feeder
When it comes to attracting beautiful hummingbirds to your yard, setting up a hummingbird feeder is a fantastic way to do so.
Not only do these vibrant little birds bring a sense of wonder and joy, but they also play an essential role in pollinating flowers.
Ideal Location For Placing A Hummingbird Feeder
Choosing the perfect location to hang your hummingbird feeder is crucial for attracting these tiny aerial acrobats.
Here are a few guidelines to follow:
Place the feeder in an area that offers some shade to keep the nectar from spoiling quickly.
Ensure the feeder is easily accessible for both you and the hummingbirds, preferably within 10-15 feet of a window or sitting area where you can admire their beauty.
Consider positioning the feeder near plants and flowers that hummingbirds love, such as trumpet vines, salvia, and bee balm.
Hang the feeder at a height of around 5-6 feet to discourage ants and other insects from reaching it.
Importance Of Positioning The Feeder Away From Predators
To protect hummingbirds and increase their safety while feeding, it's vital to place the feeder away from potential predators. Hummingbirds are vulnerable to attacks from larger birds, cats, and even praying mantises.
Here's what you need to keep in mind:
Hang the feeder at least 10-12 feet away from any tree branches or structures where predators may perch or hide.
Consider using a hummingbird feeder with built-in ant moats or bee guards to prevent unwanted visitors.
If you notice frequent predator activity, consider installing bird netting or other deterrents around the area where your feeder is located.
Tips For Attracting Hummingbirds To Your Feeder
Now that you have your feeder set up in an ideal location, let's explore some easy tips to attract hummingbirds:
Keep the feeder clean by regularly washing it with warm water and mild soap, ensuring no residue or mold is left behind.
Make your own nectar solution by mixing four parts water to one part white granulated sugar. Avoid using artificial sweeteners, honey, or food coloring.
Refill the feeder frequently, especially during hot summer months, as hummingbirds have high metabolisms and need to consume a significant amount of nectar.
Provide perches near the feeder, such as small twigs or decorative ornaments, as hummingbirds enjoy resting and preening between feeding sessions.
Plant native flowers and shrubs in your garden that hummingbirds find irresistible, ensuring a continuous supply of natural nectar sources.
By following these guidelines and setting up your hummingbird feeder in the perfect location, you'll create an enticing oasis for these enchanting birds. Enjoy the beauty and wonder they bring to your outdoor space!
Maintaining And Cleaning Your Hummingbird Feeder
Mendations, you can ensure the health and well-being of the hummingbirds that visit your feeder:
Regular cleaning: Clean your feeder regularly to prevent the growth of harmful bacteria and disease transmission.
Recommended cleaning methods: Disassemble the feeder, rinse with hot water, use a specialized brush, and occasionally sanitize with a diluted bleach solution.
Frequency of refilling: Check and refill your feeder daily, especially during hot weather or high hummingbird activity.
Monitor nectar condition: Inspect nectar for signs of fermentation, cloudiness, or discoloration before refilling.
Replace nectar completely: Empty and clean the feeder thoroughly each time you refill to maintain freshness and prevent contamination.
These practices will not only keep your feeder in excellent condition but also provide a safe and welcoming environment for hummingbirds in your garden.
Troubleshooting Common Issues With Hummingbird Feeders
Troubleshooting common issues with hummingbird feeders:
Leaking Feeders:
Check assembly: Ensure all components are securely assembled.
Examine rubber gaskets/O-rings: Replace worn or damaged gaskets if necessary.
Avoid overfilling: Fill the feeder only to the recommended level to prevent spills.
Preventing Unwanted Pests:
Use ant moats: Install ant moats above the feeder filled with water to deter ants.
Choose feeders with bee guards: Bee guards prevent larger insects like bees or wasps from accessing the nectar.
Shade the feeder: Place the feeder in a shaded area to discourage pests attracted to heat.
Managing Aggressive Hummingbird Behavior:
Increase feeding ports: Add more ports to distribute feeding territories and reduce conflicts.
Multiple feeders: Place multiple feeders at a distance to offer more options and space for feeding.
Maintain fresh nectar: Change nectar every 3 to 5 days to prevent aggression due to stale or spoiled nectar.
Provide perches: Offer perching spots or nearby branches for hummingbirds to rest while feeding.
By addressing these common issues, you can keep your hummingbird feeder functional and create a welcoming environment for these beautiful birds in your garden.
Conclusion
To wrap it up, a hummingbird feeder is a charming addition to any backyard. With its vibrant colors and enticing design, it serves as a beacon for these tiny, energetic birds.
By providing them with a reliable food source, you can enjoy their graceful presence, fluttering wings, and melodious chirping.
Remember to choose a feeder that is easy to clean and fill, allowing for hassle-free maintenance.
So, set up your hummingbird feeder and get ready for a delightful display of nature's wonders in your own backyard!