What Does a Female Ruby Throated Hummingbird Look Like
A female Ruby Throated Hummingbird is generally smaller with dull green plumage on the upper parts, grayish-white underparts, and no ruby-red throat. They possess a rounded tail with white tips.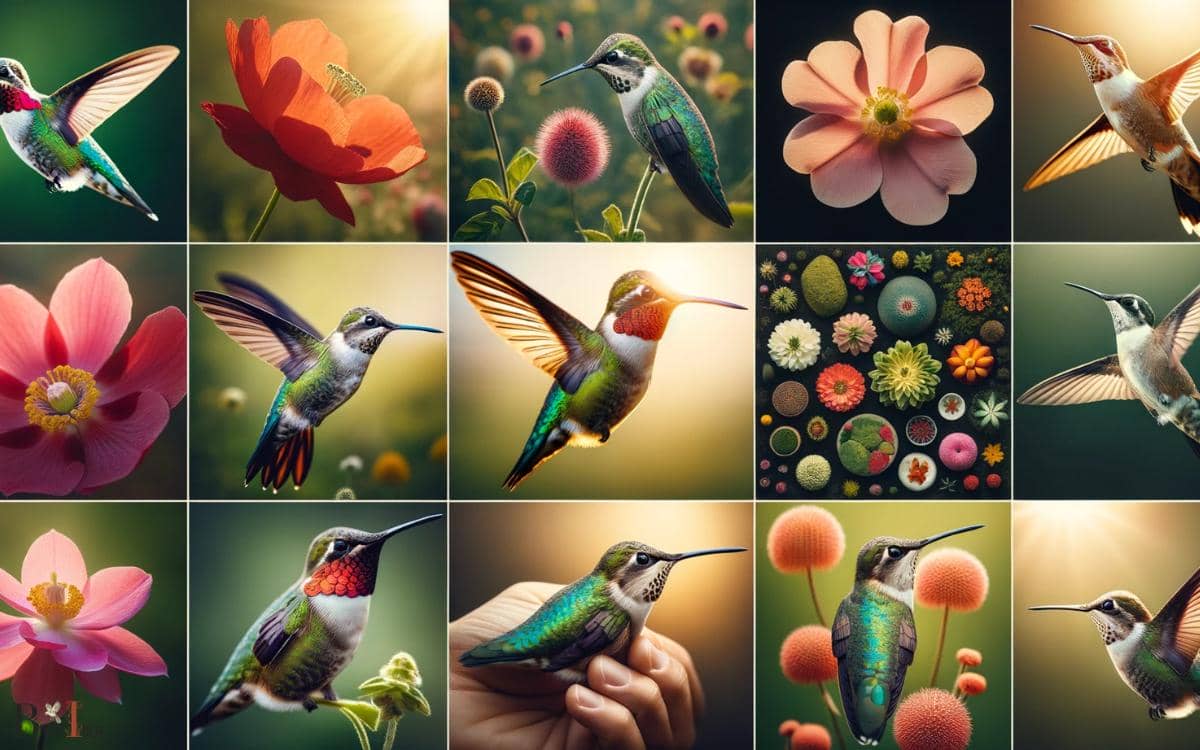 Key Takeaway
The females have iridescent emerald or golden-green backs and crowns, which can shift in color depending on the light.
Their throats are usually plain white but may sometimes have a few scattered red feathers.
Unlike their male counterparts who have sharply forked tails, female Ruby Throated hummingbirds sport rounded tails with broad white tips at the end of each feather.
Understanding The Ruby Throated Hummingbird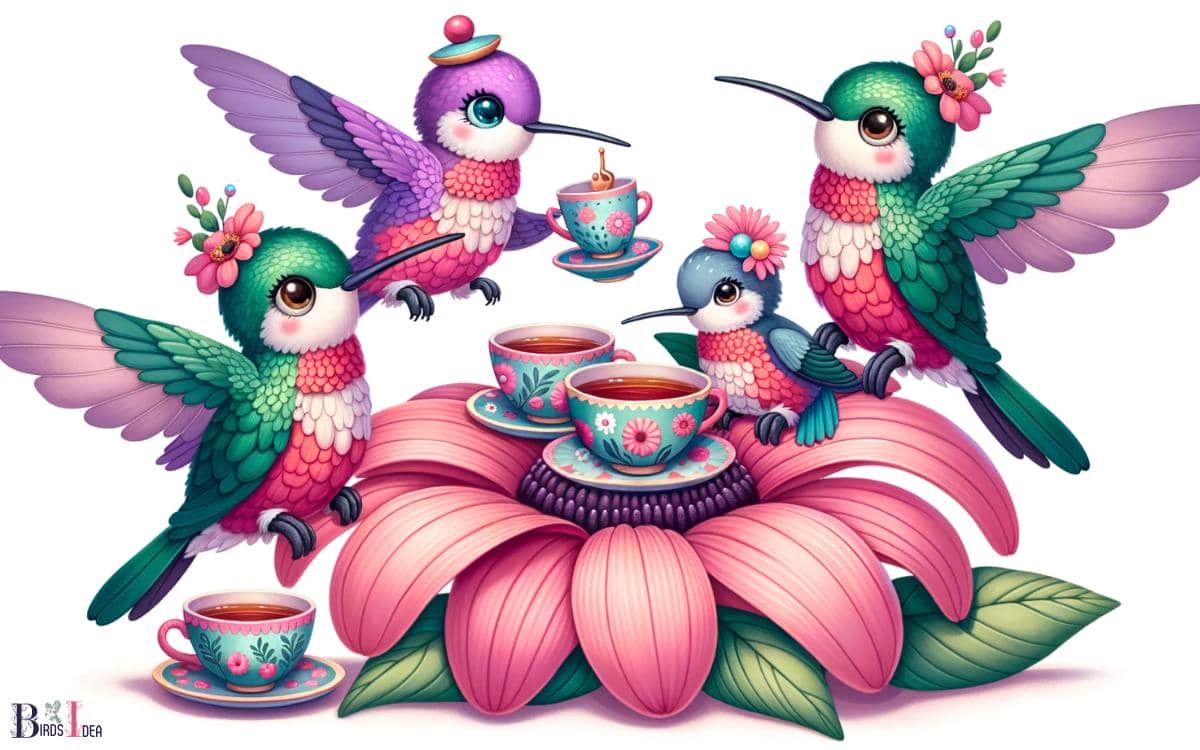 The female Ruby Throated Hummingbird is distinguishable by her lack of vibrant red throat feathers, typically possessing green and white plumage for camouflage and protection.
She is smaller in size compared to the male and plays a crucial role in nesting and raising her young.
Characteristics And Habitat Of Ruby Throated Hummingbirds
Ruby Throated Hummingbirds are known for their dazzling appearance, with vibrant green plumage, white undersides, and, as their name suggests, a striking ruby-red throat patch.
These feathered gems are incredibly small, measuring just 3 to 3.75 inches in length and weighing approximately 0.1 ounces.
But don't let their size fool you – these birds possess an astonishingly high metabolism to sustain their rapid wing beats, which can reach an astounding 53 beats per second!
These magnificent hummingbirds have a relatively extensive breeding range, which spans from the southeastern United States to eastern Canada.
They typically prefer forested areas, including both deciduous and evergreen forests, as well as woodland edges and brushy habitats.
Ruby Throated Hummingbirds tend to be migratory, with some individuals traveling up to 1,900 miles during their seasonal journeys.
During migration, they rely on nectar-producing plants and insects for sustenance, making it essential to protect their preferred habitats.
Importance Of Identifying Female Ruby Throated Hummingbirds
While male Ruby Throated Hummingbirds are known for their vibrant colors and flashy displays, the females exhibit a more subtle beauty that is equally captivating.
Identifying female hummingbirds can be challenging, as they lack the vibrant red throat patch that distinguishes males. However, recognizing female hummers is crucial for several reasons.
Identifying female Ruby Throated Hummingbirds allows researchers and conservationists to gather accurate data about population numbers and breeding success rates.
By monitoring female individuals, experts can assess the overall health and sustainability of these enchanting birds.
Differentiating between male and female hummingbirds provides valuable insights into their behavior and social dynamics.
Observing the interactions between males and females during courtship and nesting seasons can shed light on their mating rituals and territorial behaviors.
These findings contribute to the broader understanding of these fascinating creatures' biology and ecology.
So, grab your binoculars, venture into their woodland havens, and prepare to be enthralled by these remarkable flying jewels!
Physical Appearance Of Female Ruby Throated Hummingbirds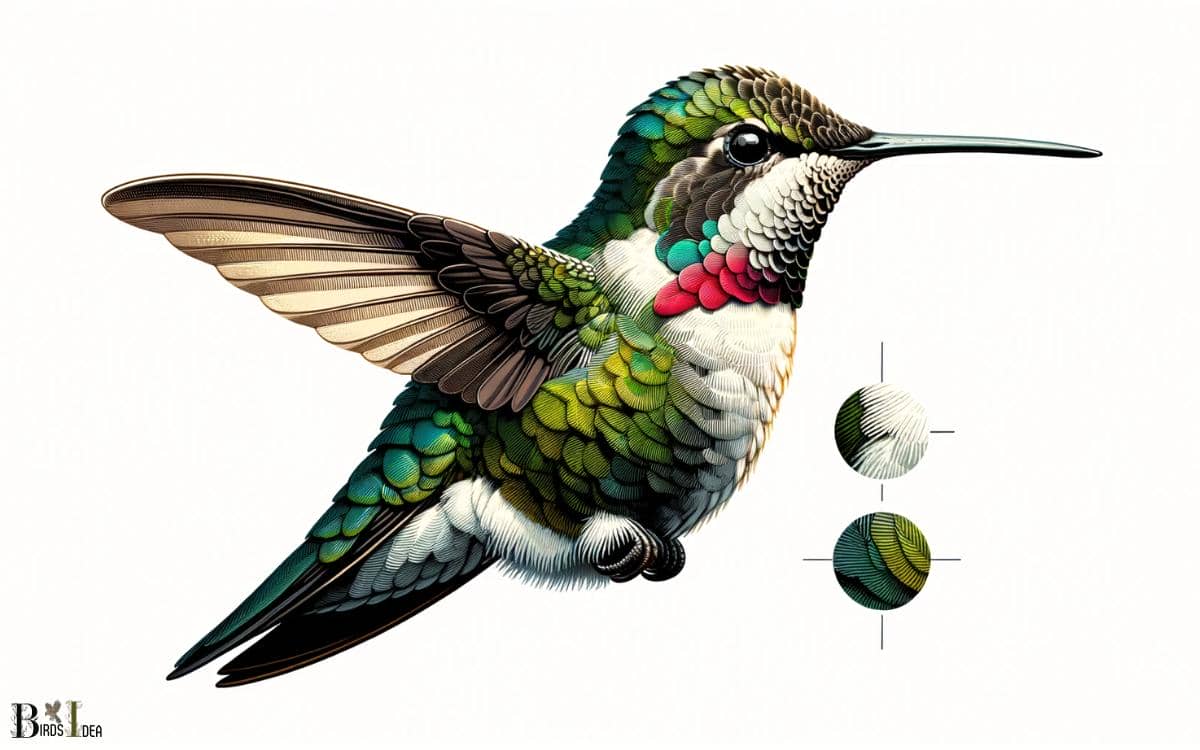 When it comes to identifying the female Ruby Throated Hummingbird, there are several distinct features that set her apart.
This section will discuss the size, shape, and coloration of female Ruby Throated Hummingbirds, giving you a closer look at these enchanting creatures.
Distinct Features Of Female Ruby Throated Hummingbirds
The female Ruby Throated Hummingbird, despite lacking the vibrant colors of its male counterpart, showcases its own unique set of features.
Here are some of the distinct features that help identify a female Ruby Throated Hummingbird:
Size, Shape, And Coloration Of Females
Female Ruby Throated Hummingbirds are slightly larger than their male counterparts, typically measuring between 2.7 to 3.5 inches in length.
They possess a slender and streamlined body structure, designed to navigate with precision and agility as they dart through the air.
The coloration of female Ruby Throated Hummingbirds is generally more muted compared to males. While males boast a vibrant ruby-colored throat, females have a pale white or light gray throat.
Their upperparts are primarily green, blending in with their natural surroundings. However, the plumage on their underparts often exhibits a touch of white, making them easily distinguishable.
While these are the general characteristics, it's essential to remember that individual variations within the species can occur.
Plumage And Feathers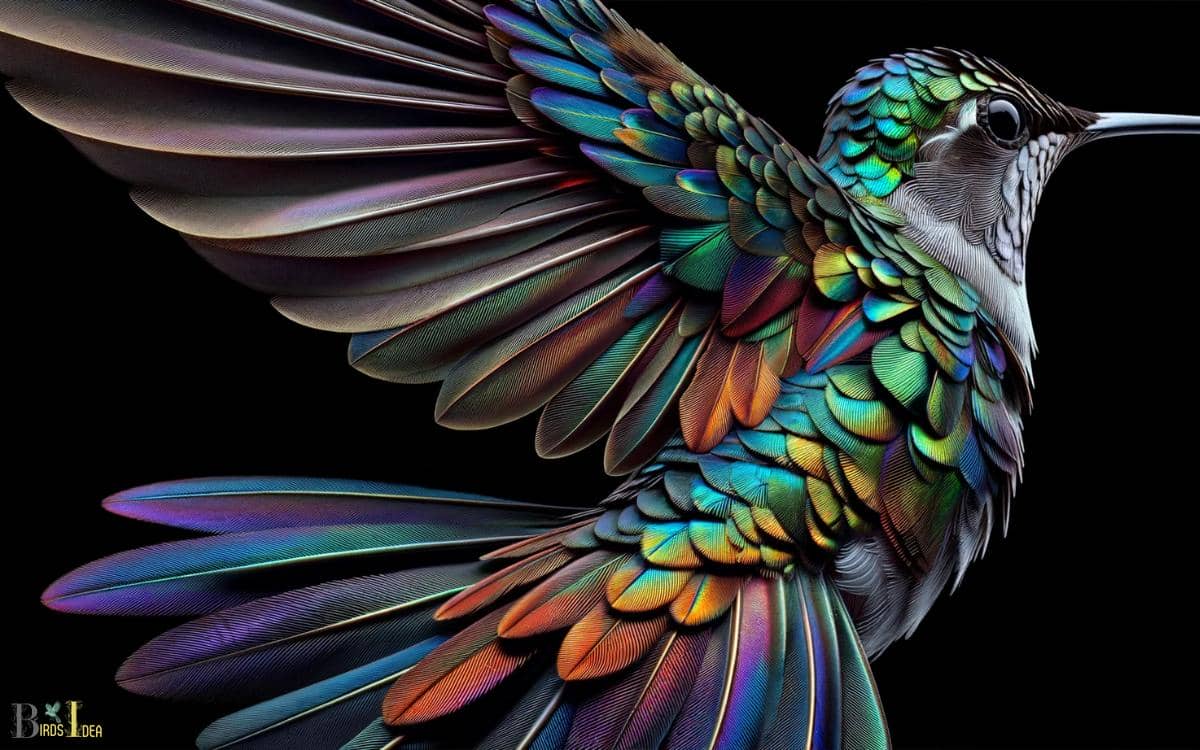 When discussing the mesmerizing beauty of hummingbirds, one cannot ignore the intricate details of their plumage and feathers.
The Ruby Throated Hummingbird is no exception, with its stunning appearance capturing the attention of nature enthusiasts worldwide.
Description Of Female Ruby Throated Hummingbird Plumage
The female Ruby Throated Hummingbird possesses an exquisite plumage that showcases a balance between elegance and subtlety.
While not as vibrant as their male counterparts, their plumage exhibits its own unique charm.
Females have predominantly green feathers on their back and crown, blending perfectly with the foliage in their natural habitats.
Their bellies, on the other hand, feature a pale white or grayish hue, creating a beautiful contrast against the vivid greens.
Seasonal Changes In Feather Patterns
Despite their enchanting plumage remaining relatively constant throughout the year, the female Ruby
Throated Hummingbird may experience subtle seasonal changes in feather patterns.
During the breeding season, the feathers on their throat and crown may become slightly more vibrant and iridescent, helping them attract potential mates.
This temporary transformation adds a dash of glamour to their appearance and serves as a visual cue of their readiness for courtship and reproduction.
Female Ruby Throated Hummingbirds possess a captivating beauty that is both understated and alluring.
Their green and grayish plumage, white throat feathers, and the occasional seasonal vibrancy contribute to their overall charm.
Behavior And Vocalizations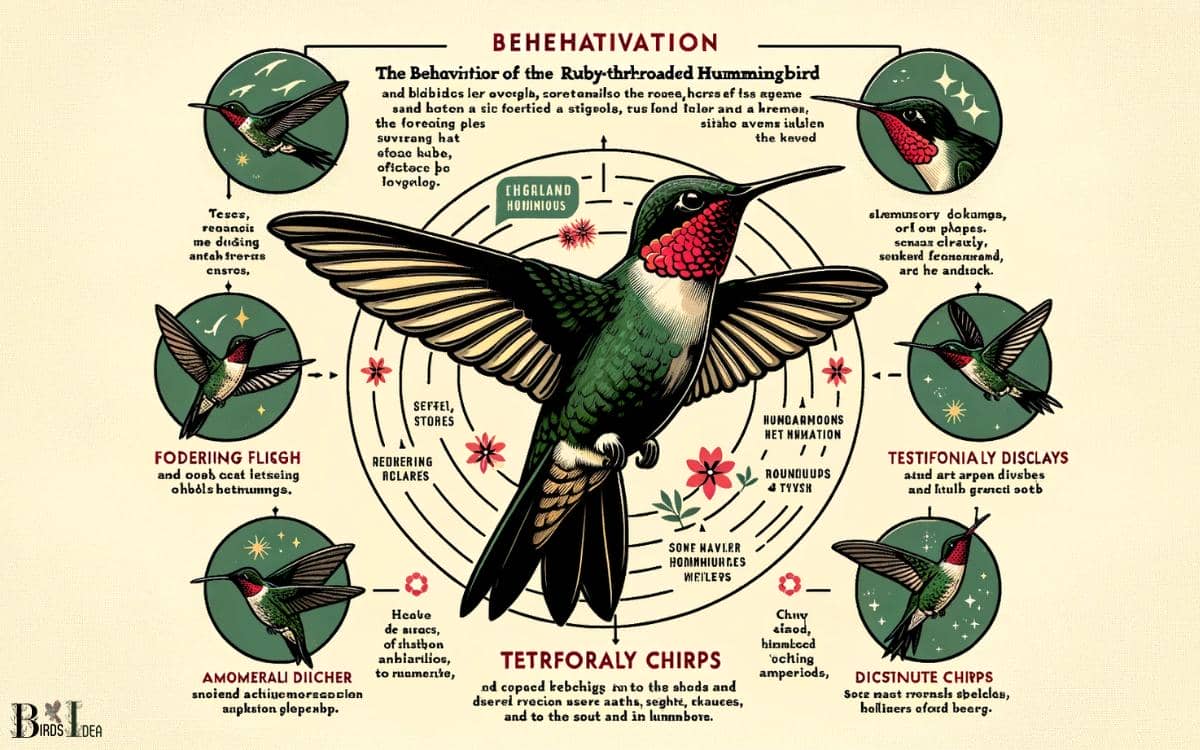 When it comes to the behavior and vocalizations of female Ruby Throated Hummingbirds, there are several fascinating aspects to explore.
Understanding their behaviors and communication methods can enhance our appreciation for these beautiful creatures.
Behaviors Unique To Female Ruby Throated Hummingbirds
Female Ruby Throated Hummingbirds display several behaviors that are distinct to their gender.
These behaviors include:
| Behavior | Description |
| --- | --- |
| Feeding Habits | The female hummingbirds forage for nectar from a variety of flowers, often hovering mid-air while extending their long, slender beaks into the blooms. |
| Territorial Defense | Unlike males, female Ruby Throated Hummingbirds are fiercely territorial. They vigorously defend their feeding and nesting territories against other birds, including males of their own species. |
| Renesting | In cases where their first nest fails, female hummingbirds have been observed to rebuild a new nest in a different location. This behavior allows them to maximize their chances of successful reproduction. |
Behaviors Unique To Female Ruby Throated Hummingbirds
Vocalizations And Communication Methods
Ruby Throated Hummingbirds, including females, communicate through a variety of vocalizations and non-verbal cues.
Although their voices are often soft and high-pitched, females use these vocalizations to establish their presence, attract mates, and communicate with other individuals.
Some common vocalizations include:
Chirping
Trilling
Squeaking
These vocalizations are often accompanied by specific body movements, such as wing-flashing or tail-fanning, which further enhance their communication signals.
Nesting And Territorial Tendencies
Female Ruby Throated Hummingbirds are meticulous when it comes to nesting and territorial defense.
They put great effort into constructing their nests with natural materials, including spider silk, moss, and lichen, ensuring a secure and camouflaged environment for their young.
Once a nest is established, the female fiercely guards it against potential intruders, even engaging in aggressive aerial displays to ward off threats.
This behavior ensures the survival and protection of their vulnerable offspring.
Female Ruby Throated Hummingbirds exhibit a range of unique behaviors and vocalizations.
Their feeding habits, territorial tendencies, vocalizations, and nesting practices showcase their adaptive strategies for survival.
Understanding these aspects adds depth to our understanding and admiration for these remarkable birds.
Reproduction And Mating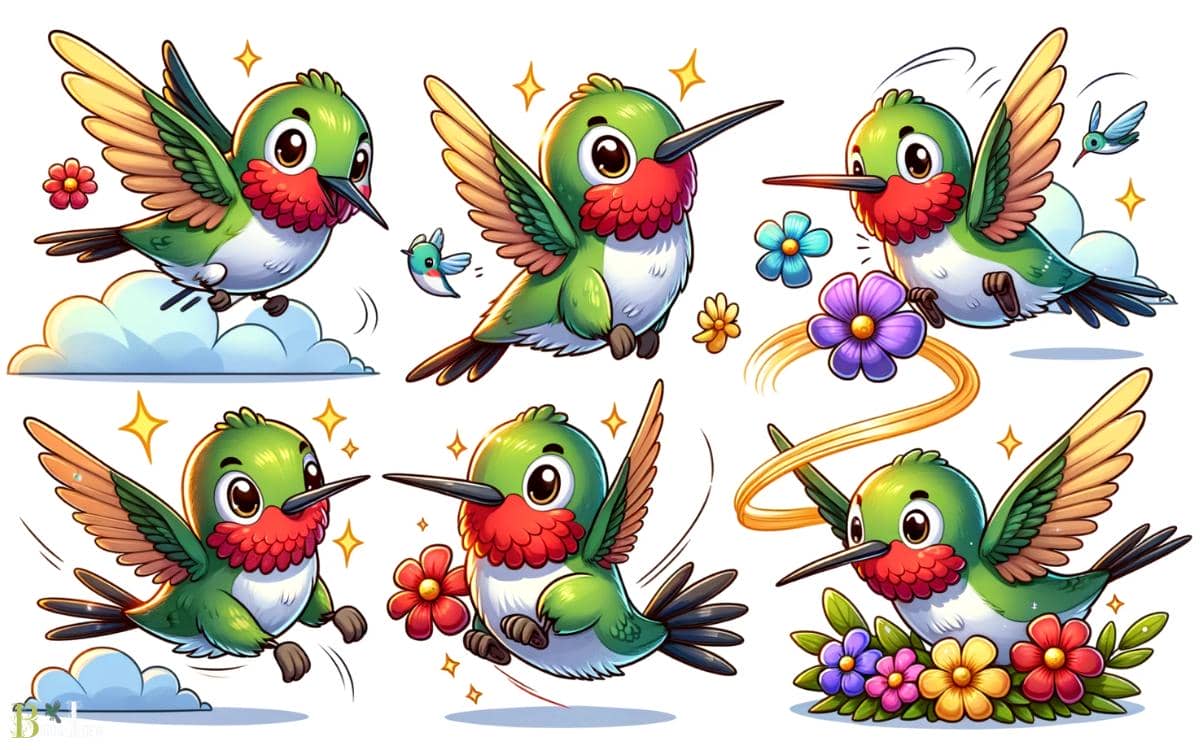 In this section, we will explore the fascinating world of reproduction and mating in female Ruby Throated Hummingbirds.
These tiny creatures have unique breeding behaviors and play a crucial role in the survival of their species.
Breeding Season And Courtship Rituals Of Female Ruby Throated Hummingbirds
Female Ruby Throated Hummingbirds usually engage in breeding activities during the spring and summer months.
These birds are known for their remarkable courtship rituals, performed by the males to attract potential mates.
The courtship rituals of these hummingbirds involve elaborate display flights and vocalizations.
The male bird will ascend to great heights, dive rapidly, and change direction abruptly, creating a mesmerizing spectacle.
With vibrant plumage and shimmering throat feathers, male Ruby Throated Hummingbirds enchant the female counterparts with their aerial acrobatics and melodious calls.
Nest Building And Egg-laying Process
Once courtship is successful, the female Ruby Throated Hummingbird takes charge of building a nest.
These nests are typically constructed using plant materials such as twigs, leaves, moss, and lichens.
They are meticulously woven together and camouflaged to blend with the surrounding environment.
The female hummer creates a secure nest that provides protection from predators and unfavorable weather conditions.
The nest is usually cup-shaped and placed on a horizontal branch or in a well-hidden spot in shrubs or trees.
After the nest is complete, the female begins the egg-laying process. She will lay one to three pea-sized eggs, usually white in color.
These eggs are carefully deposited within the nest, and then the female assumes the responsibility of incubating them.
Parental Care And Responsibilities Of Females
Once the eggs hatch, the female Ruby Throated Hummingbird becomes fully committed to parental care.
This includes feeding the young ones a diet rich in nectar and small insects or spiders. The female diligently retrieves food from flowers and catches insects on the wing to nourish her offspring.
The female protects the nest from potential threats, such as predators and adverse weather conditions.
She is always on high alert, ready to defend her nest and young ones with her sharp beak and agile flight.
The female Ruby Throated Hummingbird plays a vital role in ensuring the survival and well-being of her offspring.
Through her tireless efforts, she ensures that her young ones grow strong and independent, ready to take on the challenges of the world.
Conclusion
The female Ruby Throated Hummingbird is a tiny and magnificent creature, often overlooked in bird watching.
With its beautiful green feathers and white underparts, it may be mistaken for a different species.
Understanding the subtle differences between the male and female hummingbirds can enhance your appreciation of their unique beauty.
Take the time to observe and learn about these remarkable birds; you won't be disappointed. Enjoy exploring the world of the female Ruby Throated Hummingbird!