What Does a Ruby Throated Hummingbird Nest Look Like?
Ruby-throated hummingbird nests are typically small and compact, resembling a tiny cup. They measure about 1.5 inches in diameter, roughly the size of a walnut shell.
These delicate structures are constructed using spider silk, plant down, and feathers, providing flexibility and insulation.
The exterior is camouflaged with lichens, making it blend seamlessly with the surrounding environment.
Nests are often found in the forks of tree branches, providing a secure and hidden location for the precious hummingbird eggs.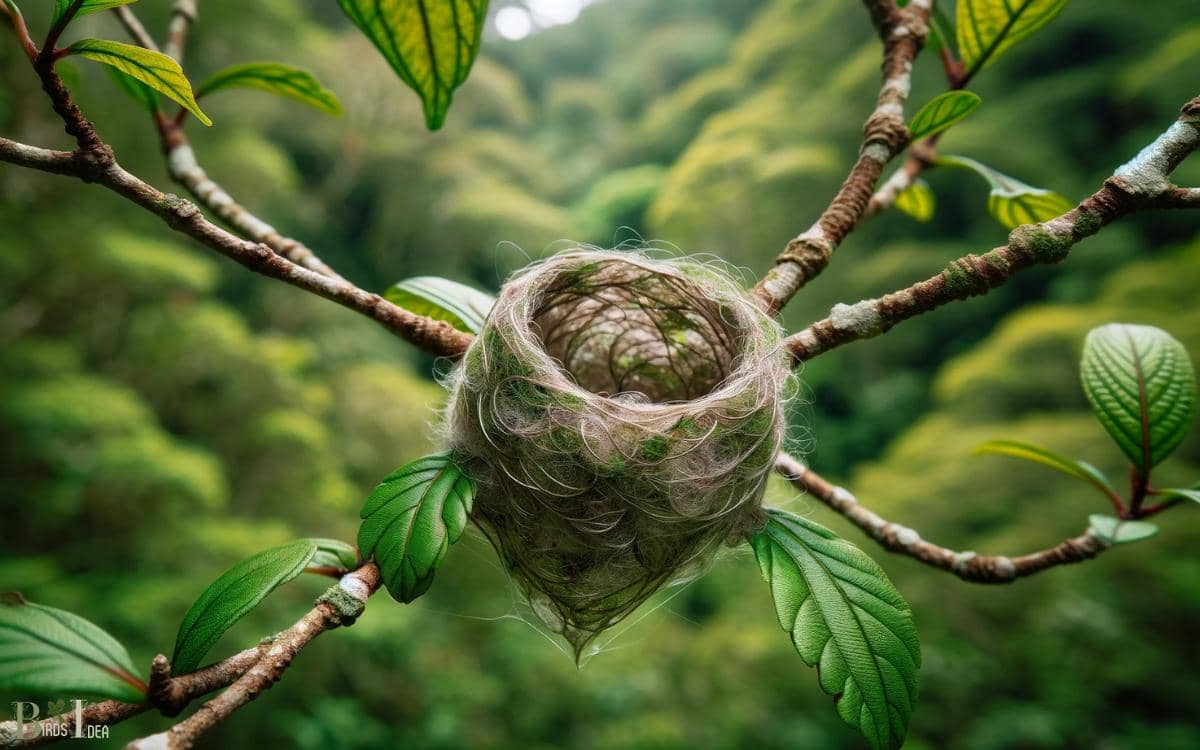 Key Takeaway
Ruby-throated hummingbird nests are built in deciduous trees, shrubs, or vines for protection from predators.
Nests measure about 1.5 inches in diameter and have a spherical shape resembling a small cup or bowl.
The nests are constructed using plant fibers, leaves, feathers, down, and various materials to create a sturdy and insulated structure.
Nests are decorated and camouflaged with lichen, moss, bits of bark, and matching coloration with the surrounding vegetation for predator avoidance and protection.
Nest Location and Placement
Strategic Selection of Tree Branch Forks
Hummingbirds exhibit a keen sense of strategic nesting, often choosing the forks of tree branches as prime locations.
This deliberate selection provides stability and support for the nest while minimizing exposure to predators.
Understanding the significance of this strategic choice sheds light on the hummingbird's instinctual wisdom in ensuring the safety of their offspring.
Securing Hidden Havens
The preference for hidden locations goes beyond mere convenience for ruby-throated hummingbirds.
These skilled aviators strategically position their nests in concealed spots, such as within dense foliage or against the backdrop of leaves.
This deliberate act of creating hidden havens adds an extra layer of protection, shielding the nests from prying eyes and potential threats.
Elevated Nesting
Elevated nesting is a key aspect of the hummingbird's habitat selection. Placing their nests at a higher vantage point not only provides a panoramic view for the hummingbird but also enhances the safety of the nest.
Elevated positions minimize the risk of ground-based predators, showcasing the thoughtful consideration hummingbirds employ in choosing locations that optimize both security and visibility.
Nest Size and Shape
Size: Approximately 1.5 inches in diameter
Ruby-throated hummingbird nests exhibit remarkable compactness.
Measurement is a mere 1.5 inches in diameter, akin to the size of a walnut shell.
Diminutive dimensions contribute to an intricate and delicate appearance.
Meticulously crafted nests showcase the precision and ingenuity of hummingbird architects.
Shape: Compact, resembling a walnut shell
The shape serves as a testament to the hummingbird's masterful construction skills.
Compact form resembles a miniature walnut shell.
Functionality and protection are dual purposes of this design.
Allows the nest to provide a snug and secure space for hummingbird eggs.
Minimizes exposure to external elements, showcasing adaptability and efficiency.
Nest Construction Materials
Let's delve into more detail for each of the hummingbird nest construction materials:
Natural Fibers
Hummingbirds are resourceful architects, often selecting natural fibers to build a cozy and well-insulated nest.
Plant down, commonly obtained from sources like cotton or dandelion fluff, serves as a soft foundation.
Moss is another favored material, offering both cushioning and moisture-absorbing properties.
Lichen, with its flexible and durable nature, adds resilience to the nest structure. This combination creates a snug environment for the delicate hummingbird eggs and nestlings.
Spider Silk Reinforcements
The integration of spider silk into hummingbird nests is a fascinating aspect of their construction.
Hummingbirds may actively seek out spider silk, which provides remarkable strength and elasticity.
By strategically weaving spider silk into the outer layers of the nest, hummingbirds enhance its structural integrity.
This reinforcement is crucial for withstanding the challenges posed by wind, rain, and other environmental factors.
The use of spider silk showcases the intricate ways in which hummingbirds adapt and utilize available resources.
Feathers and Petals
Hummingbirds not only prioritize functionality but also pay attention to the aesthetic appeal of their nests.
Feathers, plucked from various sources, contribute to the outer layers, adding insulation and visual flair.
Flower petals are ingeniously incorporated to provide natural camouflage. The use of colorful petals not only enhances the overall appearance of the nest but also helps it blend seamlessly with the surrounding foliage, providing a discreet and secure location for nesting.
This artistic touch demonstrates the hummingbird's ability to combine functionality with beauty in their nest construction.
Nest Decoration and Camouflage
After collecting the necessary materials to construct their nests, ruby-throated hummingbirds meticulously decorate and camouflage their homes to blend seamlessly with their surroundings.
Colorful Additions
Hummingbirds often decorate their nests with vibrant materials such as flower petals, feathers, or even small pieces of colorful debris.
This not only adds a visually appealing touch to the nest but also aids in camouflage.
Camouflage Techniques
Exploring the ingenious ways hummingbirds camouflage their nests within the surroundings. This involves strategic placement, mimicry, and the use of natural elements to blend seamlessly with the environment.
Environmental Integration
Understanding how hummingbirds incorporate elements from their surroundings, like leaves, twigs, or bark, to not only decorate but also enhance the camouflage of their nests. Examining the adaptive strategies these tiny birds employ for nesting success.
Conclusion
Congratulations! You have now learned all about the fascinating nest of the Ruby-Throated Hummingbird.
Its delicate construction, using materials like spider silk and lichen, allows for a secure and well-camouflaged home.
These tiny birds carefully select the perfect location for their nest and even decorate it with bits of moss and bark.
Imagine witnessing a male hummingbird performing an intricate courtship display in front of a potential mate, showcasing his beautiful iridescent throat feathers. Truly a mesmerizing sight in the world of avian wonders.