What Does A Hummingbird Look Like? Vibrant!
A hummingbird is a small bird characterized by its vibrant and colorful appearance. It is typically characterized by its long, thin beak, short tail, colorful plumage, and the distinctive humming sound it makes when it flies.
Hummingbirds are found in tropical and subtropical regions of the Americas and are known to feed on the nectar of plants with specialized structures.
Hummingbirds typically have about a 3-inch body length and weigh about 3 grams. They are notable for their incredible flying ability, being able to hover in mid-air and fly backwards.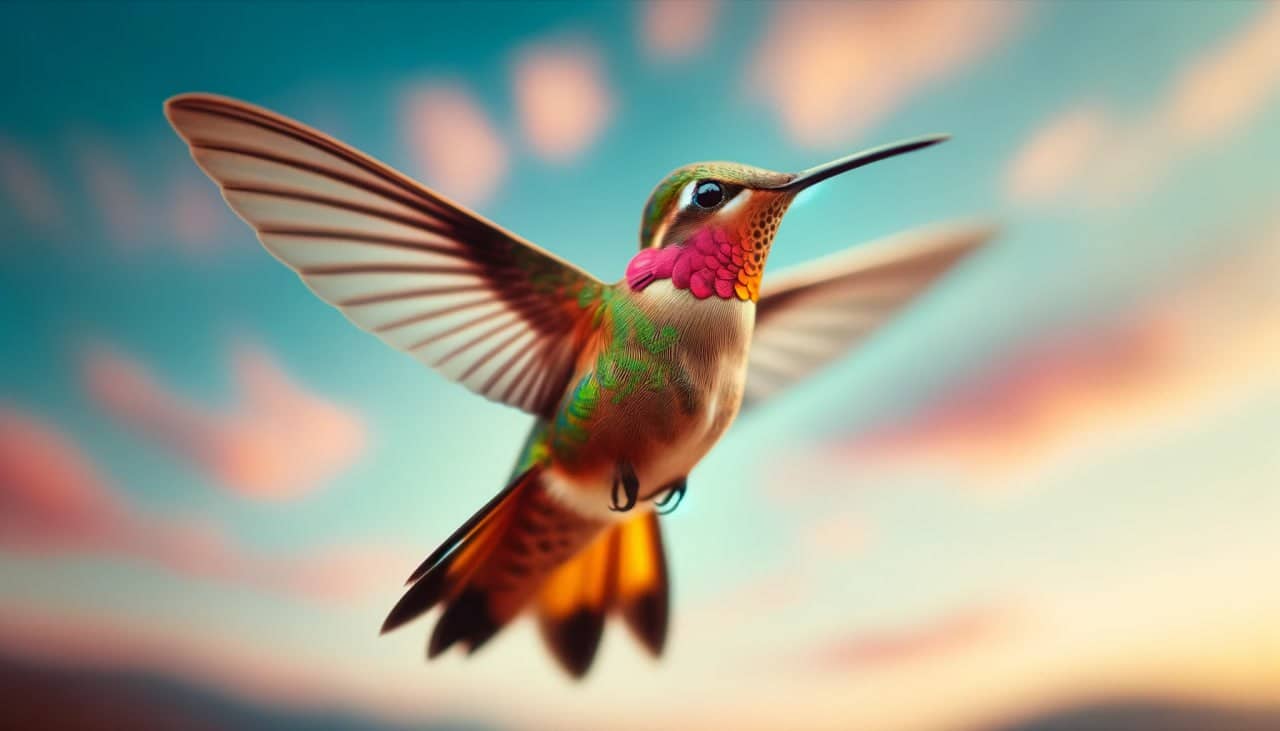 Key Takeaway
Hummingbirds are small birds with vibrant and colorful plumage.
They have long, thin beaks and short tails.
Hummingbirds are found in tropical and subtropical regions of the Americas.
They feed on nectar from plants with specialized structures.
6 Interpretations: About A Hummingbird Look Like
| Interpretation | Description |
| --- | --- |
| Size and Shape | Hummingbirds are typically small and agile birds, with an elongated body, short legs, and a slender, needle-like beak adapted for feeding on nectar from flowers. |
| Iridescent Plumage | One of the most striking features of hummingbirds is their iridescent plumage. They have vivid, shimmering feathers that can flash in a dazzling array of colors, including shades of green, blue, red, or purple. |
| Wings and Flight | Hummingbirds have unique wing structure, with rapid wing beats that allow them to hover in mid-air, move forwards, backward, and even upside down. Their flight is characterized by a distinctive humming sound. |
| Throat Patch | Many hummingbirds have a brightly colored throat patch or gorget that can appear to change color as they move, especially when the light hits it at different angles. |
| Tail Feathers | Their tail feathers can vary in length and shape among different species, with some having longer and more ornate tail feathers. |
| Behavior | In addition to their appearance, hummingbirds are known for their high-energy behavior, darting in and out of flowers, and engaging in territorial displays. |
Interpretations of what a hummingbird looks like reveal their small size, iridescent plumage, distinctive wings and flight, colorful throat patches, varying tail feathers, and their energetic and agile behavior.
Overview of a Hummingbird's Appearance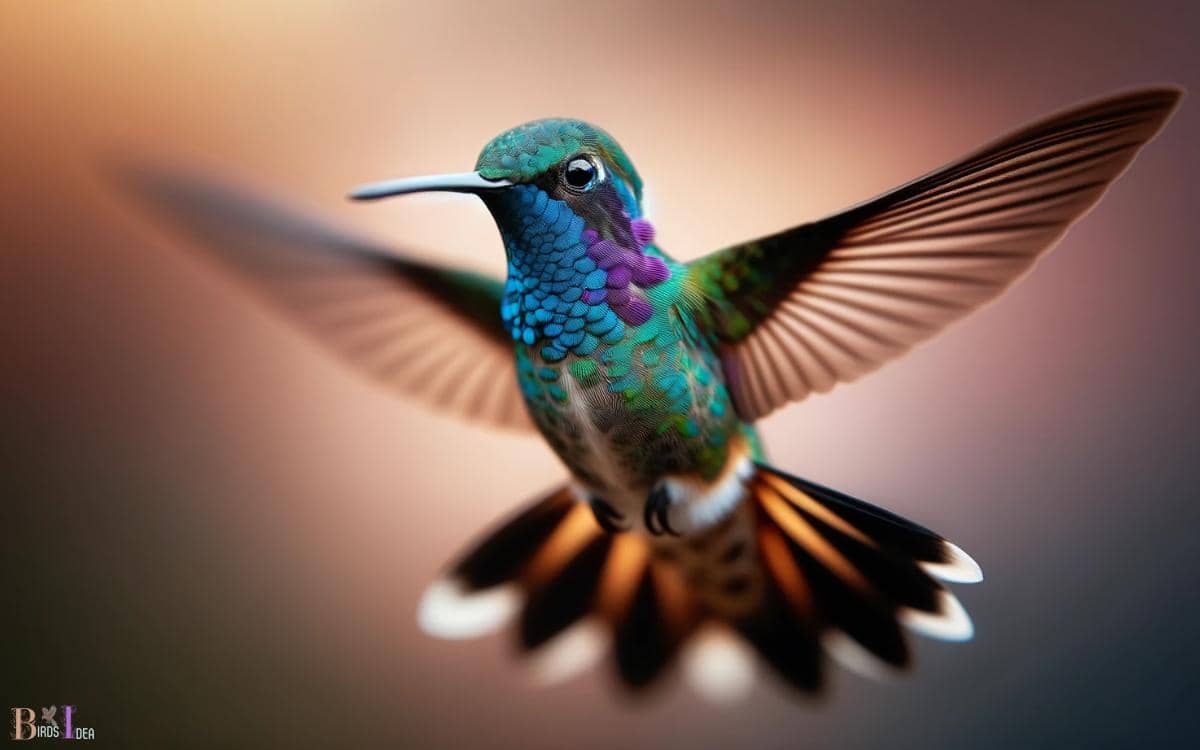 Hummingbirds are tiny birds that are typically between two and five inches long. They are brightly colored and often have iridescent feathers.
They also have long and very thin bills that are adapted to feed on the tiny nectar inside flowers.
The wings of a hummingbird beat very quickly, allowing them to hover and fly in all directions. Their legs are not adapted to perch and walk, so they can rarely be seen standing still.
A hummingbird's features include:
Small Size: Hummingbirds range from two to five inches in length.
Colorful Plumage: Hummingbirds come in a range of colorful and iridescent feathers.
Long and Thin Bill: Hummingbirds have a long and thin bill ideal for drinking nectar from flowers.
Fast Beating Wings: Their wings beat quickly, allowing them to hover and fly in all directions.
Inability to Perch: Their legs are not adapted for walking or perching and the hummingbird can rarely be seen standing still.
Unique Features of a Hummingbird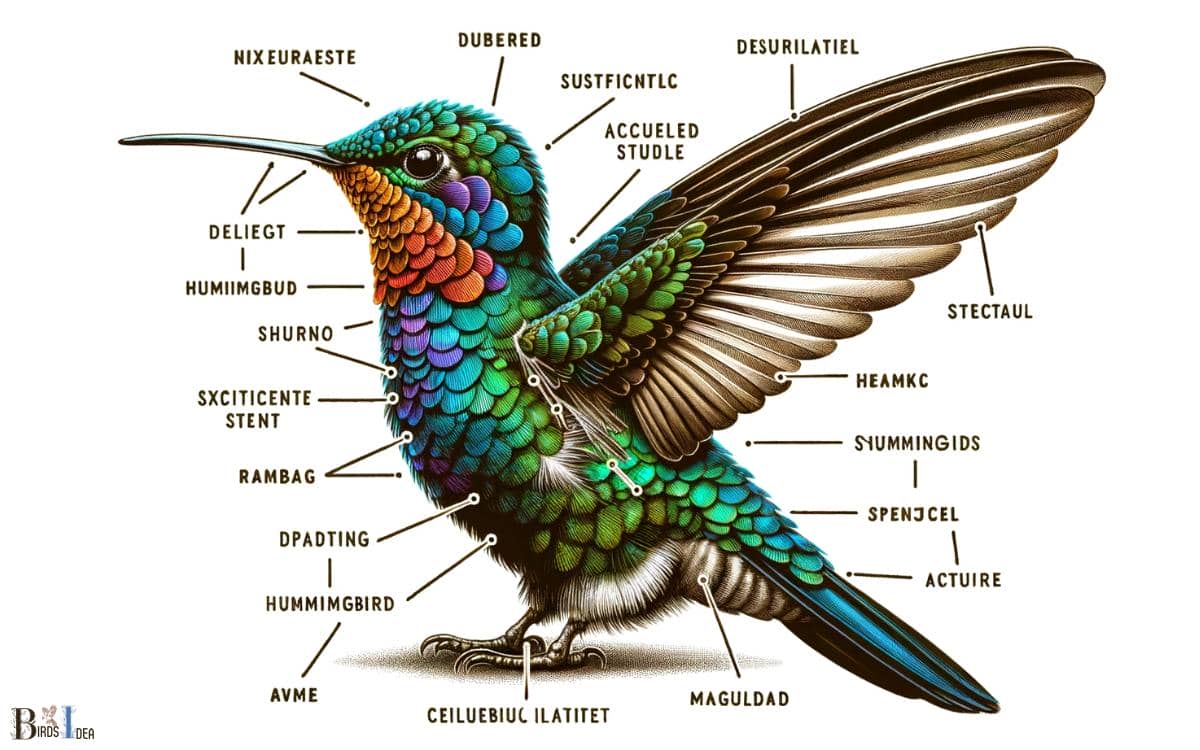 Hummingbirds are unique birds for several reasons. These include their incredible agility and maneuverability, their size, and their ability to hover.
They display a range of intriguing physical and behavioral features that make them truly unique in the avian world.
Unique Features of a Hummingbird include:
Small Size: Hummingbirds are the smallest birds in the world, typically only 3-5 inches in length and weighing between 0.07 and 0.3 ounces.
Remarkable Agility: Hummingbirds are incredibly nimble and agile birds, capable of hovering in place, zooming backward and forward, and flying upside down.
Fast Fluttering Wings: Hummingbirds beat their wings incredibly quickly, up to 80 beats per second or even more, allowing them to hover in midair seemingly effortlessly.
Bouncing Movement: Hummingbirds are the only bird that can move in a bouncing pattern with a few quick beats of the wings, then a short pause before the next beats of wings.
High Metabolism: Hummingbirds use a significant amount of energy, due to their rapid wingbeat and quick movements, and must feed heavily, consuming up to twice their body weight in nectar every day.
Curved Bills: Hummingbirds have long, curved bills specially adapted for retrieving nectar from the depths of flowers.
Colors and Patterns of a Hummingbird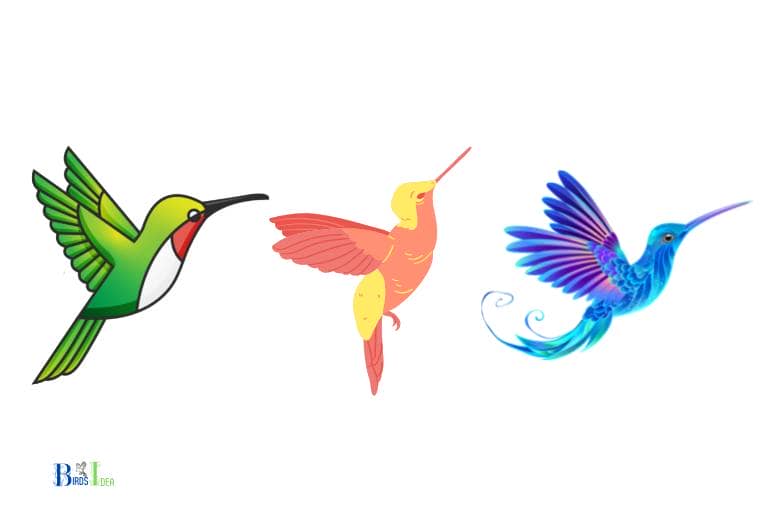 Hummingbirds come in many striking colors and patterns, ranging from vibrant yellows, reds, and blues to more subtle earthy tones.
They are also very small, measuring anywhere from 3 to 5 inches in length. Some of the main colors and patterns that hummingbirds exhibit include green, red, yellow, blue, white, black, brown, grey, and iridescent.
Each species of hummingbird usually displays one main color as a primary feature.
For example, the Ruby-throated Hummingbird has a green head and back, with a reddish throat and chin, while the Rufous Hummingbird is orange and brown.
Additionally, many hummingbirds also have iridescent feathers that shimmer when light hits them.
Size of a Hummingbird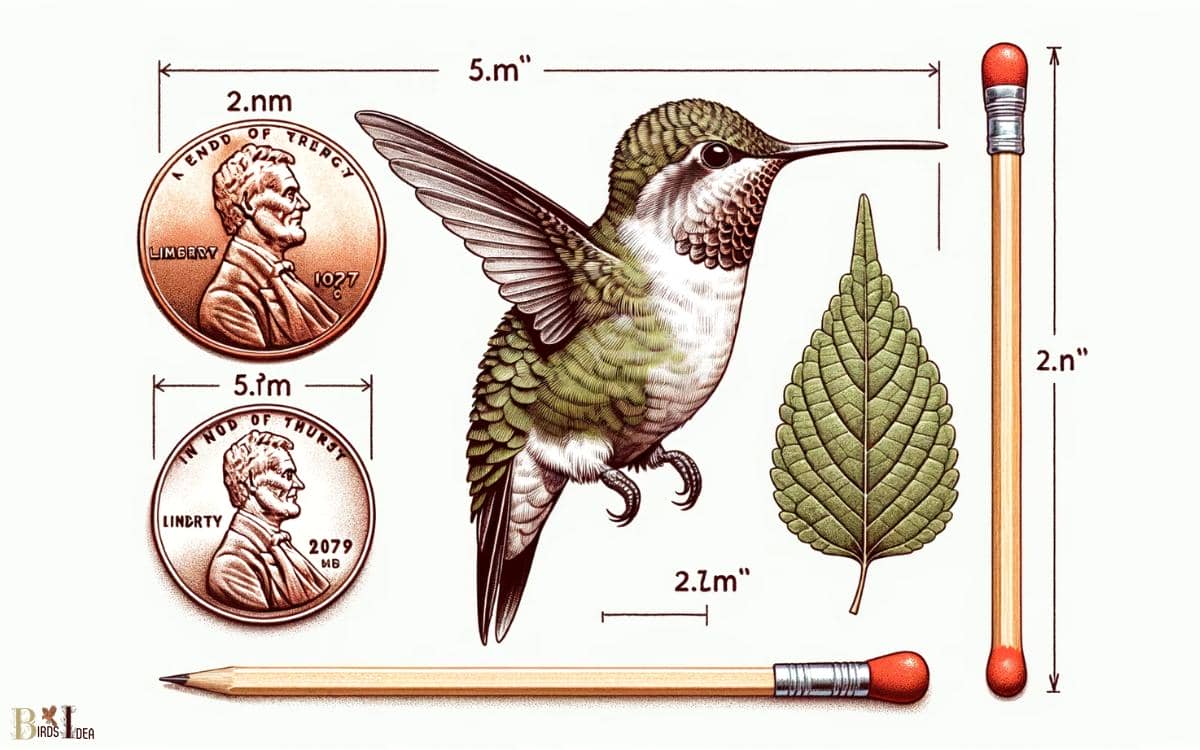 Hummingbirds are among the smallest of birds, the smallest reaching just 2.4 inches in length. They come in various sizes, with the Ruby-throated Hummingbird being the most common species found in the United States.
On average, a hummingbird's body length ranges from 2 to 4 inches, with a wingspan of 3 to 4 inches. Females typically have longer beaks than males, and their overall size is slightly larger.
The size of a hummingbird can vary greatly depending on their species, which include the bee hummingbird, the white-eared hummingbird, the black-chinned hummingbird, and the blue-throated hummingbird.
These birds weigh less than an ounce, with some types weighing as little as 0.1 to 0.5 of an ounce. Their delicate size allows them to hover, allowing more control when flying.
Behavioral Traits of a Hummingbird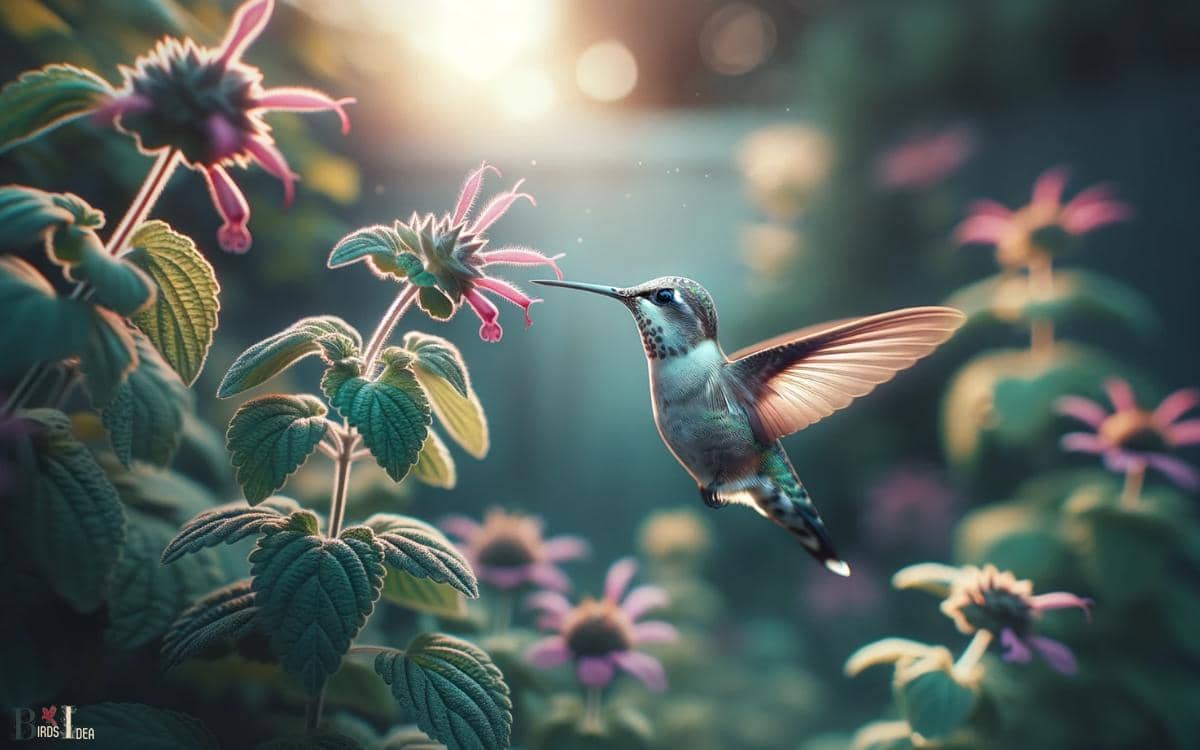 Hummingbirds are small, vibrant birds known for their quick and agile flight. Their behavior is largely determined by their need to consume high amounts of nectar from flowers, making them unique from other songbirds.
Understanding the behavioral traits of a hummingbird can be beneficial for those who feed and observe them in the wild.
Active Daytime Habits: Hummingbirds are mostly active during the day and rest at night. They hunt for food, preen, and establish territories as a dominant bird during the day.
Territorial Nature: Hummingbirds are very territorial and will defend an area they consider theirs by chasing away other hummingbirds and other animals.
Swift Flight Habits: Hummingbirds have the ability to fly forward, backward, sideways and hover in the air, allowing them to quickly maneuver between flowers and other nectar sources.
High Energy Diet : Hummingbirds need a high energy diet that consists primarily of nectar. They may also feed on insects, spiders and tree sap for essential nutrients.
Migratory Habits: Hummingbirds are known for their annual migrations and will fly great distances to more favorable climates.
Cold Tolerant: While most hummingbirds are migratory, some species can survive cold climates and will fly to warmer climates during the winter.
Diet of a Hummingbird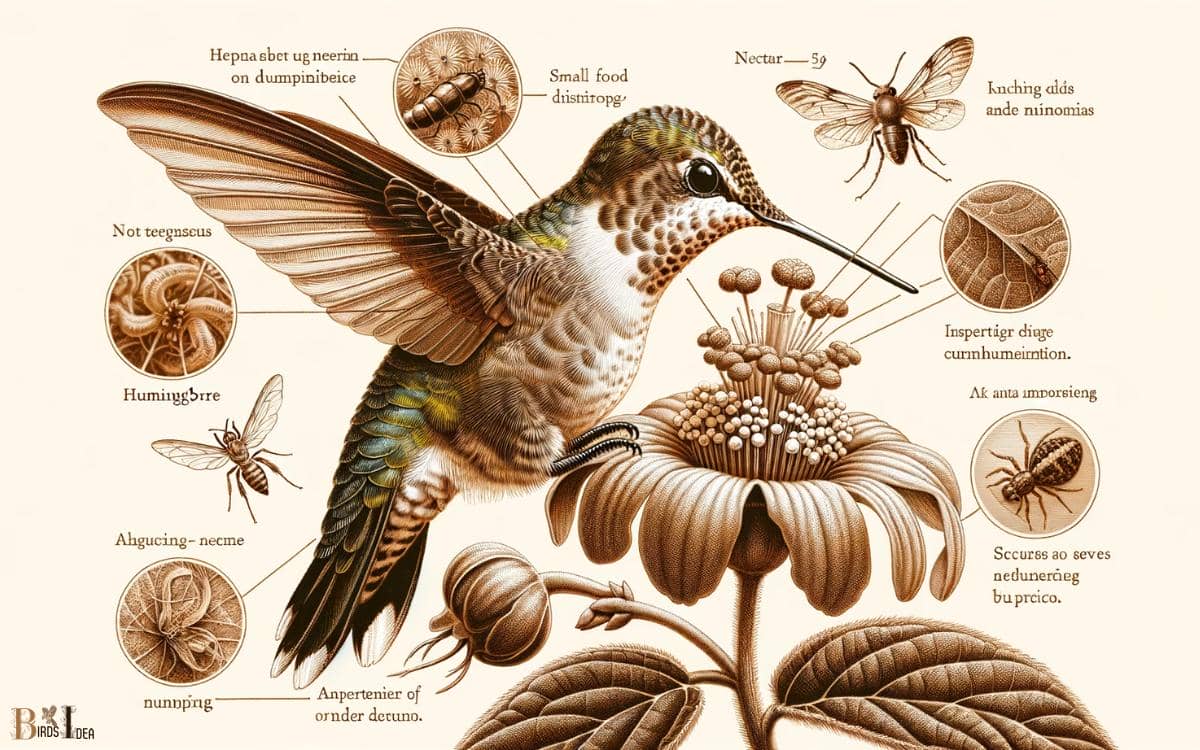 A hummingbird's diet consists mainly of nectar and small insects. Other sources of nutrients may include pollen, sap and small spiders.
In addition to these food sources, hummingbirds also look for sugar water, fruits, and the occasional mealworm.
Nectar is the main component of the diet for hummingbirds, providing the energy and nutrition they need to survive.
To effectively eat nectar, hummingbirds have long, curved beaks that enable them to reach the depths of flowers and reach nectar.
Here is a list of the major components of a hummingbird's diet:
Nectar – Hummingbirds get their main energy source from nectar found in flowers.
Insects – Small insects such as fruit flies and ants provide essential sources of protein and additional nutrients.
Pollen – Pollen provides essential proteins and other essential nutrients.
Sugar Water – Hummingbirds like to feed on sugar water, typically made with two parts of water and one part of sugar.
Fruits – Fruits are a favored source of food for hummingbirds.
Mealworms – Hummingbirds also enjoy mealworms as a treat.
Habitats of Hummingbirds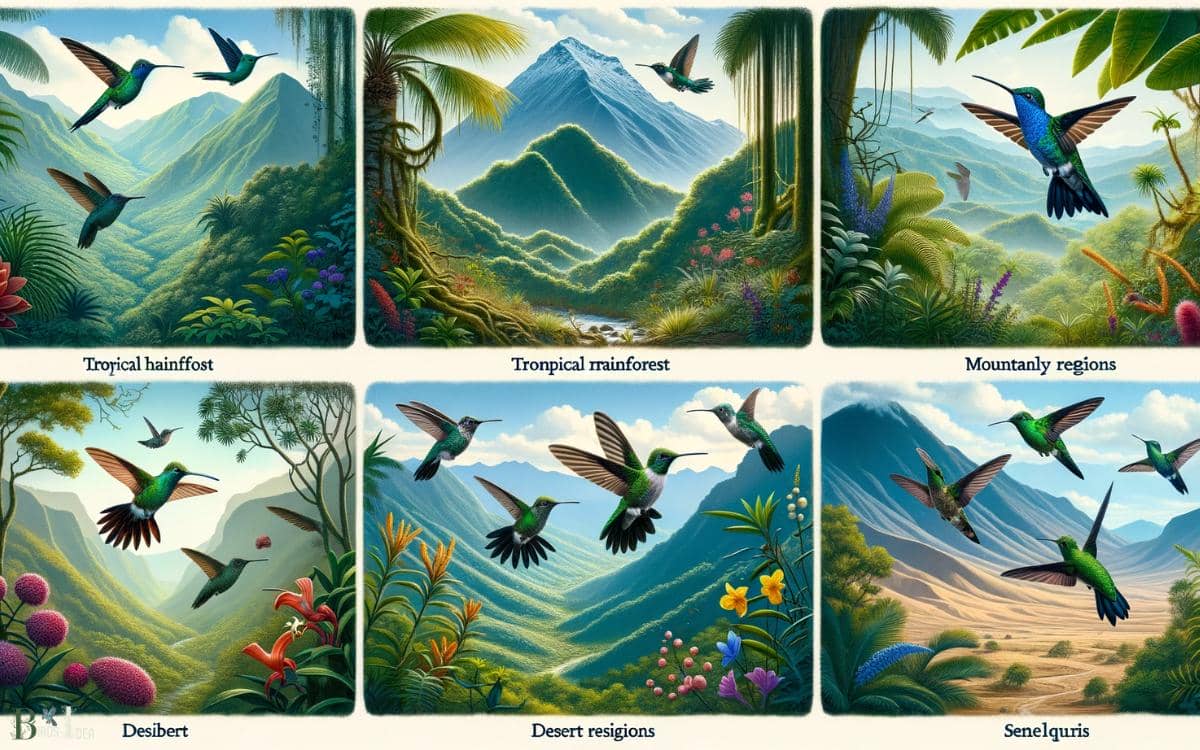 Hummingbirds are found throughout the Americas and in some parts of Central and South America.
They inhabit a wide range of habitats, from high mountain elevations in the Rocky Mountains of North America, to tropical jungles in South America.
Generally, they prefer areas of open savanna, forest edges, and open woodlands, with plenty of flowering plants and trees from which to feed.
They may also live in desert areas, including cactus and sagebrush, and on islands where grasslands, forests, or swamps provide food and shelter.
Migration Patterns of Hummingbirds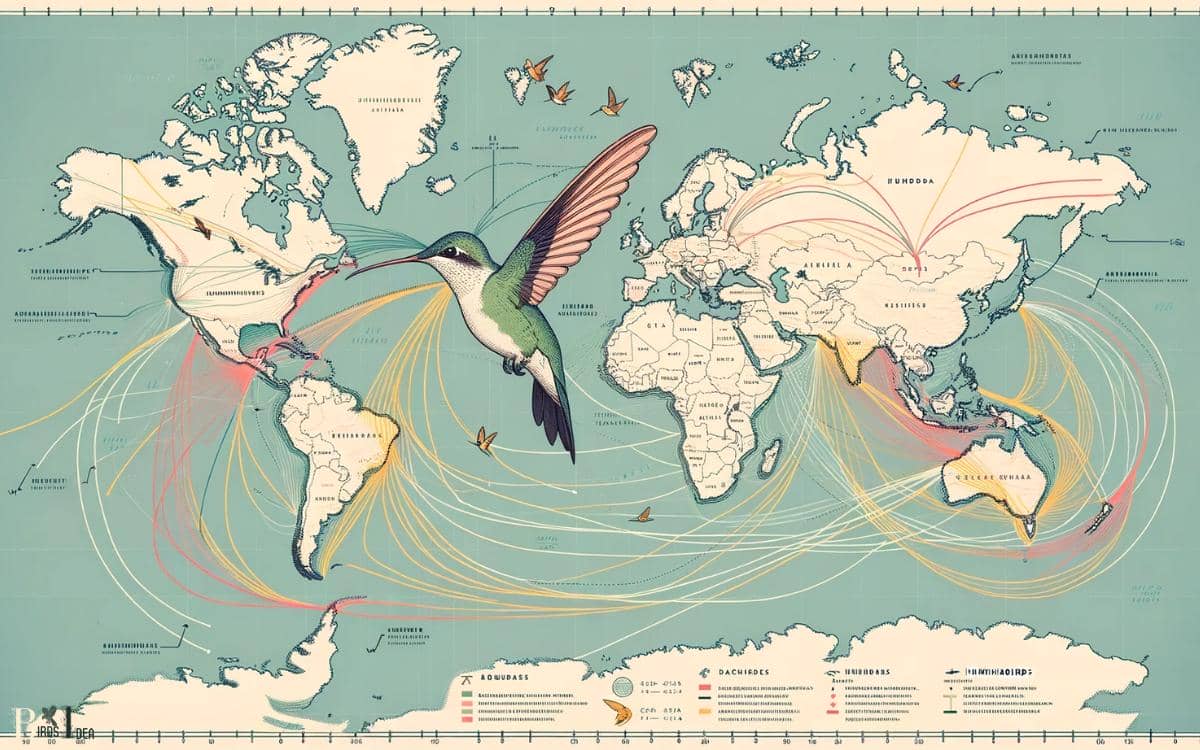 Hummingbirds are fascinating small birds that are found all over North America. They are known for their vibrant colors, small size, and long, hovering flights.
Like many birds, hummingbirds migrate in response to seasonal changes in temperature and variations in food and habitat availability.
Migration patterns can vary among species, however, many hummingbirds are long-distance migrants, with some traveling up to thousands of miles each year.
Here are some of the facts about the migration patterns of hummingbirds:
Hummingbirds typically migrate alone, as opposed to in flocks or groups.
They tend to fly at night to take advantage of the cooler temperatures and avoid predators.
Hummingbirds are capable of traveling long distances in a single flight, some up to 500 miles in one night.
Hummingbirds will make several migrations throughout the year, depending on the climate and food availability.
Certain species of hummingbirds are known to overwinter in warmer climates and will travel back north in the spring.
Before making a long migration, hummingbirds increase their calorie intake and store it in their bodies as fuel.
They may also use wind patterns and stop to rest during the journey.
Hummingbirds typically reach their destination in the late spring and early summer.
During the migration, the birds will stop to feed on the nectar and insects of different plants and flowers.
Conclusion
Hummingbirds are beautiful, colorful birds that are found in a variety of habitats around the world.
They have a small size, long wings, slender bills, and usually have black and white tails. Depending on the species, hummingbirds may have green, blue, purple, white, or brown feathers.
With their fast flight and unique abilities, they are known as one of the most fascinating and interesting birds in existence.
FAQ of What Does A Hummingbird Look Like
What does a hummingbird look like?
Hummingbirds are small, vibrant birds with iridescent feathers and an elongated pointed beak. They typically range in size from 3.5 – 5 inches long and weigh less than an ounce.
What type of food do hummingbirds eat?
Hummingbirds rely primarily on nectar and various insects for their nutrition. They also consume small invertebrates, tree sap and flower pollen.
Where can I find hummingbirds?
Hummingbirds can be found all over the world, typically wherever a variety of flowers, trees and shrubs are available. They can be found in both tropical and temperate climates and can even inhabit high altitudes.