What Does a Male Hummingbird Look Like? Bright!
A male hummingbird looks typically has bright, iridescent that can reflect sunlight phenomenally and change color depending on the angle of viewing.
They often have a metallic or glossy appearance with colors like green, blue, purple, red or gold.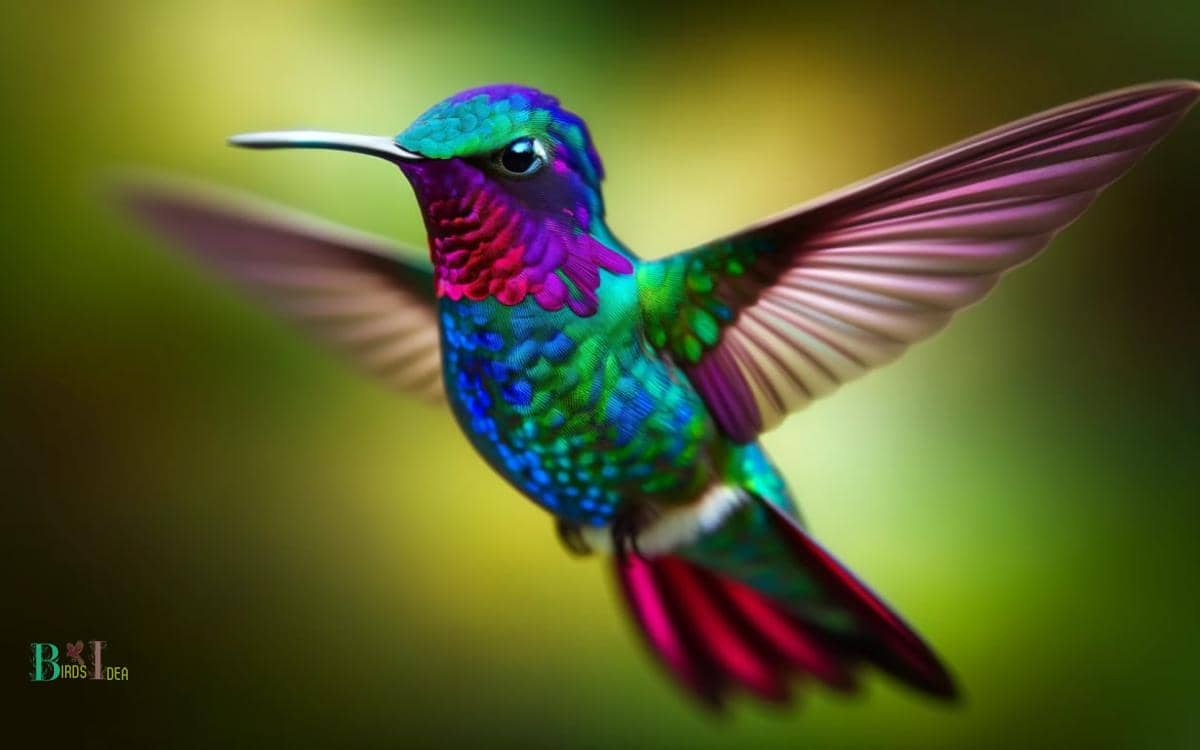 Key Takeaway
The Ruby-throated Hummingbird: Males have an emerald green back and crown with a white underside and brilliant ruby-red throat.
Anna's Hummingbird: Male boasts an iridescent bronze-green back, gray underside, and striking rose-pink throat extending to the top of its head.
Broad-tailed Hummingbird: Male showcases a metallic green body with rosy-red throat patch surrounded by white.
Male Hummingbird Characteristics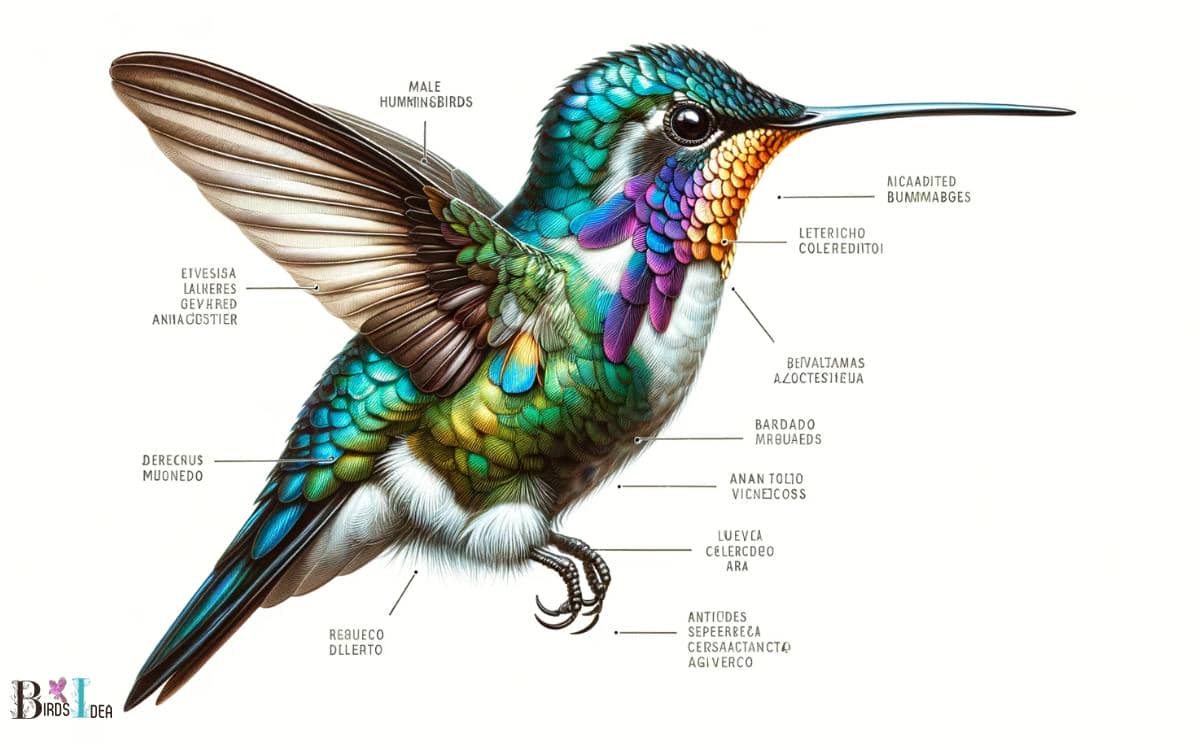 Male hummingbirds are known for their distinctive features and stunning appearance. From brilliant plumage to vibrant throat feathers, they possess characteristics that set them apart from their female counterparts.
In this section, we will explore these key traits that make male hummingbirds fascinating creatures to observe.
Brilliant Plumage
One of the most captivating aspects of male hummingbirds is their brilliant plumage.
Their feathers come in a variety of vibrant colors, ranging from iridescent greens and blues to fiery reds and oranges.
These striking hues are a result of a unique feather structure that reflects light, creating a brilliant display.
Such a dazzling external appearance serves multiple purposes, including attracting potential mates and warding off potential rivals.
Smaller Size Compared To Females
In the world of hummingbirds, size can be a crucial factor in determining their gender.
Male hummingbirds are generally smaller in size compared to their female counterparts.
This size difference is not only visible in their overall body proportions but also in their wingspan.
While the exact reason behind this disparity is not fully understood, it is believed to be an adaptation that allows males to be more agile during courtship displays and aerial battles.
Vibrant Throat Feathers
One of the most striking features of male hummingbirds is their vibrant throat feathers, often referred to as gorget or throat patches.
These iridescent feathers can display a stunning array of colors, ranging from vivid blues and purples to fiery reds and oranges.
The throat feathers play a crucial role in attracting potential mates during courtship displays.
When a male hummingbird is trying to impress a female, it will puff out its throat feathers, creating a mesmerizing shimmering effect as it moves.
Male hummingbirds possess unique characteristics that make them visually awe-inspiring creatures.
With their brilliant plumage, smaller size compared to females, and vibrant throat feathers, they are a true wonder of nature.
Witnessing these marvelous creatures in action is an experience that leaves observers in awe of their beauty and grace.
Male Hummingbird Colors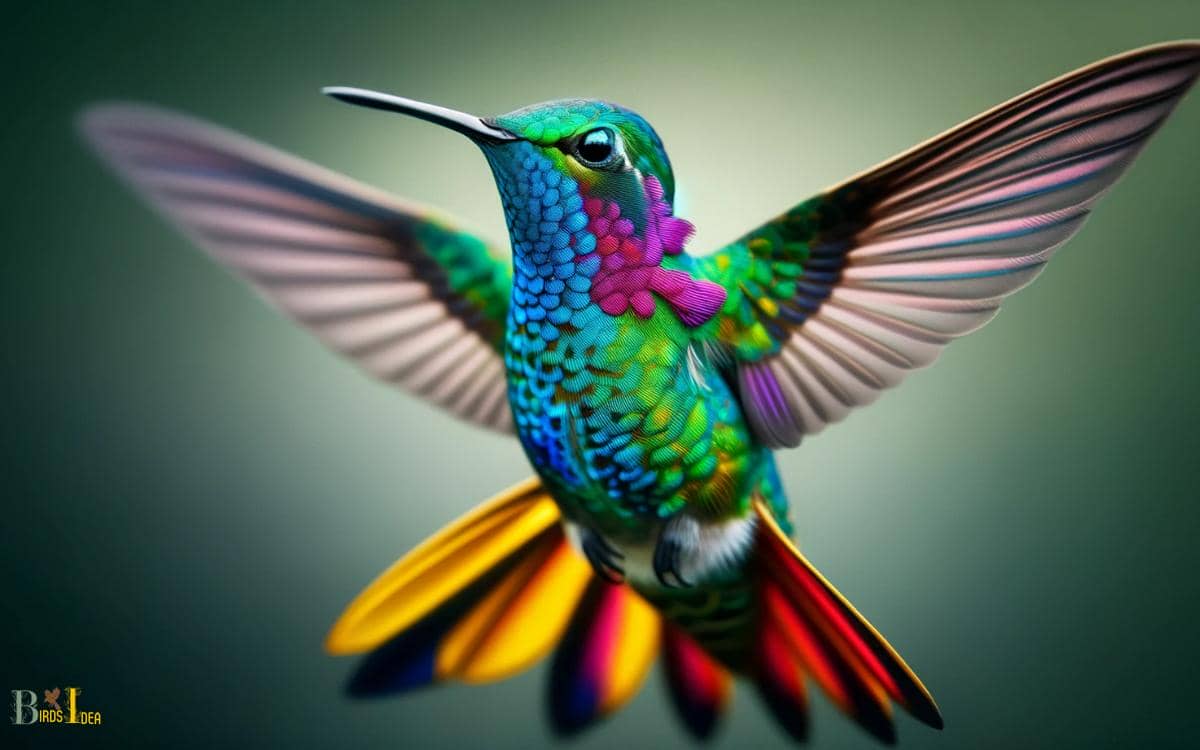 Male hummingbirds are known for their vibrant colors, displaying a stunning array of iridescent feathers.
These little birds often have bright shades of red, blue, green, or purple, attracting attention wherever they go. Their vibrant plumage is a sight to behold.
Stunning Variety Of Colors
Male hummingbirds are renowned for their stunning variety of colors. These tiny creatures possess a vibrancy that is unparalleled in the bird kingdom.
With their jewel-like hues and flashy plumage, male hummingbirds are indeed a sight to behold.
Iridescent Feathers
One of the most fascinating aspects of male hummingbird colors is their iridescent feathers. These feathers are unlike those found in any other bird species.
The microscopic structure of their feathers allows them to reflect and refract light, creating a magnificent display of colors that seem to shimmer and change when viewed.
Examples Of Colorful Species
There are several species of male hummingbirds that exemplify the breathtaking array of colors found in these fascinating creatures.
Here are a few examples:
Ruby-throated Hummingbird: This species is predominantly green, but the males boast a vibrant red throat patch, which gives them their name. It is a true marvel to witness the flash of ruby-red as they zip through the air.
Anna's Hummingbird: The males of this species possess an enchanting blend of emerald green and rose hues. Their radiant feathers catch and reflect sunlight, creating a mesmerizing display of colors.
Violet-crowned Hummingbird: As the name suggests, these stunning hummingbirds showcase deep violet feathers on their heads. Combine this with their green and white plumage, and you have a true masterpiece of nature.
Fork-tailed Woodnymph: This species features a vibrant mix of iridescent blues, greens, and purples. The males' stunning colors create an ethereal appeal that is truly captivating.
Sword-billed Hummingbird: Among the most distinctive species, the male sword-billed hummingbird boasts a vibrant mixture of colors.
With their emerald green throat and iridescent purple, blue, and gold plumage, they are an absolute delight to observe.
Male Hummingbird Size And Shape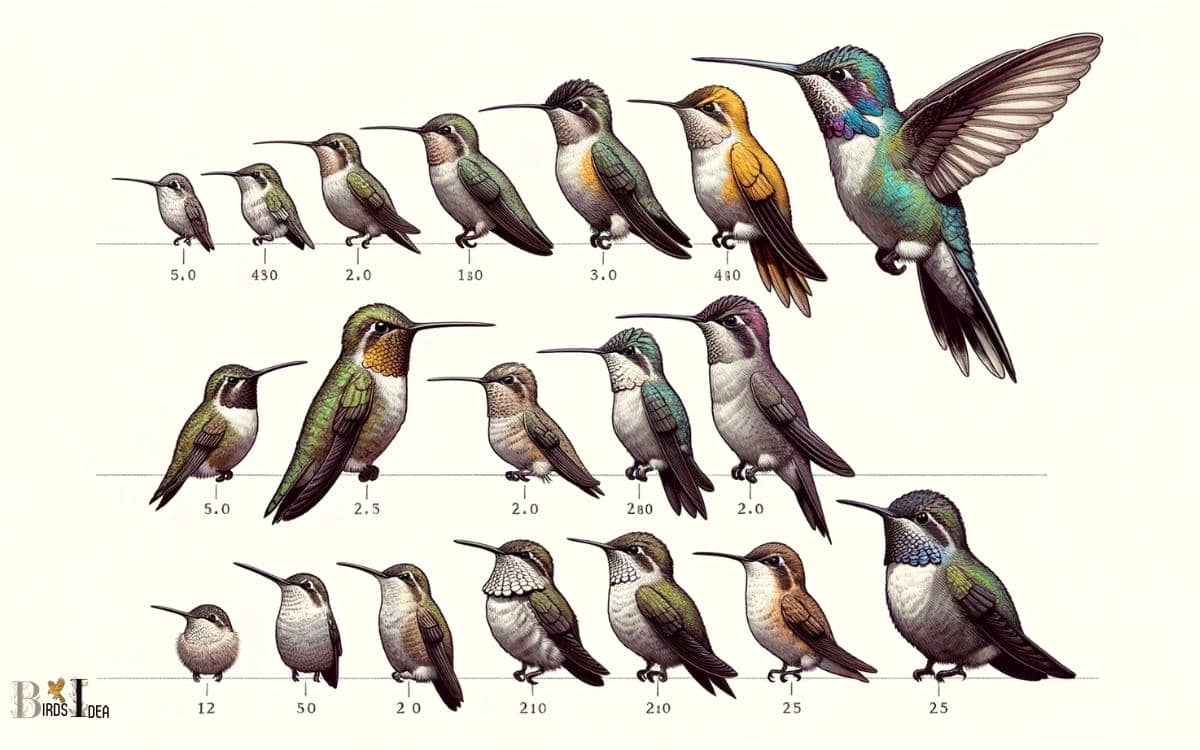 Male hummingbirds are known for their stunning colors and graceful flight patterns. However, they also possess a distinct size and shape that sets them apart from their female counterparts.
Let's take a closer look at what makes male hummingbirds unique in terms of their compact and streamlined body, measurements and average weight, as well as their unique wing shape and length.
Compact And Streamlined Body
Male hummingbirds have a compact and streamlined body that allows them to maneuver effortlessly through the air.
Their small size enables them to hover and dart quickly between flowers, while their streamlined shape reduces drag and increases their agility.
Measurements And Average Weight
When it comes to size, male hummingbirds are typically smaller than females. On average, they measure between 2.75 to 5.5 inches in length, varying by species.
The smallest species, such as the Bee Hummingbird, can be as little as 2.25 inches in length, while larger species like the Broad-tailed Hummingbird can reach up to 5.25 inches.
In terms of weight, male hummingbirds are surprisingly lightweight.
They typically weigh between 2 to 6 grams, with some of the smallest species weighing as little as 1.6 grams.
This featherlight weight allows them to perform intricate aerial maneuvers with ease.
Unique Wing Shape And Length
A notable feature of male hummingbirds is their unique wing shape and length.
Their wings are long and narrow, allowing them to generate incredible lift and hover in mid-air.
The length of their wings is key to their ability to perform their signature hovering flight, as it enables them to beat their wings rapidly, up to 50 times per second.
The ratio between the length of their wings and their overall body size is crucial for achieving such high-frequency wing beats.
This distinction gives male hummingbirds the ability to hover in one spot as they extract nectar from flowers, making them the acrobats of the avian world.
Male Hummingbird Behavior
Male hummingbirds are known for their fascinating behavior, which includes a range of aggressive territorial behaviors, intricate mating displays and courtship rituals.
Understanding the behavior of a male hummingbird can provide valuable insights into their unique characteristics and make observing them even more rewarding.
Aggressive Territorial Behaviors
Male hummingbirds are fiercely protective of their territories.
They establish feeding areas and vigorously defend them from other males, as well as intruding birds of any species.
These compact dynamos often engage in aerial battles, diving and chasing their rivals with remarkable agility.
Their aggression is particularly heightened during the breeding season when competition for food and mates intensifies.
It's truly a jaw-dropping sight to witness these tiny avian jewelers fiercely defending their boundaries.
Mating Displays And Courtship Rituals
Male hummingbirds have a flair for extravagant displays when it comes to attracting mates.
During courtship, males perform eye-catching aerial shows, which involve intricate flight patterns, acrobatics, and impressive feats of high-speed dives.
These displays showcase their vibrant feathers in all their glory, as the males flash their bright colors in the sunlight.
They may also produce distinct sounds using their wings, creating a buzzing or chirping noise to further captivate potential mates.
This elaborate courtship ritual is sure to leave anyone in awe of the male hummingbird's dedication and creativity.
Inquisitive And Curious Nature
Despite their territorial nature, male hummingbirds also possess an innate curiosity that drives them to explore their surroundings.
They are known to investigate new flowers, feeders, or even humans with a gentle inquisitiveness.
This behavior can make close encounters with these enchanting birds even more special.
Their curiosity often extends to novel objects or changes in their familiar environment, as they cautiously approach and inspect anything that captures their attention.
Male Hummingbird Species And Varieties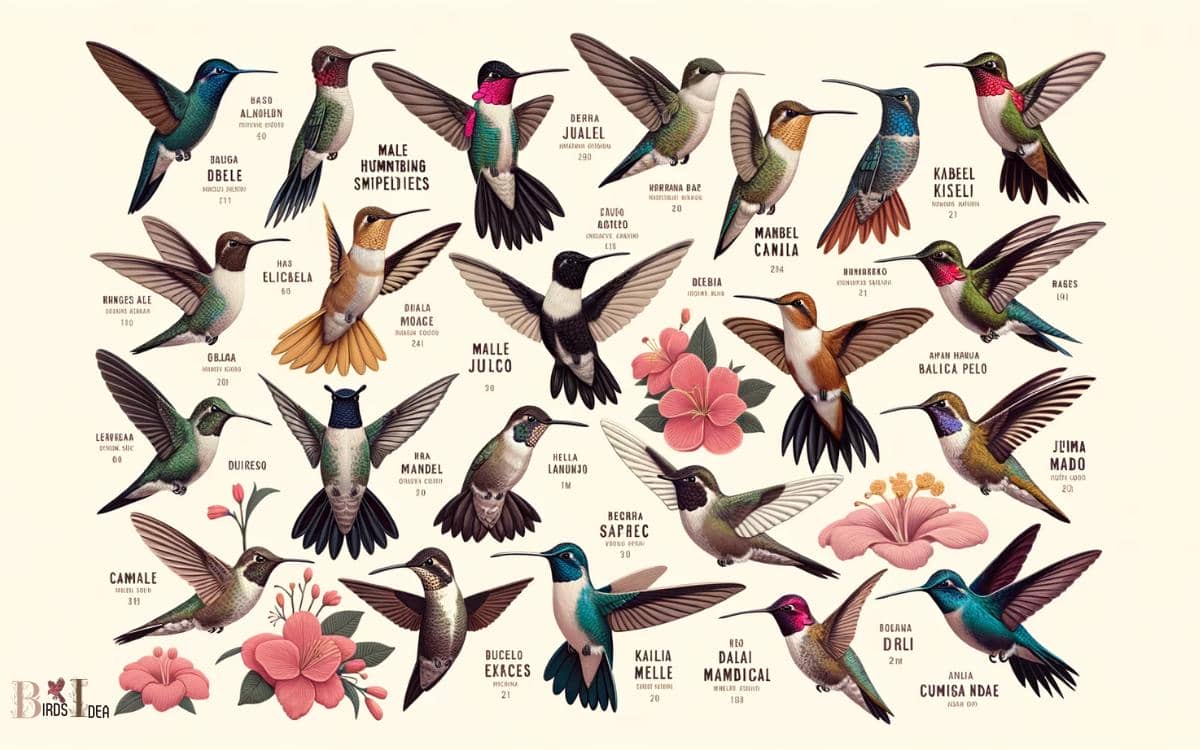 Male hummingbirds are renowned for their striking appearance and vibrant plumage, adding a touch of brilliance to the natural world.
With over 300 different species and varieties, these tiny creatures come in an array of colors and patterns, making them a true marvel to behold.
Overview Of Different Hummingbird Species
Hummingbirds can be found throughout the Americas, from Alaska to Chile.
Although they share some similarities, each species has its own unique traits that set it apart from others.
Here, we'll dive into some of the most fascinating hummingbird species, focusing on their distinguishing features and appearances.
| Species | Appearance | Habitat |
| --- | --- | --- |
| Trochilidae Beryllinae | Shimmering emerald-green plumage and iridescent throat | Tropical rainforests and highland areas |
| Calothorax Lucifer | Fiery orange and red feathers with shining black cap and tail | Desert scrublands and arid regions |
| Heliangelus Exortis | Brilliant turquoise body with long, forked tail feathers | Mountainous cloud forests |
Overview Of Different Hummingbird Species
Notable Species Known For Eye-catching Male Plumage
When it comes to male hummingbirds, several species stand out for their stunning plumage.
These charismatic birds captivate observers with their vibrant colors and intricate patterns, truly showcasing the wonders of nature.
Here are a few noteworthy examples:
The Ruby-throated Hummingbird (Archilochus colubris) – recognized for its glossy emerald-green feathers and iridescent ruby-red throat. This species is widely found across eastern North America.
The Anna's Hummingbird (Calypte anna) – known for its bold magenta crown and shimmering emerald body, often found along the western coast of North America.
The Violet-crowned Hummingbird (Amazilia violiceps) – featuring a majestic violet crown and stunning golden-green belly, commonly found in Mexico and Central America.
Geographic Distribution And Habitats
Hummingbirds are remarkably adaptive, occupying a wide variety of habitats across the Americas.
From dense tropical rainforests to arid deserts, these birds can thrive in a range of environments.
Their distribution spans from Alaska and Canada to as far south as the tip of South America.
Depending on the species, hummingbirds may be found in elevated cloud forests, lowland jungles, coastal areas, or even urban gardens.
They have evolved to meet the challenges presented by their specific habitats, whether it be the ability to hover beside delicate flowers or migrate thousands of miles each year.
Overall, the male hummingbirds' diverse range of species and their remarkable plumage make them an enchanting subject for birdwatchers and nature enthusiasts alike.
From the emerald greens to the fiery oranges and vibrant blues, these feathered jewels continue to amaze and inspire all who have the privilege of witnessing their beauty.
Conclusion
Male hummingbirds are known for their vibrant colors and striking appearance. With their iridescent feathers and distinctive features, they capture our attention and leave us in awe.
From their brilliant red throats to their metallic green bodies, these tiny birds never fail to fascinate us.
Learning about the characteristics and physical attributes of male hummingbirds allows us to appreciate their beauty even more.
So next time you spot a male hummingbird, take a moment to admire its stunning appearance and marvel at the wonders of nature.